Are you looking for an all-in-one printer that does it all and does it well? Then the Epson Ecotank ET-4800 is a great option to consider. This machine features good printing speeds, cutting-edge scanning technology, eco-friendly ink tanks, and fax capabilities.
It will accomplish everything you need to get done with essential functions. Its faxing capabilities are built right into the device. You'll no longer have to worry about looking for a fax service nearby. Read further and explore its features and benefits and other ways to send documents, especially via faxing online.
A Closer Look at the Epson EcoTank ET-4800's Multifunction Features
Uninterrupted work is possible when you have everything on your desk. Thankfully, this multifunctional printer is more than just that. The features empower you to stay productive like the following:
With high-capacity ink tanks and easy-to-fill EcoFit® ink bottles, you can save up to 90% on ink costs compared to traditional cartridges and print crisp and clear monochrome pages.
Comes with up to two years of ink in the package. Refill the ink tanks anytime instead of buying and changing ink cartridges. Using an EcoTank printer contributes to reducing cartridge waste in landfills.
You'll also get impressive print quality with Micro Piezo Heat-Free Technology™. It produces sharp text and good color photos and graphics.
With a built-in scanner and copier, you have a high-resolution flatbed scanner and color display for easy document copying and navigation.
The paper tray can hold up to 100 pages. You need to refill the tray in intervals for multiple documents like manuscripts.
This MFP machine is affordable and ideal for home office and small business use.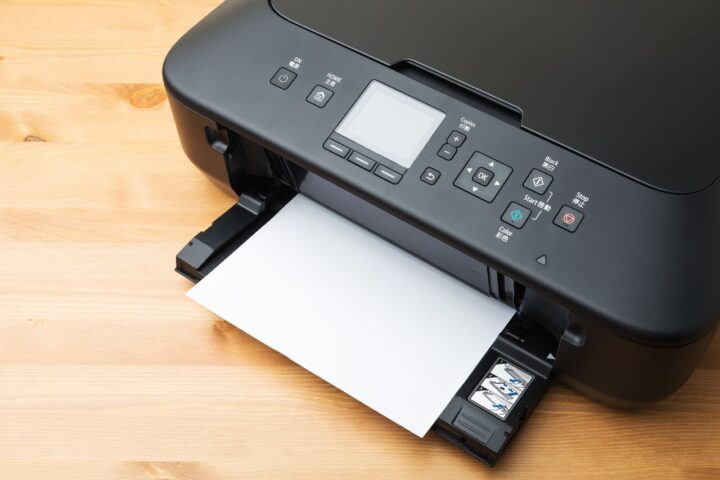 Preparing the Epson EcoTank ET-4800 for Fax Operations
Setting up the basic fax features is straightforward. The Fax Setting Wizard can help you, automatically displaying upon initial setup. If you need to adjust the settings further, go to the Fax Settings menu.
1. Press the home button, if needed.
2. Select Settings and press OK.
3. Choose Fax Settings and press OK.
4. Select Fax Setting Wizard and press OK.
5. Press OK to continue.
6. To add your personal or business name as a sender for the fax source, use the printer buttons to enter it on the Enter Fax Header screen. Keep it short – up to 40 characters. Once you're done, click OK.
7. Enter your fax number on the Your Phone Number screen using the numeric keypad – up to 20 characters.
8. On the DRD Setting screen, set up one of the following:
For those using a distinctive ring service from their telephone company, simply press the OK button and select the desired ring pattern for incoming faxes. Press the OK button again and move to number 12.
If you've subscribed to your telephone company's distinctive ring service, press the OK button. Then, press the OK button again after Selecting All.
To proceed without distinctive ring service, press the # button when prompted.
9. On the Receive Mode Setting screen, check if you're using a telephone connected to the machine.
If yes, press OK.
If no, press Stop and skip to Step 11. Then, set the Receive Mode to Auto.
10. Choose one of the following:
Auto: Press OK to receive faxes automatically. Receive Mode is always set to Auto.
Manual: Press Stop to receive faxes manually. Receive Mode is currently set to Manual.
11. Check the settings on the confirmation screen, then press OK to continue.
12. Press the OK button on the Check Fax Connection screen to ensure that your fax connection is in check and working.
Carefully follow the instructions on the screen to print a report presenting the check results. If the report reveals any errors, try the solutions provided and rerun the check until the fax connection is confirmed.
Select the appropriate line type on the screen.
Keep in mind that disabling this function can cause the first digit of a fax number to be dropped, resulting in a misdirected fax.
13. Press # to exit the Fax Setting Wizard.
Source: Epson EcoTank Manual
Faxing With Epson EcoTank ET-4800 Printer
Once you're done with the basic setup, you're all set for sending and receiving faxes. Preparing documents for faxing. Ensure your documents are ready for transmission.
Follow the steps below.
1. Use a proper file format
Check if your document is in a format that the printer can support, such as PDF, DOC, or DOCX. This makes it easier for the printer to transmit your document without complications or errors.
2. Check your document for errors
Before faxing, ensure that your document is free from any errors or mistakes, such as typos or formatting issues. Use a spell-checker to eliminate them from your document and ensure professionalism.
3. Compress large files
If your document is large, use compression software to reduce its size. This improves the speed at which the document is transmitted through the fax line. It enhances the clarity and readability of your document.
4. Ensure document legibility
Make your document legible and easy to read. Use a clear and easy-to-read font, and avoid using complicated graphics. The document must be adequately spaced. You can also resize it for improved readability.
5. Include a fax cover sheet
Finally, include a fax cover sheet that provides all the necessary information about the sender, recipient, and the document's purpose. A fax cover sheet ensures that your document is transmitted to the right recipient. Provide additional instruction if needed.
Sending out fax documents
One of the options for sending a fax is from the Epson product control panel. Enter the fax number or select one from the contact list. You may also extract a contact from the fax history.
You can generally send faxes of up to 100 pages, including a cover sheet. Follow the steps:
1. Place your document on the machine.
2. Press the home button and select Fax. Press OK.
3. Choose your recipient by:
Manually entering the fax number using the numeric keypad
Selecting a contact from your contact list
Choosing a recipient from your fax history
4. Select scan or fax settings if needed if you need to change any fax settings. Otherwise, press OK.
5. Press Start to send your fax.
With these straightforward instructions, you can scan and send faxes quickly.
Receiving inbound faxes with the Epson EcoTank ET-4800
For receiving faxes, you may consider the following options: automatically and manually.
Receive faxes automatically on Epson ET 4800.
Set the Receive Mode on Auto (the default setting) to receive inbound faxes automatically.
Receive faxes manually on Epson ET-4800.
The machine will check for a fax tone when the Receive Mode is set to Manual. It checks if there's a telephone line connected before receiving a fax.
1. On the home screen, choose Settings > Fax Settings > Fax Basic Settings > Receive Mode and then select Manual.
2. When the phone rings, answer the call.
3. Upon hearing the fax tone, choose Fax on the display.
4. Press the pound key #.
5. Press the Start button to receive the document.
6. Hang up the phone.
To receive faxes on your Epson product, set the Receive Mode to Manual. This allows you to check for a fax tone on your connected telephone before receiving a fax.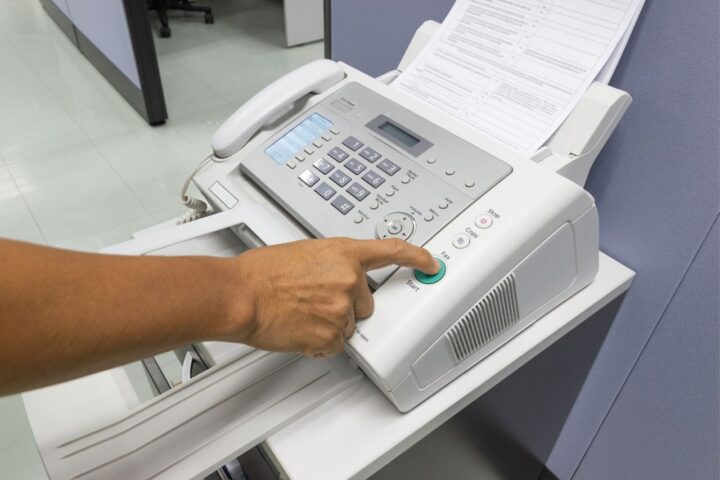 Common Fax Issues and Solutions With Epson EcoTank ET-4800
Any printer has its limitations. The Epson EcoTank ET-4800 is not an exception. Expect some of the following:
1. Inability to print double-sided automatically. This can be frustrating when you have a large document to fax. The solution is to manually print each side of the paper and then fax each page separately. While this may take a little more time, it ensures that each page is transmitted correctly.
2. Inability to duplex scan through the Automatic Document Feeder (ADF). Unfortunately, the Ecotank ET-4800 does not support duplex scanning through the ADF. The solution is to manually scan each side of the document and then combine them into a single PDF or other file format.
3. Clogging and misalignment. This can result in streaks, smudges, and other printing quality issues. To prevent this, performing regular maintenance on your printer is essential such as cleaning the printheads and aligning them properly.
If you don't want to experience any of these, there's a better option: online faxing.
Benefits of Using Online Faxing for Your Business Needs
Online faxing has revolutionized how businesses send and receive faxes. Online faxing is faster, more efficient, and more cost effective than traditional faxing methods.
Other benefits are explained below:
Improved efficiency
Online faxing eliminates the need for physical fax machines. As a result, it lessens paper waste and improves work efficiency.
With online faxing, businesses can send and receive faxes from any device with an internet connection.
Flexible and convenient
With online faxing services, companies can send and receive faxes at any time from anywhere in the world. They can even schedule faxes by volume, especially when dealing with many contacts.
This flexibility and convenience allow businesses to streamline their communication processes.
Cost-effective
Online faxing services eliminate the need for costly fax machines, phone lines, and paper. It reduces overhead costs for businesses.
Additionally, online faxing services offer various plan options with flexible pricing to suit different business needs. This makes an affordable solution for small and large businesses alike.
Security
Online faxing services use encryption technology to ensure the secure transmission of sensitive information.
Unlike traditional faxing methods, which pose a risk of interception and unauthorized access, online faxing services provide end-to-end security. It ensures the privacy and security of your business's documents and information.
Eco-friendly
Online faxing services are environmentally friendly. They decrease paper waste and contribute to a sustainable future.
Switching to online faxing services can help businesses reduce their carbon footprint and promote a sustainable business model.
Sending and Receiving Fax With Epson EcoTank ET-4800 vs iFax
Sending and receiving faxes have never been more accessible with the Epson EcoTank ET-4800. This all-in-one printer features a built-in faxing capability that seamlessly sends and receives fax messages directly from your printer.
However, while it has its benefits, there are still some drawbacks to the traditional faxing system. Consider the following:
iFax could provide a more efficient and modern solution for sending and receiving faxes. It's paperless and yet simplified. It also streamlines the faxing process with app integrations like Google Drive, Dropbox, and OneDrive.
iFax's electronic faxing solution allows you to send and receive faxes from anywhere worldwide, as long as you have an internet connection. This not only saves time but also adds an extra layer of convenience that traditional faxing cannot provide.
The platform is well-equipped with advanced security features, such as end-to-end encryption technology that protects your faxes from potential security breaches. Rest assured that your confidential fax messages are fully protected from unauthorized access.
Switching to iFax's modern online faxing service makes your business more scalable and sustainable.
Try iFax today and discover why over 5 million customers rely on it.
affordable fax machines
fax equipment
fax machines
hardware