When transmitting business fax in bulk, you want to ensure that all of the documents are successfully delivered to the intended recipients. But you don't want to waste time checking each transmission manually. Fortunately, iFax lets you manage your outgoing fax through an intuitive dashboard.
Let's explore how you can use this feature to your advantage.
What Is an Outgoing Fax?
An outgoing fax is a real-time transmission of digital documents from an online fax service to a physical fax machine or another internet fax provider. In the context of iFax, it's the fax sent from your app to the recipient's fax number.
Configuring Outbound Fax Notifications in iFax
On the iFax dashboard, you'll see three fax delivery statuses — sent, delivered, and confirmed — to show the progress of outgoing faxes. If you wish to get real-time updates, then you need to configure outbound fax notification on your iFax dashboard. Here's how to do it:
1. On your iFax dashboard, click Settings. It's the gear icon at the lower left side of the screen.
2. The Settings window will pop out. Select Notifications, then choose Fax Notifications.
3. Under the Outbound settings, you will see the types of notifications you want to activate.
None

– You will not receive any notifications.

Email

– An email is automatically sent to your inbox notifying you that the fax has been sent successfully.

Push

– Activate this if your browser settings allow push notifications on the iFax app.

Both

– This will activate both email and push notifications.
If you toggle on Attach Fax, a PDF of the fax will be included in the email. The recipient can immediately see the fax when they open the email. You'll also receive a copy in your inbox.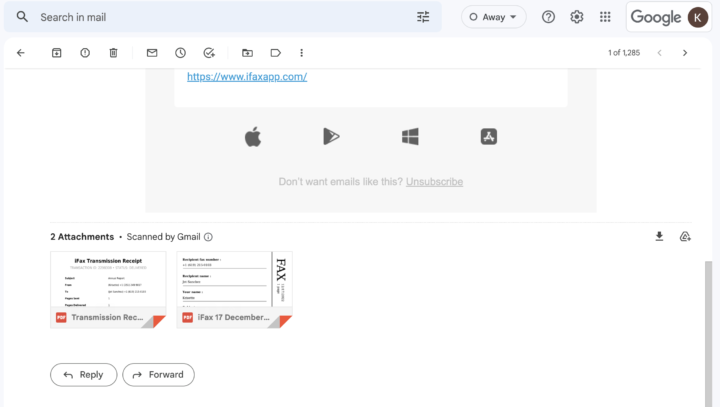 Outgoing Fax Transmission Receipts
iFax allows you to access the transmission receipt on your main dashboard to verify if the fax was delivered successfully. To do this, click the hamburger icon of the recipient to view the Transmission Receipt.
With the Attach Fax option toggled on, you will receive a copy of the transmission receipt in your email inbox.
How to View Outgoing Faxes
iFax wants you to have complete control of your outbound faxes, ensuring you have a list that's easy to organize. Click the column Any Direction on the main dashboard to view the Outgoing list.
The next column, Any status, allows you to filter outgoing faxes accordingly:
Sent/Delivered
Confirmed
Failed
Draft
Common Issues for Outbound Faxes
Say you sent a fax, but iFax notified you via email that it was not delivered. Usually, a transmission receipt is also attached in this notification email.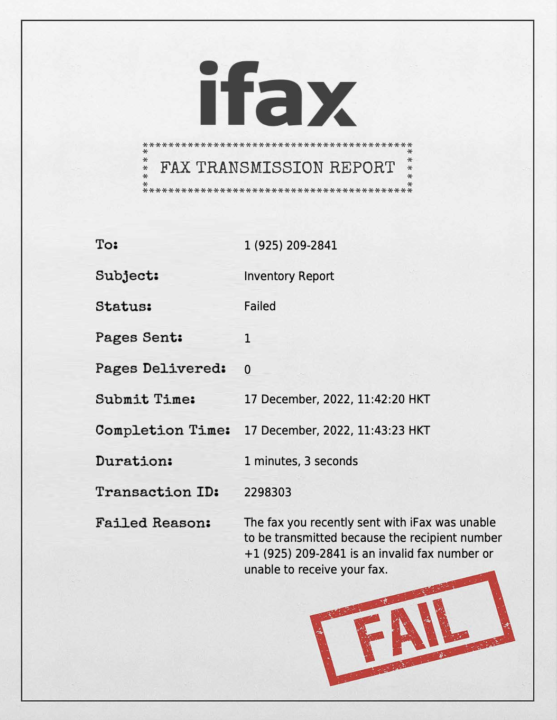 There are several reasons why the transmission failed. The most popular one is that you entered an invalid or incorrect fax number. Here are other possible causes of undelivered faxes:
Busy trunk line detected
User busy
Fax canceled
Manually updated old sent fax records
Fax machine incompatibility
No answer
Fax machine is out of paper
Recipient's fax number has changed
If you experience any of these errors, check the fax number and ensure that the area code and digits are correct. You may contact the iFax customer support team for assistance.
Supported File Types for Outbound Fax
With iFax, send fax documents electronically as attachments in different standard file types.
| | |
| --- | --- |
| Document Type | Extensions |
| Adobe Portable Document Format | PDF |
| Hypertext Markup Language | HTML |
| JPEG (Joint Photography Experts Group) | JPG, JPEG |
| Microsoft Excel | XLS, XLSX |
| Microsoft PowerPoint | PPT, PPTX |
| Microsoft Word | DOC, DOCX |
| Microsoft Word Template | DOT, DOTX |
| Plain Text | TXT, DOC, ERR, LOG |
| Portable Network Graphics (PNG) | PNG |
| Rich Text Format | RTF |
| Tagged Image file format (TIFF) | TIF, TIFF |
| Windows Bitmap | BMP |
Take Charge of Your Outgoing Faxes in iFax
Now that you know how to manage faxes and fix delivery issues, there's no doubt you'd be on top of your fax management workflow. Make sure you can easily access your faxes anywhere and get notifications in real time.
So, what else can you do with your outgoing faxes in the iFax app?
Mark as done

– Do this once the fax is successfully sent so it will be included in the done folder.

Move and sync to the cloud

– Choose a specific folder to create a backup in your connected cloud storage like Google Drive, OneDrive, or Dropbox.

Annotate and eSign

– Attach your digital signature or add annotations with a third-party app, Fill.

Forward as a new fax

– Transmit it to authorized recipients who need to have a copy of the fax.
With iFax, you know that your documents are safe and delivered successfully every time. Request a demo today and see how you can incorporate iFax into your existing workflow.
cloud-based fax
online fax
outbound faxes
outgoing faxes