Like an email inbox, an online fax inbox is a virtual space where you can store and manage incoming faxes. With it, you can access faxes from anywhere, as long as you have a smartphone or computer with internet connection. It allows you to fax on the go and have instant access to important documents, even if you're away from the office or working from home.
An online fax inbox is also typically very easy to use and manage. With an electronic fax service like iFax, you can organize all your faxes in one convenient location.
Go ahead and take advantage of what this feature can offer.
Effortlessly Access and Manage Your Faxes With iFax
Nothing beats having a convenient, secure, and cost-effective way to manage your electronic fax communications. Our online fax service lets you receive faxes quickly and easily without wasting money on printing and costly landlines.
Once you've set up a fax number, you can immediately configure your fax inbox to receive and manage your incoming faxes. You can also sort faxes into folders, set up email alerts, and customize your inbox by assigning faxes to specific users.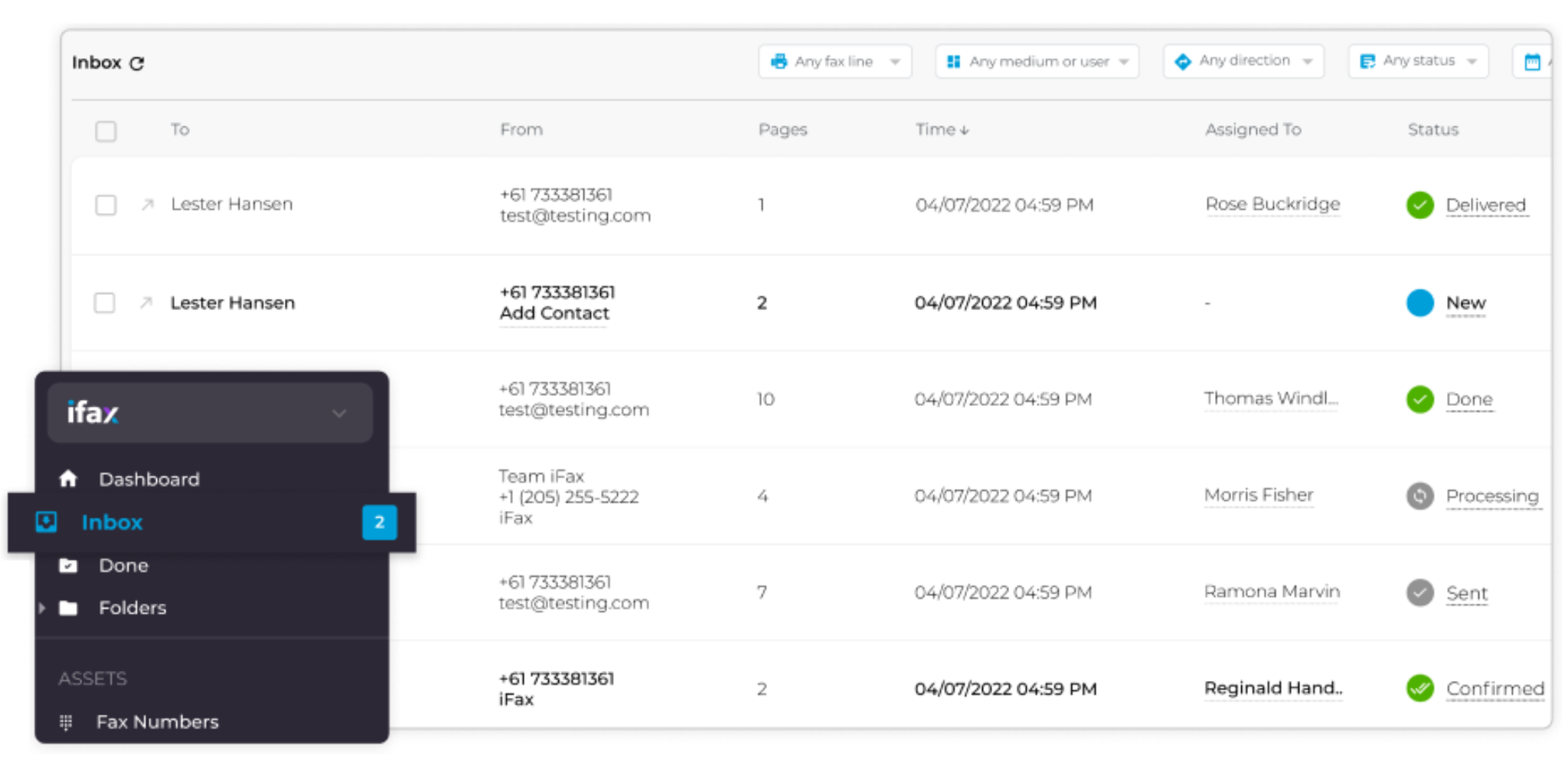 Managing your fax inbox
To access and manage your received faxes, here's what you need to do:
Go to the iFax website. Log in to your account, then navigate to the Inbox section of your web dashboard. By now, you should see a list of sent and received faxes.
Click on the specific fax you want to view. Alternatively, you can use the search function to locate a particular fax.
To filter and sort faxes, you can use the organization tools provided. You can sort faxes by users, status, and date.
Clicking the checkbox next to a fax will allow you to perform various actions like delete, mark as read, forward, or reply. You can also select multiple faxes by clicking the checkboxes next to them. Once you've done so, you can apply specific actions at once.
To move a fax into a sub-folder, you must first create the sub-folder within your main fax folder. Then, you can select the fax you want to move and click the Move icon to proceed.
To check if there are new faxes, simply click the refresh icon. It's the icon next to the Inbox label at the top-left navigation.
Fax Inbox Management Basics
Managing an inbox filled with faxes can be overwhelming. Knowing the basics allows you to manage your documents efficiently, eventually leading to increased productivity.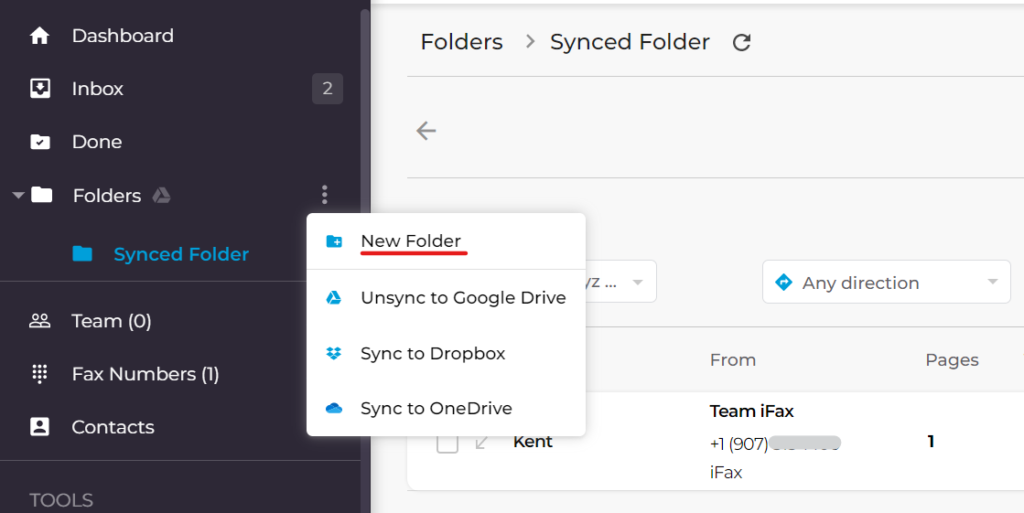 Create folders and sub-folders
Creating folders allows you to quickly scan your fax inbox and find the specific document you need. You can also create sub-folders within your main folders to further organize your faxes by users or topics. Such an option can be beneficial, especially if you receive faxes in high volumes daily. It also minimizes the risk of lost or missed messages.

Use search functions
Most online fax services have search functions that allow you to search for specific keywords or sender names. It saves time and effort since you don't have to manually scan your inbox. You only need to enter a keyword or type in a sender's name to display all the faxes that match your query.

Set up email alerts and notifications
Setting up alerts and notifications is a must, especially if you want to keep tabs on important messages. It also enables you to review and respond to the fax on time. Such a feature can be vital for businesses that rely on faxes to share documents and other essential information. It also helps minimize delays while reducing the risk of miscommunication.
Enable email forwarding
If you have multiple team members who need access to specific faxes, consider forwarding these documents to your team via email so everyone can access the most up-to-date information. This way, you and your team can stay organized while streamlining your fax communications.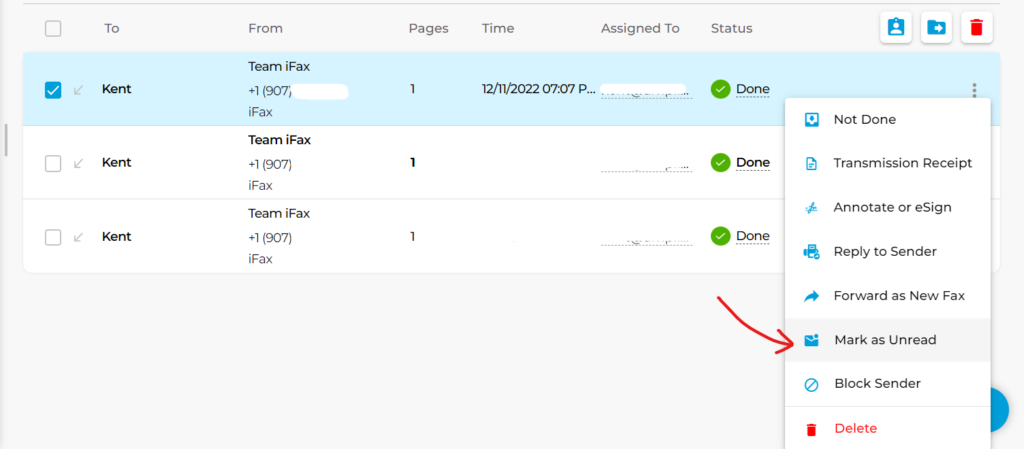 Use the read and unread functions
Marking messages as read or unread in your fax inbox can help you track which documents you have and still need to review. Additionally, this serves as a reminder to follow up on particular messages later, especially if you're still awaiting a response from someone before you can take any further action.
Managing Your Fax Usage
Usage limits refer to the maximum number of faxes you can send and receive. Usually, this will vary depending on your chosen subscription. The higher the plan, the higher the usage limits will be. With iFax, you won't have to worry about exceeding your monthly or yearly page allocation. All it takes is a few clicks to purchase additional credits.
To check and monitor your fax usage, go to "Plan and Account" in the "Settings" section. It will display the total number of pages you've already sent and received.
A Convenient and Organized Way to Access Your Faxes
Stop sifting through piles of paper to look for a particular fax. iFax offers a convenient and secure way to store and organize your faxes. No need to stress over paperwork or worry about accidentally deleting a fax. With our user-friendly fax inbox, you can communicate with clients quickly and efficiently. Plus, you can be confident that your faxes are safe and protected using advanced encryption technology.
Want a feature-rich way to stay on top of your faxes?
Have your online faxes delivered straight to your fax inbox today.
fax inbox
feature highlights
feature updates
ifax features
incoming fax