Manually uploading files is no fun. Even if you opt for drag and drop, you still have to repeat the process for each upload. It's a tedious task that hinders productivity. With iFax Web, you can sync your files and folders to Google Drive without spending too much time and effort.
With our Google Drive Sync feature, you can instantly export your files from iFax to your cloud storage account. With it, you can move documents quickly. It also allows you to seamlessly create a backup of all the faxes you've sent and received. There's no need to download everything and upload them manually. Once you've enabled sync, you can take it easy. Your iFax files and folders will sync automatically.
Enable Google Drive Sync for Easy File Access and Secure Folder Sharing
With Google Drive Sync, you can export your files and folders while preserving data integrity and maintaining compliance. Here's why you should consider syncing your files in the cloud:
Secure folder sharing and easy file access:

You can securely share private records and folders while restricting unauthorized access. You can also access your files from anywhere and view them directly on your Google Drive application.

Cross-platform syncing:

Collaborate with others and work as a team regardless if you're on iOS, Android, Mac, or Windows. Share and view your documents on different operating systems without worrying about

compatibility

and access limitations.

No need to switch screens or software:

Keep your files and folders in one place. Work on them without hopping in and out of your iFax Web dashboard.

It keeps your files up-to-date:

Your files and folders will automatically update based on the latest changes you've made.

Minimizes the risks of human errors:

Avoid paying costly damages due to lost and misfiled folders. By syncing your files to Google Drive, you can manage them efficiently while minimizing the risks of errors.

You can restrict user access:

Keep your sensitive documents safe and properly safeguarded by setting custom user restrictions. Prevent unauthorized users from making unwanted changes to your documents.
Sync your Google Drive to iFax Web today.
Available to all iFax Pro users, Google Drive Sync can help streamline your document workflows. Use it to create online backups and share files without doing unnecessary work.
How to Sync Google Drive to Your iFax Web Account?
In just a few steps, you will be on your way to syncing all of your iFax documents to your Google Drive account. It starts with choosing the right plan as the said feature is only available to Pro users.
Step 1: Open your iFax Web dashboard. You can access iFax Web using any web or mobile browser.
Step 2: On the left side of your dashboard screen, click the hamburger (vertical dots) icon next to Folders. Click Sync to Google Drive. Select the account that you want to link. When asked whether you want iFax to access your Google Account, click Allow.
Step 3: Once linked, a popup message will show up with a notice about your sync being in progress. Click Okay.
Note that the time for sync completion may vary. If you're not managing faxes in high volume, the entire process may only take less than a minute.
Step 4: Create a new synced folder. You may access your new folder by clicking the drop-down icon next to Folders. After creating a new synced folder, it will automatically appear on your Google Drive account. Just look for the iFax folder under My Drive.

Keep in mind that your synced folder is where you can move and store all of the documents that you want to sync across all your devices. You can also create/remove sub-folders inside your synced folder, or unsync the whole folder completely when you no longer need it.
Step 5: Send faxes directly from your synced folder. Once you've successfully synced your iFax Web account to Google Drive, you can choose to store all your incoming and outgoing fax messages in your synced folder. You can also delete and add new folders.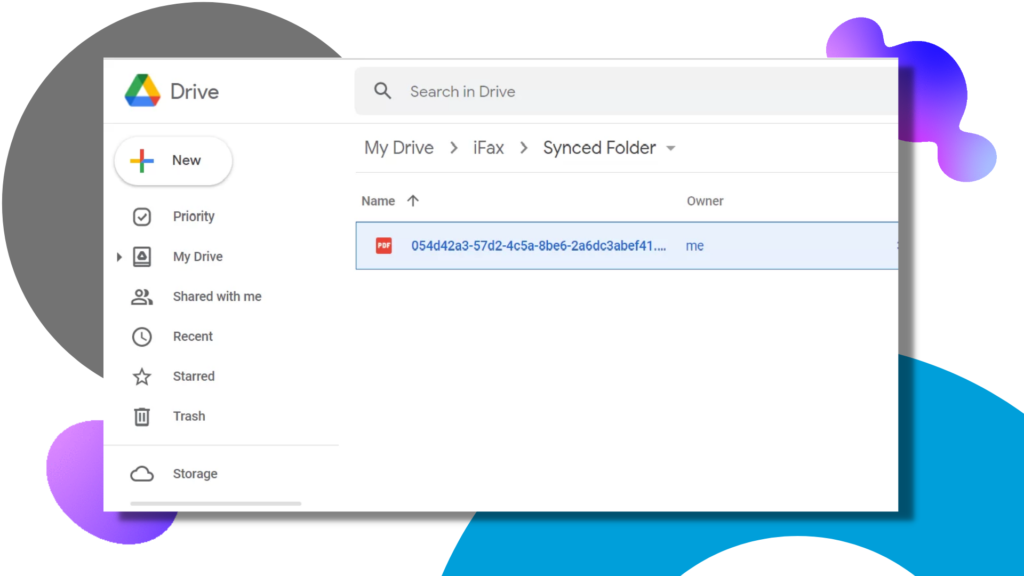 If you want to send faxes directly from Gmail instead of Google Drive, you can install our iFax for Gmail add-on.
Synchronize Files Across All Devices
With Google Drive Sync, you can effortlessly sync your files across all devices. You can preview your documents in real-time and send urgent faxes easily on your computer or cell phone. You can also fax and download documents faster. Since you can access everything in the cloud, you can keep track of all your fax transmissions via email updates and real-time notifications. You can also search for the documents you need without rummaging through a pile of unsorted folders. Just search for a specific file or type a keyword.
Secure File Backup and Data Recovery
By syncing your iFax documents to Google Drive, you can improve your data security and compliance. Aside from meeting all the compliance requirements, the highly-acclaimed cloud storage is also ready to sign a BAA upon request. Thus, it makes a suitable online backup option, especially if you're often faxing documents that contain PHI (protected health information). On top of this, you can also recover and restore files quickly in case of data loss. It also requires no maintenance, so there's no need to worry about failing hard drives and random disk errors.
Back Up and Sync Your Faxes Today
Nothing beats the excitement of exploring a feature of a product first-hand. After all, the best way to know if it truly works is to try it out. If you're yet to discover the benefits of syncing your documents to Google Drive, now is the perfect opportunity to do so. Go ahead and enable Google Drive sync on your iFax Web account.
Ready to sync iFax Web to your Google Drive account? Sign in to get started.
cloud storage access
document management
file management
google drive integration
google drive sync