Contact list management is a must, especially if you regularly send fax broadcasts. One way to improve efficiency is to upload contacts simultaneously into the iFax dashboard.
This is possible with the web version of iFax. The bulk upload feature allows you to instantly import names, fax numbers, and emails into your broadcast lists.
This post breaks down the basics of uploading contacts for fax blasts and why you should leverage this feature to build better relationships with your target audience.
How to Bulk Upload Contacts for Fax Broadcasts
With iFax, you can add contacts manually or import them in bulk. Let's say you have a long list of campaign subscribers. To add them to your broadcast list in one go, you need to follow these steps:
Log in to your iFax web account. If you are not yet an iFax user, simply sign up for free or pay for a subscription.
On your dashboard, go to Tools > Broadcast Fax.
On the lower right of the screen, click New Broadcast List, then select Upload CSV.
Click Choose File and select the CSV file you want to upload from your local folder. Select Import.
Label your new broadcast list. Review the data you uploaded. Our import tool will automatically check if the fax numbers listed are valid.
If there are any invalid numbers, you must update them manually before you can click Save.
A few things to remember:
CSV stands for comma-separated values. You can export this file from document applications that can store data in tabular form, like Microsoft Excel, Google Sheets, and LibreOffice Calc. You can only upload one CSV file at a time.
You should always include the area code, three-digit prefix, and at least four unique digits when listing fax numbers.
If you are fax blasting to an international audience, always include the country codes without the +. Follow this format: 1 (314) 123-4567
Adding custom contact fields to imported CSV lists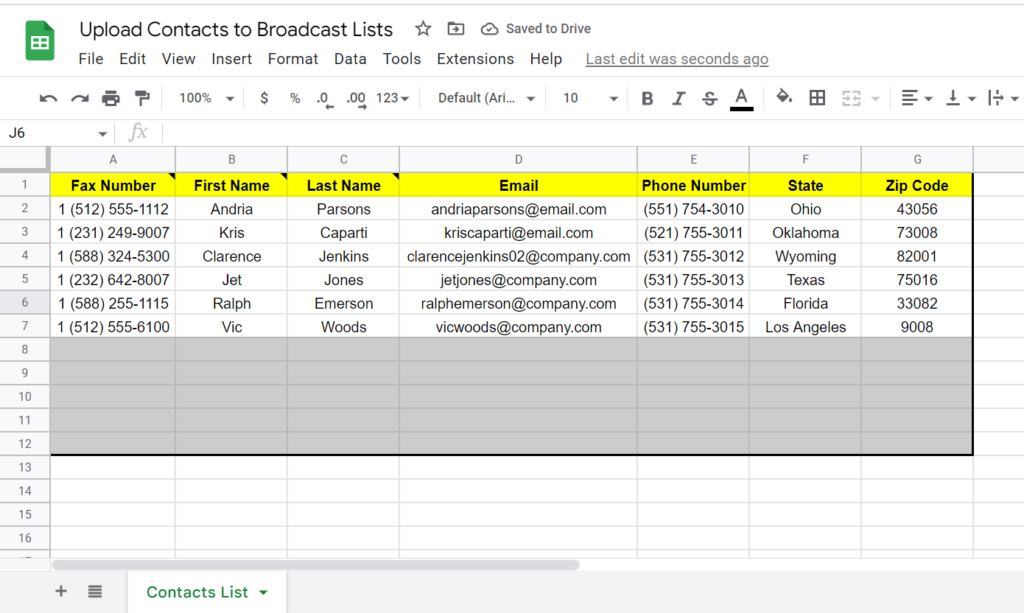 When importing contacts in bulk, you must ensure that the CSV fields are in the correct order starting with the fax number, first name, and last name. If you want to add custom fields for email addresses and phone numbers, you must place them after the last name.
Note that you can only add up to 10 custom fields. Otherwise, the exceeding fields won't show up, and you'll have to redo your upload.
Alternatively, you may download and modify the template provided by following these steps:
Go to Tools > Broadcast Fax.
Click New Broadcast List.
Click Upload CSV.

Download the same template provided (see the image above). By default, the template will be downloaded as an XLS file.

Open the XLS file using MS Excel or any software that supports the said file type.
6. Edit the sheet as necessary. Add custom fields next to the pre-labeled columns.
7. Save your changes, then go back to your iFax web dashboard.
8. From the same Upload CSV dialog, click Choose File.
9. Upload the updated spreadsheet, then click Import.
10. Preview the imported file. From there, you will see whether the custom fields have been successfully added. You can also modify the details as needed.
11. Click Save.
Why Should You Import Contacts to iFax?
By bulk uploading contacts to broadcast lists, you can:
Effortlessly upload a CSV file with detailed user profiles
Easily add and remove contacts from fax broadcast groups
Manage broadcast lists faster without wasting time
Update and reuse broadcast lists instead of starting over
Run targeted broadcast campaigns at the push of a button.
Save Time and Money by Uploading Contacts in Bulk
Why go through the hassle of manually creating lists when you can simultaneously upload hundreds or thousands of external contacts? Not only does this save time, but it also maximizes revenue. Now, you can send personalized fax blasts with minimal effort.
All you need is a secure and reliable online faxing platform that can smoothly adapt to your constantly evolving fax marketing strategy. With the help of iFax, you can upload contacts and send fax broadcasts quickly and cost-effectively.
Sign up for an account today or request a free demo to see how it works.
contacts upload
fax broadcast lists
feature highlights
feature updates
uploading contacts