Documents transmitted by fax often need signatures to be considered legally binding. The thing is, more and more businesses are shifting to paperless transactions. The only way to keep up is to switch to an online faxing solution with eSignature integration.
With iFax, you can effortlessly fax signatures and request others to eSign your faxes using a laptop, tablet, or smartphone.
So go ahead and find out how our online faxing solution can help your business achieve a secure document workflow.
Faxing Signatures Online: Is It Relevant?
Faxing has evolved. Nowadays, it's easy to fax a document over the internet. It is possible because online faxing services like iFax allow users to fax without relying on a fax machine and landline connection. What's more, you can also use fax signatures to legalize and validate online transactions.
And before you even wonder whether sending signatures via fax is legally accepted, the answer is yes. It is already a common practice in today's modernized market. However, it's best to check the applicable laws for electronic signatures and online faxing in your jurisdiction.
Besides, faxing online can free you from the constraints of conventional marketing. You can do business on a global scale. With iFax, you can eSign faxes quickly and easily.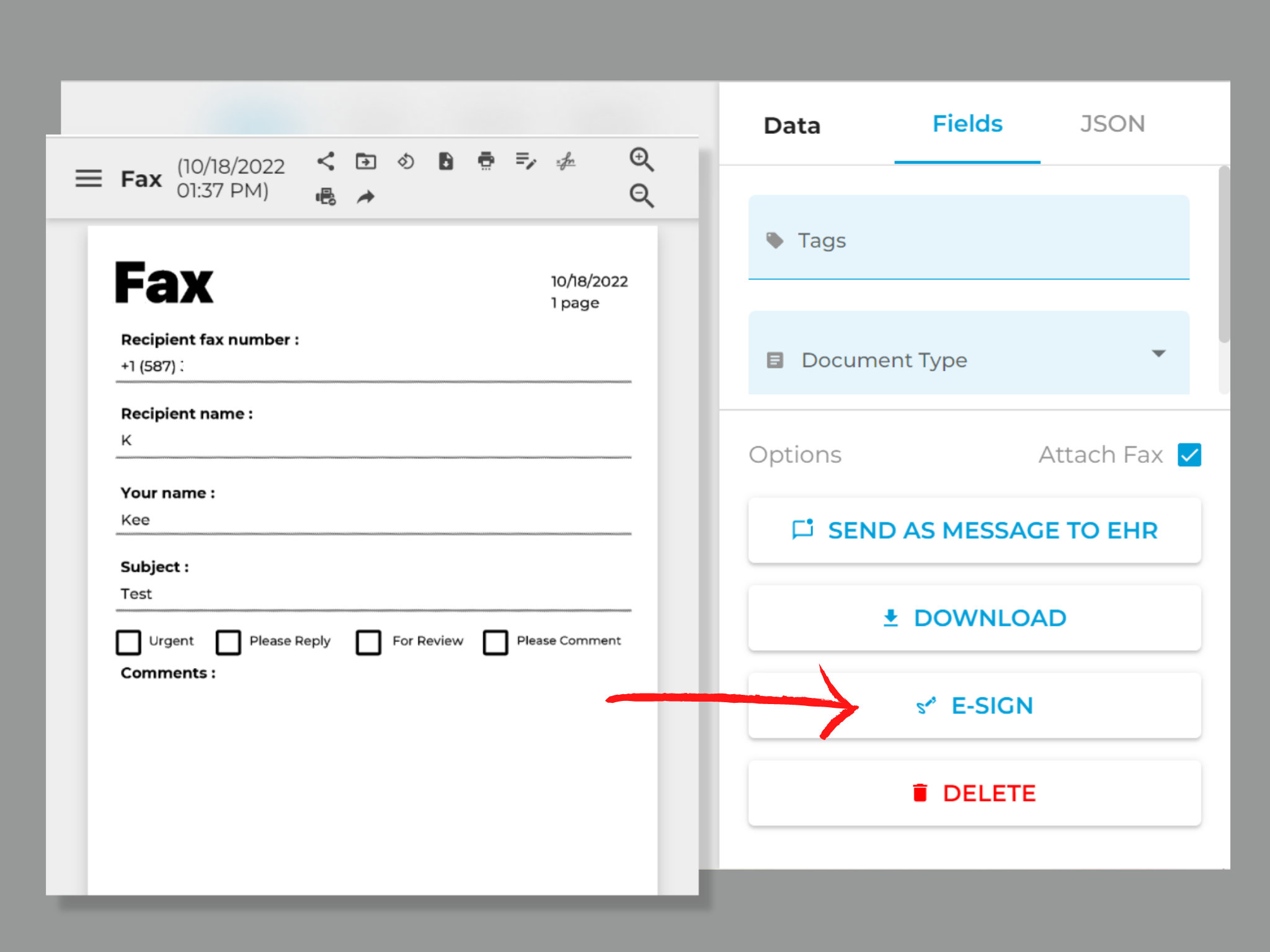 How to Add Signatures to Faxes Using iFax
Adding electronic signatures to your online faxes is easy. With iFax, you don't need to integrate another third-party eSigning tool. Our
fax app already has a built-in eSignature integration that automatically redirects to Fill, a reliable eSignature tool.
Since Fill already offers a full suite of tools for eSigning, you don't have to worry about anything else. You can simply proceed and have your faxes signed online, making the process less tedious. You can even ask signatories to sign faxes without switching to other platforms.
To request fax signatures using iFax, you need to:
Go to web.ifaxapp.com and log in using your account email or password. You can also log in using the single sign-on (SSO) details provided by your company or organization.
Compose a new fax, then add the number of your recipient in the To field. Don't forget to fill out the rest of the required fields.

Send the fax. Wait for the delivery confirmation.
4. The moment your recipient views the fax, there will be an option to Fill or eSign. Just tell your recipient to select this option.
5. After which, the document will automatically open on Fill. From there, your recipient can sign the fax. They do not need to register for a Fill account to do this.
6. Once signed, your signatory must send the document back as an online fax by clicking Send as Fax from the Menu.
7. Wait for a few seconds. It won't take long before you receive a copy of the signed document.
Note: The option to fill or eSign faxes is unavailable via Compose Fax. It will only show if you preview a fax from the dashboard.
If you are trying to self-sign a document, you can still follow the steps above. However, instead of sending a fax, preview the signed copy first, then click Download. The file will be automatically downloaded and saved to a local folder in your device.
5 Benefits of Using Fax Signatures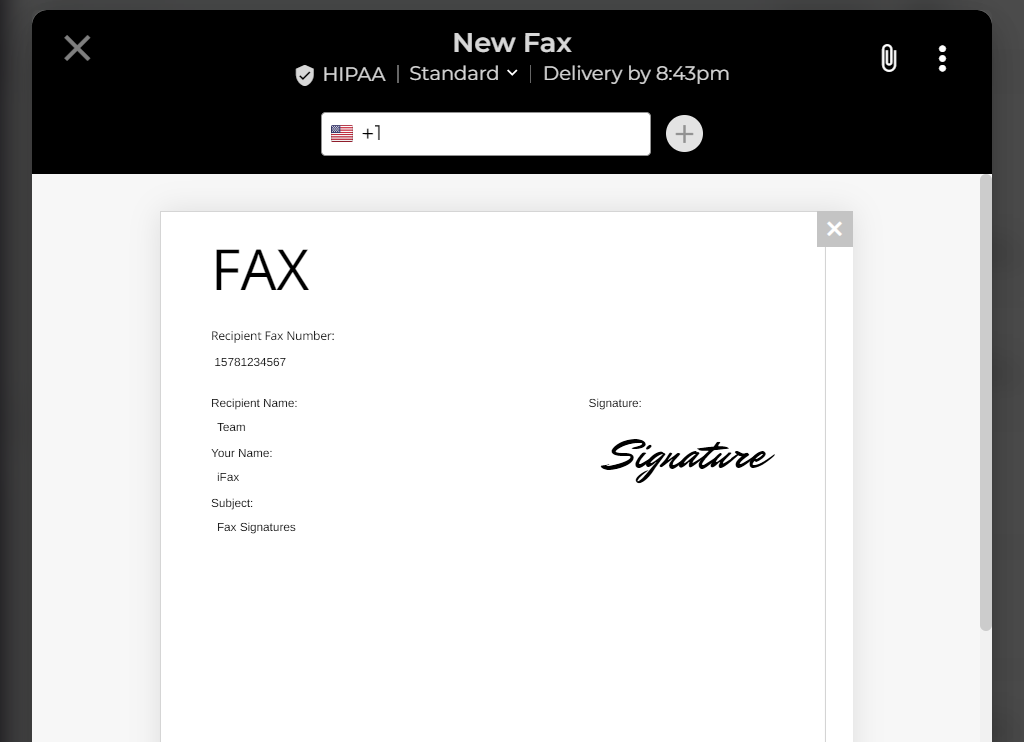 1. Streamlined document workflow
There's no need to go through the tedious process of printing and scanning paper faxes. You can fax signatures online without frequently switching apps. Every step is streamlined in a way that helps eliminate bottlenecks. You can also focus on improving productivity and having clients sign your documents on time.
2. Instant document visibility
With online faxing, you can keep track of each document activity. This way, you will know the status of your document and check whether it has already been viewed or signed. Plus, you can monitor its progress in real time, which makes it easier to send automated reminders and meet deadlines.
3. Secure transactions
Adding an eSignature to a fax allows you to double-check whether a document is valid or fake. Since it's a fax, you can verify the electronic signature's authenticity by looking at the transmission receipts and audit records.
4. Versatile faxing and signing options
Faxing online means you have more freedom over the way you transmit documents. It's now possible to fax documents from your office or home. You can also use your own computer or phone, which means you won't have to miss out on important deals just because you do not have access to a fax machine.
5. Increased productivity
Since you can fax and sign documents from anywhere, it's the perfect opportunity to get more work done and achieve better results. It doesn't matter where you are. You can close deals while on the go.
Faxing online can also speed up the processing time. What usually takes weeks to process via traditional fax will only take a few minutes with online fax. You can have a faxed document signed immediately, allowing you to close time-sensitive transactions and seize business opportunities.
Improve Faxing Efficiency With eSignature Integration
Send and request fax signatures instantly and effortlessly. With iFax, your eSignature workflow can evolve along with today's ever-changing business trends. So why stick with the conventional methods of faxing and document signing?
Our online fax service's eSignature integration allows faster business communication through paperless and inkless signing with each online fax.
Want to learn more about how you can integrate your own business or productivity software into iFax? Get in touch with our sales team to request a free demo.
esign faxes
esignature
esignature integration
esignature on faxes
fax signatures