Faxing from Google Workspace can save you a great deal of time and money. The popular productivity suite may lack a native app for business faxing, but that's where third-party services come in.
With our Google Workspace fax service, you can fax efficiently without needing to leave the platform. It's a convenient yet secure way to fax PDF files online and other essential documents. Setting it up is also easy. You don't need to be an expert at configuring settings, nor do you need to waste your time trying.
Let's explore how you can use this feature to your advantage.
Faxing Online With Google Workspace
Google Workspace features a collection of popular productivity tools like Drive, Gmail, Docs, Sheets, and Slides. It also supports third-party app integrations, bringing all your favorite tools together in one place. This way, you won't have to leave the platform to access other software tools like iFax.
Yes, that means you can send and receive faxes directly from Google Workspace. As long as you have an iFax account, you can use the productivity suite to view, manage, and send faxes. It also takes no less than a few minutes to configure.
Installing the iFax Google Workspace Fax Add-on
Both teams and individuals can install the iFax add-on without prior technical knowledge. The guide below will explain the steps in detail.
For individuals
Go to the iFax website and log in to your web dashboard.
Once logged in, navigate to Tools > Integrations & API.
Under this section, select Google Workspace. Doing this should prompt the web app to open the add-on in a new tab.
Clicking the newly opened tab will take you to the add-on's page on Google Workspace Marketplace.
Click Install.
When prompted to proceed, click Continue. Grant permission for the add-on to access your Workspace data.
If successful, you should see a quick animation showcasing where you can access the newly installed add-on. Click Done.
Now, click on the grid icon located right next to your Google account icon.
Scroll down to the bottom of the list, then click on the iFax app to launch it.
Note: Installing the add-on as an individual user means you are the only one with access to its faxing capabilities. You cannot share it with others or use it on another device. To use it across multiple devices, you must install the add-on on each device individually.
For teams
Granting your team members access to the add-on is easy. There's also no need for them to install the plugin individually. Here's how it works:
Log in to your Google Workspace account with your administrator credentials.
Go to Google Workspace Marketplace.
Type "iFax – Free Fax Service" on the search bar and hit Enter.
Click on the add-on to load its actual page. Right next to its name should be two blue buttons. Select the one that says "Admin Install."
A prompt should reveal a dialogue box asking for permission to continue. Select Continue.
Select the domain or the specific users to whom you want to install the add-on. You can choose to install the app for the following users:

Everyone in your organization
Specific organizational units or groups

Once the installation is complete, the add-on will be available for use by your selected users.
Check the "Allow" box to agree to Google Workspace and the add-on's Terms of Service and Privacy Policy.
Note: Installing the add-on for all users in the organization requires some waiting time. It may take up to 24 hours for it to be made available to everyone. Make sure to allocate enough time to complete the installation process.
If the installation is a success, you can have your team members access the add-on in two ways:
Via the Google app launcher
By clicking the "Open With" option in your Google application
The latter can be accessed whenever you preview a document attachment in Gmail. It should also appear whenever you right-click on a file stored in Google Drive, as long as it's an image, document, or PDF.
How to Send Faxes Directly From Google Apps
Faxing on Google Workspace offers added convenience, security, and flexibility. Here are two easy ways to make it work:
Fax from Google Drive
Go to Google Drive and find the file you want to fax. For this to work, the file should either be a PDF, Word document, or image. You cannot fax spreadsheets and slides.
Right-click on the file and select Open With.
Select iFax.
Doing so will prompt the app to open the document on iFax. By this time, you should follow the app's standard faxing process. Remember to type in your recipient's fax number and other required details.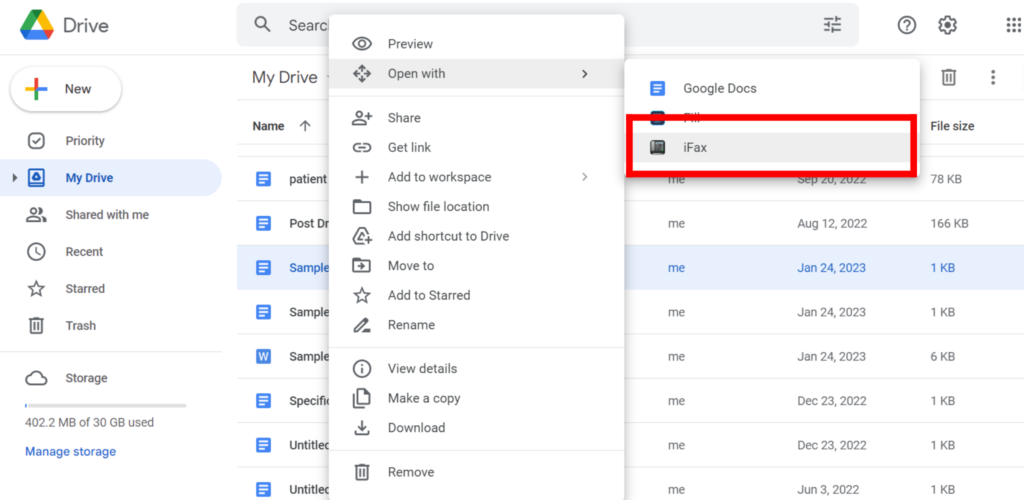 Fax from Gmail
Go to your Gmail account and open any email with a document attachment.
Preview the attachment.
Select Open With, then choose iFax.
The iFax compose window should automatically load in a new tab. Enter your recipient's fax number and configure the fax according to your needs and preferences.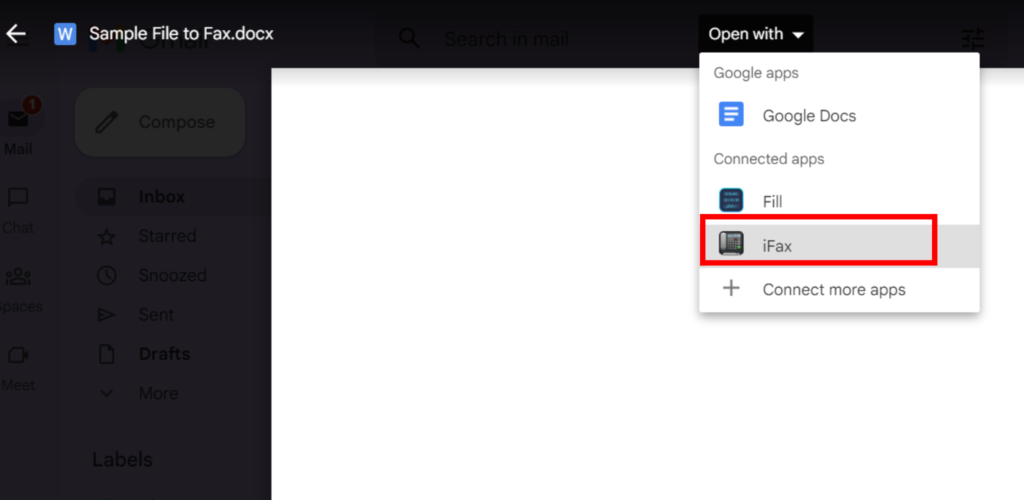 3 Things You Need to Know About Faxing on Google Workspace
Here are 3 crucial things you need to know about our Google Workspace fax add-on:
1. Page limits
Your faxing capabilities will depend on your current subscription's level of access. If you are using iFax for free, you must be mindful that you can only fax up to 5 pages monthly. If you want better options like faxing in HD quality, you need to upgrade to a higher subscription tier like iFax Plus or iFax Professional.
2. Pricing
Installing the add-on is free. You don't need to pay extra for unnecessary setups or software installations. You will only need to pay when you upgrade to a paid plan like iFax Pro. It's an excellent opportunity to save on faxing fees, especially when you are sending numerous faxes on a regular basis.
3. Receiving faxes
To receive a fax, you will need a working fax number. You can either get a new number or port your existing number. To receive faxes directly via Gmail, check out this guide on how to set up and configure your email alerts.
Streamline Your Faxing Experience With iFax
Our Google Workspace fax feature can significantly speed up your faxing process. It also enables you to fax from apps that are part of your existing productivity suite. If your goal is to streamline your communication, this feature can help you do just that.
That's not all. With iFax, you can instantly access your faxes across multiple devices. You can also collaborate and securely share confidential documents with others in real time.
Create an account today to experience borderless faxing at its finest.
fax from google
fax from workspace
google apps fax
google workspace
google workspace fax