There's a longstanding debate on which communication tool is better for businesses: email or fax. Some users prefer email because it's more convenient, while others remain loyal to faxing as it offers better data security. But what if you do not have to choose between the two?
Today's technology has made it possible to fax from Gmail or any email service. When you sign up on iFax, you can enjoy our email-to-fax service at no additional cost. In this article, we will walk you through how to do it.
A Brief Introduction to the Email-to-Fax Feature
Nowadays, you do not need a bulky fax machine to send and receive faxes. With online faxing, you can share documents straight from your computer and even your mobile phone. Aside from ease of use and convenience, it also empowers your other business tools, like your email, enhancing their communication capabilities.
With its email-to-fax feature, you can enjoy the combined benefits and functionalities of these technologies. As the name suggests, this online faxing feature allows you to send faxes from your email. There's no need to install any new software, and it requires no complex process.
You can compose your fax transmission on your email service, and your recipient will receive the message on their online fax app.
How to Send Fax From Gmail Using iFax
iFax is one of the most trusted digital faxing solutions in the market today, with over five million satisfied customers. We are dedicated to providing you with the easiest and most convenient way of sending and receiving faxes at the lowest possible cost.
With iFax, you can send fax from Gmail. Here's how to do it:
Click Compose to start a new email on your Gmail.
In the To field, type in send@ifaxapp.com.
Type in your recipient's fax number in the Subject line. Make sure to delete all special characters and extra spaces in between the number.
Attach the document you wish to fax.
You may add a custom message by typing it in the Message field.
Click Send.
You will receive an email confirmation once the transmission is complete and successful.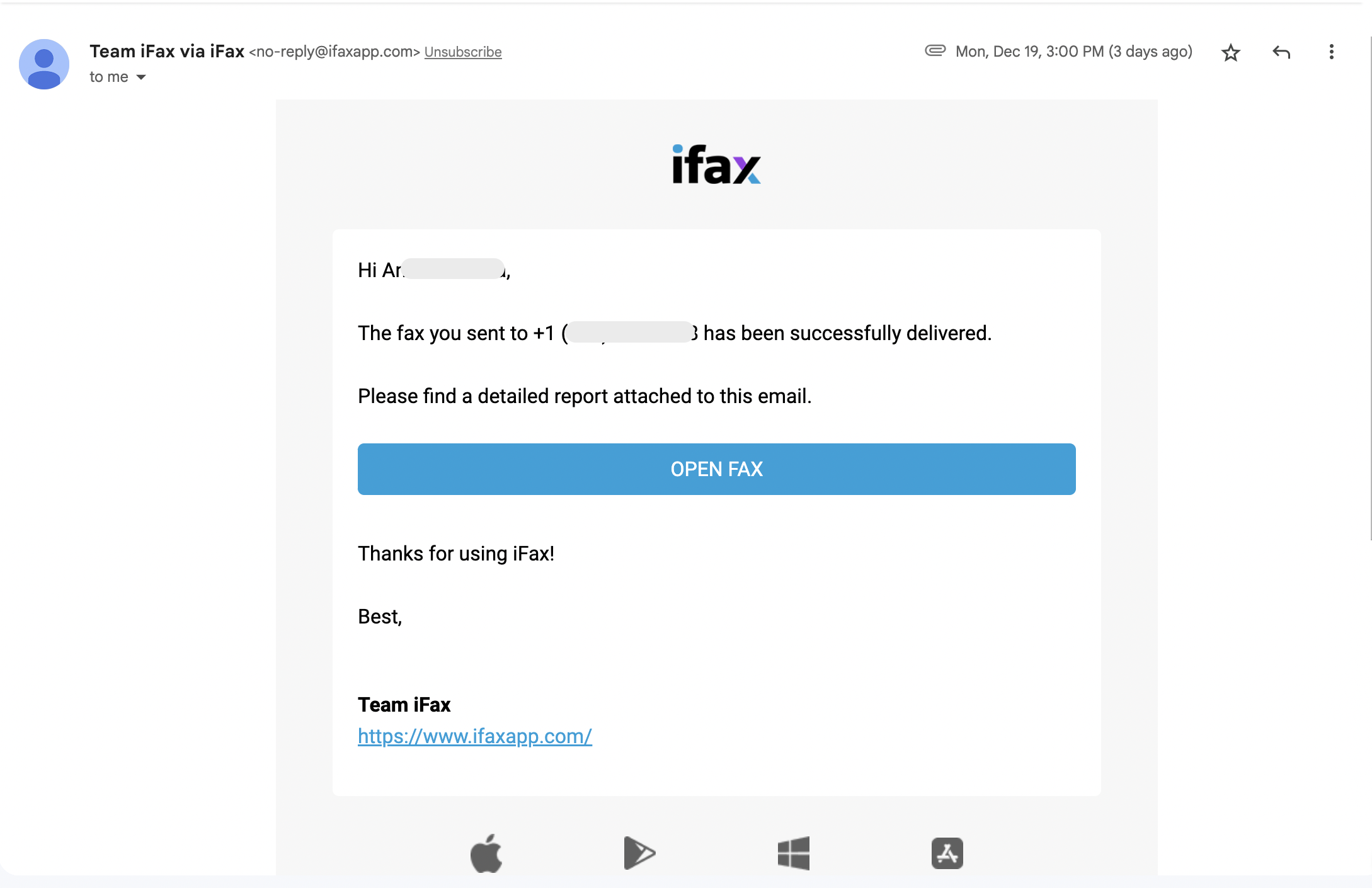 Sending a fax from Gmail using iFax is that easy. You can do it without extensive technical skills. In just minutes, you can transmit even the most confidential files to your colleagues or clients.
Why Send Fax From Gmail?
Given today's highly digital age, there's no shortage of communication tools and platforms you can use for your business. With the plethora of choices available, why send a fax from Gmail?
Ease of use
Back in the day, the process of sending a fax was quite a cumbersome process. You had to set up your machine and make sure it was connected to the phone line. The recipient should also be present on the other line to approve the transmission so it can successfully go through.
With online faxing, you do not have to worry about any of that. You can share documents anytime and anywhere using any of your mobile devices. It is also possible to send fax from Gmail when you sign up for an online faxing service.
Security and compliance
Electronic faxing offers far superior security measures than any other document-sharing platform. With iFax, your files are protected by military-grade encryption. This makes it virtually impossible for hackers to access your data even when it's in transit.
You are also guaranteed the utmost data protection and confidentiality when you send a fax from Gmail.
Audit trail and log
One of the pitfalls of using email on its own to send documents is that it's fairly difficult to keep track of the transmission. There's no way to determine whether your recipient has received or opened it. You have to follow things up to know the status personally. With online faxing, you can generate an audit trail to check the progress of your documents.
The beauty of combining email and faxing in one service is that you can experience the convenience of sending messages using the latter and the ability to monitor the progress of your transmission using the latter.
How to Optimize Your Faxing Experience
There's a reason why faxing remains the most reliable communication tool today. Not only is it easy to use, but it's also more cost-effective than any other platform. Moreover, it offers a plethora of unique features that can optimize your overall productivity.
Here are simple tips that can help you maximize your online faxing solution:
Keep your faxes organized. Sorting and categorizing your faxes into separate folders makes it easier to find and retrieve a specific document.
Connect your account to your email. Aside from being able to send fax from Gmail, you can also receive faxes on your email. This way, you will never miss a transmission.
Integrate faxing into your other tools. This enables you to give your other business tools and applications to transmit documents and manage your paperwork in a centralized system.
Streamlining Your Faxing Processes With iFax
While Gmail does not come with a built-in faxing capability, it doesn't mean that you can't use your email to send faxes. All you need to unlock this possibility is to sign up for an account with iFax.
Our email-to-fax functionality helps simplify your document transmission process. It works the same way as sending a regular email. The best part? Your documents get encrypted, which lessens the risk of unauthorized access. Moreover, our online faxing solution complies with international regulations such as HIPAA, GLBA, and GDPR.
iFax also enhances document accessibility. As your faxes are stored in the cloud, you can view and retrieve them even when you're outside the office. You can also sync your cloud storage to streamline your document workflow.
So what are you waiting for? Sign up for an account with iFax and start sending fax from Gmail today.
email to fax
fax from gmail