As we increasingly rely on technology, finding ways to streamline workflows is essential. A recent study found that employees switch between as many as 35 applications, sometimes as much as 1,000 times daily. This kind of task switching makes workers prone to committing errors. Not only that, but fragmented attention can lead to reduced productivity.
This is where Zapier comes in. This tool connects two apps and automates tasks that would otherwise require manual intervention. The tool includes fax integration, allowing you to automate your faxes.
Let's go over Zapier fax integration in detail, particularly how you can use it to expedite online faxing.
What Is Zapier?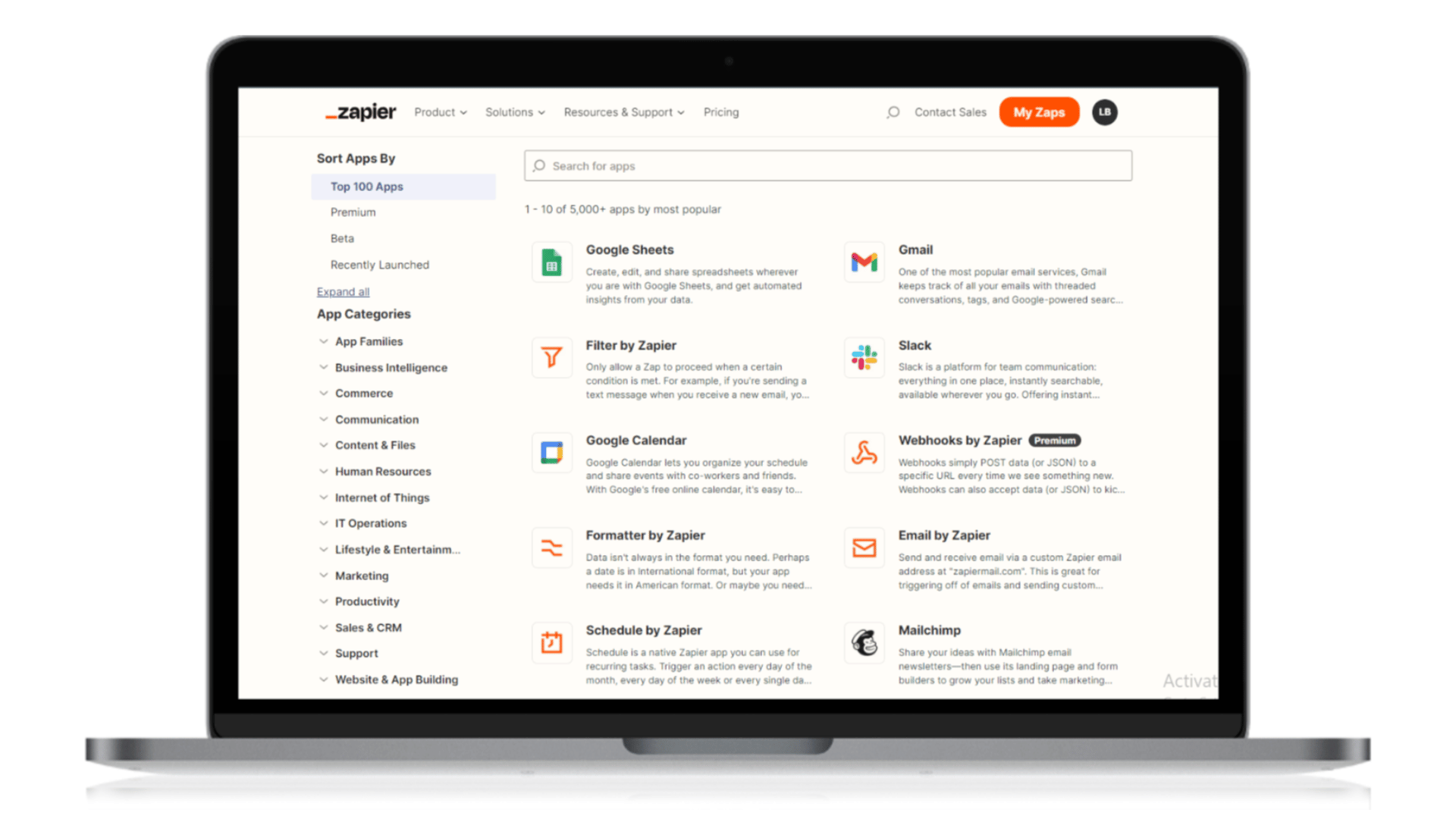 Zapier is an automation tool that helps connect different applications without any coding. You can use it to create chains of automated workflows by setting triggers and actions.
You can use it to connect two or more of your favorite apps and web services, including iFax, Dropbox, Slack, Gmail, and more. You can choose from 5,000 apps to find the perfect integration solution.
Zapier Terms
Before diving into Zapier fax integration, let's quickly go over some key terms you need to understand to use this tool.
Zaps: These are automated workflows that connect your apps. They can automate various tasks, such as adding new contacts or creating support tickets in your CRM platform. Zaps consist of two parts: a trigger and an action.
Trigger: An event or condition that kicks off a Zap. When the trigger is fired, the action will run automatically.
Action: The result of the Zap being triggered. When the trigger event happens, the action will run automatically and execute whatever task you've set in the Zap.
Tasks: These are the building blocks of a Zap. They're individual actions carried out by apps. For example, if you have a task to send an email, the app will look up the contact, build an email template, add attachments, and send it out.
Filters: These are rules you can set for your Zaps to narrow down the results and ensure that only those tasks you want to run are executed.
Paths: These are sets of tasks you create to run in a particular order. They use the if/ then logic. If something happens in one app, then this will happen. If something else happens, then another action will happen instead.
How Can You Use Zapier for Business?
You can use Zapier for a wide variety of tasks, including:
Share posts on social media
You can set up Zaps to automatically send a tweet or post whenever you finish writing an article on your blog.
Send and save emails with attachments
When someone fills out a form or receives a fax, you can set up a Zap to send them an email or save the attachments automatically to your cloud storage.
Organize and sync files and folders
You can use Zapier to organize your data across multiple platforms. It can help set up Zaps to transfer data between various applications. You can also set up Zaps to help you keep your data backed up. You can save files to the cloud or transfer them between storage systems.
Create tasks in project management systems
When an event happens in one app, you can set up a Zap to add a task or reminder to your chosen project management tool.
Trigger notifications
You can use Zapier to take action when something is triggered in one app. For example, you can set up a Zap to send you a text message or Slack notification whenever a new file is uploaded to your cloud.
Automate online faxing
You can integrate iFax with Zapier to automate faxing tasks. This integration allows you to easily create workflows to send, receive, and manage faxes without switching platforms.
How to Integrate iFax With Zapier

You don't need coding to use Zapier fax integration. All you need to do is to set up a Zap. Let's use iFax and Gmail as an example.
Setting up the trigger
1. Create or log in to your account in Zapier.
2. Start by clicking the Create Zap or Create buttons on the dashboard. This will take you to the Zap editor. Select the trigger application (the app that will trigger the Zap). In this case, you can choose iFax as the trigger app.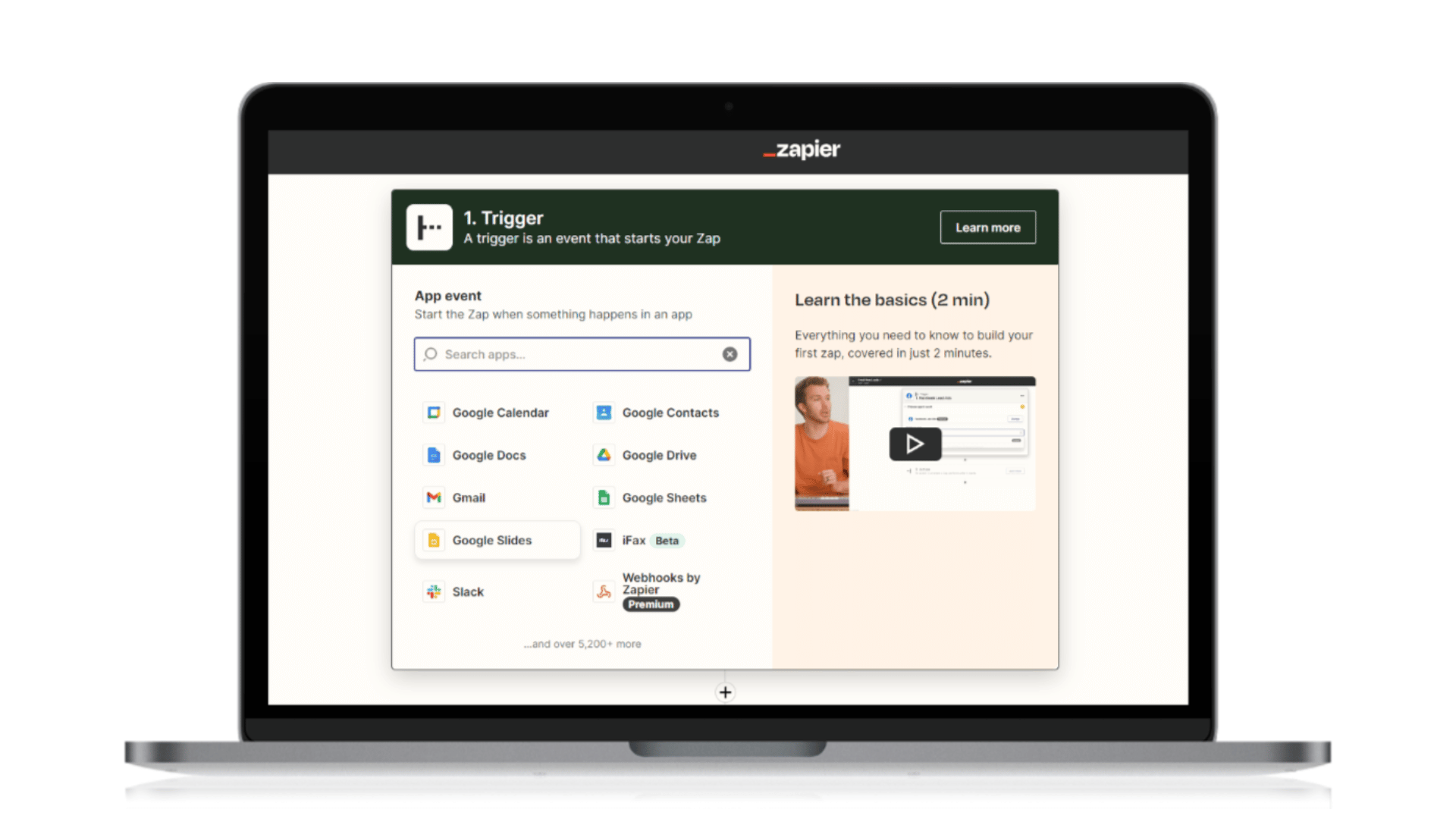 3. Select the trigger event you want to use for your Zap. For example, New Fax Received and New Fax Sent are the supported triggers for iFax integration. If you choose New Fax Received as the trigger event, you can set up a Zap to send you an email whenever you get a new fax.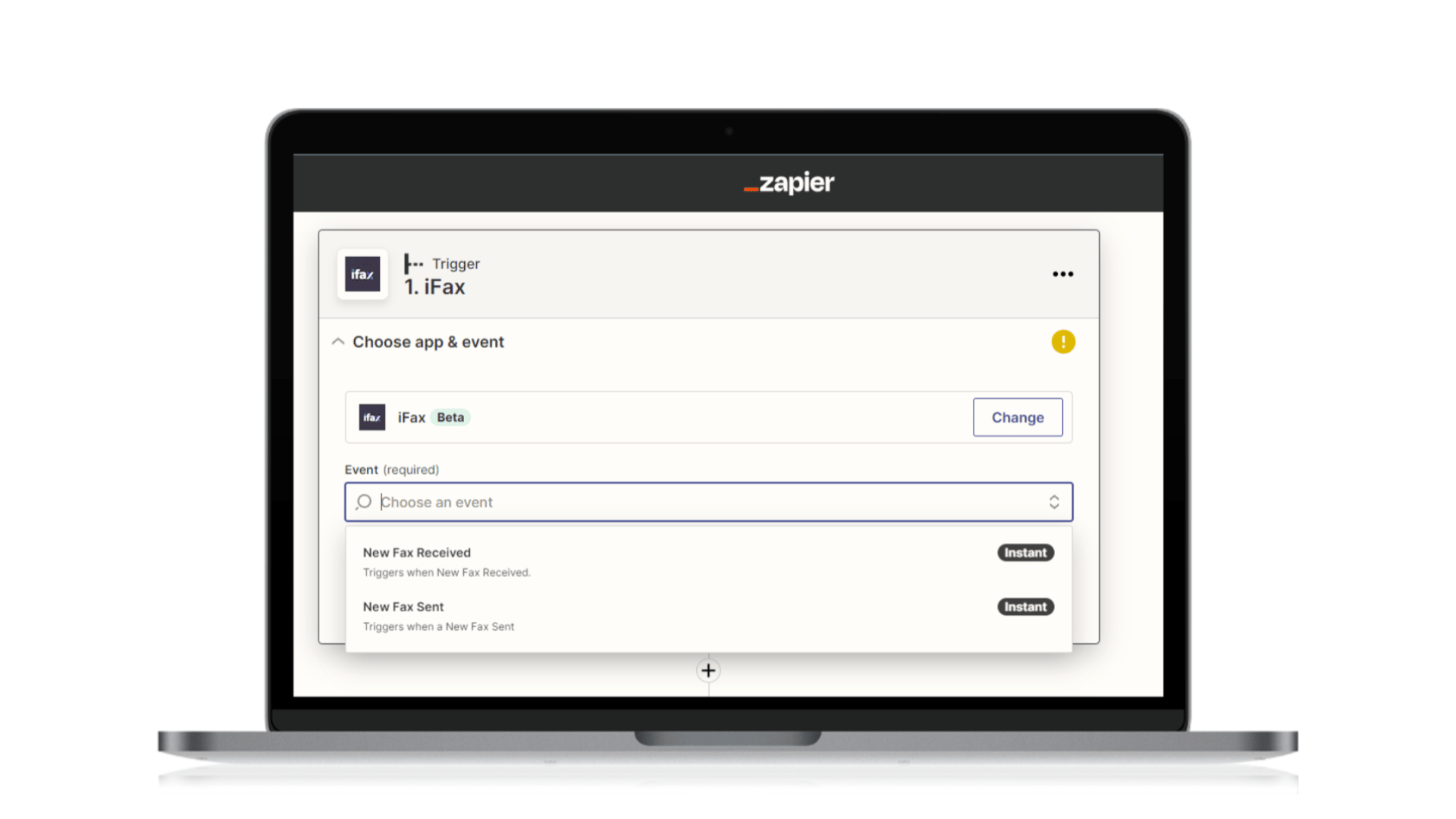 4. Click Continue. Connect iFax by signing in to your account. This allows Zapier to access your faxes.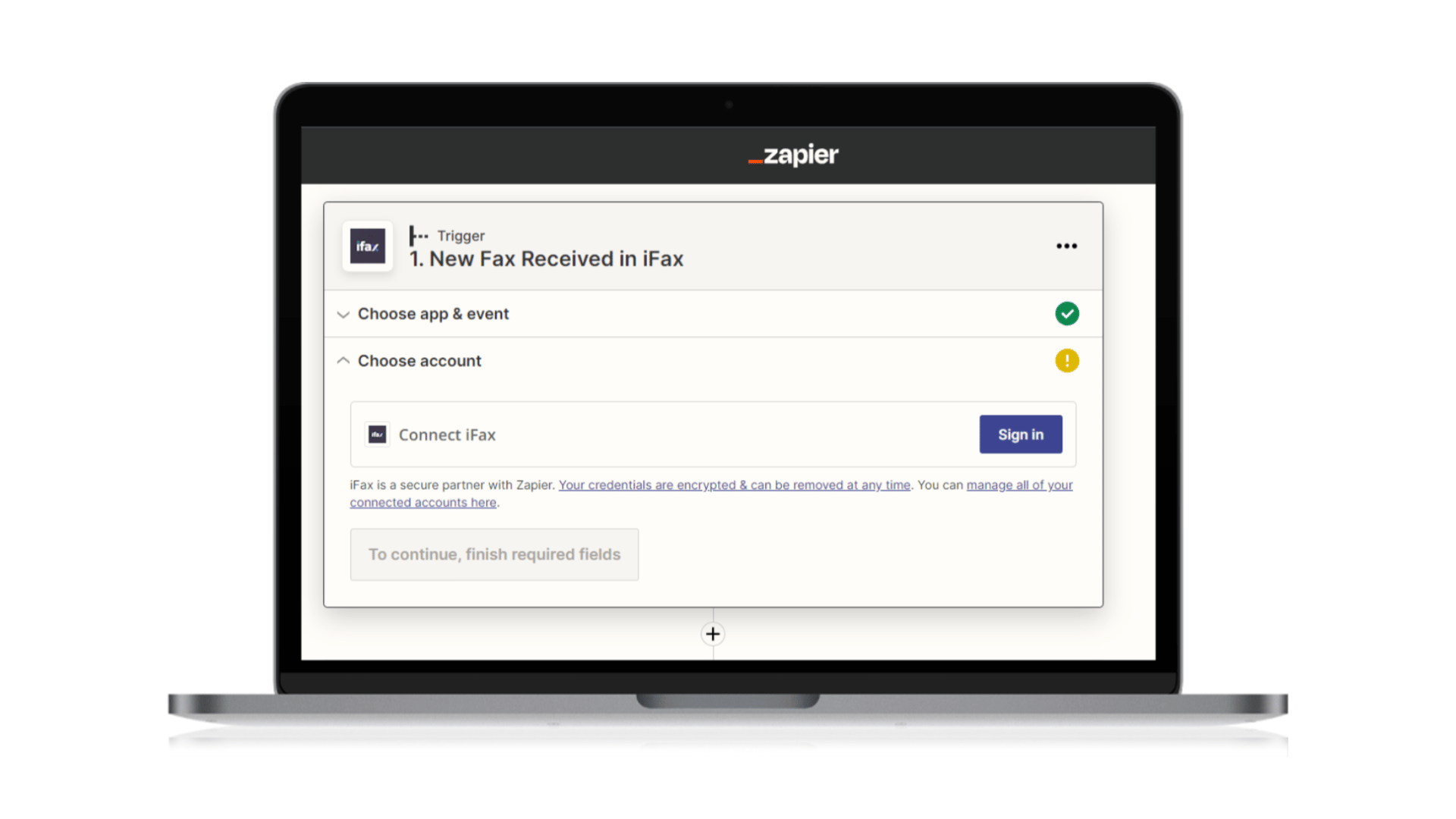 5. Click Test triggers to ensure the Zap is connected to your iFax account.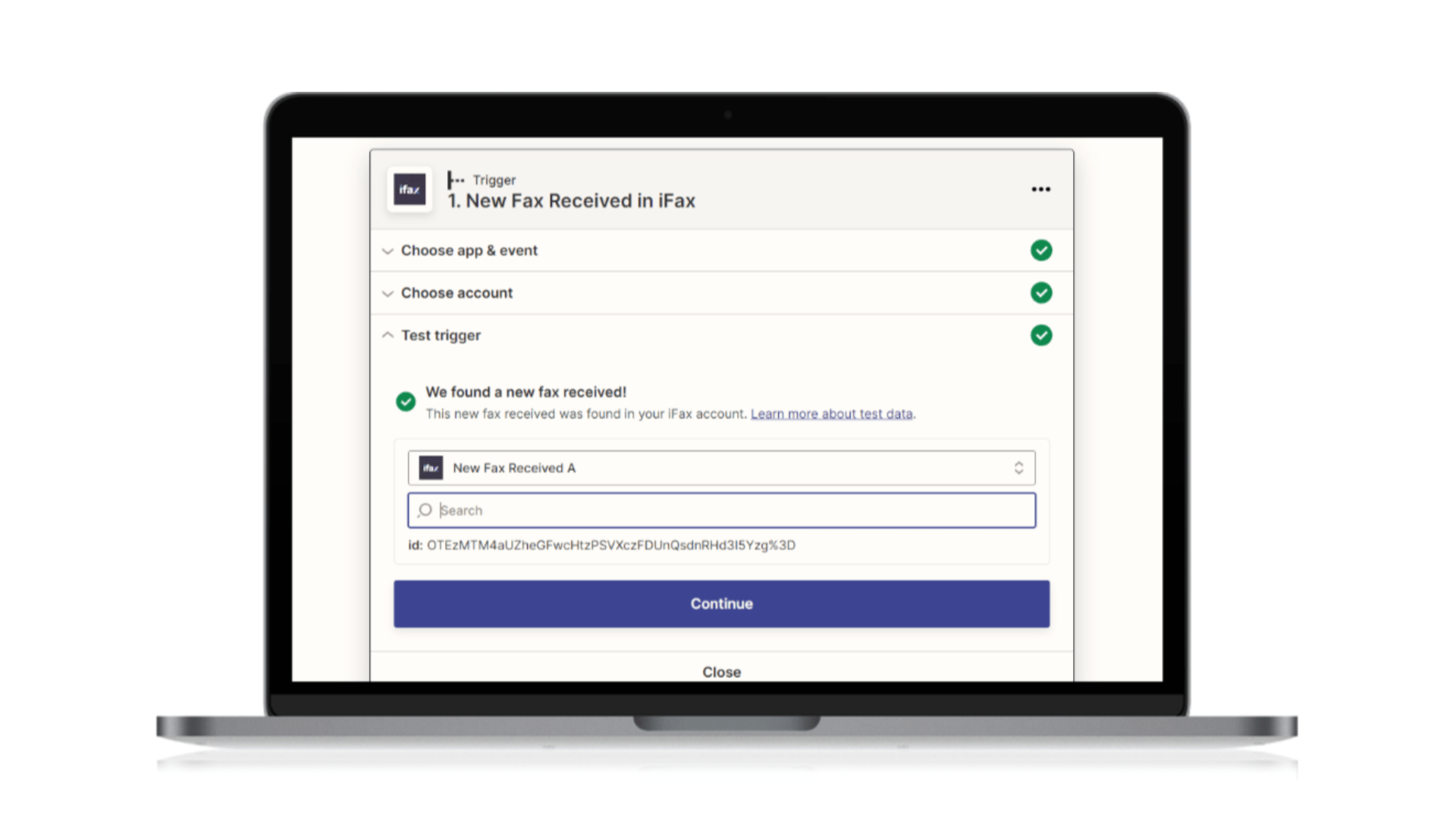 Setting up the action
When you've verified that your triggers are correct, click Continue. The next steps are the same as setting up the trigger app. But now, you have to select the action app where you will send the data from the trigger app. In this case, it's Gmail.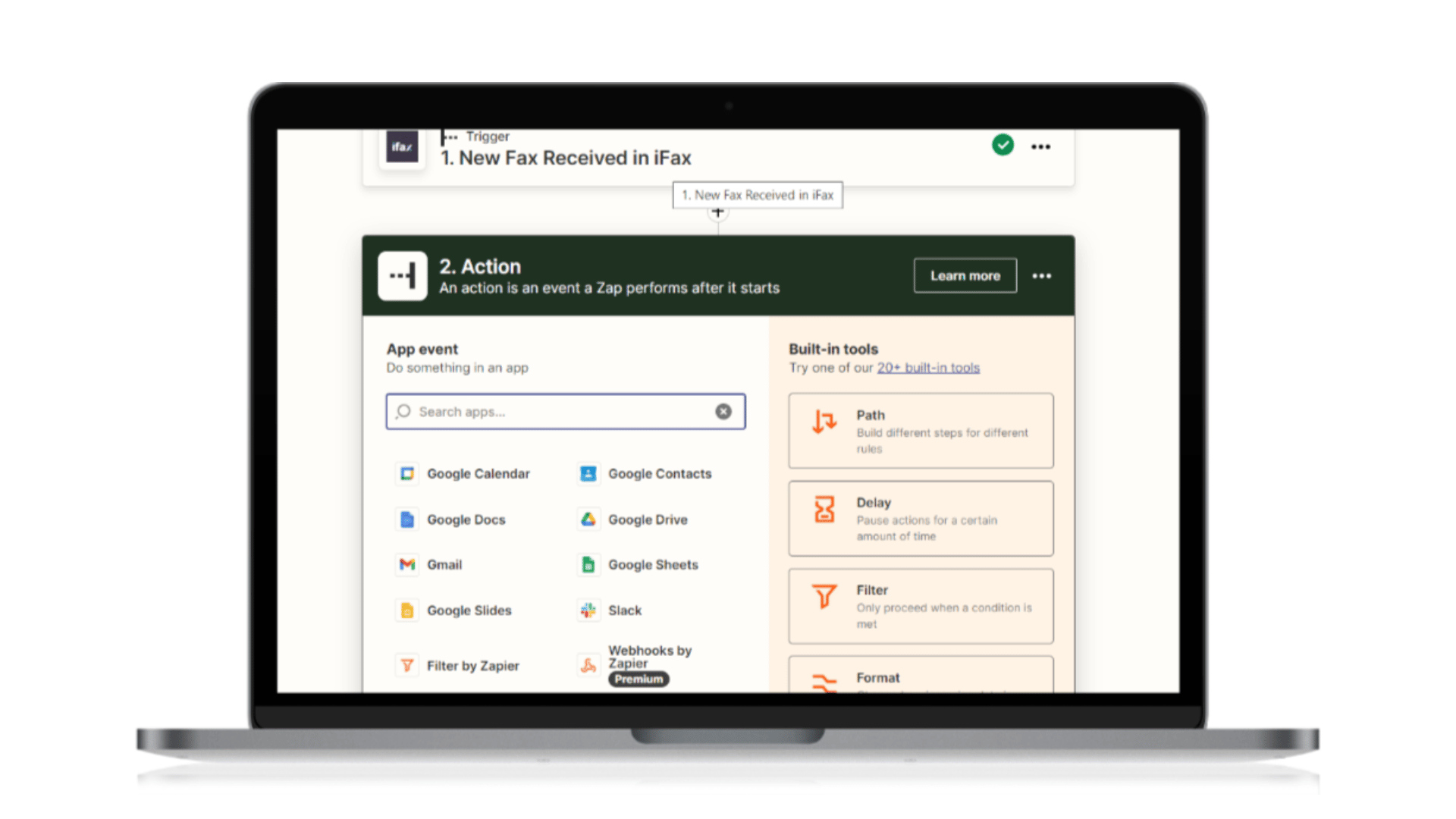 1. Select the action events you want to perform with your Zap. The supported action events for Gmail include:
Add label to an email
Create a draft
Create a label
Send an email
Remove the label from an email
Reply to an email
Find an email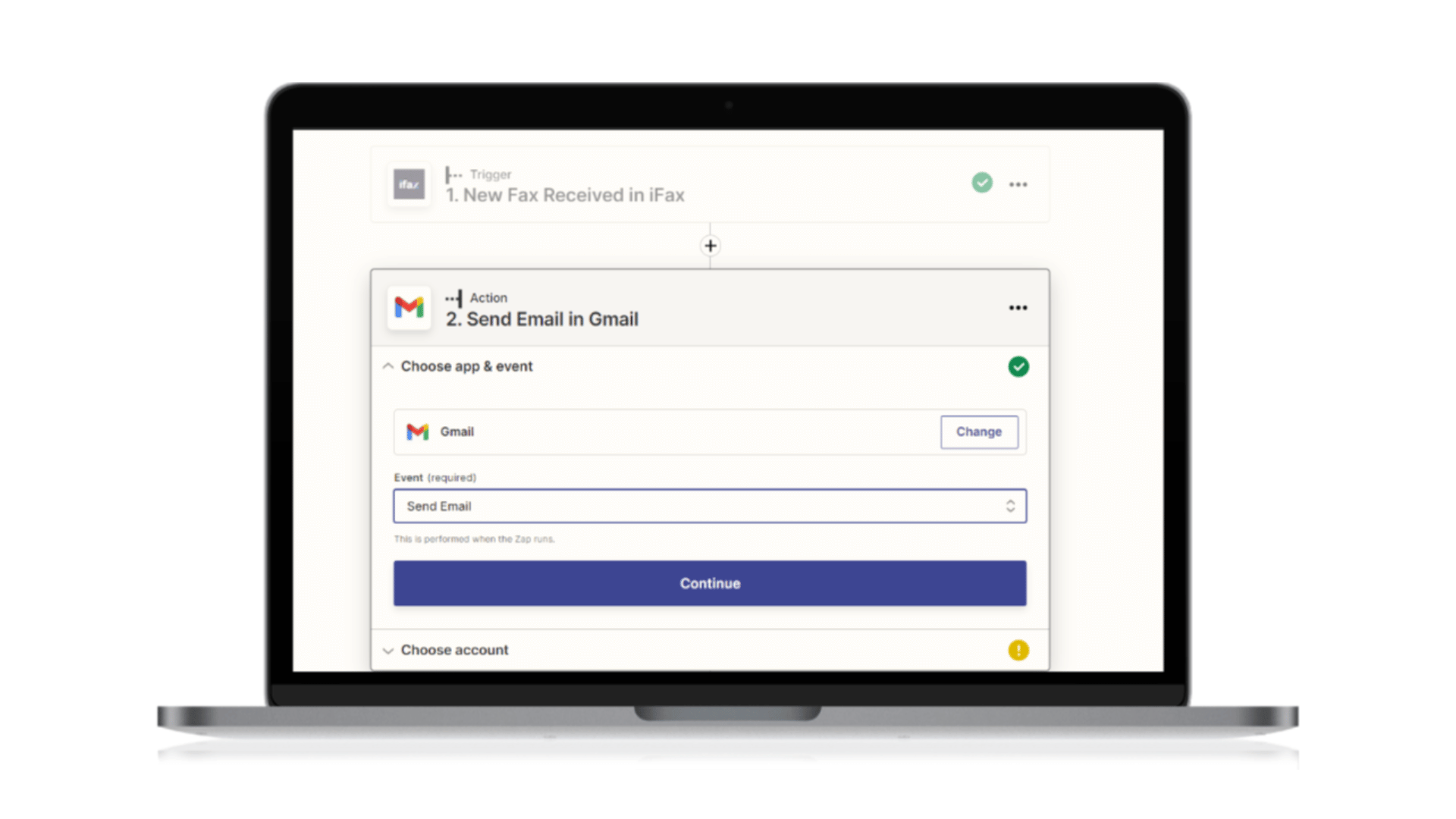 For example, choose Send Email if you want to set up a Zap to send an email when you receive a new fax.
2. Click Continue and connect the Gmail account you want to use for the Zap.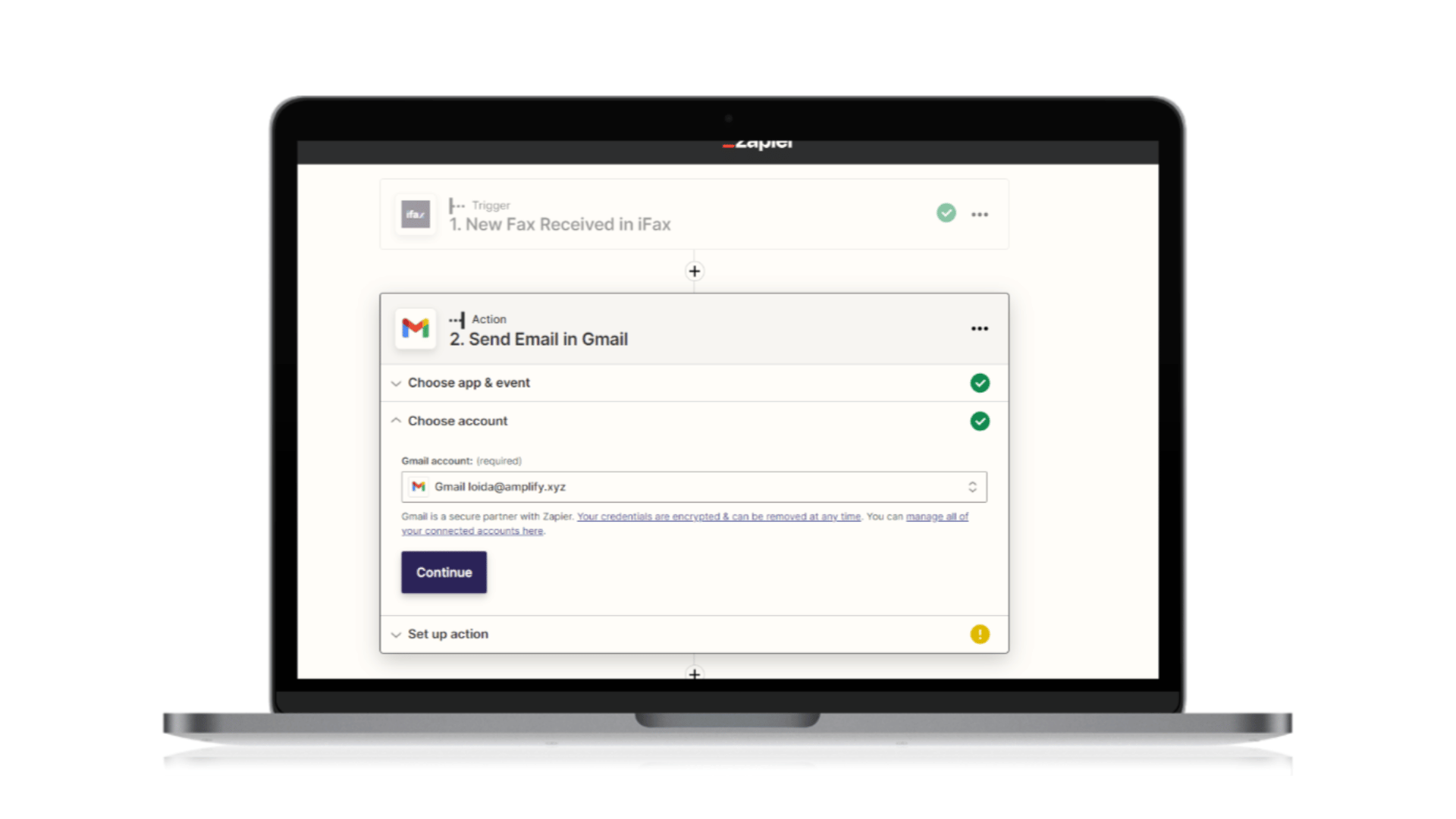 3. It's now time to set up the action. Fill out the fields you need. Provide the email subject and the body. Then, click continue.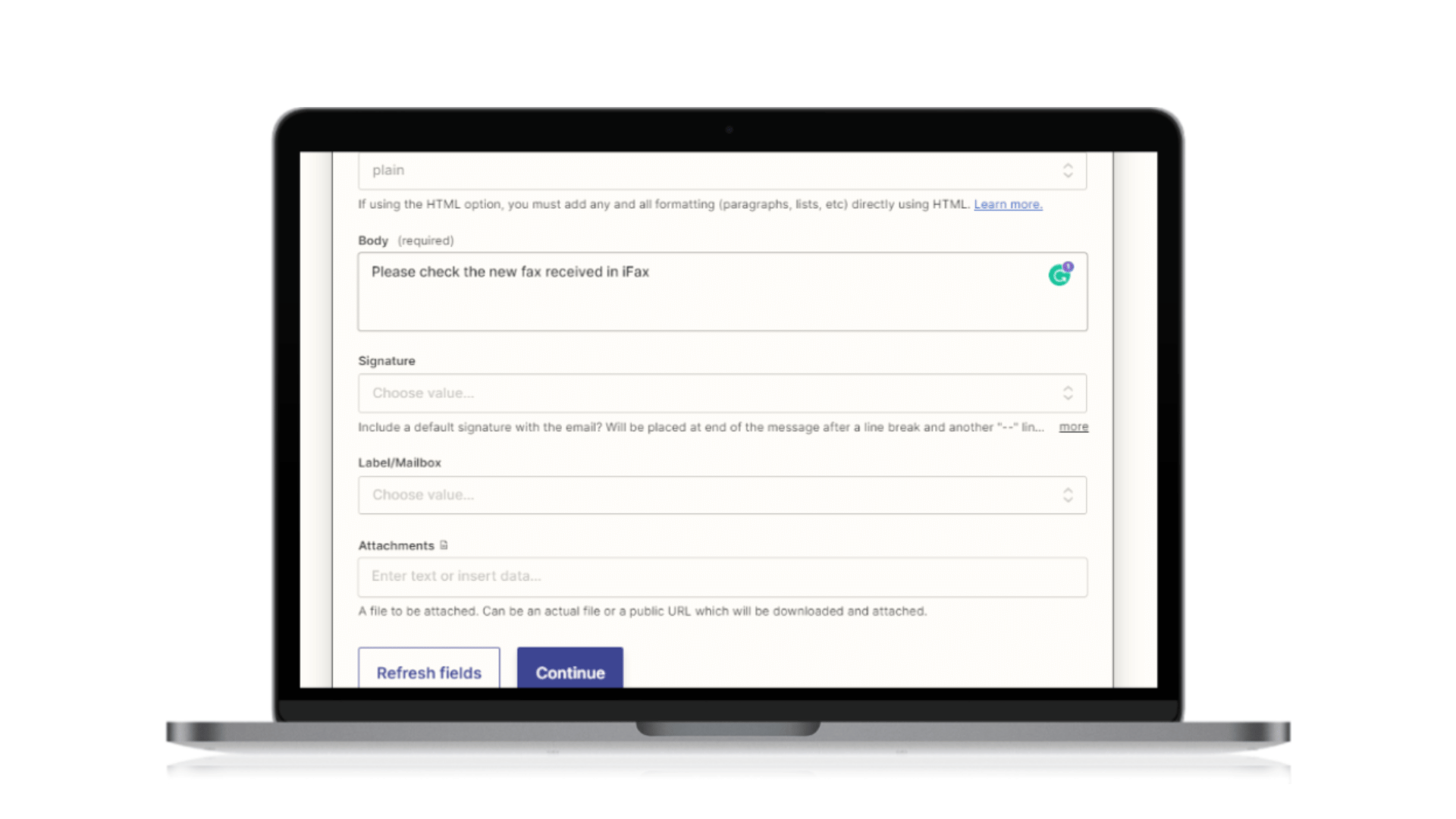 4. After completing these steps, you can test the Zap to ensure it's working. You must type in the email address to test your action. You can send it to multiple addresses if you need to.
5. Once you've checked that all the details are correct, turn on the Zap by clicking the Publish Zap button.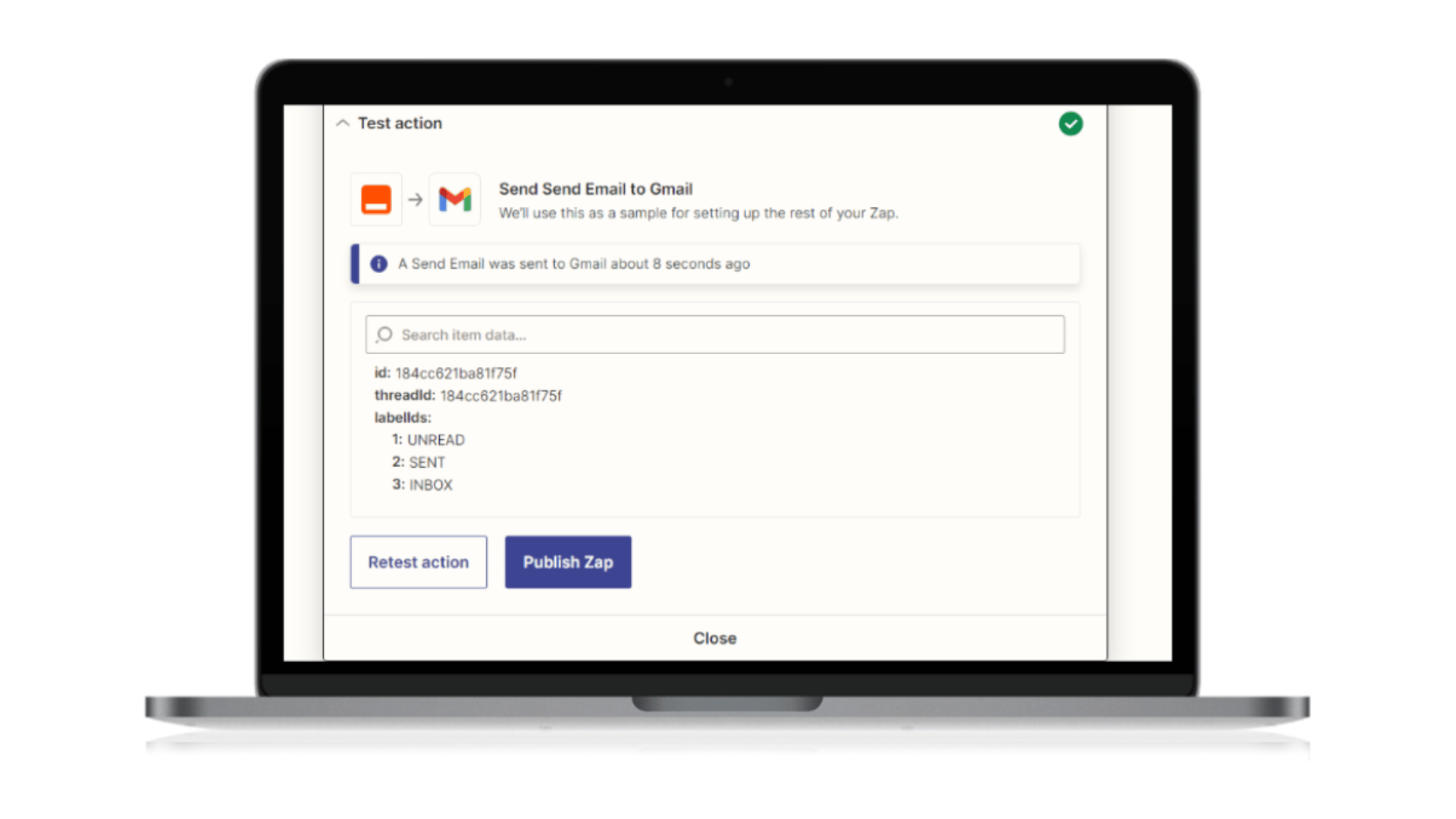 6. Check the test email in your Gmail account and see if there are any changes you wish to add to your action. If you need to change anything, go back to the Zap editor.
7. After publishing your Zap, Zapier will handle the rest. It will automatically send out emails to your clients whenever you receive a new fax.
Zapier integration is seamless and quick. Use it today and experience the benefits it can offer.
Benefits of Zapier Integration With iFax
Boost productivity and efficiency
With Zapier integration, you can organize all your faxes in one place. With just a few clicks, you can set up automated workflows that make it easier for your business to manage faxes. You can quickly manage online faxes and documents without having to switch apps.
Improve customer service
Integrating iFax with Zapier can help you automate and speed up the customer response process. When you respond promptly, clients are more likely to be satisfied with your service.
Maximize resources
Integrating your iFax with Zapier can save you both time and money. Automation eliminates the need to manually send and receive faxes, reducing operational costs while keeping your employees productive.
Start Zapier Fax Integration in iFax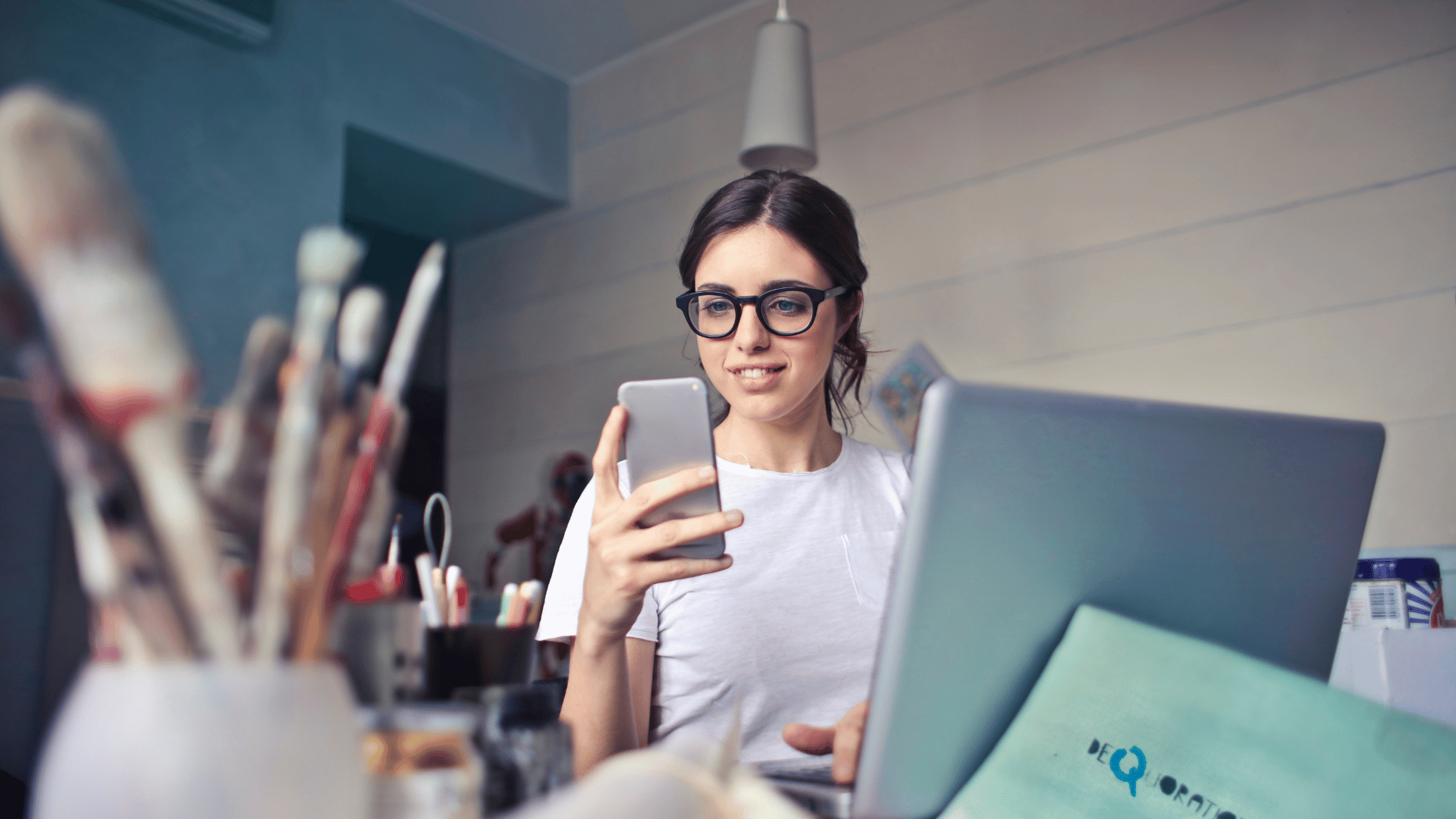 With Zapier fax integration, you can automatically send faxes when certain events happen, such as when a new lead is generated or an invoice is paid. You can also set up reminders for yourself or your team so that no fax goes unnoticed.
Integrating the iFax and Zapier allows you to optimize your business operations and maximize resources. Since Zapier integrates with thousands of other apps, the possibilities are endless.
Schedule a demo, sign up, and access the integration features of iFax today.
iFax integrations using Zapier
Zapier fax integration