Nowadays, deciding which fax service to choose can be challenging, given the wide range of features available. One thing is clear, though. An efaxing service can offer the freedom to send and receive documents without using a fax machine or connecting to a landline. You can also save on operating expenses by eliminating the need to print.
In this post, you'll find the best efaxing services for transmitting fax documents over the internet. All you need to do is choose the one that suits your requirements.
1. iFax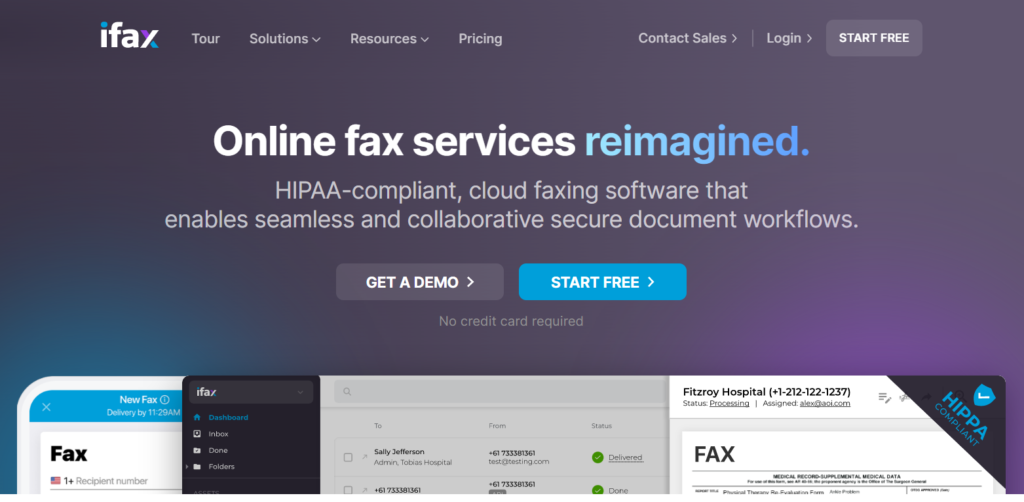 iFax offers a full suite of user-friendly tools and features, allowing you to step away from the traditional fax machine and embrace a modern fax service. It's also one of the few online fax services with a free plan that won't disrupt your faxing experience. By this we mean you can fax without the annoying watermarks and ads.
What makes iFax one of the best efaxing services is its virtually uncrackable military-grade encryption. It also has HIPAA's seal of compliance, which makes it ideal for sending confidential health information. This cloud faxing software also has built-in tools for annotating PDFs, extracting text from images, and affixing electronic signatures.
With iFax, you can seamlessly integrate faxing into your existing business management software or communication app, providing a modern twist to the traditional fax number system. You can also back up your files automatically to Google Drive, Dropbox, or OneDrive.
Pricing for iFax starts at $16.67 per month. You can also upgrade to a higher tier for as low as $25 a month and enjoy value-added benefits like superior fax quality.
2. CocoFax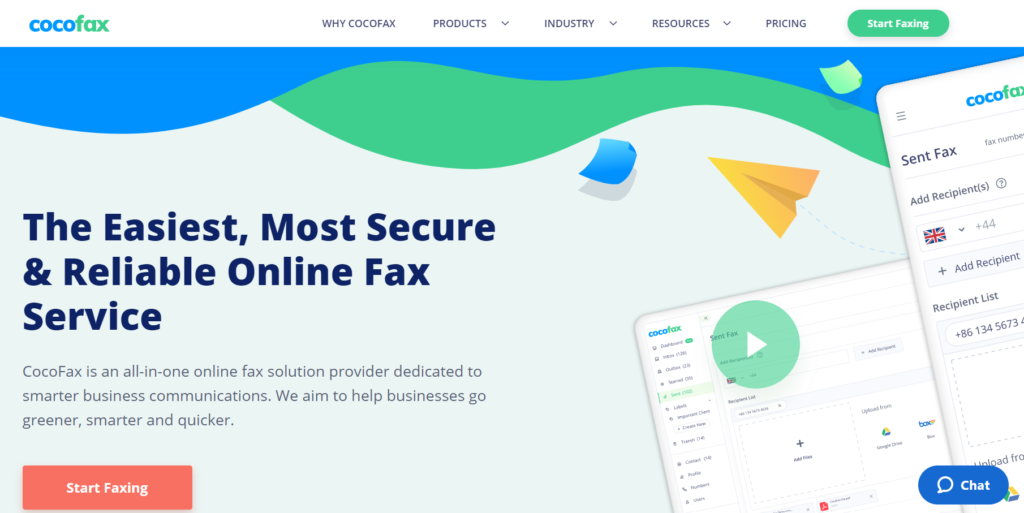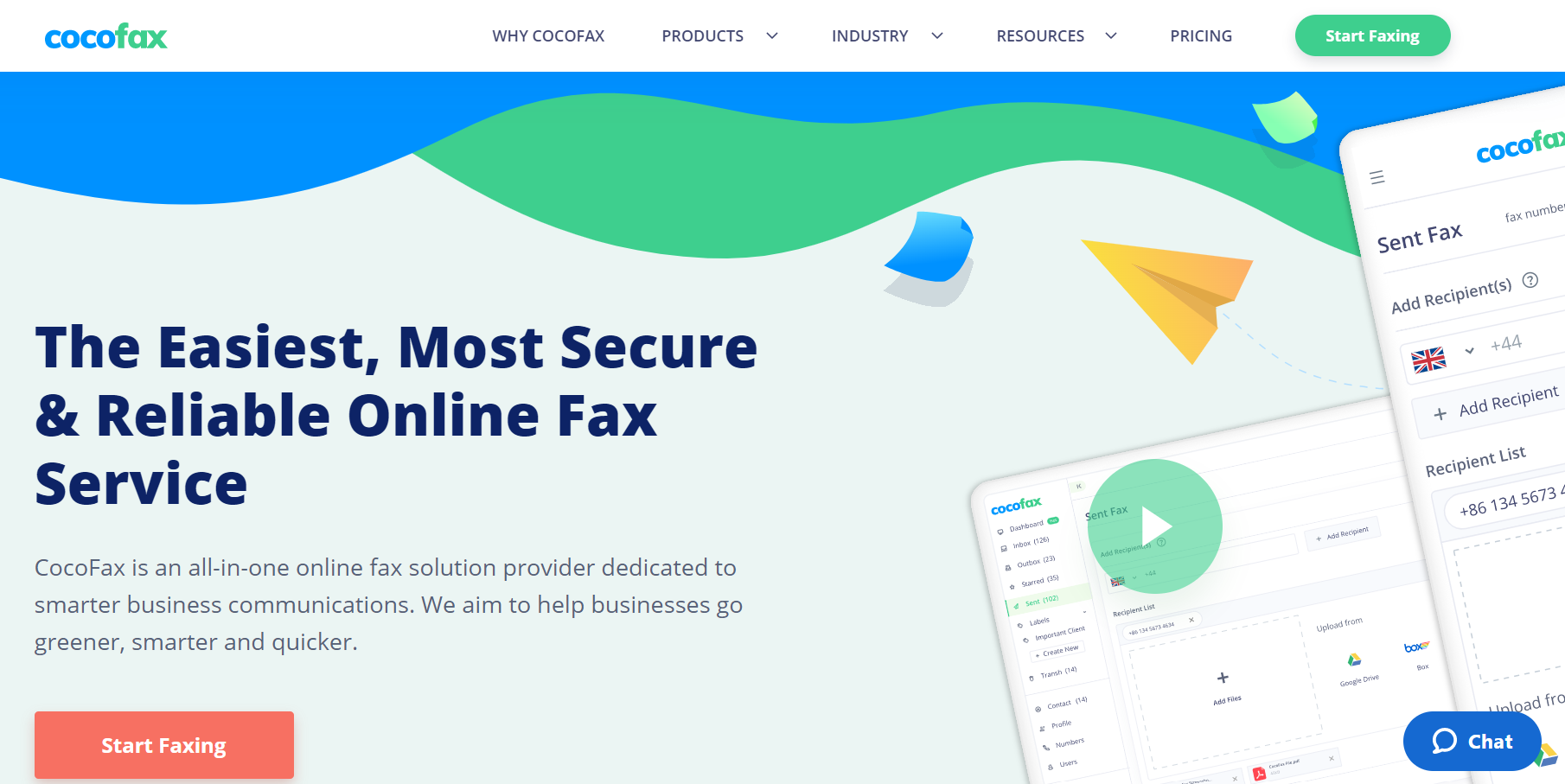 CocoFax is a one-stop fax service that lets you fax regardless of the platform or device you're on. It also features a sleek user interface that simplifies faxing.
For as low as $5 a month, you can already subscribe to its Lite plan, which allows you to fax up to 60 pages with international coverage. Anything that exceeds this limit will incur additional charges.
With CocoFax, you can fax conveniently using your tablet, computer, or smartphone. You can also port your existing fax number and receive files in an instant. If there's one thing that this service lacks, it's the option to fax a couple of pages monthly without ever spending a dime.
3. eFax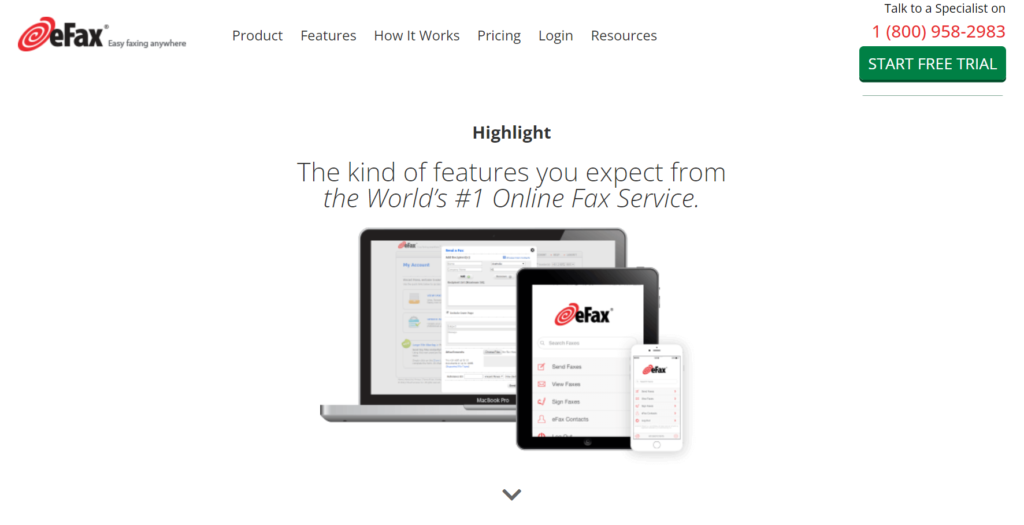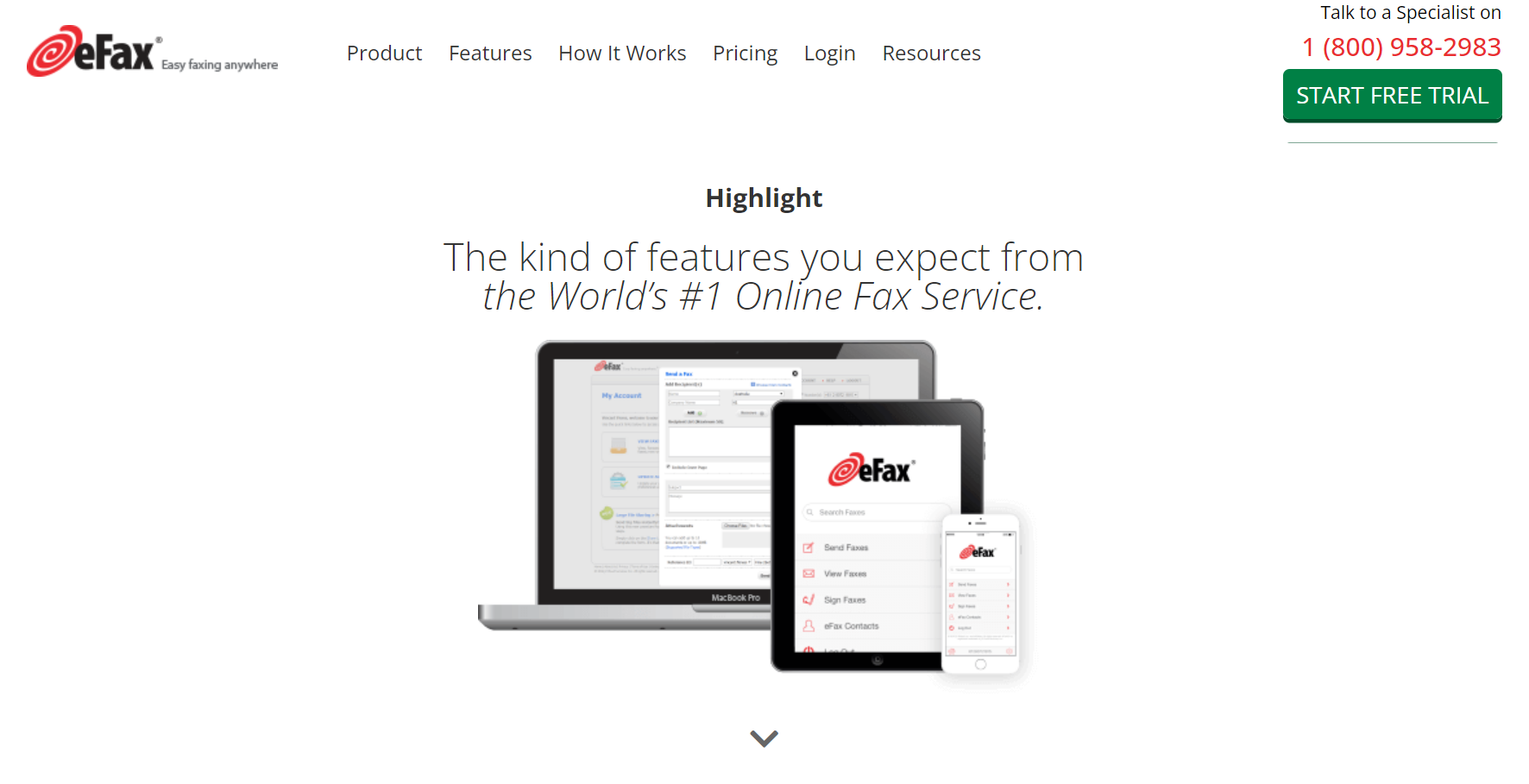 This service is well-known for its customizable business-oriented plans and intensive security protocols. eFax also supports third-party and API integrations, making it possible to fax directly from an EHR or EMR system like NextGen or Kareo.
With eFax, you can enjoy lifetime unlimited storage. You can also send large files of up to 3GB at a time. This service also features simultaneous messaging, allowing you to send faxes to 20 recipients at once. You can also upload multiple files in different formats, including spreadsheets, videos, and photos.
Pricing for eFax starts at $15.83 per month. With this, you can already send and receive up to 170 pages monthly. There's also a corporate plan with a 30-day free trial. Take note that eFax has a $10 setup fee even for its free trial.
4. FAX.PLUS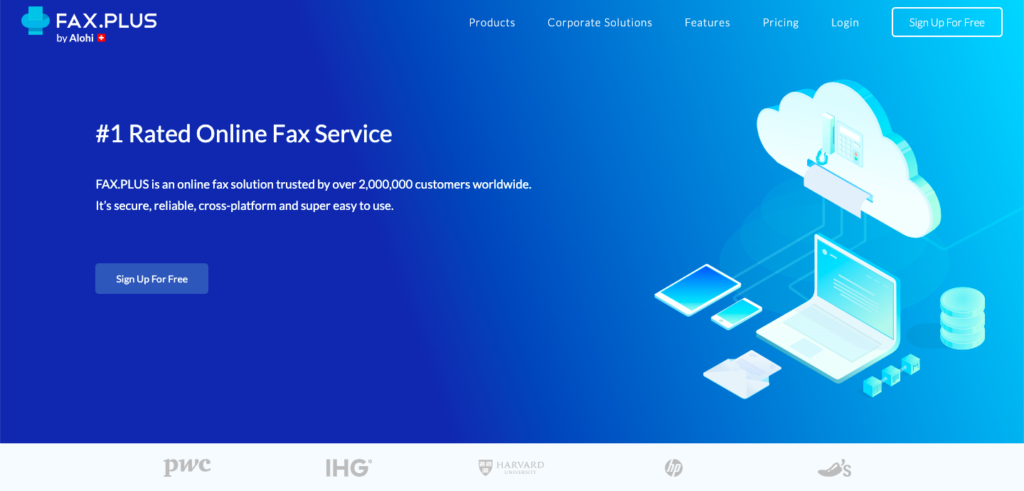 FAX.PLUS is a cross-platform service with a mobile-friendly user interface. It allows you to send and receive faxes on the go. With its worldwide coverage, you can transmit documents locally and internationally.
With FAX.PLUS, you can use preformatted fax cover sheets to save time and effort. You can also sort contacts into groups and schedule fax messages to avoid missing important deadlines.
The lowest subscription tier for this service starts at $4.99 per month. There's also a free plan, but you won't have access to certain features like Slack integration and data residency.
5. FaxZero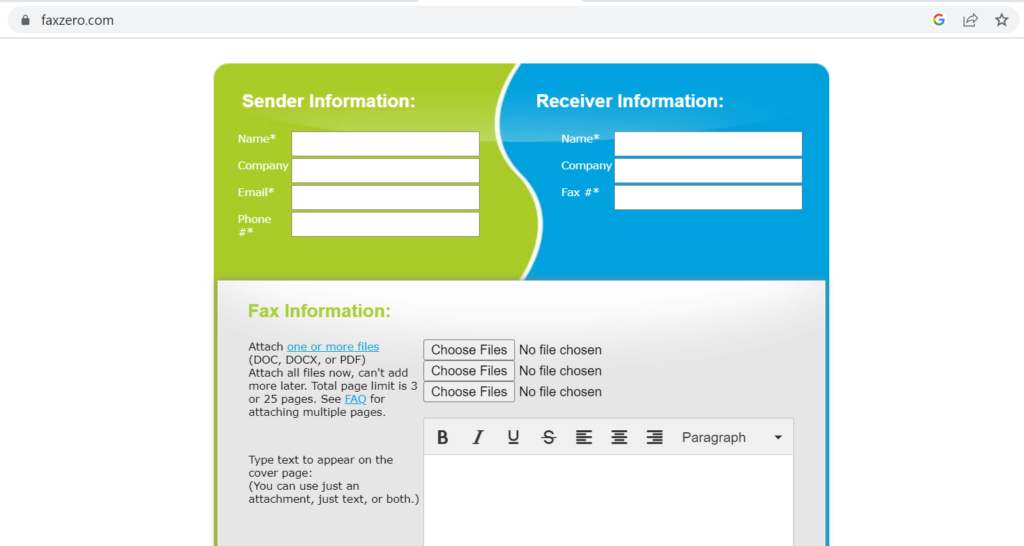 As its name suggests, FaxZero offers a free faxing service that lets you send documents to anyone in Canada or the United States. It's a reliable service that is ideal for occasional fax users. Since it's free, do expect a trade-off: you can only fax up to 3 pages daily.
If you want to lift the daily limit, you can pay $2.09 per fax. Doing so will also remove the FaxZero branding on the cover pages. So if your goal is to fax a few pages without looking for a nearby fax machine, this service is your best bet.
Another thing to note about this service is that you can also use it for sending international fax. However, it's not free. The pricing varies per country, but the standard rate is around $3.63 per message.
6. HelloFax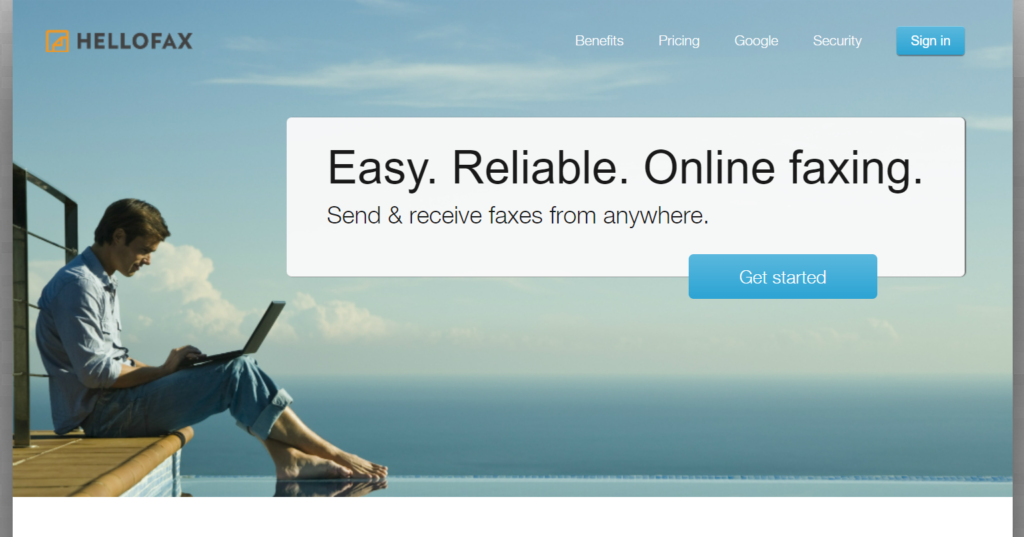 This Dropbox-owned cloud-based service offers a full lineup of advanced faxing tools and features. With HelloFax, you can send, retrieve, and manage faxes in the cloud. It also integrates with Dropbox and other cloud storage services, including Google Drive, OneDrive, and Evernote.
If you're in a rush, you'll be pleased to know that HelloFax takes less than a minute to set up. It can also accommodate a high volume of faxes, making it easier to scale without disrupting your existing workflow.
Pricing for this service starts at $9.99 per month with a monthly page limit of 300. Like other services, HelloFax also offers a 30-day free trial.
7. MetroFax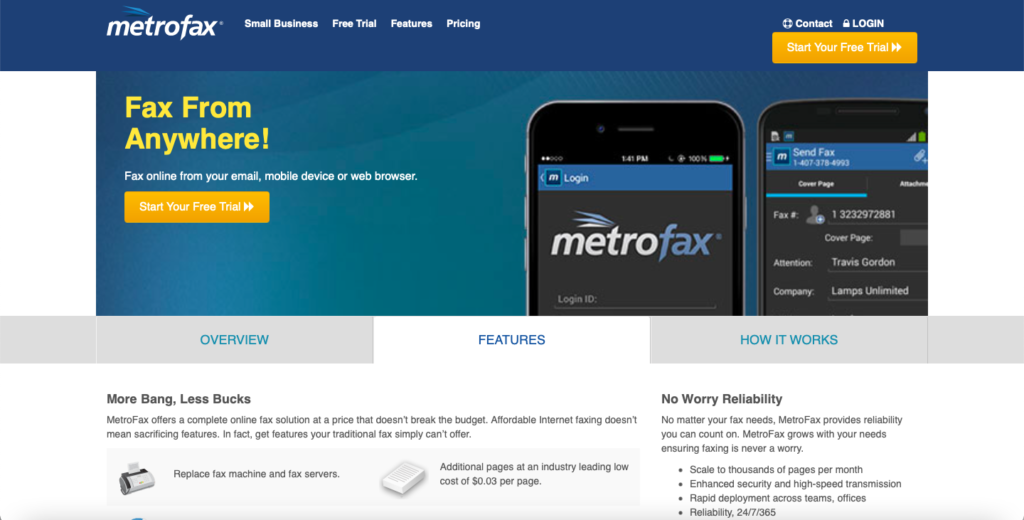 MetroFax lets you send and receive fax anywhere in the US and Canada. If you're always on the go, this responsive efaxing service should be on your shortlist. It has native apps for both iOS and Android devices.
Faxing via MetroFax is pretty straightforward. Simply compose a message and send it to your recipient. If you don't mind using a dated UI, it has all the basic features you need to send a fax without driving to the nearest Office Depot.
Besides, you'll have 14 days to try the app for free. After that, you can cancel your trial. MetroFax paid plans start at $11.95 monthly.
8. mFax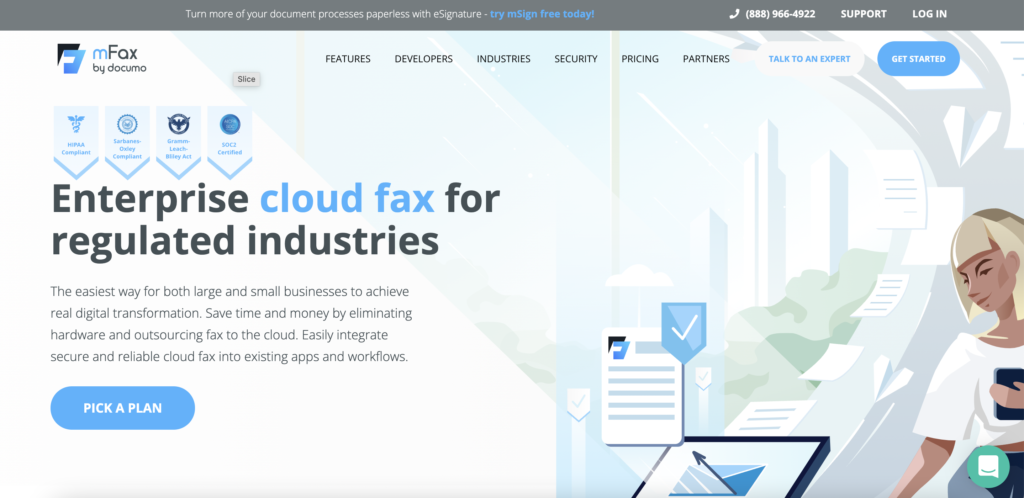 mFax offers a fast and efficient way to transmit and receive faxes. This cloud-based platform comes with a comprehensive suite of features and flexible pricing options. It also has an intuitive interface that is suitable for all users.
With mFax, you can expect your documents to be delivered instantly. You can eliminate delays due to busy phone lines and faulty document feeders. It also supports message archiving and team collaboration.
Subscribing to this service will cost you $9 monthly for a single-user account. Getting a business account will cost you around $50 monthly.
9. MyFax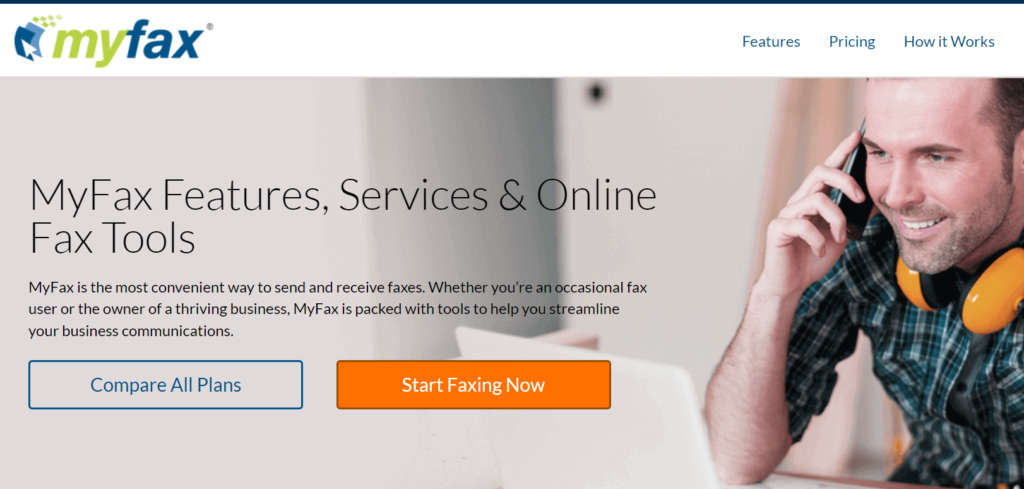 MyFax is an excellent option for small businesses. For one thing, it supports file archiving. Plus, you can send and receive faxes through email. It's also compatible with most smartphones.
With this mobile-friendly service, you can import an existing number or get a new fax number. You can also set up a toll-free number like 1-800-123-4567, which is great for improving brand recall. This service also provides options for fax forwarding, spam filtering, and more.
Business owners can subscribe to MyFax by paying $20 per month. That's already good for faxes not exceeding 200 pages. Exceeding that limit will incur additional charges.
10. RingCentral Fax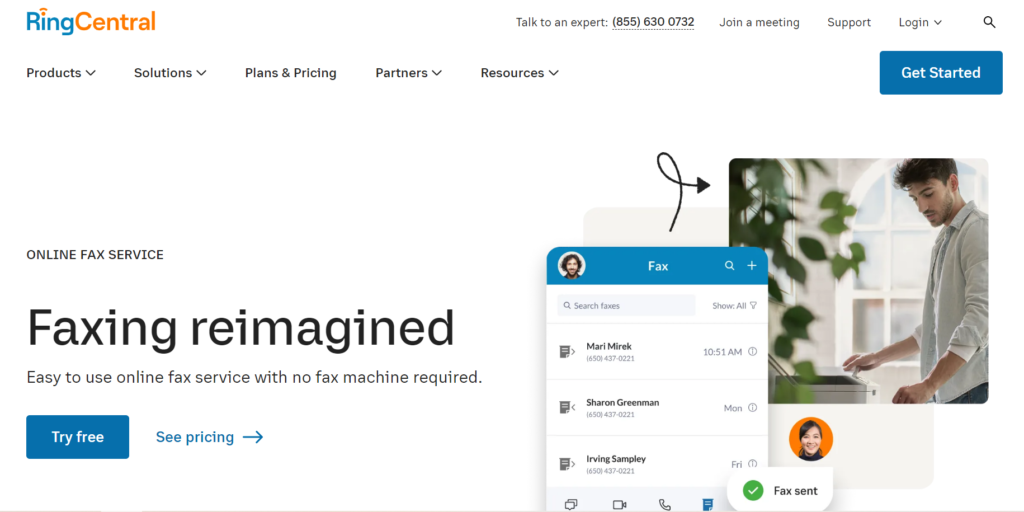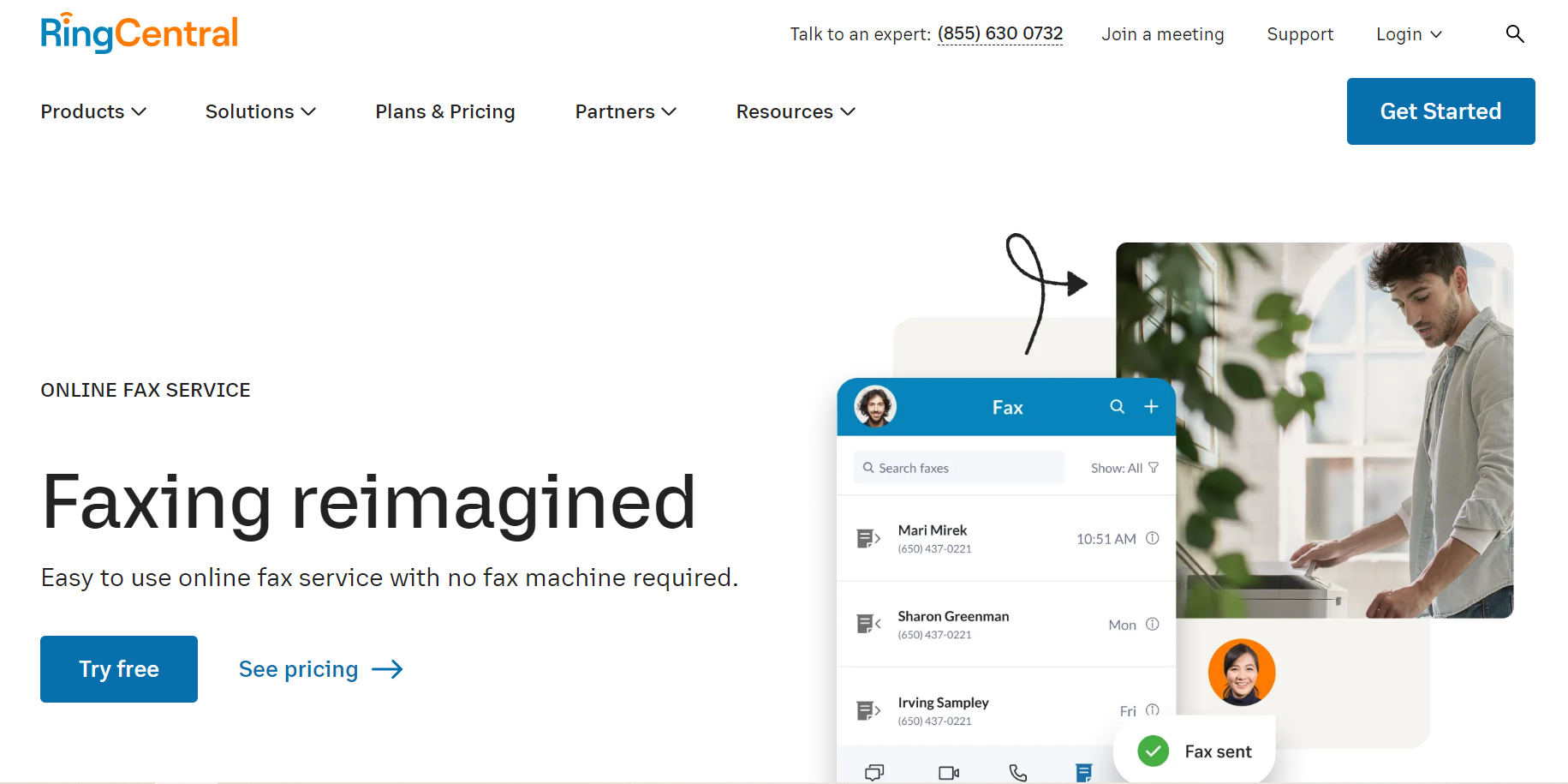 RingCentral Fax has been in the market for years. It's known for offering flexible solutions that suit businesses. With this platform, you can schedule faxes and send large documents with ease. You can also free up some space in your office.
Although suitable for bulk faxing, this service doesn't support international numbers. You also cannot sign documents on the platform since it has no built-in editor for adding text and annotations.
Subscribing to this service will cost you $17.99 per month. Do you need custom admin controls? RingCentral MVP offers this functionality and more for $27.99 monthly.
How to Choose the Best Efaxing Service
If you plan to invest in an online fax service, consider these factors.
1. Pricing structure
Weigh your options carefully among various fax service providers. Not all internet fax services offer the same page limits or features. It would be best to choose based on what suits your needs and budget. You also need to take into account overage fees and setup charges.
2. Security and compliance
Find out if the service complies with data privacy laws like HIPAA and GLBA. It should be secure enough to safeguard your outgoing and incoming faxes, especially if you're handling confidential documents like contracts and healthcare forms. The best fax platforms use 256-bit encryption and other security measures.
3. Seamless connectivity
Having the option to connect with third-party cloud-based services is a must, especially if you are faxing regularly. Look for an online fax service that supports both API and fax app integrations. This way, you can store, retrieve, and manage documents in one platform.
4. Mobile apps
While most efaxing services offer multiplatform support, you still need to check if it can transmit documents across different devices without a hitch. While native apps are recommended for smartphone users, it would be ideal if the service could also run smoothly on a mobile browser. That way, you can still enjoy faxing without installing an app.
5. User convenience
Make sure the interface is intuitive enough to cater to users of all levels. Do you need to read a manual or go through hours of training to understand how it works? If the fax service has a steep learning curve, it may slow down your team and discourage them from adopting online faxing.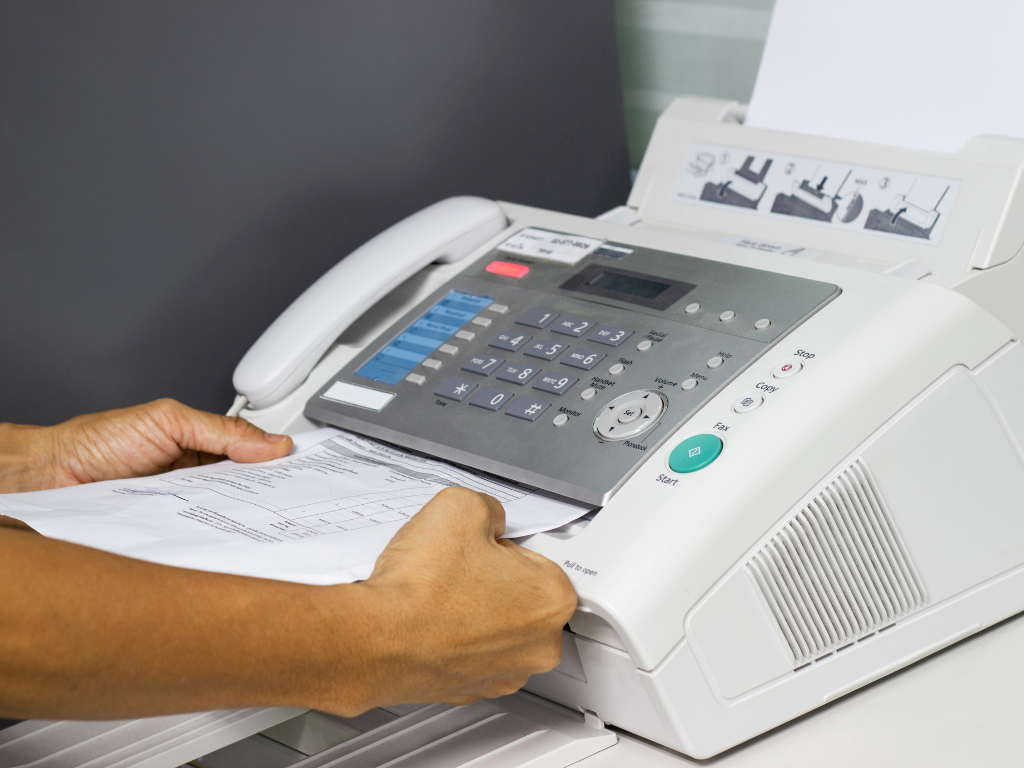 The Best Way to Fax Without a Fax Machine
After comparing these options, the best efaxing service is still iFax, by far. You can count on our online faxing tool, regardless of which platform you're on. Our free lifetime access means you can use our tool to fax up to 5 pages per month at zero cost. You can upgrade your account anytime and get a 30-day money-back guarantee.
The best part? iFax supports automation, making it even easier to fax directly from your desktop or back-office application. You can also fax sensitive documents while meeting the requirements of HIPAA, GLBA, and other international regulations.
Why look elsewhere when the best online faxing service is just a click away?
Create an account today to see how iFax can help your business. You may also contact our sales team to request a free demo.
best e faxing service
best e faxing services
e faxing
internet faxing
Online faxing