Businesses often adopt the strategy of bulk faxing to maximize efficiency and connect with a larger audience. It has plenty of use cases, from sending promotional offers to updating clients with the latest product releases. Whether your business uses traditional fax or online fax, you can leverage bulk faxing to achieve cost savings, drive more sales, and boost business growth.
This post explores several bulk fax use cases and how your business can benefit from them.
Bulk Fax Use Cases in Business and Other Industries
Bulk fax blasting, or fax broadcasting, refers to sending out one or multiple faxes to a group of recipients at once. It aims to reduce the time and effort needed to send faxes with the same content to a large audience. With the efficiency that fax blasting offers, it has become a valuable tool for many industries and sectors.
1. Healthcare
Modern healthcare relies on online fax services to securely send and receive documents and forms with protected health information (PHI). That's why it's a must for medical professionals to be compliant with federal laws like the Health Insurance Portability and Accountability Act (HIPAA) to ensure data integrity and confidentiality.
Streamlining patient communication
Many medical providers now offer telehealth services, allowing patients to do remote consultations instead of in-person visits. Bulk faxing can save time and resources as it streamlines the communication process. It also enables healthcare professionals to effortlessly distribute health education materials to staff and patients.
Improving administrative processes
Bulk faxing can help improve administrative processes, making it more efficient to send documents at once without the hassle of manually entering each fax number. For instance, sending discharge instructions in bulk ensures that all relevant parties have access to the necessary information.
2. Finance
Sending fax blasts of finance documents, such as loan applications and foreclosure notices, enables financial institutions to disseminate information quickly and efficiently. Additionally, fax blasts are traceable, helping ensure compliance with industry regulations.
Enhancing customer communication
Bulk fax blasting allows banks and other financial institutions to keep clients updated with the latest offers and updates. It saves time because instead of making individual calls or sending paper mail, the bank can send a single fax to all clients simultaneously.
Improving internal processes
With greater control over fax transmissions, financial companies improve their internal processes efficiently. Now more than ever, they find sending invoices and distributing payroll information convenient, with more time to focus on other critical tasks.
3. Education
Aside from businesses, educational institutions rely on fax broadcasting to efficiently transmit academic documents like school notices and student transcripts. Bulk faxes can help educators and school faculty save time and resources while improving communication with students and parents.
Streamlining administrative processes
The field of education presents many bulk fax use cases, allowing educators to streamline their administrative processes. Instead of individually distributing forms for enrollment and transcript requests, the school or university can send these forms via fax blasts to ensure receipt and save time.
Enhancing student communication
Communicating with students is now made easier with bulk fax blasting. Apart from emails and digital platforms, faxes can provide a fast and reliable way to send grade reports and distribute newsletters. With bulk faxes, teachers can transmit details about extracurricular activities to multiple recipients at once.
4. Legal
The legal industry relies heavily on bulk faxing to send and receive confidential documents. Since faxing is considered legal in most jurisdictions, lawyers can leverage it to secure legal files while ensuring timely document deliveries and swift communication.
Securing sensitive legal documents
Legal documents contain sensitive information and need robust protection measures like advanced encryption. Lawyers can take advantage of bulk faxing to speed up legal processes and, at the same time, feel at peace knowing that the files are safe from unauthorized access.
Improving document workflows and legal compliance
Online faxing can automate menial tasks by cutting down manual processes. It's easier to organize documents and speed up processing time, especially when signing a legal document. More importantly, law firms maintain compliance with the GLBA (Gramm-Leach-Bliley Act) and other industry regulations.
5. Government
Faxing is a secure method of communication and collaboration for government agencies. With increased efficiency and accessibility, government institutions can send documents securely while reducing administrative costs.
Improving citizen communication
Government agencies looking to improve communication with constituents can consider bulk fax blasting. Unlike manual file sending, government institutions can send public notices and distribute real-time community updates. In case of emergencies, it's also easier to reach the farthest communities through fax broadcasting.
Enhancing internal processes
Faxes can assist government agencies with their internal processes. Administrators can quickly cascade interdepartmental memos across teams. Moreover, online fax services can help distribute meeting agendas and coordinate with other government agencies from various locations.
6. Marketing and Sales
For people in the sales and marketing industry, bulk faxing is an effective tool to reach targeted customers quickly and efficiently. Marketers can send promotional materials like brochures and flyers directly to their intended audience.
Boost marketing campaigns
Compared to direct mailing, bulk faxes can reach multiple recipients at once, which can help increase sales campaigns. This advertising method is effective in such a way that it can help marketers and businesses save time, resources, and money.
Strengthen customer relations
Businesses can improve their brand visibility with the help of bulk faxing. The direct marketing approach of faxes allows companies to establish and forge better customer relationships. Repeat customers can receive offers that are relevant to their interests. In turn, businesses can achieve their customer's trust and loyalty.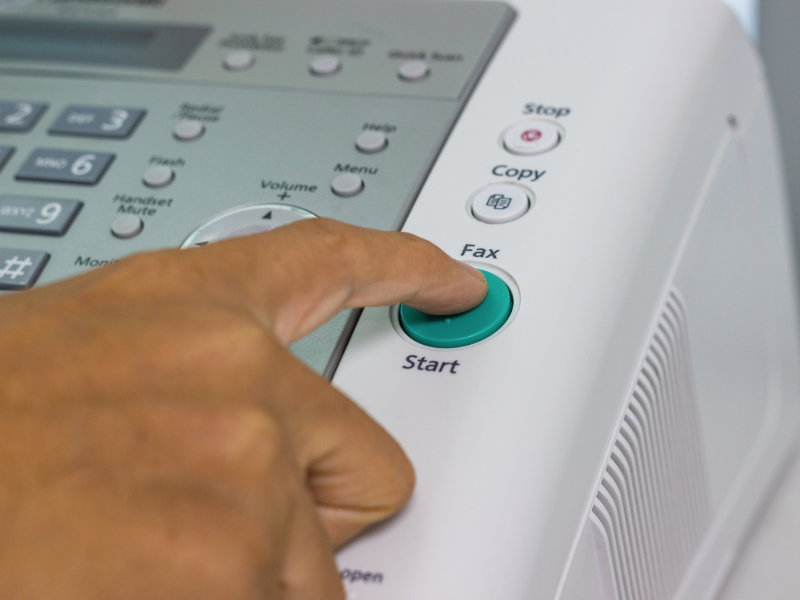 Benefits of Sending Bulk Faxes
Here are some of the advantages of bulk faxing:
Reach wider targets
Bulk fax blasting allows businesses, schools, hospitals, and government agencies to reach a larger audience efficiently, eliminating the need for manual processes like typing numbers on fax machine keypads. It increases productivity while ensuring the necessary information reaches the intended recipients on time.
Personalize messages
Given the bulk fax use cases listed above, it's easier to connect to a larger audience group at a personal level. Fax broadcasting solutions like iFax allow field customization, helping businesses and institutions establish a stronger connection.
Make data-driven decisions
Analyzing the data collected from fax broadcasting campaigns allows businesses and institutions to identify patterns and trends. Such information is valuable for making data-driven decisions that can drive better results.
Bulk Faxing Simplified With iFax
What makes iFax ideal for many businesses is its dependability and security features. Whether you are faxing for a single recipient or a wider audience, you can count on our online bulk faxing service to deliver your documents efficiently and accurately.
After all, you are better off focusing on other high-ticket tasks than wasting time trying to send faxes to hundreds or thousands of recipients individually. Plus, you can depend on our service to provide you with all the security and compliance features you need to establish credibility and trust in the field of business.
With iFax, you can:
Send faxes in bulk to unlimited recipients
Create targeted lists based on new and existing contacts
Personalize fax broadcasts using custom fields
Sort fax broadcasts automatically with smart folders and labels
Send HIPAA and GLBA-compliant faxes in bulk
Sign up for an account to start using fax broadcasting in your business campaigns.
broadcast fax
bulk fax
fax broadcasts