Using custom fax cover sheets helps project a consistent brand image and leaves your customers with a long-lasting positive impression. Aside from this, it also helps boost brand recognition and recall. After all, it's the first page to appear every time you send a fax.
With iFax for web, you can effortlessly customize fax cover pages to include information like your company name, business address, and contact information. You can also add a logo to create more impact. Instead of generic fax cover letters, our online faxing tool lets you transmit faxes with designs that match your branding.
Plus, there's no need to update the cover sheet every time you fax. You can tweak the settings to make your custom fax cover page appear automatically.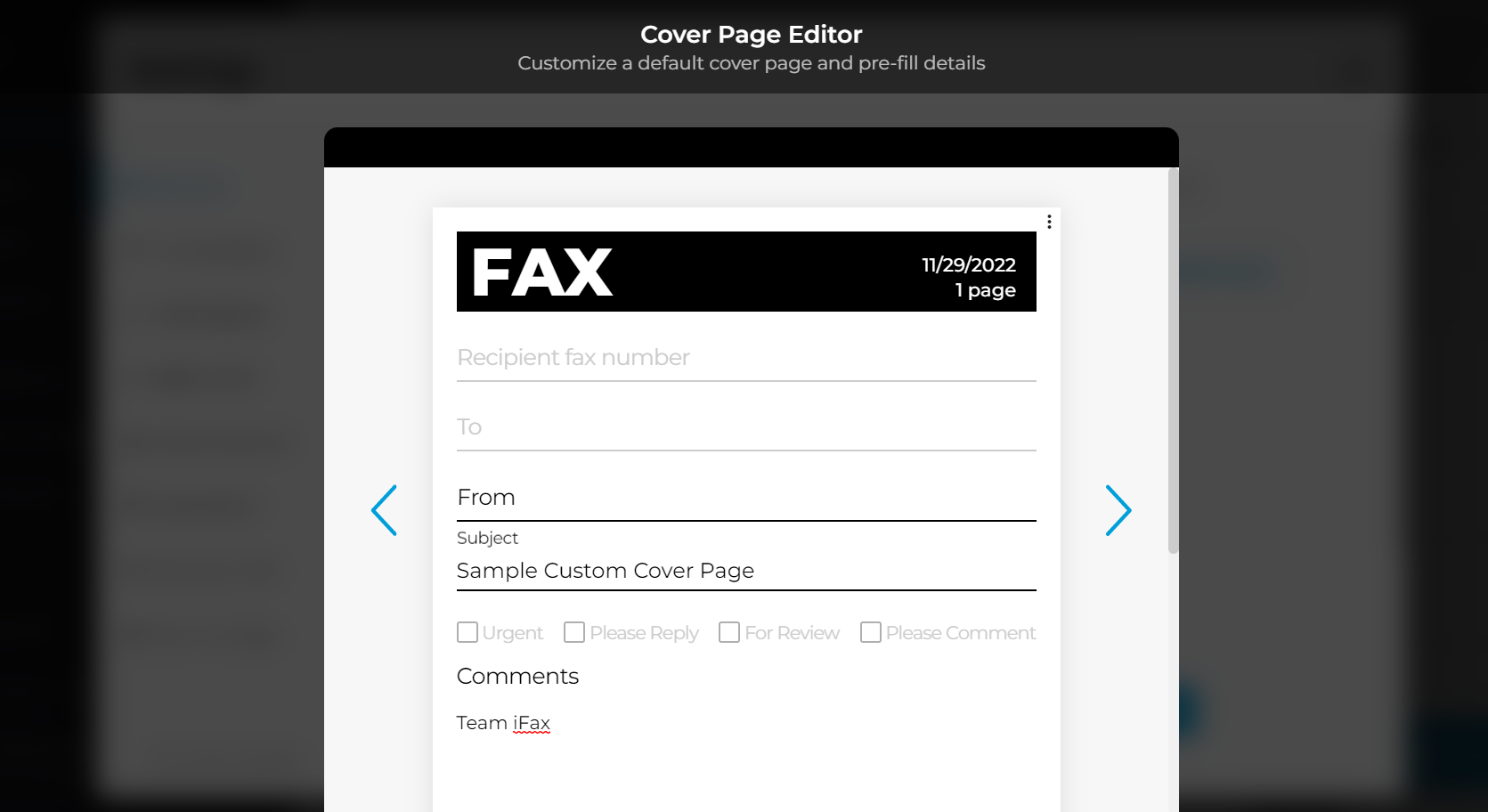 3 Benefits of Using Custom Fax Cover Pages
Whether it's traditional fax or online fax, you'll need cover sheets to route documents to their appropriate stakeholders safely. It's your first line of defense against unintended and unauthorized recipients.
Here are a few good reasons why you need custom fax cover sheets to elevate your online faxing experience:
1. Security and compliance
A fax cover page helps conceal confidential details like medical and banking information. It also helps ensure that the fax gets delivered to the right person, which is a must under the Health Insurance Portability and Accountability Act (HIPAA).
While this data privacy law does not require fax cover sheets, it serves as another layer of security for medical records. It prevents anyone from accidentally looking into a fax that contains protected health information (PHI), such as a patient's test results and prescription medications.
2. Custom branding
Adding your company name and logo to a fax cover sheet is one way to establish branding. It makes your faxes stand out, making it easier for customers to recognize your company or business at first glance.
Using custom fax cover sheets can give you the upper hand in a crowded inbox. It helps build customer loyalty, eventually making your business stand out against the competition.
3. Instant identification
Customizing your professional fax cover sheets allows you to include identifiable information like your business name, email address, and contact number. You can also add a disclaimer to safeguard sensitive documents from unintended recipients. This way, your receiver will know whether a fax has been sent by mistake just by looking at the cover page.
How to Add a Custom Fax Cover Sheet on iFax
Customizing your fax cover pages is as easy as following these steps:
Go to your iFax web dashboard. If you still need to start using our online fax service, you can sign up for a free account or get a 7-day trial of our Professional plan.
Click the cog icon at the bottom-left menu.
Navigate to General > Preferences > Fax Content.
Click the toggle button next to the Cover Page option.
Click Customize Cover Page to load the cover page editor.
Scroll through the available templates and select the one that you like.
Preformat the fields to include your company name, contact number, business address, etc.
To add a logo, click the three dots icon at the top-right corner of the cover page. Click Add Logo.
Upload and preview your logo, then click Save.
Once you're satisfied with the final look of your custom fax cover sheet, click Save. That's it.
Whenever you compose a new fax, the cover page with your custom logo and company information will automatically appear on top of your uploaded documents. You can also remove the cover sheet if you want.
Uploading a fax cover letter from a local folder
If you have a preformatted fax cover letter available on your PC or a local folder, you can upload it directly to iFax by following the steps below:
Go to the iFax web dashboard.
Click New Fax > Compose Fax.
Remove the existing cover sheet, then use the drag-and-drop tool to upload the custom fax cover letter from your computer.
Attach the documents that you need to fax.
Fill out the rest of the required details.
Click Send.
HIPAA-Compliant Fax Cover Letter Sample
Here is an example of a personalized HIPAA fax cover letter: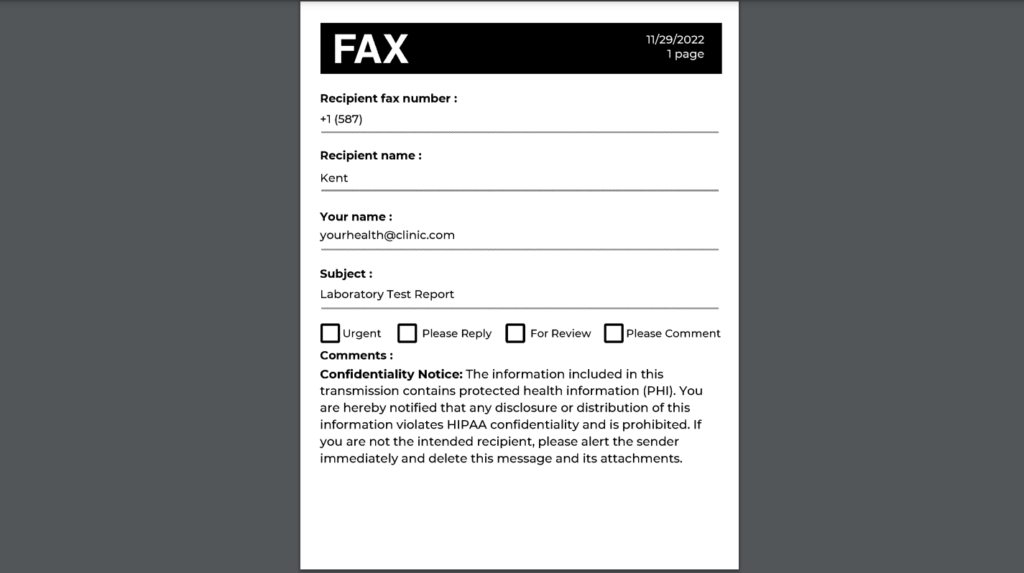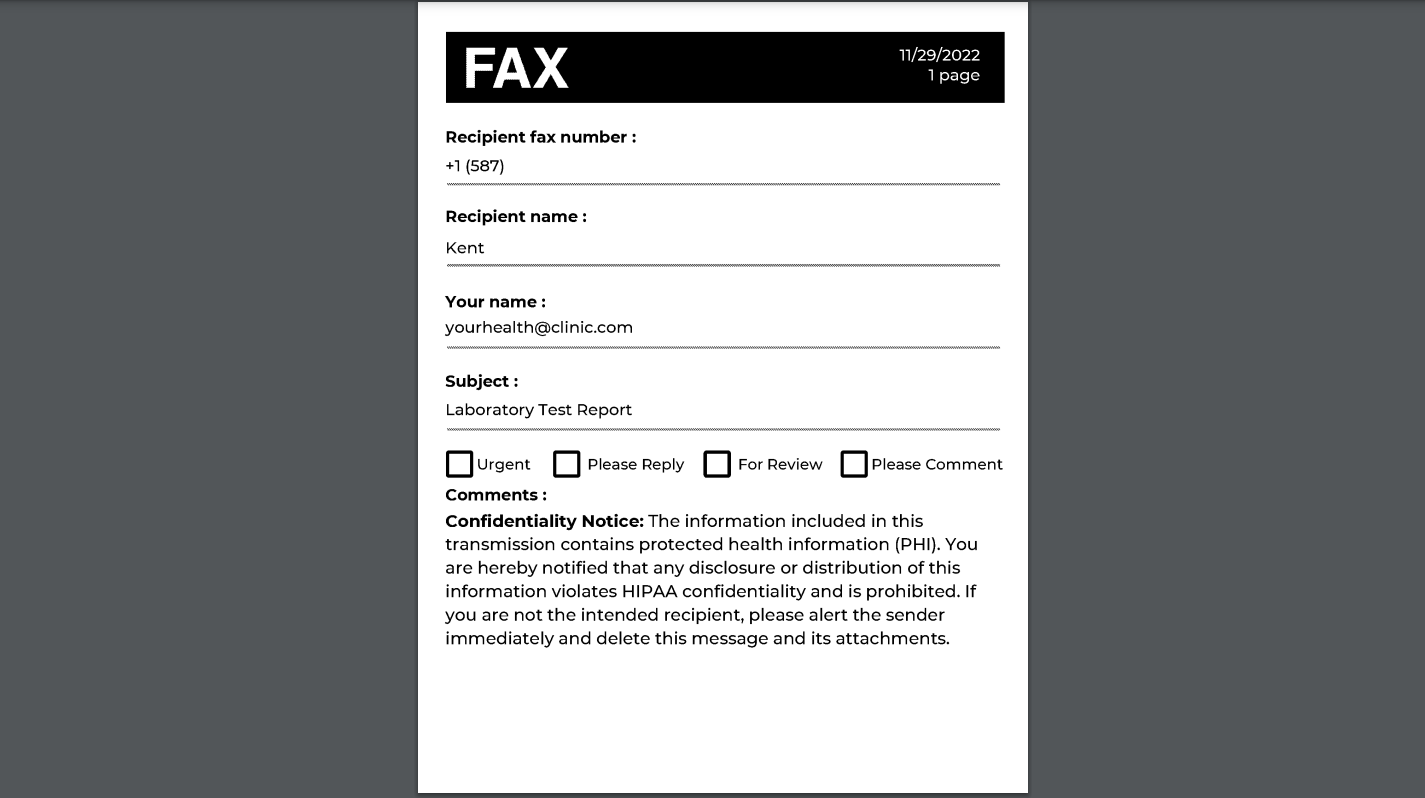 In the case of a HIPAA fax cover letter, one way to customize it is to include a generic disclaimer line. Here's a sample:
When Security Meets Personalization
With iFax, you have the confidence to send faxes that are not only secure but also visually pleasing. By customizing your fax cover pages, you can establish your brand's identity while earning the trust of your potential clients. Our online faxing tool's built-in cover page editor also makes it easy to modify an existing cover sheet to suit your needs.
Customizing Fax Cover Pages Has Never Been This Easy
A generic cover page may require less preparation, but it won't help your business attract the attention it needs. On the other hand, a custom fax cover sheet can be designed to resonate with your client's preference. It can spark curiosity while, at the same time, protecting your faxes from falling into the wrong hands.
So go ahead and experience what it's like to design your own business and professional fax cover sheets. Create a free account to get started.
custom cover sheets
fax cover pages
fax cover sheets
feature highlights
ifax features