Back in the day, it was almost impossible to miss incoming faxes. If you were expecting one, you had to stand by your fax machine to accept the transmission. With online faxing, you do not need to be in the confines of your office to receive faxes. To stay on top of your messages, all you need to do is enable your fax notifications.
Whether you are new to faxing or an experienced user, understanding how to use fax notifications can help you to get the most out of this valuable communication tool.
The Benefits of Enabling Fax Notifications
Fax notifications are alerts that inform you when you have received a fax through your computer, phone, or email. These alerts are essential if you need to stay connected with their customers and clients.
Enabling fax notifications can help you to:
1. Respond promptly
Fax notifications can be useful for businesses that need to communicate with their customers or clients in a timely manner. When you get alerted about an incoming fax, you can take prompt action, such as reviewing or responding to the fax. This feature is particularly helpful if you receive a time-sensitive document or message.
2. Stay organized
When you disable the alert for incoming transmissions, you'll likely open an inbox filled to the brim with faxes. There's a higher chance of you missing an urgent fax. By receiving notifications about incoming faxes, you can keep track of them and ensure that you don't overlook critical information.
3. Receive faxes anywhere
If you have an online fax service that allows you to receive faxes via the internet, you can receive fax notifications even when you are away from your office. This can be especially useful for real estate agents who process important documetns while in the field. It's also an advantage for anyone who travels frequently for business. .
4. Improve productivity
Staying on top of your faxes helps you take necessary actions quicker, allowing you to enhance your efficiency and productivity. When you enable fax notifications, you can prioritize your tasks and focus on the most critical faxes first. This can help you get more things done in less time.
5. Improve internal communication
Fax alerts can help organizations communicate more effectively with their team members. For example, suppose a team member sends a fax to the entire organization. In that case, all team members will receive a notification, which can help to ensure that important information is disseminated promptly, even across departments.
How to Enable Fax Notifications on iFax
To enable fax notifications, you will need to set up your fax service to send alerts to your preferred device or email address. Here's how to do it on iFax:
1. Log in to your account.
2. On your dashboard, go to Settings by clicking the gear button on your screen's bottom left side.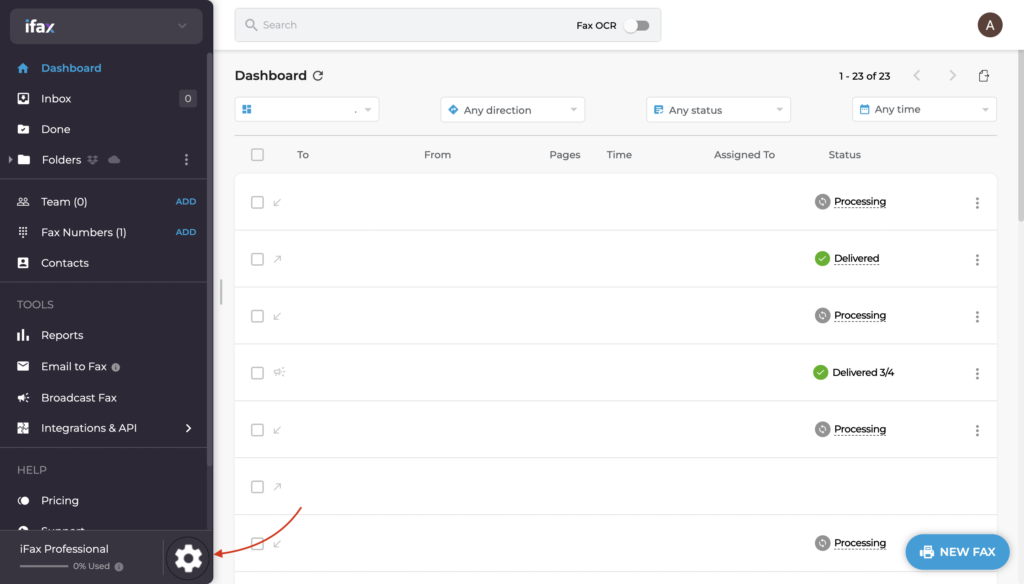 3. Go to Notifications, then proceed to Email Notifications.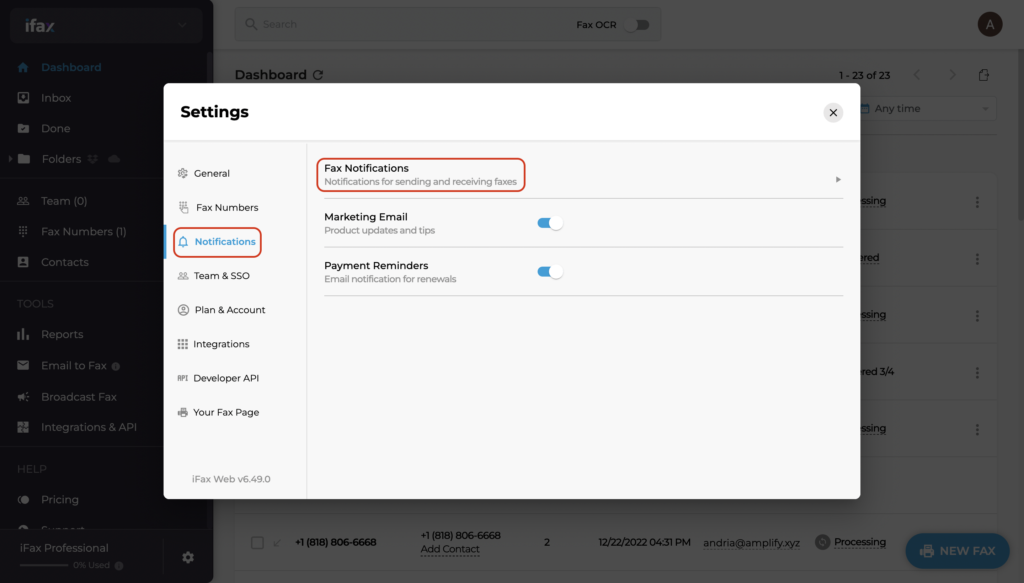 4. To enable notifications, simply select how you wish to be notified. You can select between email and push notifications. You may also choose both to ensure you never miss a fax.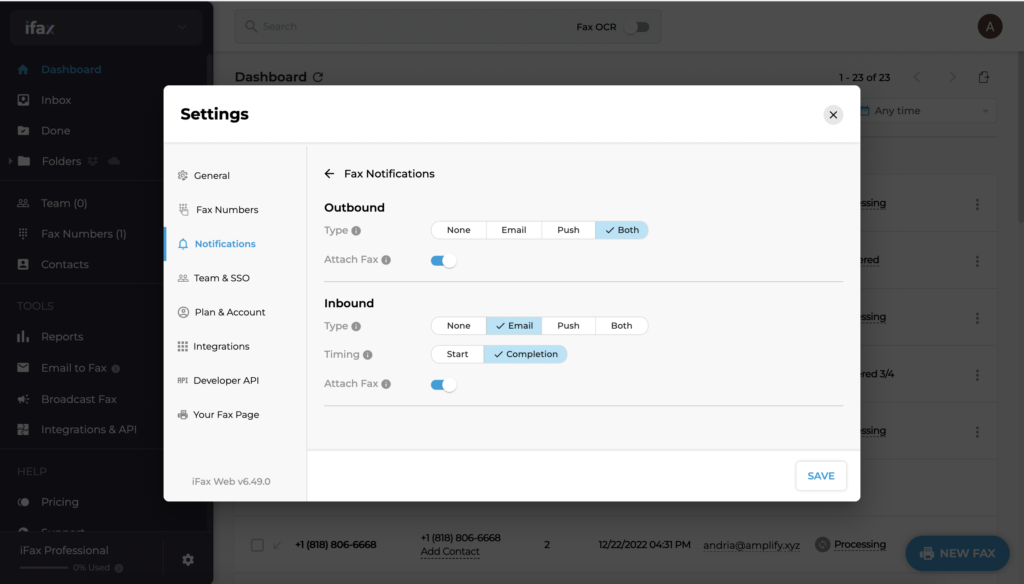 5. If you want to receive a copy of your fax in your email, enable Attach Fax.
6. Don't forget to click Save to lock in all your changes.
Once you have set up and configured your notifications, you should be able to receive a real-time update every time you receive a transmission. In the same vein, this feature also allows you to keep track of outgoing faxes. You'll receive a confirmation email about whether your message was successfully sent or not.
Common Issues With Fax Notifications and Proven Solutions
Fax notifications are helpful, but it is important to manage them effectively. By setting up a system to manage and prioritize faxes, businesses can use fax notifications to their advantage and improve communication and productivity.
While there's no doubt that this feature is invaluable in many organizations, it's not one without flaws. Let's take a look at some issues people face and how to fix them:
Too many fax notifications
Issue: If you receive a large volume of faxes on a regular basis, you may find it overwhelming to keep track of all your notifications. Not to mention that it can be a major cause of annoyance.
Solution: To fix this problem, try setting up a notification system to help you stay organized, or consider using an online fax service that includes notification management features.
It's also best to take a quick look at all your inbound faxes. If you spot any spam or junk faxes, be sure to block the number of the sender right away. This can help you declutter your inbox and prevent important transmissions from getting buried in the pile.
Inaccurate or outdated notification information
Issue: If you are receiving notifications for faxes that you have already received or are no longer relevant, it may be because your notification information is outdated or inaccurate.
Solution: To resolve this issue, check your settings. Ensure that your notification information is up-to-date and accurate.
Confusion over multiple notification methods
Issue: If you use multiple notification methods, such as email and text messaging, you may find it confusing to keep track of all your fax notifications. It can also be a nuisance, especially if you receive multiple faxes a day.
Solution: You can choose a single notification method that works best for you or set up a system to consolidate your notifications into a single stream.
Never Miss a Transmission With iFax's Fax Notification Feature
iFax is the ultimate online fax solution for businesses and individuals who need a fast, reliable, and secure way to share documents and sensitive information. With iFax, you can fax from your computer, smartphone, or tablet. You have the option to receive fax notifications via email or push notifications.
When you make the switch to iFax, you can say goodbye to paper jams, long-distance phone charges, and outdated technology. Our user-friendly interface makes it easy to send and receive faxes with just a few clicks. Plus, our cloud-based service allows you to access your faxes from any device.
But iFax is more than just a digital fax service — it's a complete fax solution. You'll get a dedicated fax number as well as a range of powerful features:
Cloud storage sync
Built-in document scanner
Third-party integrations
Don't waste any more time or money on outdated fax machines. Try iFax today and experience the convenience of digital faxing.
fax alert
fax notifications