Tracking faxes is super easy with the iFax web dashboard. Now, you can monitor your incoming and outgoing faxes from your laptop or PC. On top of that, you can get insights from detailed reports about your business fax activity. You will never have to worry about missing documents again.
How Does Fax Tracking Work?
Fax tracking allows you to check if your faxes were delivered successfully. Knowing the status of your online faxes is an indispensable tool in business settings. For one thing, you'll know who to follow up in case recipients were unable to receive or view the fax you sent.
This functionality also allows you to measure the volume of incoming and outgoing faxes in your organization as well as your own productivity. You can see how many faxes your team sends daily, weekly, or monthly.
These metrics help you make an informed decision about your document workflow and administrative budget. For example, you can decide to upgrade your account if your team processes a consistently high volume of faxes per month.
What Data Can You Access in Fax Reports?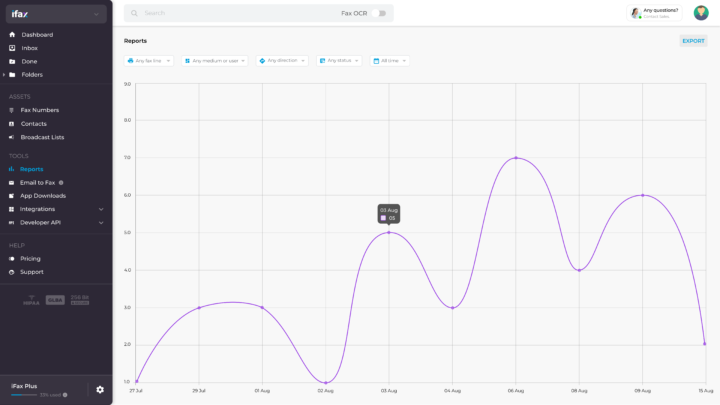 iFax makes it effortless to view the trends of faxing activities at a glance. A graph on the dashboard shows the all-time highs and lows of your faxing activities.
How to Generate Fax Reports on iFax
To access these features, log in to your iFax account and go to Reports. You can check the status of all faxes and sort them according to your preferences. Here are some of the options available:
Any direction – incoming and outgoing faxes
Any status – delivered, confirmed, failed, draft, and received
Any time – from today, yesterday, 7 days, 28 days, 90 days, or a custom date
Calendar date – by day, week, month, or year
Once you have set and run the appropriate filters, you can export the data as a CSV file. You can open the report using Google Spreadsheets or Microsoft Excel.
Benefits of Using Fax Reports
In business, time is money. That's why the ability to track faxes can be such a valuable asset. With iFax reports, you can see how fast your faxes are delivered to the intended recipient. Not only that, but reports also offer the following advantages:
1. Provides insights on faxing activities
When you categorize the faxes according to status and days, you will see which dates have a high volume of faxes sent and received. This fax history will help you determine how your team processes faxes and adjust your workflow accordingly.
2. Helps you stay organized
It can be difficult to keep track of everything if you're dealing with a large volume of faxes. iFax lets you see a list of all your online faxes so you can easily find what you're looking for.
3. Saves time and money
It's crucial that your files are being delivered to the right fax numbers. Otherwise, you'll be wasting your credits.
With iFax, you can see which numbers are receiving your transmissions, thanks to its fax logs. The app also lets you resend a fax if it was not delivered successfully the first time.
4. Supports HIPAA compliance
Tracking faxes and using fax reports are essential to HIPAA compliance. Using fax reports helps you to spot patterns in your faxing behavior so that you can ensure data privacy for your organization.
For example, if you notice that you're frequently sending PHI to an unregistered fax number, you can take steps to correct the problem and avoid HIPAA violations.
Stay Ahead of Faxing Trends With Fax Reports
Keep track of your faxes automatically with this helpful tool. With fax reports, you will see detailed information on your account's faxing activity. These reports will also help you develop strategies to make your faxing more efficient and effective.
On top of these, enjoy the convenience of:
Syncing faxes to the cloud like Google Drive, OneDrive, and Dropbox
Enhancing security measures by activating two-factor authentication and user group permissions for team roles
Availing of monthly pricing plans that match your organization's faxing needs
Register for a free account and be amazed at how backend analytics can transform your team's productivity.
fax reports
fax tracking