Managing a large number of fax users can be a challenge. You need to strive for the perfect balance between securing faxes and meeting growing demands. The good thing about online faxing is you can streamline the process for fax user management. There's no need to go through complicated setups.
With iFax, you can set up and configure secure fax user accounts in minutes. Let's take a look at how this feature works and what it can do to improve your workflow and productivity.
User Account Management Made Easy
With the iFax fax user management feature, you can meet the needs of your business without relying on manual processes. Our cloud-based platform will let you do the following:
Add and delete users
Manage existing users
Set up access permissions
Monitor usage
Thus, learning the basics of fax user management can help you implement access controls quickly and easily.
The 5 Different User Roles
For each user you add, you can assign a specific role that determines their level of access. These roles include:
Admin: The admin role controls the entire platform and its features. Administrators have unrestricted access, so there is no limit to what they can do.
Manager: The manager role has access to most features but cannot add new users or manage fax numbers as admins do.
Sender: This role allows the complete control and management of outbound faxes.
Receiver: This role has the least access and is primarily used for receiving fax messages.
Sender+Receiver: This role has access to both sending and receiving features, except for sharing faxes and managing contacts.
How to Add or Remove iFax Users
To add a new user or remove an existing user, you must log in to an iFax account with administrator access. Once that is done, you can follow these steps: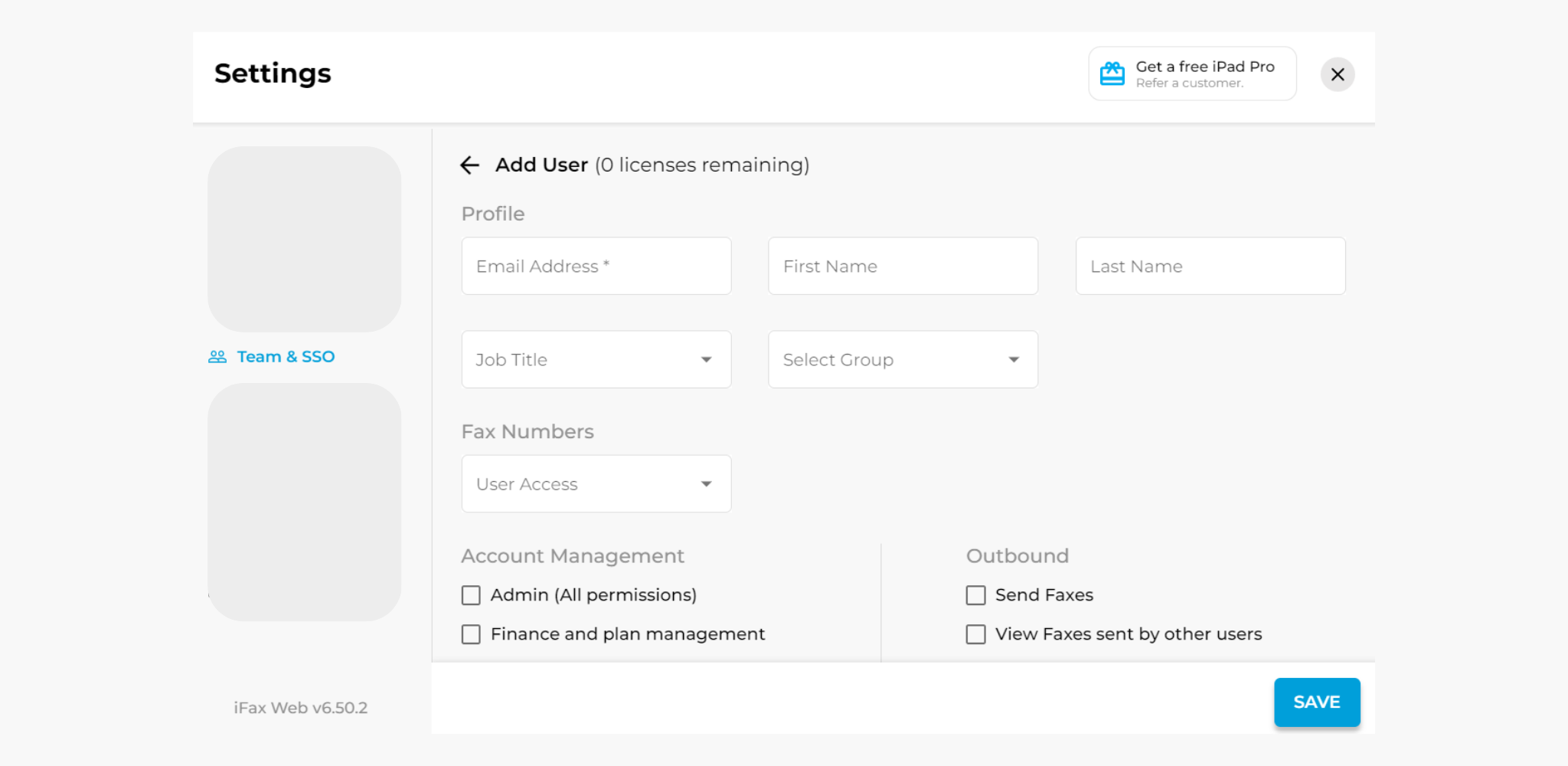 Adding a new user
From your account dashboard, go to Team > Team & SSO.
Go to the Users tab, then select Add User.
Click Create New.
Provide all the required information, like the user's name and email address.
Select the appropriate role you want to assign, then click Save.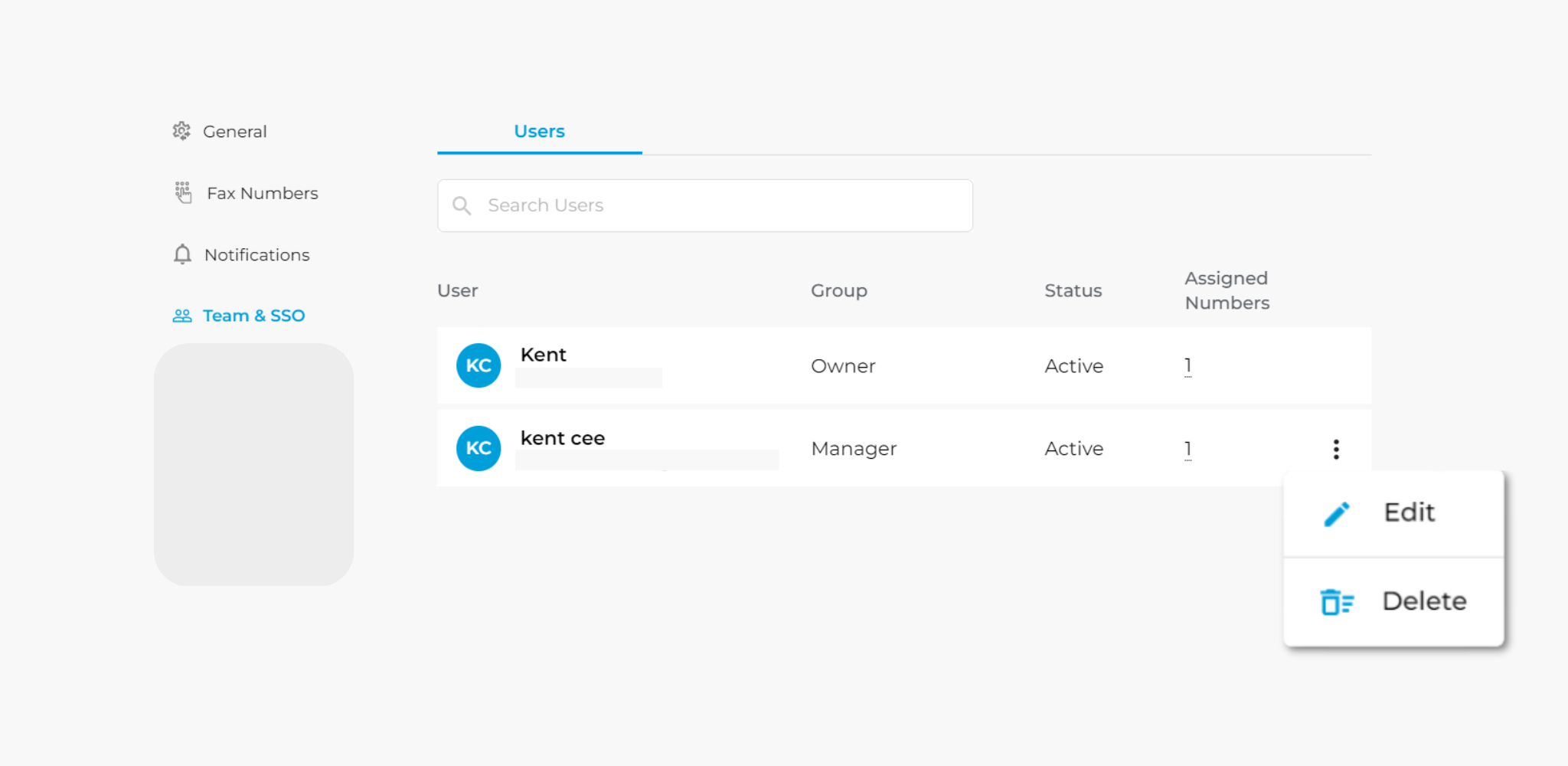 Removing an existing user
Go to Team > Team & SSO.
Click the Users tab and select a user that you want to remove.
Click the three horizontal lines icon (menu icon) to open the dropdown menu. Select Delete.
Setting Custom User Permissions
By default, the role assigned will automatically set the permissions allowed for each user. However, you can update these roles provided you have administrator access.
To do so, all you need to do is follow these steps:
From Settings, go to Team & SSO and select the Users tab.
Click the menu icon (three horizontal dots) next to the user's name.
Select Edit. From the Edit User window, scroll down to see the detailed list of permissions.
Check or uncheck the items based on your desired access level.
Click Save to apply the changes.
Reminder: Be extra careful when updating permissions for admin and manager roles. You may inadvertently revoke important privileges that could limit their ability to access the platform or perform their specific duties.
Control what type of faxes each user can see
For users with access to inbound faxes, you can limit the type of faxes they can see based on criteria. This way, you can ensure that users only have access to faxes relevant to their department or role. For instance, you can restrict a user from the HR team from viewing the faxes received by the IT department.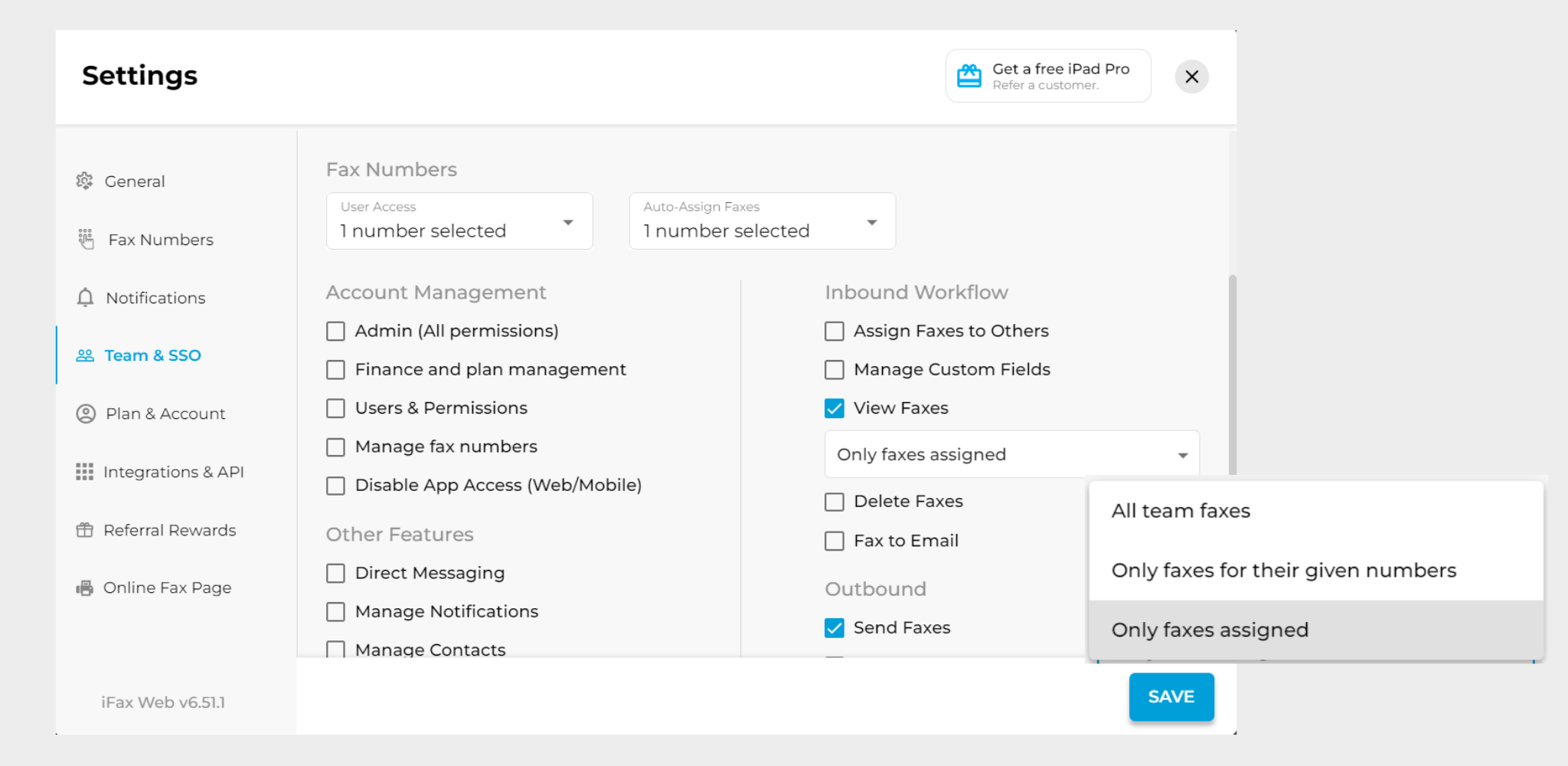 Here's how it works:
Go to Team & SSO > User.
Select the user whose permissions you wish to edit.
Click the three dots icon next to this user, then select Edit.
On the Edit User window, go to the Inbound Workflow section.
Tick the checkbox next to View Faxes, then choose your desired access level based on the following options:

All team faxes – will display all the faxes received by the team
Only faxes for their given numbers – only the faxes sent to the user's access number will become visible
Only faxes assigned – only the faxes sent to the user's assigned fax numbers will become visible

Apply the changes by clicking the Save button.
Note: The user's access number and assigned fax numbers may differ. Always double-check the selected options to avoid errors and confusion.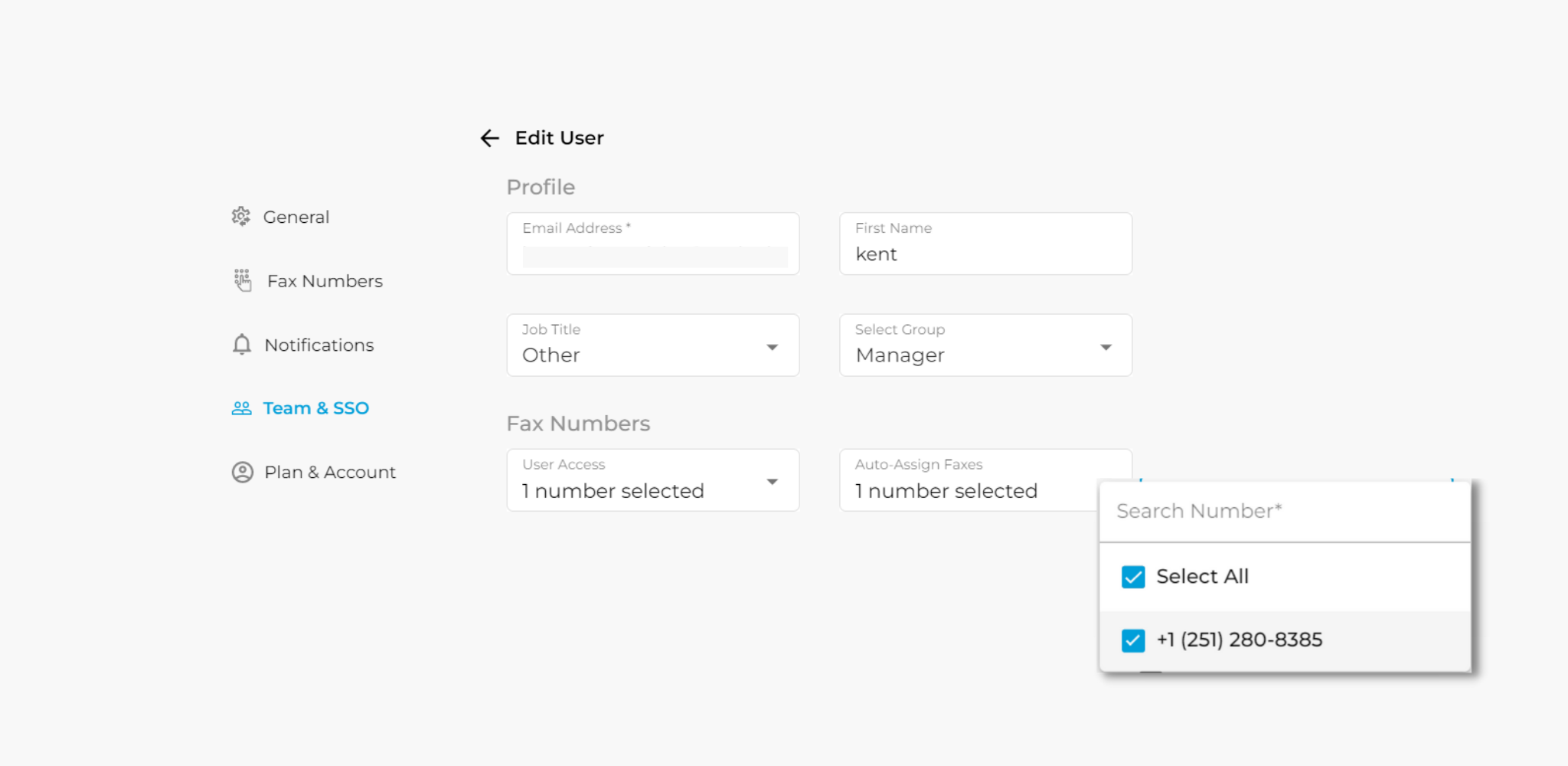 Assigning Fax Numbers to Specific Users
With the iFax fax user management feature, you can do more than grant specific access to individual users. You can also assign specific numbers to each user. Doing so is ideal, especially if your business or organization has multiple departments or teams.
To do so, you will need to:
Follow the steps mentioned above for adding a new user or managing an existing user.
Once you are on the Edit User window, scroll down to the Fax Numbers section.
Open the dropdown menu for User Access.
Uncheck Select All, then select the specific fax number you want to assign. Note: This number will appear as the user's default caller ID.
Click the dropdown for Auto-Assign Faxes to select a dedicated fax number. All faxes sent to this number will be automatically routed to a particular user.
Click Save to apply the changes made.
Top Tips for Effective Fax User Management
Managing multiple fax users can be challenging, especially if you are working with different departments or teams. To make this process easier, here are some top tips that can help you manage your fax users effectively.
Monitor usage. Constantly tracking your fax system usage can help you quickly identify potential issues and address problems before they escalate.
Implement authentication. Ask users to authenticate themselves before sending or receiving faxes. You can implement multifactor authentication to safeguard transmissions and confidential data from unauthorized access.
Regularly update policies. Improve compliance by regularly updating user policies while actively monitoring access privileges. This way, you can avoid costly breaches due to outdated protocols.
Manage Users More Efficiently With iFax
Fax user management is crucial for businesses and organizations relying on faxing for communication and document sharing. It is a feature that can help protect your sensitive faxes from accidental or intentional misuse. With it, you are confident that your users will only have access to the information necessary to perform their roles.
Create an account today and see how this feature can help streamline the way you manage user access.
fax users
feature highlights
user administration
user management
user roles