Collaboration is a significant player in any successful project. Creating a team for sharing fax numbers, faxes, and reports is no exception. A team setup system for faxing allows users to work together without the hassle of manual data entry or worrying about security issues.
Additionally, manually sharing data between members is tedious and prone to errors. When you let your team share, manage, and view your faxes, you can save time, money, and resources and achieve an efficient workflow. You can do it with iFax, the easy-to-use platform for seamless enterprise faxing.
How Does Team Setup and Configuration Work?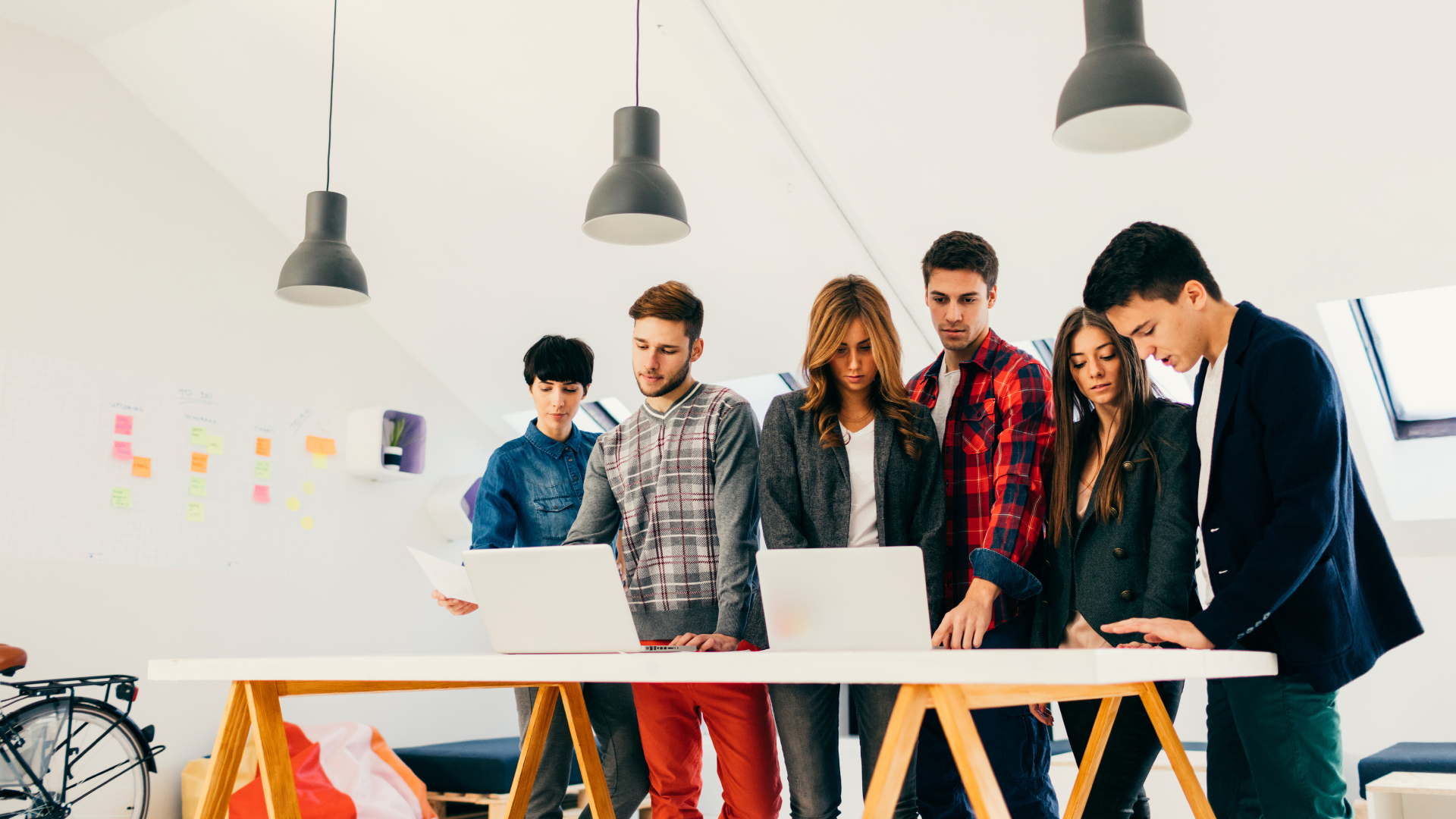 Setting up your team and configuring it allows you to manage and control access to your organization's online fax service. The process involves:
Assigning specific permissions to users. This involves their ability to send and receive faxes, manage contacts, edit faxes, and monitor fax activity.
Adding sub-users. This allows a user to manage a company's fax account depending on the permissions you set for each.
Creating groups for better management of your fax users. This can be useful for dividing your team into departments or delegating certain fax-related tasks to specific individuals or groups.
Establishing a fax number access for your organization or department. You add a dedicated fax number per department and create a team with access to it.
Configuring customization settings. This may involve editing cover pages, signature, and fax header information to ensure a professional image for your organization.
Implementing security measures. This includes password protection and two-factor authentication to ensure your faxes are secure.
Monitoring and updating the setup and configuration to ensure it remains aligned with your organization's changing needs.
Benefits of Shared Online Fax
When you use a team setup for your online fax service, you can enjoy the following benefits:
Improved workflow efficiency
Sharing access to a fax account allows your team to work together more efficiently. For example, instead of manually entering all contact information, you can have a shared contacts list that everyone on your team can access. With shared fax access, multiple users can access the fax system simultaneously, saving time and increasing efficiency.
Optimized organization
Centralized storage of all faxes in a shared online fax system makes managing and organizing communications easier. Sharing online fax access allows multiple users to access and view the same faxes, facilitating collaboration and communication among team members.
Increased mobility
With a shared online fax service, you can add users from anywhere and manage all faxes from a single platform, eliminating the need for physical infrastructure or dedicated hardware. Your team can access and edit faxes on the go, allowing you to swiftly respond to customer inquiries, close deals faster, and stay competitive.
Sustained security standards
Sharing access to a fax account does not compromise security. It does not matter if your team members are across multiple locations. Online fax services have built-in security features, such as encryption and password protection to ensure that only authorized individuals have access.
Using iFax Team Setup and Configuration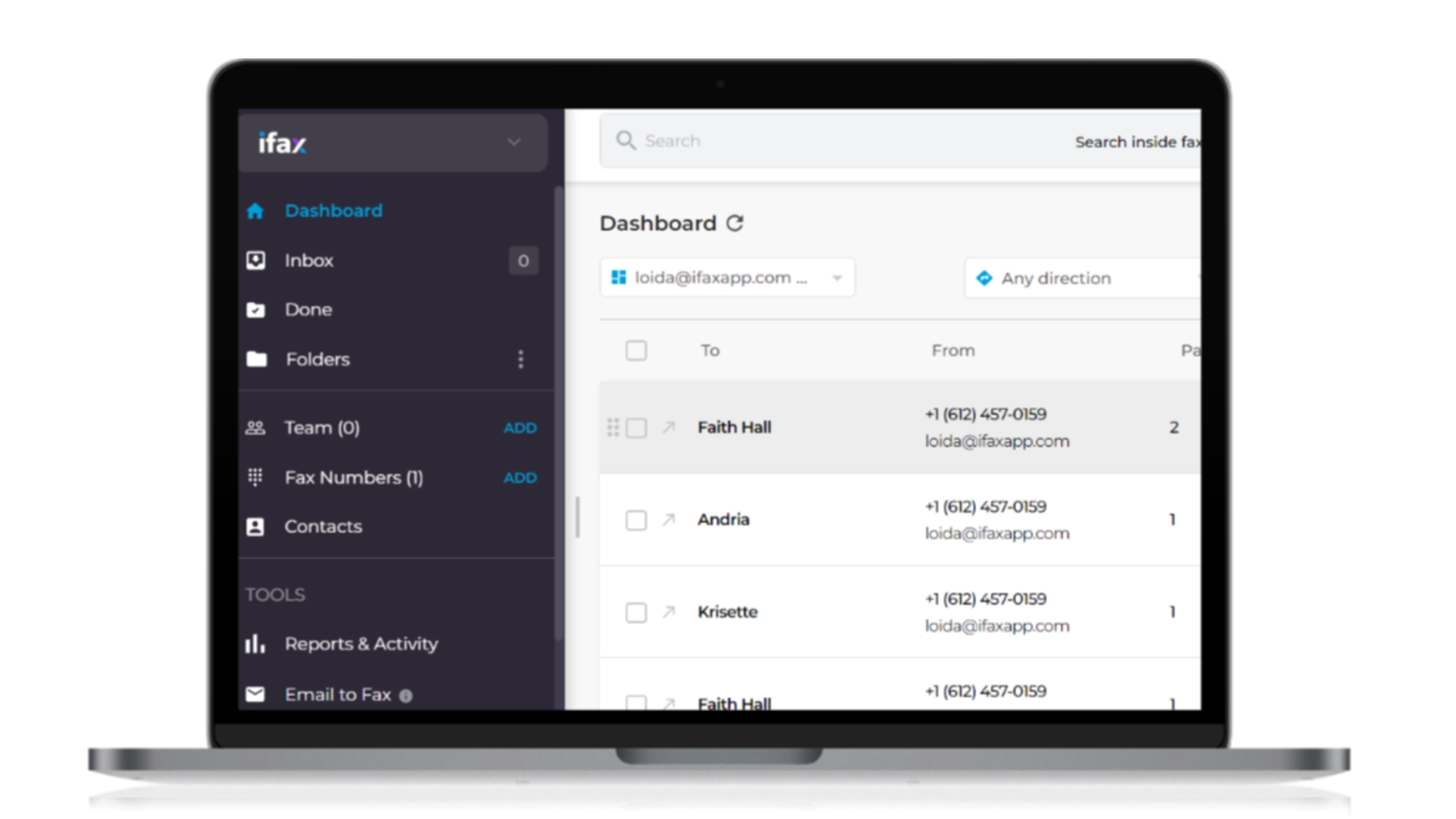 If you need online faxing and want to try the team setup feature, iFax is the right choice.
Our cloud-based online fax service is designed to help businesses of all sizes increase their efficiency and productivity. With our easy-to-use app, you can quickly set up and configure your team to share, manage, and view faxes.
How to add a team member?
Adding members to your fax account is easy with iFax. All you need to do is:
1. Log in to your iFax account or sign up.
2. On the dashboard, navigate to the left panel, then select Team.
A window will pop up where you can see the settings for configuring your team under Team & SSO.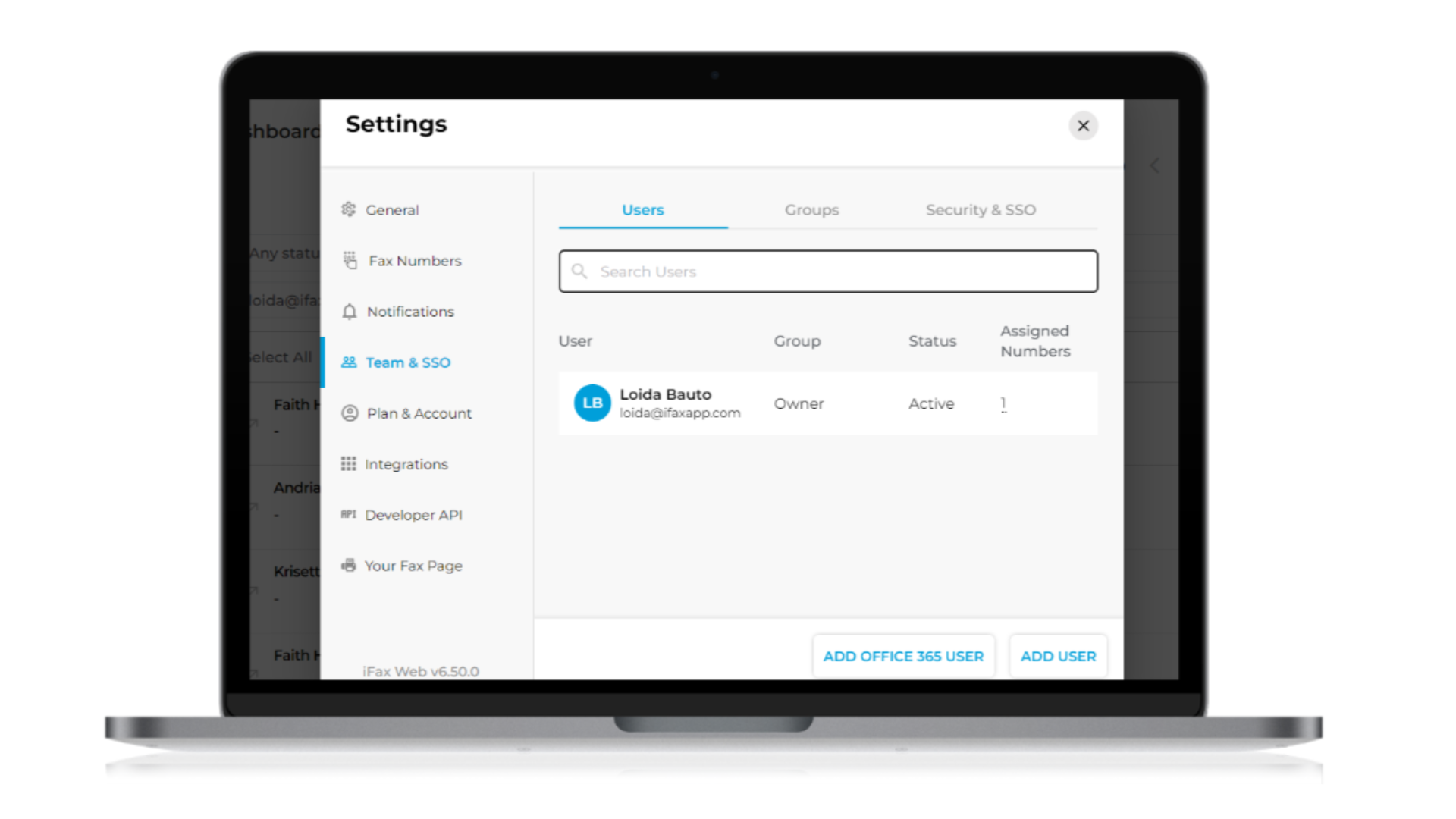 3. Click on the Add user to add new members to your team. You can also select Add 365 user for Microsoft accounts.
4. Fill in the required details, such as the email address, name, job title, and fax number access.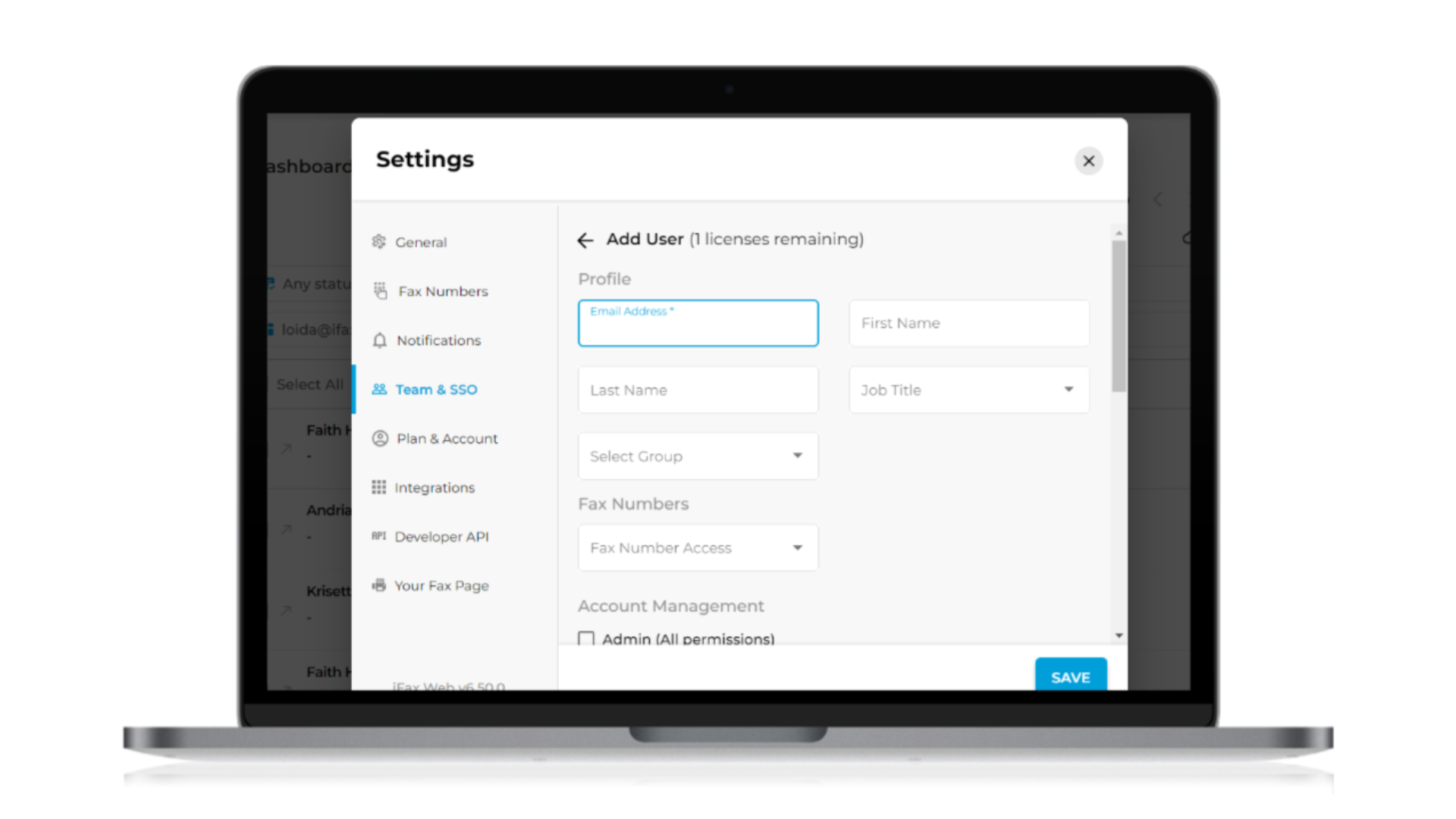 5. Assign permission for the team member by checking the boxes or selecting a group for the user. Click Save.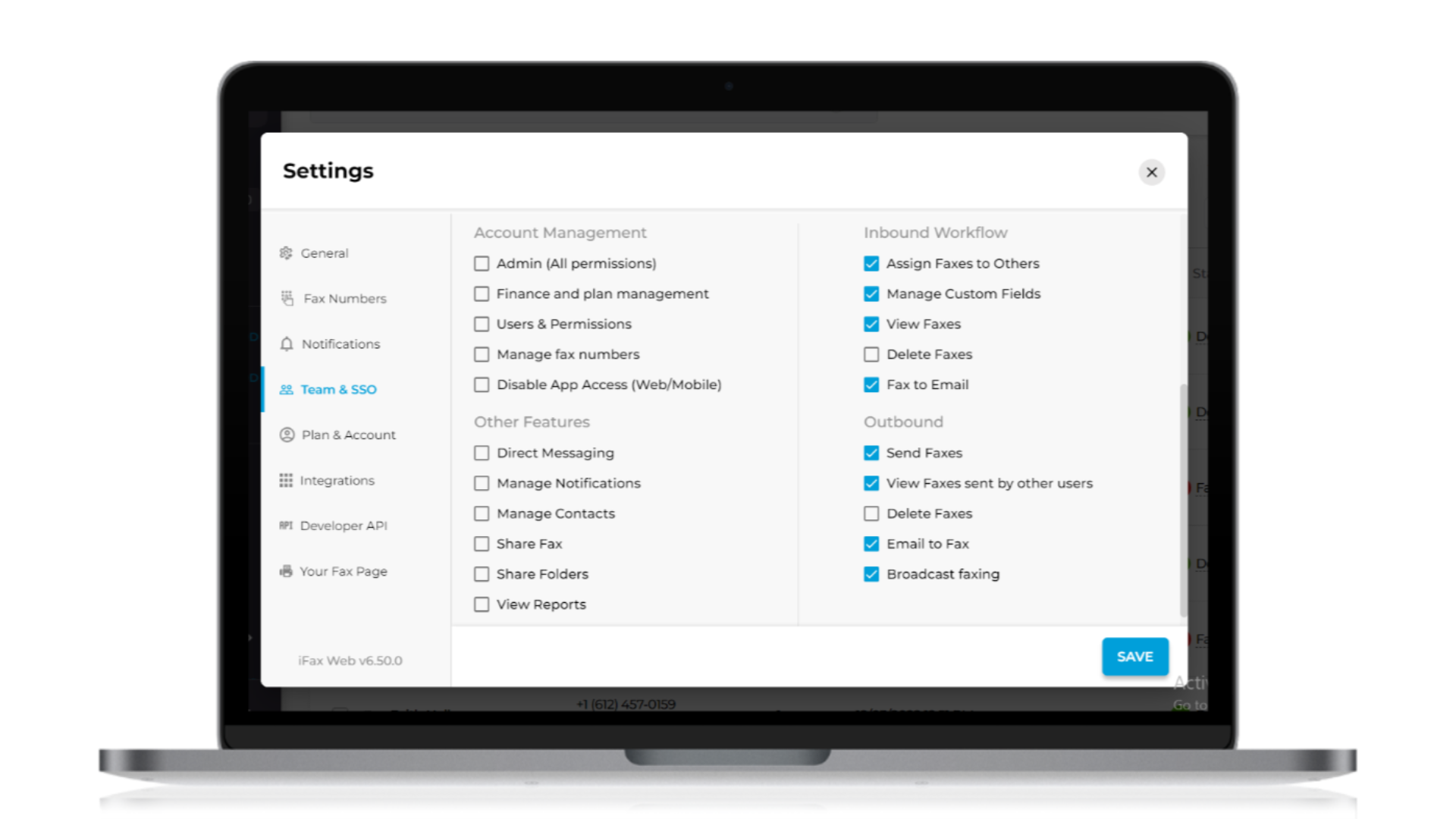 You now added a user for your fax account. The new member will receive an email to activate their iFax account and access the shared faxes with your team. Remember that if you need to add more users to your team, you must edit your plan or add licenses for only $16.66 per month for every user.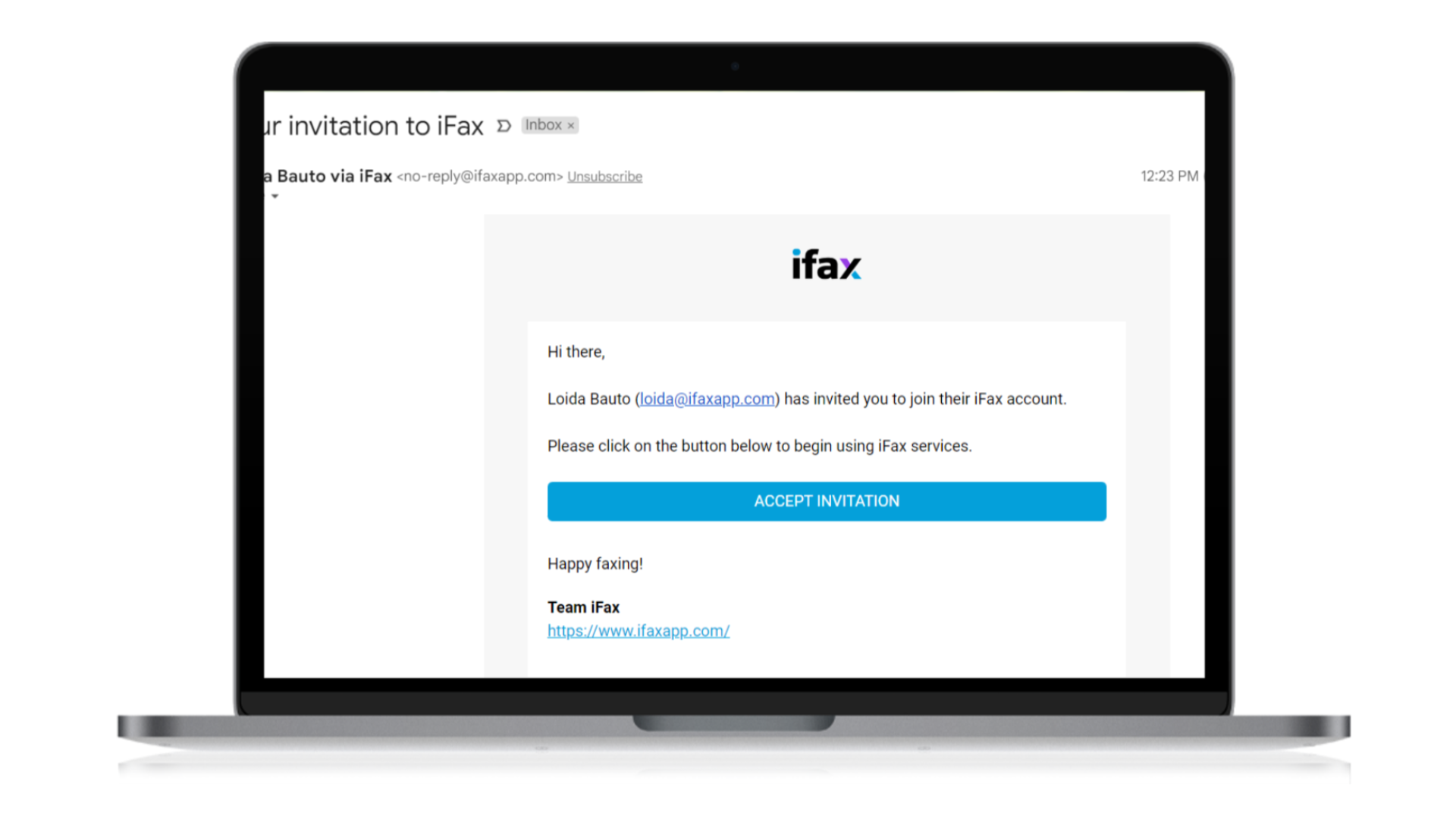 How to edit or remove a team member from my fax account?
Navigate to Team from the left panel of your dashboard to make changes to team members in your fax account. Under the Users tab, click on the three dots on the right of the user's name. Select from the options: Edit if it's necessary to modify the user's information or Delete if you need to remove the team member from your account.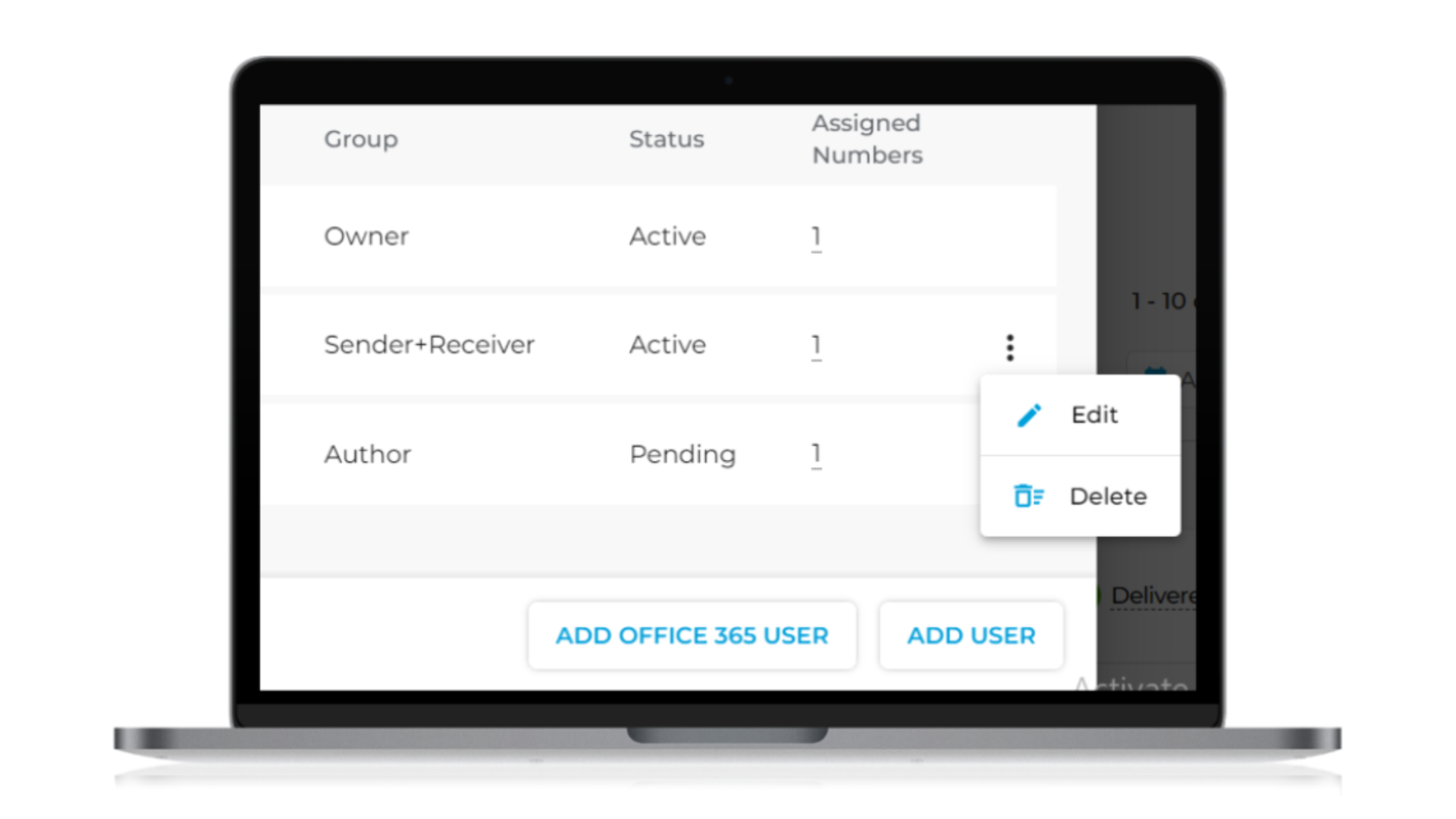 What can your team members do?
What you allow your team members to do depends on the permission you assign. With iFax, the following are the available roles for team members labeled as group:
Administrator
Manager
Sender
Receiver
Sender + receiver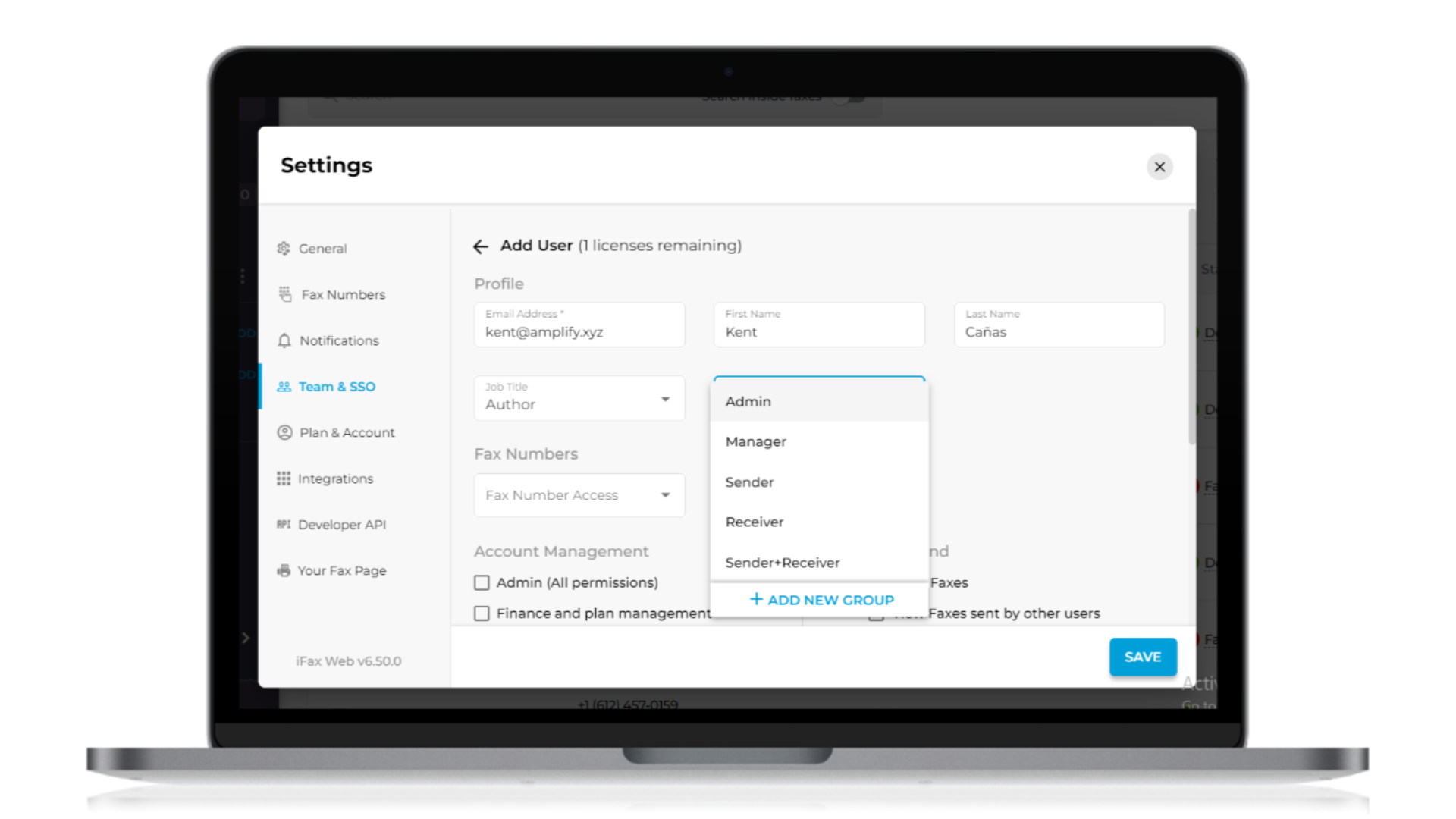 Each role or group has a predefined set of access rights. For example, administrators can access all settings and other team members. At the same time, senders can only send faxes and not manage other users. But you can make changes by checking or unchecking the boxes at the bottom of the page for adding a team member or a group.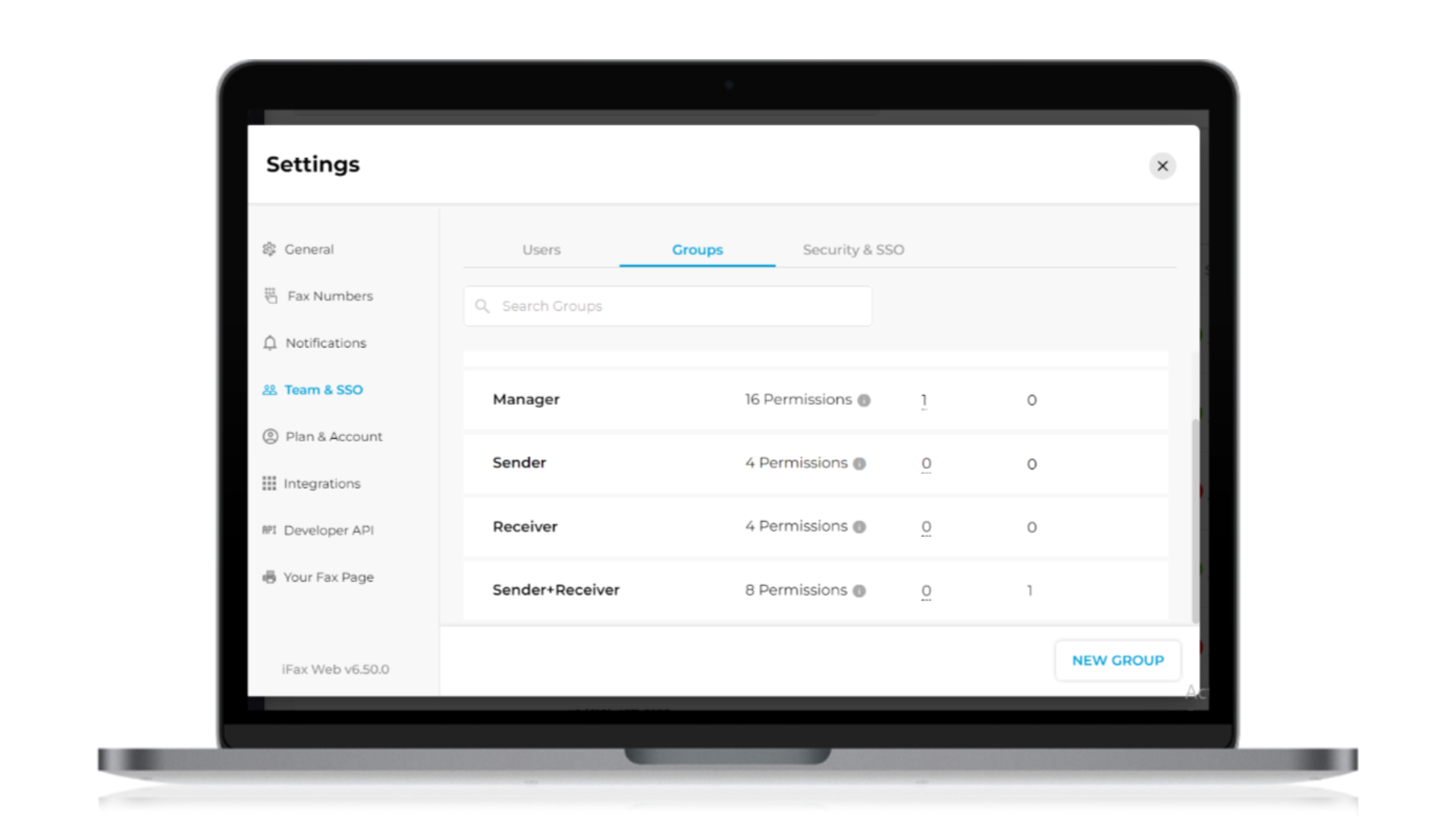 You can add a group by clicking the New Group button on the lower right of the Groups tab. Enter the group's name and fax number access, then assign permissions. This will give you more control over what team members can do in your account.
Is there a limit on the size of the team?
No. with iFax, there is no limitation on how big or small your team can be. Depending on your subscription plan or available licenses, you can have up to 500 users if you need to.
Start Online Faxing for Teams Using iFax
iFax provides more than just easy sharing, managing, and viewing faxes. It is also a secure, affordable, reliable online faxing solution for teams, whether it's a small team or a large organization. Our military-grade encryption, cloud storage, and real-time reporting will help you keep your data safe and easily accessible.
Streamline your faxing process and stand out from competitors with iFax. No more fax machines, just a fast and cost-effective technology that lets your team to:
Send and receive high-volume faxes with ease
Schedule faxes to send at a specific date and time
Set up notifications for incoming and outgoing faxes
Access faxes from anywhere, on any device
Securely store faxes for long-term archiving
View detailed reports and analytics
Broadcast faxes to unlimited recipients
Enable Single Sign-On (SSO) for quick access
There's so much you can do with iFax. Leverage the power of digital faxing and get your team on board. Sign up today.
business fax
Online faxing
team member management
team setup