You're about to turn off your office computer, but you suddenly remember you need to send your client important fax within the day. If you're at the office, you'd have to go to the fax machine station and set it up, which might take time.
For those working from home, you probably don't have a fax machine. But the good news is you have the hard copy on hand.
Your problem is solved thanks to the invention of mobile fax apps. Send fax from your iPhone in a jiffy without a fax machine. Scan the photo using your iPhone, and you're all set. There are iOS applications that feature mobile faxing.
If you have time, you can search in the Apple Store terms like 'send fax from iPhone,' 'free fax from iPhone,' or 'send free fax from iPhone,' and you will have a list of mobile apps that match your search.
You will definitely find a ton of options out there. So, if you don't have time to search and explore the features, keep reading, and we will walk you through the best way to send a fax from your iPhone for free.
Table of Contents
What Are the Benefits When You Send Fax From iPhone?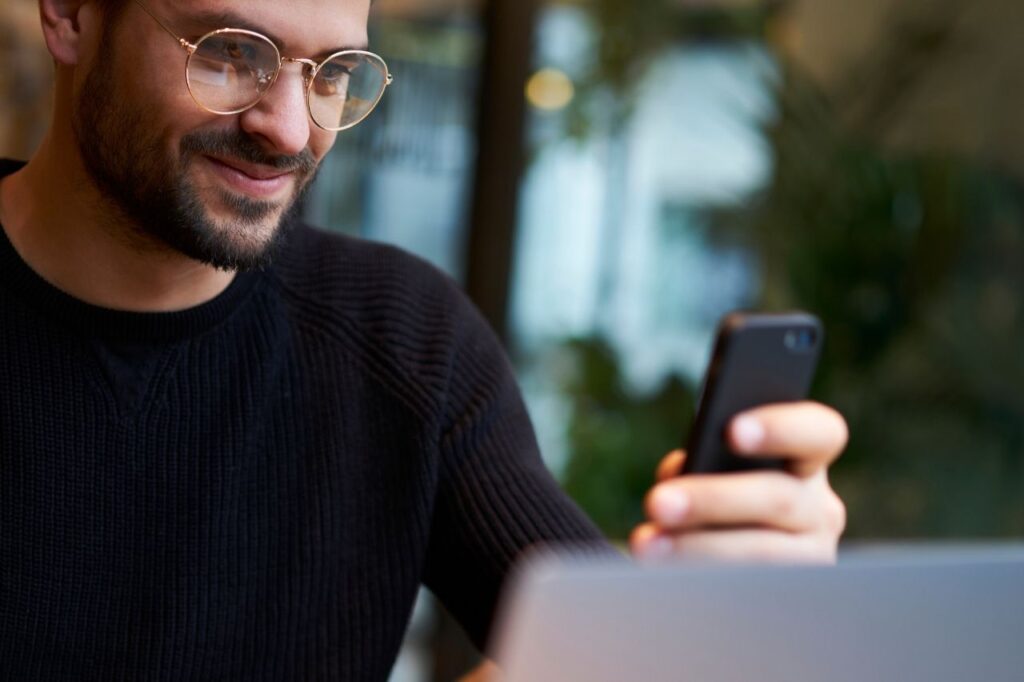 Fax is still being used in most offices and organizations, and if you need to send a fax right away, you don't have to visit Staples, UPS, or Office Depot to get it done. Using an online fax service that has a standalone iOS app gives you these amazing perks:
Convenience and Accessibility – you don't need a fax machine to receive and send fax from iPhone. Work while on the go and stay productive because mobile fax apps can notify incoming faxes.

Security and Confidentiality – send fax from iPhone and receive with confidence as most fax apps have high-grade security of your faxes in your account in the cloud and use 256-bit end-to-end encryption. They also support two-factor authentication to secure your account when logging into different devices.

Flexible Pricing Plans – most online fax services offer monthly subscriptions and pay per fax for sending and receiving faxes. This will lessen the costs of buying a machine and maintenance. Prices start from $7 to $20, depending on what's included in the package, like the number of pages.

Eco-Friendly and Less Clutter – when you send fax from iPhone, you don't need to print your documents and there's less use of paper and printing activities, saving you more paper, ink, or toner, and also less clutter at your office. All your faxes are saved online through the online faxing cloud storage.
How to Receive and Send Fax from iPhone with iFax 7-Day Free Trial
iFax makes faxing simple and convenient for users. It's one of the highest-rated iOS apps on the Apple Store and offers a 7-day free trial for new users. That said, you can send and receive faxes for free within the trial period, or you may avail of the Basic plan that starts from $8.33 per month for 200 pages.
Step 1
Visit Apple Store and download iFax and open it. A window will pop out that lets you generate your fax number. Click the fax number you selected to access the 7-day free trial.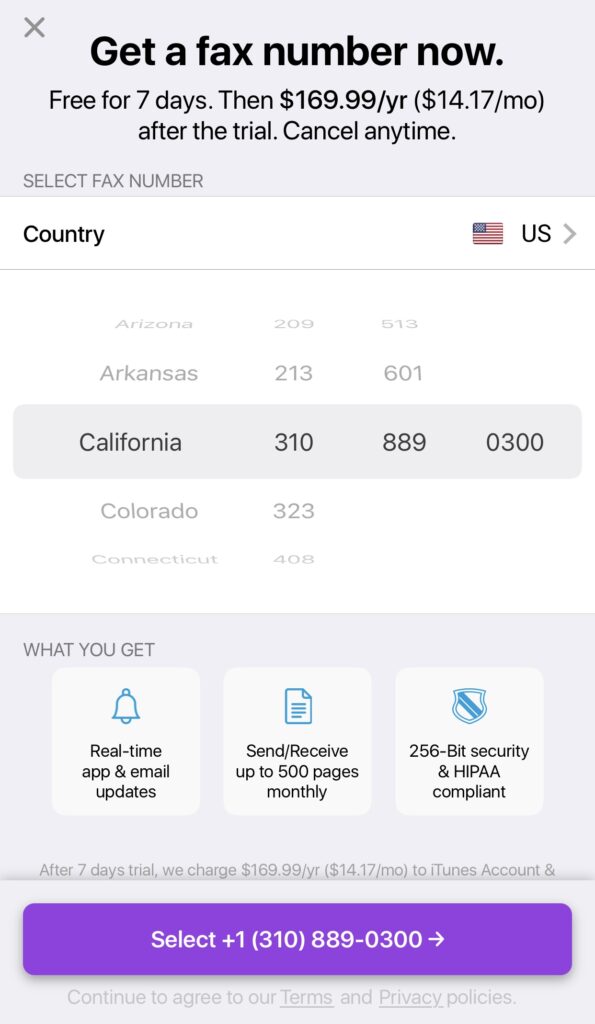 Step 2
This is the Plus plan that lets you send and receive faxes up to 500 pages. You can cancel anytime or at least 24 hours before the trial ends.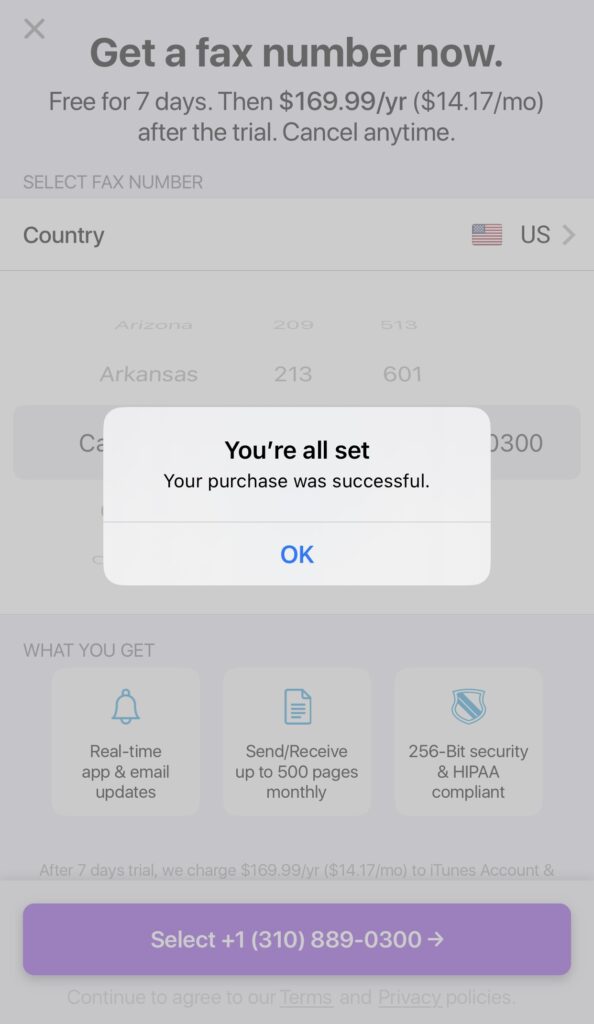 Step 3
Once you are set for the free trial, your fax number is activated. Register via social media accounts like Google, LinkedIn, Facebook, or Apple. You may also sign up using your email address.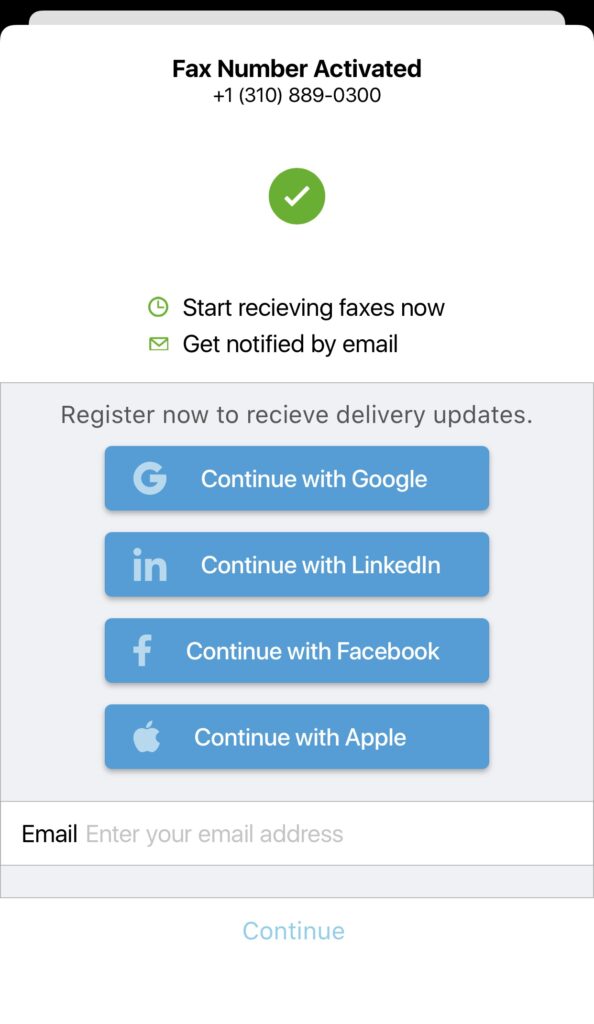 Step 4
You will have access to the dashboard that streamlines the sent and received faxes. It's like your inbox. iFax team has sent you a sample of fax to visualize a real one. Click 'Create Fax' to send one.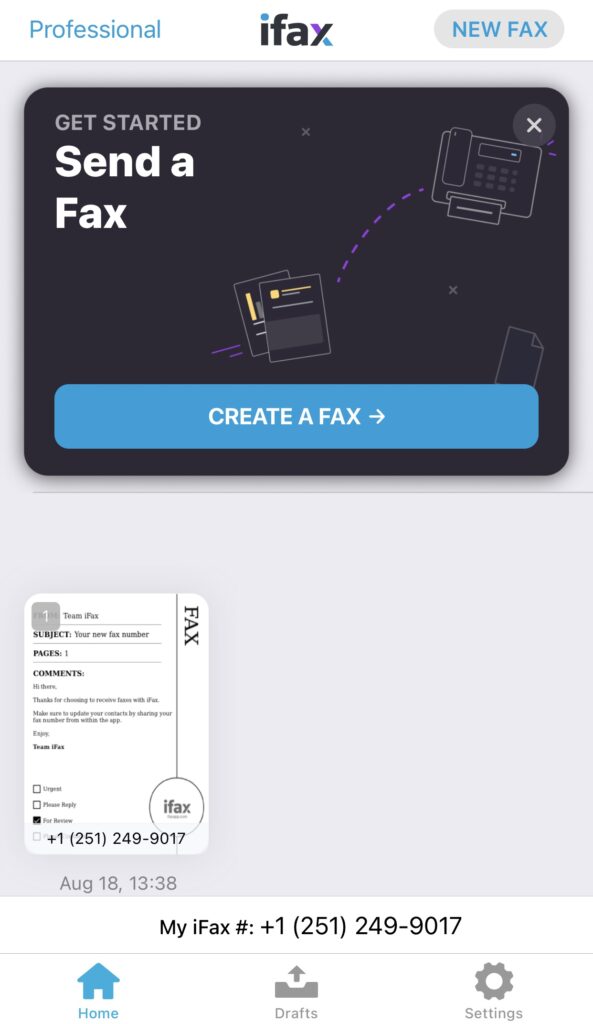 Step 5
Fill in the fax cover page with the recipient's fax number, name, sender's name, subject, and mark it if it's urgent, needs a reply, comment, or review. Add texts under comments for additional instructions. When you click the 'Subject,' iFax will provide suggestions.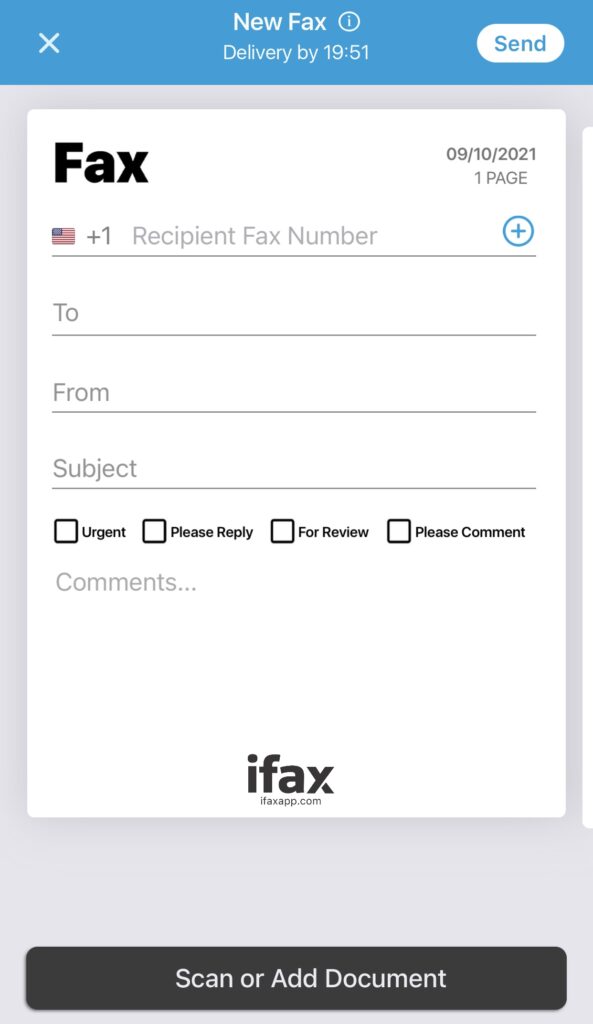 Step 6
Click Scan or Add Document to attach files. iFax has a built-in image optimizer to ensure the copy is well optimized and readable. Import your document from any of the cloud storage that you want to connect to the app.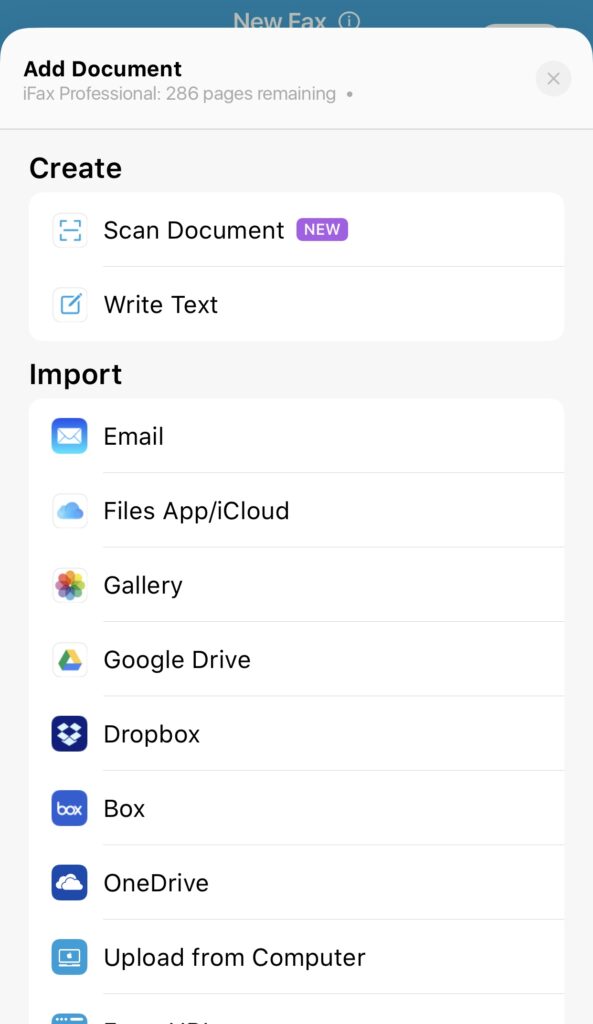 Step 7
Click 'Send' once you're ready. And that's it!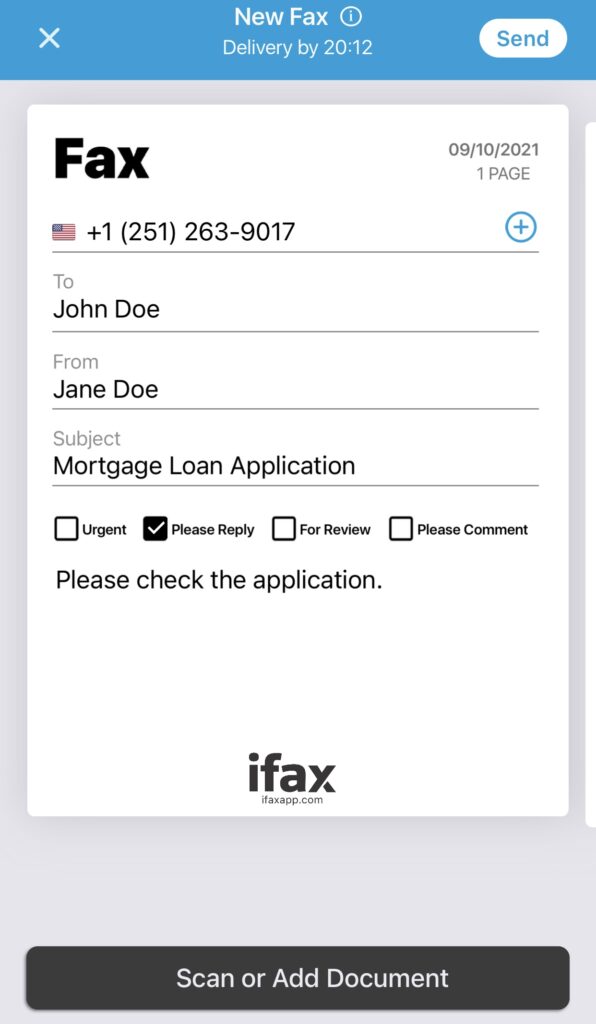 Send Fax from iPhone via Email
Another way to send and receive free faxes from your phone is via email. You can do this swiftly with your iFax account under a Plus plan.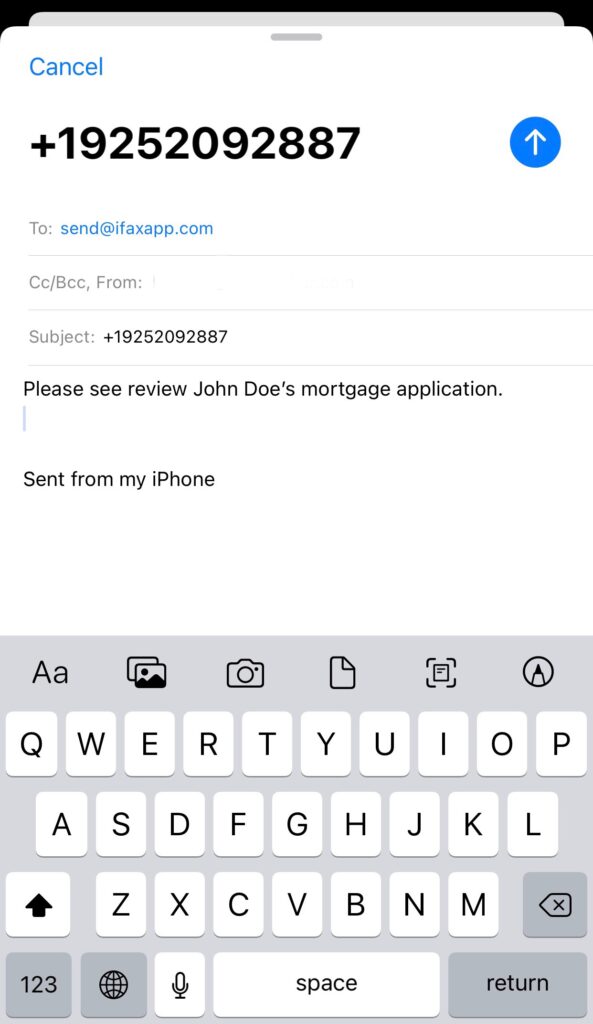 For users who already have an iFax account, log in to your preferred device. Otherwise, visit iFax to get a free trial and generate a fax number.

The email address you used to register is the same email where you will receive notifications of incoming faxes. Open your mail client on iPhone and fill out the fields. Type 'send@ifaxapp.com' in the 'To' field and the subject line, fill in the recipient's fax number. Don't include dashes or spaces. Include comments under the Body section and attach the files you want to fax.

Click 'Send,' and iFax will transmit your faxes to the recipient and send you a notification in your email to confirm the success of the transmission.
That's it! It's so simple, you can easily send fax from iPhone anytime, and anyone can learn the process in just a few minutes.
Final Thoughts
When you send fax from your iPhone it's as easy as sending a text message. With the ability to send and receive faxes online, you can be more productive wherever you are at any time of day. So grab an app that sends a fax from iPhone today! iFax is the solution.
The best way to find out about all the benefits of using a fax app on your phone is by downloading it and exploring it for free. If you're curious about how this could help grow your business or just need something simple like being able to track who has read their document, head over now and check iFax our pricing plan now.
iphone fax
online faxing with iphone