Managing faxes doesn't need to be cumbersome. There's a straightforward solution for that. With the fax dashboard, you can monitor all of your incoming, outgoing, received, or sent faxes in one place. It's a convenient way to check and process the files in your fax account.
Explore how the iFax online fax dashboard makes managing faxes as easy as checking your emails.
Introduction to Our Fax Dashboard
The fax dashboard provides a list of inbound and outbound faxes. Its user interface looks similar to an email inbox, so it only takes seconds to view and search for specific files. Each function was designed and developed for the best user experience.
The iFax dashboard, also called the fax portal, simplifies the online fax process. Even novice users can confidently send their first fax minutes after creating their iFax account. Meanwhile, advanced users with administrator rights can change fax settings to match their workflow.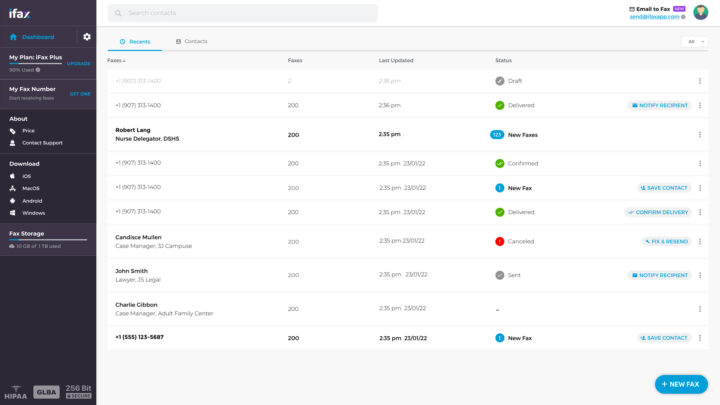 Available Tools in the Dashboard
These are the tools available to simplify your fax management workflow.
Reports – Fax reports show a graphical representation of incoming and outgoing faxes. You can view reports anytime, today, or yesterday. It also lets you select custom dates or intervals of 7, 28, and 90 days.
Email to Fax – When you click this tool, it will launch your native email app on your computer so you can fax by email.
Broadcast Fax – Create, delete, and edit a list of contacts for fax broadcasts. Label each contact list according to roles, companies, or groups.
Integrations & API – When you click on this option, it will show a drop-down list of apps you can connect to your iFax app. Our developer API lets you combine online faxing with third-party productivity apps.
How to Use the Fax Dashboard in iFax
To send a fax, click the New fax button on the screen's bottom-right corner.
If you're looking for a specific fax, use the search bar and type in a keyword or phrase related to the document.
To view the faxes you have opened and marked confirmed, click the Done folder.
The Folders contain labeled files connected to the cloud storage for syncing and backup. When you click the hamburger icon, a sub-menu will appear prompting you to create a folder or sync files to Google Drive, OneDrive, and Dropbox.
The Team Member option lets you add new users, create user group permissions, and activate single sign-on for team members.
Manage your fax numbers or assign team members with the Fax Numbers option.
Access and manage your contact lists.
Available Dashboard Settings
To change your dashboard settings, click on the gear icon on the bottom-left corner of the screen. It's beside the name of your iFax plan. When you click the icon, it will expand to show advanced fax settings and options.
You can see your profile on the upper-right corner of the dashboard, represented by the initial of your first name. When you click this icon, it will also show you the option to sign out.
Since your iFax dashboard is the gateway to all of your online faxes, it's vital that you keep it secure. You don't want anyone looking at your files, fax activity, or credit card information without permission.
That's why you need to have security measures in place, especially when you're accessing your fax account from different devices. The next section provides practical tips on how to safeguard your fax account.
How to Keep Your Fax Account Secure
Protecting your account from unauthorized access and security risks is iFax's priority. Here are the key features you can use and the best practices to apply.
1. Activate two-step verification
Whenever you attempt to log in to your iFax account, you will receive an SMS authentication code that you must enter correctly to access your account. The two-step verification adds an extra layer of protection against unauthorized access. For example, a user needs to use this one-time code before they can view an online fax.
To activate two-step verification, follow these steps.
Log in to your iFax account, then go to Settings.
Select Plan & Account, then click Account.
Toggle on 2-step verification.
2. Never share login credentials
Sharing your password with another user gives them access to your account and any sensitive information stored in it. This can include your personal and financial information since your credit card is linked to your iFax account.
Even if you trust that person, their device can be vulnerable to malicious software. Without adequate protection, malware can quickly spread from an infected device to other computers, putting your fax account at risk.
3. Change your password regularly
Regularly updating passwords helps reduce the chances that someone will discover them, whether intentional or inadvertently. Ideally, passwords should be changed every 2-3 months. A strong password is a combination of upper and lowercase letters, numbers, and special characters.
Also, don't get into the habit of using the same password for multiple accounts. If one of the accounts gets compromised, (e.g., through a data breach), then an attacker could potentially use that password to gain access to your other accounts.
4. Keep your antivirus software updated
Keeping your antivirus software updated is a key part of staying secure. From phishing campaigns to ransomware, online threats constantly evolve and can be difficult to detect.
Ensure that antivirus protection software is installed and updated on all devices used for accessing your iFax account, as hackers can steal usernames and passwords if left unchecked.
5. Assign user roles and permissions
iFax users with admin accounts can assign user roles and permissions. This means only selected people can access advanced features and view certain faxes. This is a good security measure especially if your company is working with third-party consultants and independent contractors.
For example, an administrator can assign a part-time project manager with a Sender role. This means the latter can only send, view faxes, use email to fax, and deploy fax blasts. In contrast, a user with a Manager role, aside from sending and receiving faxes, can access reports, manage notifications, and share folders.
Monitor All Faxes on an Intuitive Fax Dashboard
Never miss an important fax on your computer or tablet. Launch the iFax dashboard via a web browser and check your outgoing and incoming faxes at a glance.
Whenever you receive a fax, you can see it right away. You can easily mark your inbound faxes as done after viewing them, and they will automatically be included in the Done folder. Meanwhile, if you are the sender, you can immediately see failed transmissions and follow up on undelivered faxes.
To maximize all the benefits of our fax dashboard, consider signing up or upgrading to a Professional plan. This type of fax account lets you have full control of online fax settings and features. Change any of them to make your faxing experience more efficient.
Try iFax today and schedule a demo.
inbound faxes
outbound faxes
web dashboard
web faxing