Exporting fax data is possible using iFax's intuitive dashboard. With this feature, you can quickly extract information about your online faxing, including delivery dates, and the number of faxes sent in a specified period.
For example, transferring contacts from iFax to a customer relationship management (CRM) system or other apps doesn't need to be complicated. Migrating information can be done with a few clicks.
How to Do Data Export on iFax
Data export is available exclusively on the iFax web app. To view reports fully, you must be assigned an admin or a manager role.
Here's how to export different kinds of data from your iFax account:
How to export reports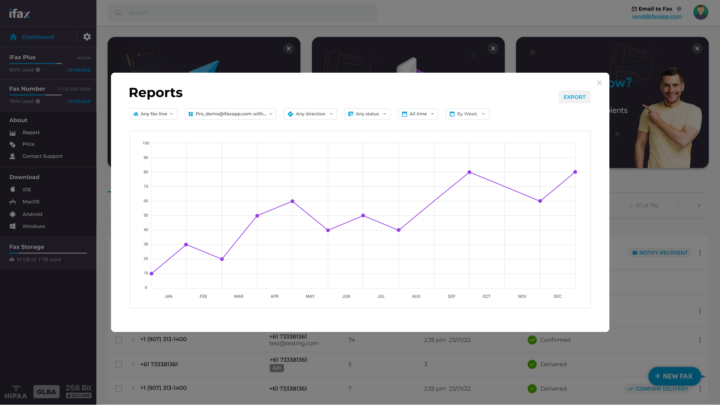 Reports provide insights on your team's online fax usage, particularly the volume of incoming and outgoing faxes. You can also check the online fax usage of each user. Simply choose the email address associated with their iFax account.
You can generate and export reports based on the following parameters:
Any direction
Any status
Custom date (any time, today, yesterday, last 7, 28, and 90 days)
By day, week, month, or year
iFax allows you to export fax data as a CSV file. This format is compatible with Microsoft Excel and Google Sheets.
To access Reports:
1. Open the main dashboard and click the Reports under Tools in the left panel.
2. You will see the graph indicating the number of faxes sent in a specific period.
3. Click the Export button in the upper-right corner of the dashboard. You will receive the CSV file in your device.
How to export converted data with iFax OCR

OCR (optical character recognition) allows you to convert printed documents and images into digital formats. When you search for a specific keyword or phrase related to the fax you're looking for, iFax can immediately find it and show it on the dashboard.
But what makes this a powerful functionality is that you can convert the extracted fax information into editable fields. iFax OCR can replicate standard fields in a scanned physical document so you no longer have to create them from scratch.
After transcribing and editing these documents using the iFax OCR feature, you can export them as a structured file. iFax supports fax to text and PDF to text.
To access this feature, follow these steps:
1. Open the main dashboard and click on the (gear) Settings icon on the bottom left panel.
Click General, and then select the OCR & Data Export tab
Activating the OCR feature will incur a minimal fee. This will be charged to your current payment method.
What Are the Available File Formats for Data Export in iFax?
Reports: CSV file
OCR-converted files: TXT and PDF files
How Can Data Export Help Your Business?
1. Save time on manual data entry
The data export feature can help expedite data entry. You no longer have to type in the first name, last name, and fax number of each fax into a spreadsheet.
Simply export the data from the iFax app to a CSV file, then import it to your contact list or CRM platform. This will save you significant time and effort, which you can spend on core tasks.
2. Get insights on online faxing
This feature provides an excellent way to track your team's faxing activities. For instance, you can extract the date and number of faxes sent for a specific period. You can find out the exact day an incident happened or how often failed fax transmissions occur.
These metrics help you improve the way you transmit and manage online faxes. It also lets you choose the most cost-effective online faxing plan for your company.
3. Create a data backup
Having a backup of contact lists and fax reports is indispensable when using cloud-based solutions like iFax. Unfortunately, even these solutions can be affected by server downtime and cyberattacks. Fax reports can be misplaced or accidentally overwritten. Contact lists can get lost, corrupted, or deleted if not handled properly.
To ensure you don't lose your data, create multiple copies of your files. Then, save them in several computers managed by authorized users. Storing your data in your computer or an external hard drive allows you to recover files in case you can't access your cloud storage or online fax platform.
Take Control of Your Data With iFax
With the iFax data export feature, you can download compatible file formats like CSV and PDF. Afterwards, save the data to your hard drive or a cloud-based platform for safekeeping.
Thanks to iFax's user group permissions, only those with admin and manager roles can view and export data. If you're a covered entity, this will help ensure you handle protected health information according to HIPAA standards.
What else can you do with iFax?
Sync all your faxes to Google Drive, OneDrive, and Dropbox.
Assign authorized users full or limited access to faxing features.
Download transmission receipts to ensure all faxes are sent successfully.
Send fax from Gmail, Outlook, and other email clients using the email-to-fax feature.
Our team will be delighted to walk you through the iFax data export, reports, and analytics features. Request a demo today.
export data
fax reports