Manually sorting through an inbox that's filled to the brim with incoming faxes can be a headache. If you do not have a proper process for managing your inbound transmissions, you could easily spend at least a few hours a day on this tedious task.
Luckily, iFax offers a feature that will help you with your fax management workflow. Let's explore how you can use this to your advantage.
What Is An Incoming Fax?
When you sign up for an account with iFax, you'll get a dedicated fax number that you can use to receive inbound faxes. Anyone who wishes to transmit messages or documents to you can simply input your contact information, so the fax goes straight to your inbox. All transmissions that are sent to your number are considered incoming faxes.
Back in the day, fax machines would automatically print out inbound messages once they were received. With online faxing, you can simply log in to your account and check your inbox. Another way to receive faxes is by configuring your account so you can also get them via email.
With iFax, your incoming faxes can come in various formats, including Word documents, PNG and JPEG images, and PDF files. You can download your faxes for your file and sync your iFax account to your cloud storage, such as Google Drive, OneDrive, and DropBox, to create a backup.
How to Set Up Fax Notification on iFax
iFax offers a convenient way so you'll never have to miss any faxes. You can receive an email notification whenever someone sends you an incoming fax. Here's how to set it up on your account: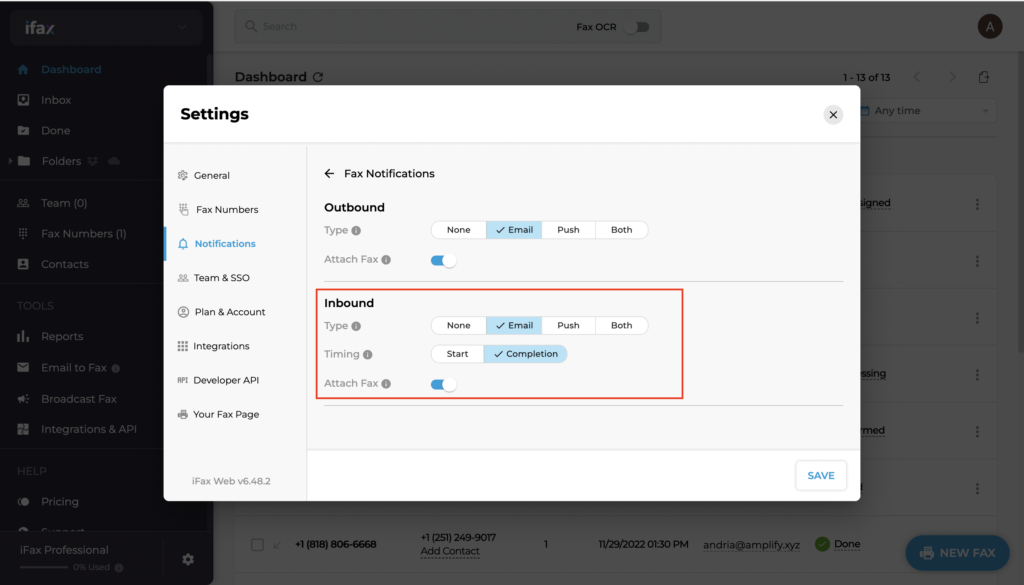 1. Log in to your account on iFax.
2. On your dashboard, go to Settings by clicking the gear button on your screen's bottom left side.
3. Go to Notifications and select Fax Notifications.
4. Under the Inbound section, click Email.
5. You may also enable Attach Fax, so you'll receive a copy of the transmission in your email.
6. Click Save.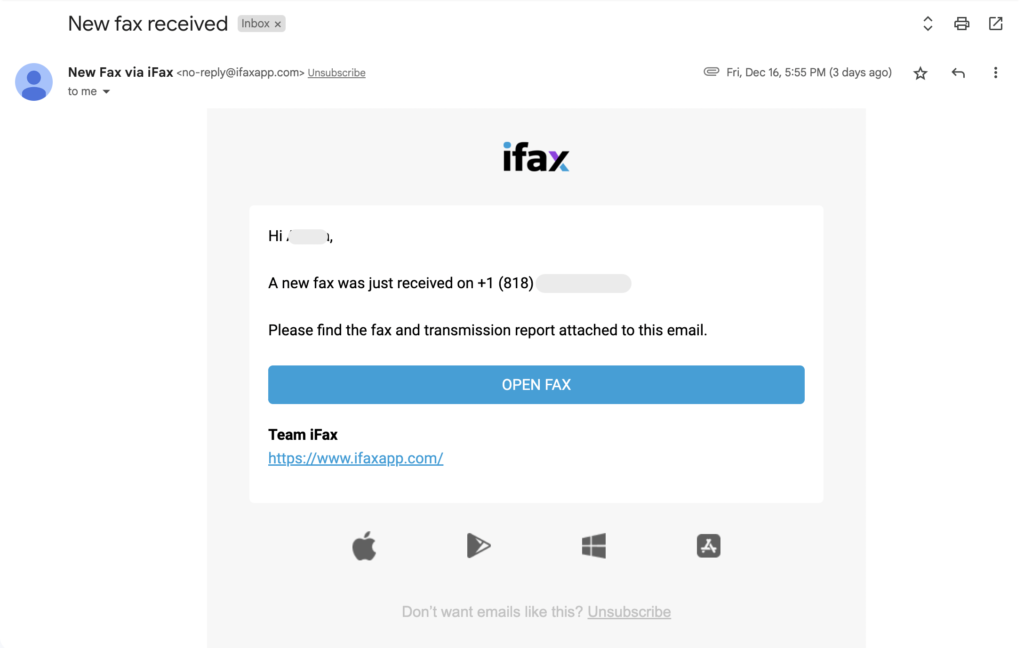 Setting up fax notifications allows you to respond to incoming faxes promptly. Letting these transmissions sit in your inbox for days on end only adds to the stress of managing your paperwork.
Handling Incoming Faxes Using iFax
Aside from email notifications, iFax also has more features that will help you keep your incoming faxes organized. Let's check out some of them:
Smart folders
Keeping your inbound faxes in the cloud can sometimes make it difficult to find a specific document, especially if you receive a high volume of transmissions daily. With smart folders, you can create as many folders as you like so you can properly categorize your messages. For instance, you can group your incoming faxes by the date you got them or by senders.
Status
Changing the status of your incoming faxes can also help you sort them out properly. On your inbox, you can mark incoming faxes as Done to signify that you've already taken action based on the transmission. This could mean that you've already replied to the fax or that you've already fulfilled any request.
Once you've changed the status of the incoming faxes, they automatically go from your Inbox to the Done folder. You can find this below your inbox on the dashboard.
Date
You can also filter your inbox by date. This comes in handy if you are looking for a specific incoming fax received on a particular day. There are two ways that you can use this feature to your advantage. One is by choosing any of our predetermined timelines (today, yesterday, last 7 days, last 28 days, and last 90 days). You can also enter a custom date and set it to show the incoming fax you're looking for.
Our Tips For Handling Incoming Faxes
Aside from making the most of our online faxing features, there are other things that you can do to stay on top of your faxing tasks. Here are some of our top tips:
1. Allocate faxing time in your schedule
Instead of checking your inbox every five minutes, why not can set aside ten to fifteen minutes in the morning and then before you end your workday to go through your incoming faxes? Not only does this prevent fax pile-up, but it also allows you to do your other tasks without distraction. It also helps that you use this time to immediately sort out your transmissions.
2. Block fax numbers
There's no denying that receiving junk faxes can be quite annoying. But a nuisance isn't all they are. They can cause major inefficiency in your fax management system. If you let these unsolicited messages languish in your inbox, there's a pretty good chance that they will bury any important incoming faxes.
To keep things under control, be sure to block the fax numbers that send your spam transmissions. It only takes less than five minutes to accomplish.
3. Purge your inbox
You need to decide on how long you should retain incoming faxes. Some organizations discard faxes received six months after they received them, while others clear out their inbox annually. You don't need to permanently delete your faxes. You can move them to smart folders or sync them to your cloud storage for backup.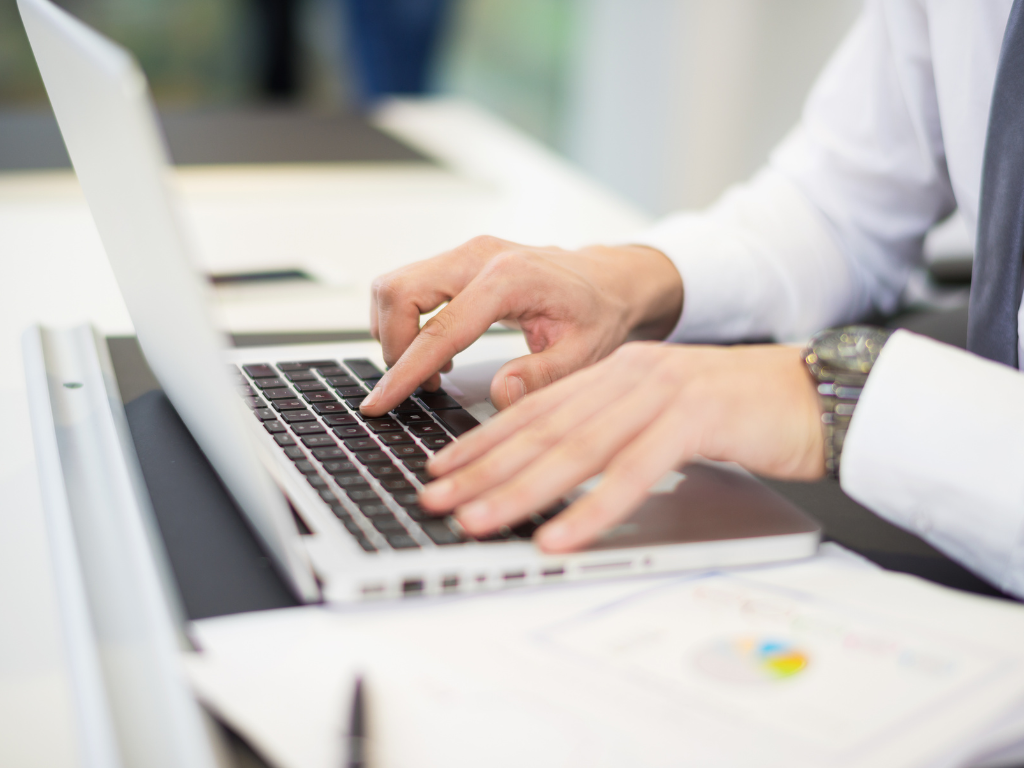 Effectively Manage Your Incoming Faxes with iFax
To this day, faxing remains one of the most reliable and widely used communication tools used by businesses in different industries. Like other technological advances, this document-sharing solution has evolved into something easier and more convenient to use.
Nowadays, you don't need a fax machine to send and receive faxes. You can simply use your computer or mobile phone to keep an eye on incoming transmissions. Online faxing takes on a more digital approach. This also means that you don't have to burden yourself with managing physical copies of inbound faxes.
With iFax, it's so easy to keep all your transmissions organized. You can connect your account to your email, so you can get notified whenever you receive a message. Aside from that, you can easily group your faxes into whatever category you prefer.
iFax uses robust security measures to protect any outgoing and incoming faxes. All transmissions are encrypted, which means that only authorized parties can access your data. We also comply with various international regulations and industry standards, including HIPAA, GLBA, and GDPR.
Sign up with iFax today and explore the rest of our online faxing features.