If you want attention-grabbing messages, consider sending personalized fax. Apart from ensuring that the message is read and understood, it also allows the sender to tailor the document's content to the specific needs or interests of the recipient. This kind of personalization ensures that the recipient takes the document seriously, thus increasing the likelihood of obtaining a response.
With iFax, you can tailor faxes to reflect the receiver's personal details and preferences. It may be as simple as including your customer's name, but little changes can leave a positive and lasting impression.
Let's dive further into what this feature is all about.
The Power of Personalized Faxing
According to a 2017 report, 93% of businesses experience increased conversion rates when using personalization. One way to create a unique and tailored experience is through fax. Now that you can send personalized faxes through the internet, you don't need to go the extra mile to keep your customers engaged.
So what exactly does it mean to personalize a fax? It's when you customize the content and format of a fax based on your recipient's attributes, needs, and interests. This involves incorporating information like the recipient's name or role. Another way to tailor a fax is by adding a custom cover sheet with your company name, logo, and tagline.
How to Send a Personalized Fax
With iFax, you can do two things to ensure that your fax will stand out.
Add a custom cover page
Go to the iFax website and log in to your account.
Go to Settings, then navigate to General > Preferences > Fax Content.
Activate the toggle switch next to Cover Page, then click Customize Cover Page.
Scroll through the list of available cover sheet templates. Select the one that you like.
Preformat the fields to include your company name, contact number, or business address.
To add a logo, click the three dots icon at the top-right corner of the cover page. Click Add Logo.
Upload and preview your logo, then click Save.
Once you've applied all the necessary changes, click Save.
Learn more about our custom fax cover sheets here. Take note that this option is only available when you upgrade to a Professional plan.
Add custom fields to fax broadcasts
Custom fields allow you to send personalized fax blasts without manually modifying the content of each message. You can create fields for personal details like the recipient's name, contact number, and mailing address. This feature also allows you to incorporate dynamic content like custom greetings for anniversaries and holidays.
With custom fields, you can add dynamic content quickly and easily.
Here's how it works:
Go to Tools > Broadcast Fax.
Click New Broadcast List. Start with an empty list or import your existing contacts from a CSV file.
Right below the list fields, click Add Field. Type in the information that you'd like to include. You can enter specific details like your recipient's name, email, or organization. Click Save.
Hover over the updated list. Click Send Fax.
Upload a PDF by clicking the clipboard icon.
Drag and drop the custom fields into the document.
Click Save, then Send.
Examples of Personalized Fax for Business
Here are a few examples of online faxes with personalized content.
Custom greetings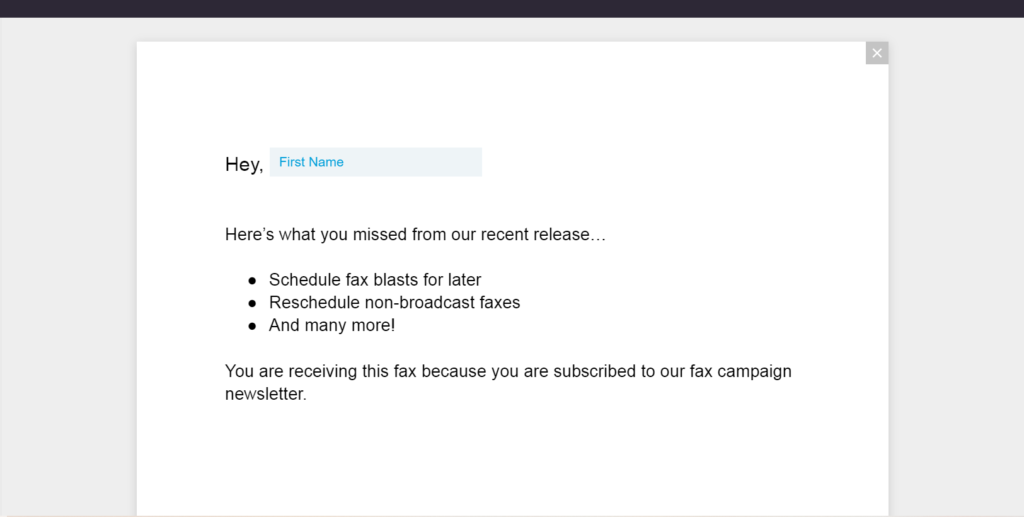 Specific descriptions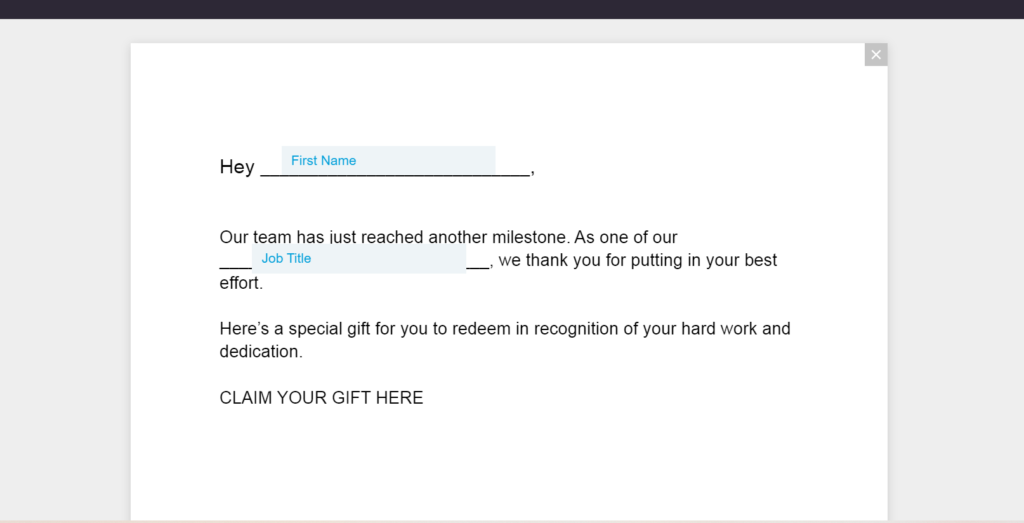 Events and reminders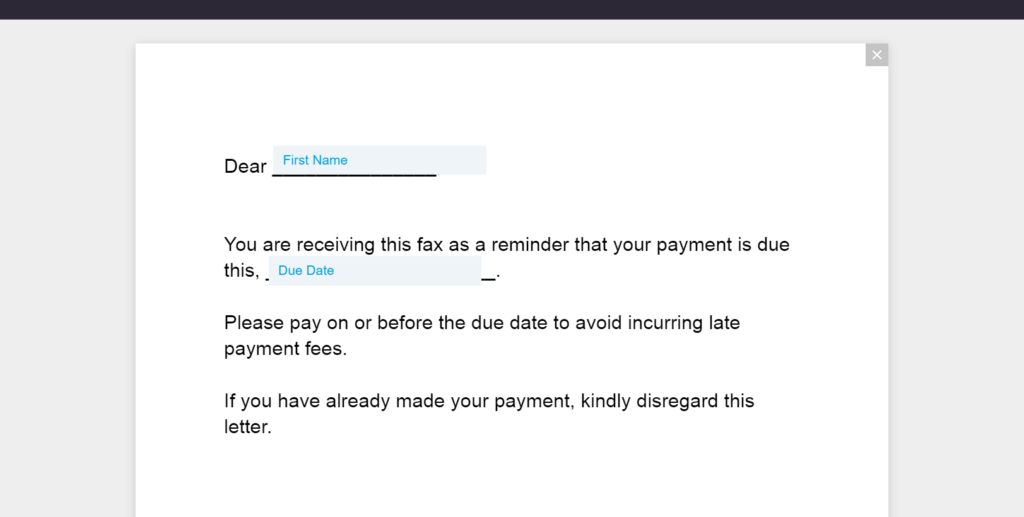 3 Business-Proven Benefits of Fax Personalization
1. Drives higher engagement
Fax personalization provides a way to cut through the clutter and capture your customers' attention. Adding a personal touch to each message can help increase your chances of getting a response. It's an effective marketing strategy that can help set your business apart from the competition.
2. Shortens the sales cycle
By giving customers a personalized experience, you are showing them that you are taking your time to learn about their specific needs and preferences. This attention to detail can reduce sales friction and increase the likelihood of customers purchasing. This way, you can make more sales and close deals without wasting time and energy.
3. Boosts client satisfaction
Delivering individualized content allows clients to feel more valued. It implies a consumer-centric experience rather than a one-size-fits-all approach. Not only does this help nurture existing client relations, but it also encourages new prospects to come on board.
Personalized Faxing Made Easy With iFax
Sending a personalized fax can give your business a competitive advantage. The best part? You don't have to leave your desk or invest in expensive equipment to do so.
With iFax, you can create personalized fax in minutes. You don't need coding skills to include dynamic content or visually appealing designs. Choose from our wide selection of professionally designed templates and modify them as you please.
Start personalizing your faxes today. Create an account to get started.
custom fax broadcasts
fax personalization
personalized fax