Fax machines have been around since the 1800s, and if Alexander Bain, the inventor of the first fax machine, is still alive today, he would be amazed at how fax has transformed. The rise and fall of this archaic communication tool prove that there will always be barriers to adoption, especially when new technologies emerge.
However, in the age of the internet and emails, it's undeniable that several industries like finance, real estate, and government agencies prefer to fax over email to secure the transmission of sensitive information. Besides, with courier or delivery apps available, you can even send hard copies of documents from one city to another within the day, right?
That's the point. When handling sensitive information, a fax is one of the most reliable ways to send physical documents to another individual or organization in just minutes. You don't want any third-party courier or individual to get involved. So, despite the decline in demand for fax machines, technology also paved the way to make it more accessible. Enter fax by email.
Table of Contents
What is Fax by Email?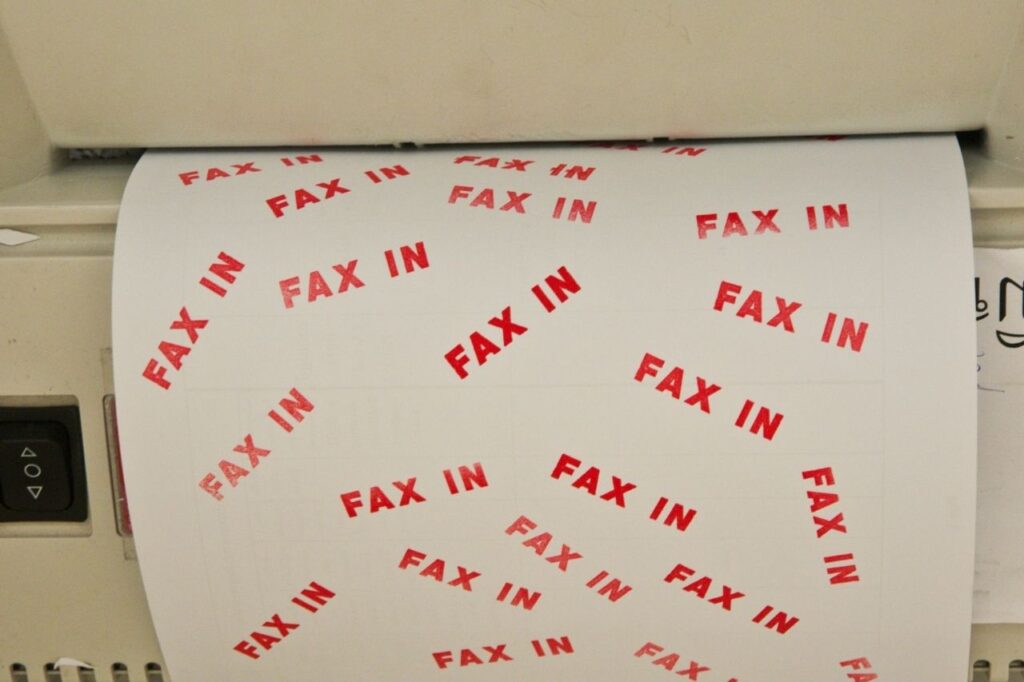 Faxing by email is powered by the internet through online fax services and providers. That said, you don't need a dedicated phone line to get a fax number for sending and receiving faxes. You don't need a fax machine and modem. In short, you can send faxes by email as long as you have an internet connection.
Sending an email fax is a no-brainer. It's super easy, as if you're sending an email to another individual. This is the modern way to send a fax – no more hardware, maintenance costs, and ink replacements. Whether you're a professional or a company with many employees, you can take advantage of the perks when you send email fax.
Sending a fax by emailrequires only a few things: an online fax service, internet connection, and the recipient's fax number. If you only need to fax occasionally, you may try free fax services. On the other hand, you need an online fax provider to send and receive faxes for daily use. In this way, you have access to your account to manage incoming and outgoing faxes.
How to Send Email Fax With a Computer or Mobile Device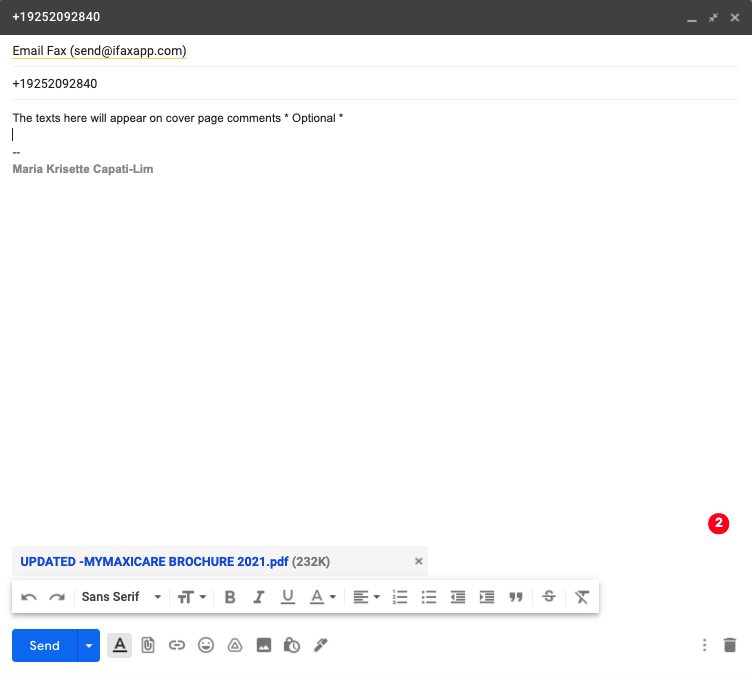 Here's a quick tutorial on how to send email fax using your web browser. Just connect your computer to the internet, and you're all set.
Sign up on iFax to get a free trial or subscribe to a monthly plan of your choice if you regularly send and receive faxes. You will have your fax number once you register.
Launch your Gmail or preferred email client and compose a new email.
In the 'To' field, type 'send@ifaxapp.com'
Next, type the recipient's fax number in the subject field, including the local and international area codes without spaces.
In the body texts, leave your comments as this will appear on the fax cover page. You may also create a separate fax cover sheet as an attachment together with the other documents.
Attach the documents you want to fax and send them right away.
iFax will convert your documents into printable ones, whereas the recipient will receive them in his fax machine. He wouldn't even notice you use an email to send a fax. How cool is that?
Why Send Email Fax Instead of Legacy Fax Machines?

Convenient
Online fax services or providers have designed a platform or software where you can access your faxes anytime. They are available on mobile devices and computers, and one of the key features they offer is they allow users to send a fax by email. Usually, they use a dedicated email address to forward the fax to the intended recipient's fax number.
Cost-Efficient
Sending a fax by email is more affordable than buying expensive equipment when you occasionally fax in a year. Online fax services offer packages that let you send hundreds of faxes in a month. On top of that, to send email fax is an add-on feature provided without charge. Most monthly subscription plans range from $7 to $20 or more. The expensive ones are often packaged as enterprise plans for large teams.
Environment-Friendly
When you send email fax, you don't need to print the documents from your computer but instead make them as attachments when composing the message. If you already have physical copies of the documents, you need to scan them to change them into digital copies. On the other hand, if you use the online fax service mobile app, you only need to scan them using your smartphone camera. Overall, you won't be using paper in this way, and you're saving a ton of trees.
Secure
Most online fax services use special encryption to secure the transmission of faxes through the internet. The most popular is the 256-bit end-to-end encryption to ensure that hackers and snoopers won't intercept the data transmitted online. These online fax providers also have robust IT infrastructure to make the online fax available 24/7 to users.
Ideal for Teams
Sending fax email with an internet connection is ideal for teams and sales agents and realtors. Wherever they go, they can fax important documents anytime instead of waiting for a few hours until they arrive at the office. Moreover, they can send fax by email using their computers and smartphones, making them productive during peak hours.
Download iFax today and explore its send fax email feature right from your smartphone or computer. You have a 7-day free trial, so there's nothing to lose.
best online fax services
mobile fax apps