Fax is an old-fashioned way to send documents with a fax machine in the era of emails. However, even faxing services have improved through technology, making sending and receiving from smartphones, tablets, and computers more efficient. Maybe you're wondering, "Who's even using fax these days?"
Some industries still rely on this supposed "outdated" form of communication. Still, it's the best way to send physical documents securely, especially in banking and finance, medicine and healthcare, legal, insurance, and real estate. Moreover, businesses and organizations can use a digital fax service for convenience with mobile apps on hand.
For example, if you have an Android phone or tablet, you can send and receive faxes without a fax machine. It's so easy with a mobile fax app. It's like you're sending emails straight from your device. So, let's take a look at how you can send free faxes on Android phones, the perks you get, and how to use a mobile fax app like iFax to save more time and costs.
What Are the Benefits of Sending Fax From Android Devices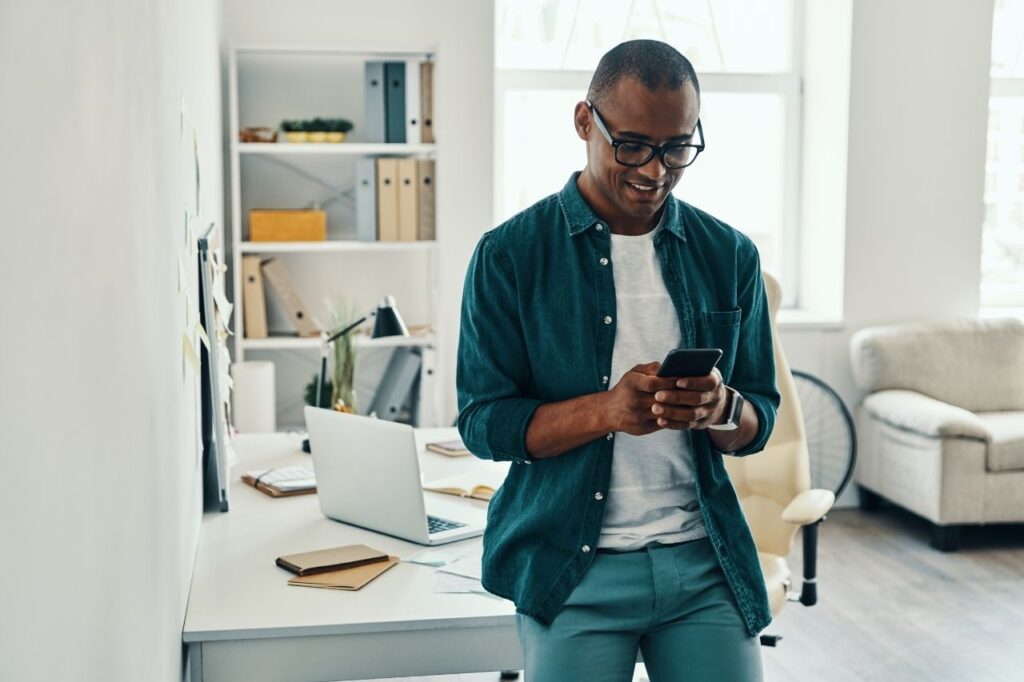 Sending a fax from your Android device is a huge time-saver, and it simplifies the process. You can fax while on the go, and you don't have to worry about pesky paper jams, inks, or carry a bulky fax machine went traveling. What you need is an internet connection and an online fax account to get started.
Send and receive faxes with notifications – stay productive while on the go as most mobile fax apps send notifications for incoming faxes so you won't miss any important document. Everything else is within your fingertips.
Cut down the expenses on fax machines and maintenance – fax machines cost about $200 or more, and you also need a dedicated phone line to make it work. If you use online fax services, you have your own fax number, and you only pay for the monthly subscription or pay per fax. The prices of subscriptions range from $7 to 20 or more, depending on what's included in the package.
Better management of faxes – when you use online fax services, they have designed a dashboard or main control that allows you to view all your incoming and outgoing faxes. The interface may look like your email inbox. You have full control over how you want to save or delete faxes. Some
Easy integration of cloud storage accounts – most mobile fax apps let you connect your cloud storage to easily access your documents in the cloud and make them as attachments when sending a fax. You can connect your Dropbox, Google Drive, Box, and iCloud accounts.
Two Ways to Send Fax for Free for Android Devices
Whether you need a free fax service to send a few pages or currently looking for a fax online subscription, you can try any of the following ways below.
Download iFax and Enjoy 7-Day Free Trial: Ideal for Work and Business
iFax offers a seamless way to send and receive fax with your Android device, and it's HIPAA and GLBA compliant. It has 256-bit end-to-end encryption to ensure your transmissions are safe. Here's how you can access its free service under a free trial.
Step 1
Visit Google Playstore and download the iFax app and launch it. You will see the homepage so you can get started.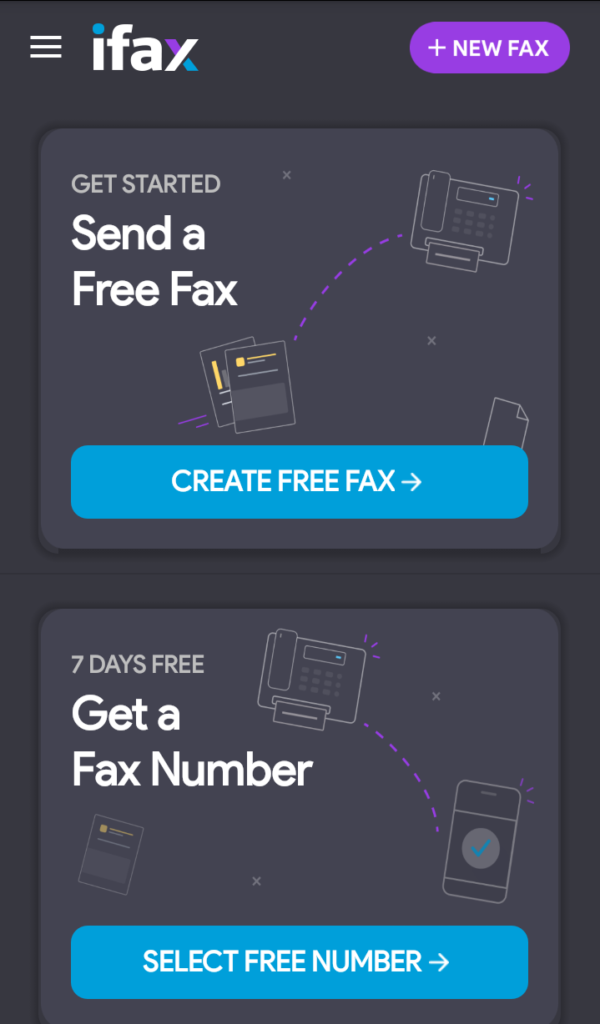 Step 2
Click the 'Select Free Number' to activate the 7-day free trial. Cancel anytime or at least 24 hours before the seventh day. Choose your local area to generate your fax number. Another window will pop out to confirm the subscription.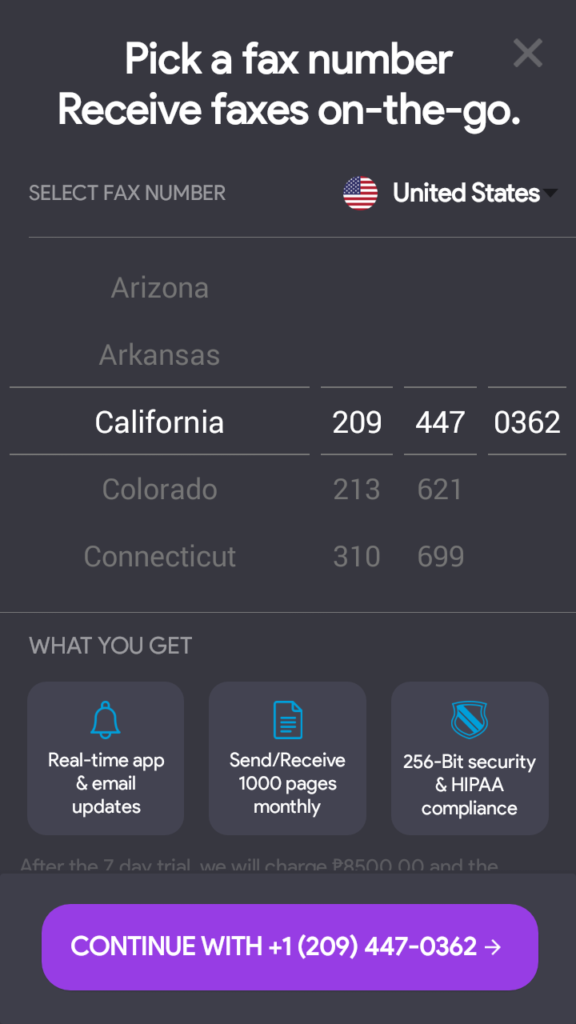 Step 3
You will be directed to the dashboard, so click the 'New Fax' button on the upper right corner, and a wizard will prompt you to swipe if you wish to change the fax cover page.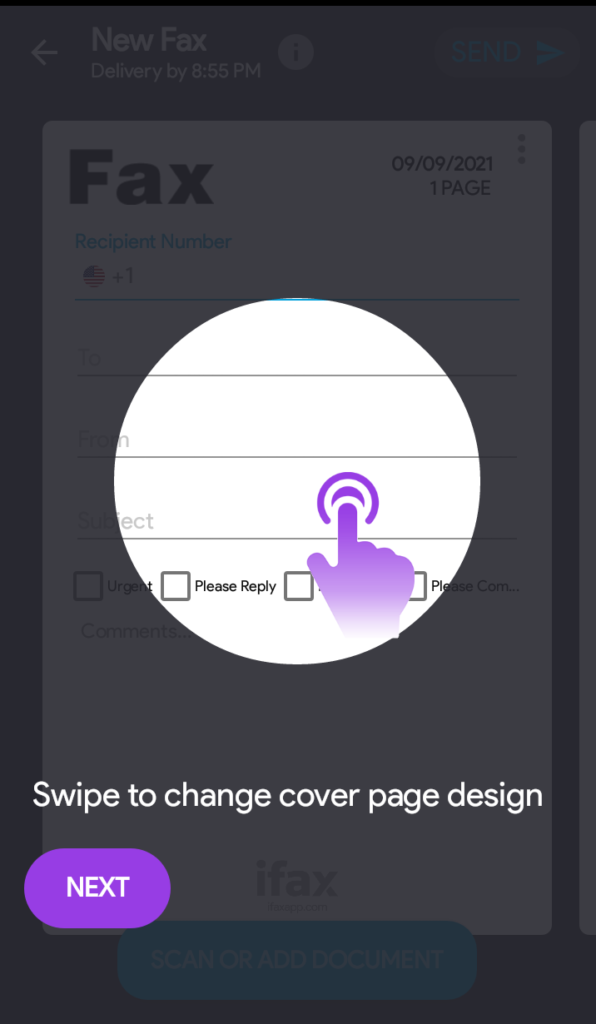 Step 4
Fill in the details of the fax cover sheet, such as the recipient's number and name, sender's name, subject, and comments. Mark the cover page if the fax is urgent, needs a reply or review.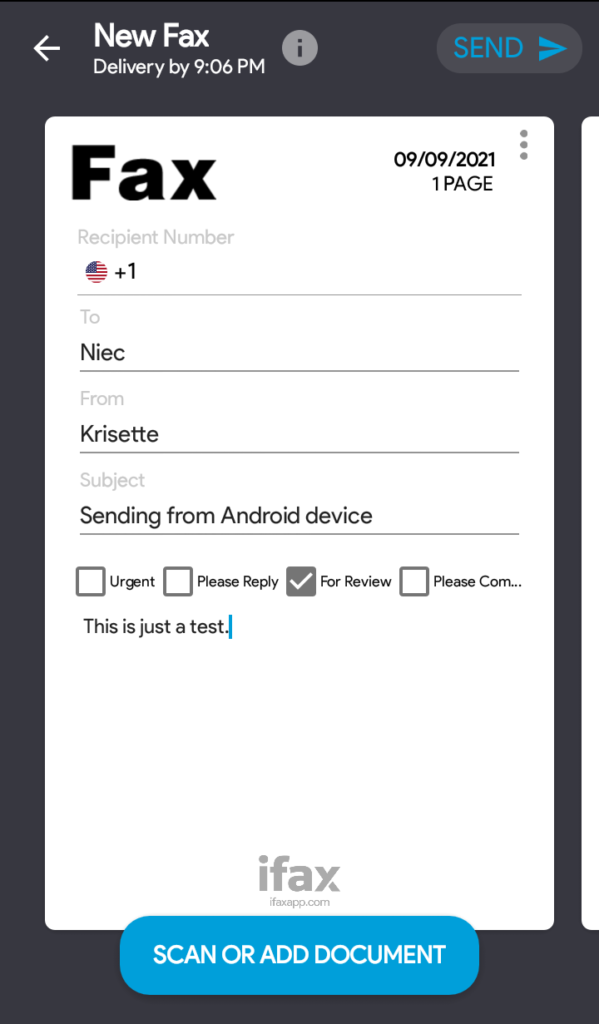 Step 5
Click 'Scan or Add Document,' and a window will prompt you to scan a page or import files from your cloud storage accounts and make them as attachments.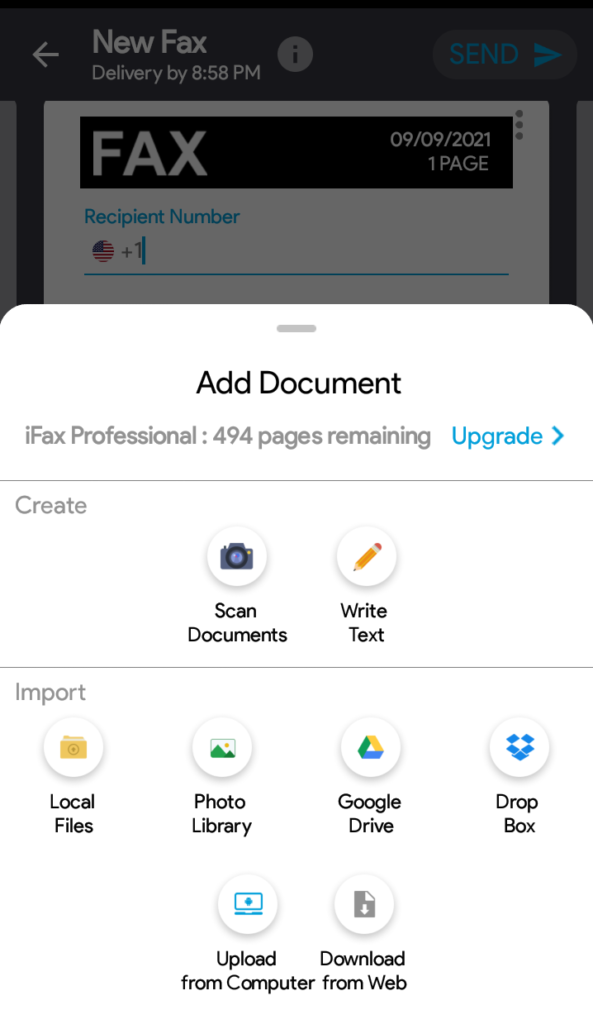 Step 6
Once you're ready, click the Send button in the upper right corner, and that's it! You're done. iFax will offer an option if you want to send an email notification to the recipient.
Send Up to Five Fax Page for Free With HelloFax: Use Your Android Mobile Browser
HelloFax is another option where you can send five pages for free with a free account. We use a web browser for this guide to walk you through the quick process to see bigger texts, as you will see the same content on your mobile browser. As of this writing, HelloFax doesn't have a standalone Android app, so you must use a mobile browser.
Step 1
Visit the HelloFax and register for a free account. After that, it will direct you to the HelloFax dashboard. Click 'Send a Fax.'
Step 2
Attach the documents from your local storage or cloud service provider of your choice. You may also fill and sign in the file.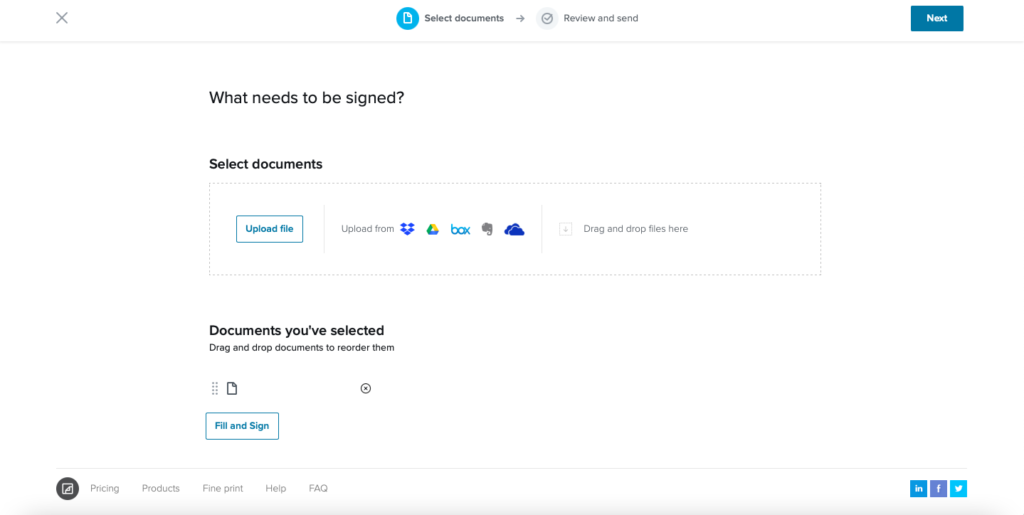 Step 3
Enter the fax number or email and click 'Send Document' as you wish. HelloFax also lets you attach a fax cover page if the recipient requires it.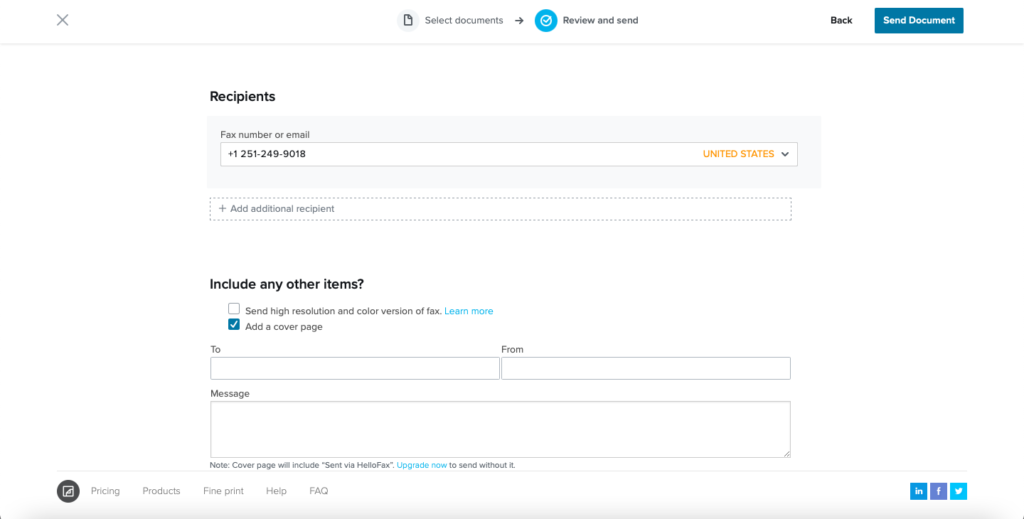 That's it! You can send faxes like a professional on your Android device, and it's free!
Need to send more faxes? If you're looking for an online fax service with an affordable monthly subscription, try iFax. The monthly plans start from $8.33, go paperless, and embrace digital faxing today.