Today, as long as you have a smartphone, tablet, or computer, you can send and receive fax without a fax machine. Technology has improved faxing through web interfaces and fax mobile apps. All you need is a stable internet connection, a device, and an account on the fax app, and you're all set!
Online faxing is made easy with mobile apps. Not only do they spare you from the maintenance costs of fax machines, but they are also convenient because you can use them while on the go. Below, we've listed the best fax apps for mobile and desktops for personal, business, & office use.
Let's explore them, shall we?
5 Best Fax Apps for Cell Phones and Desktops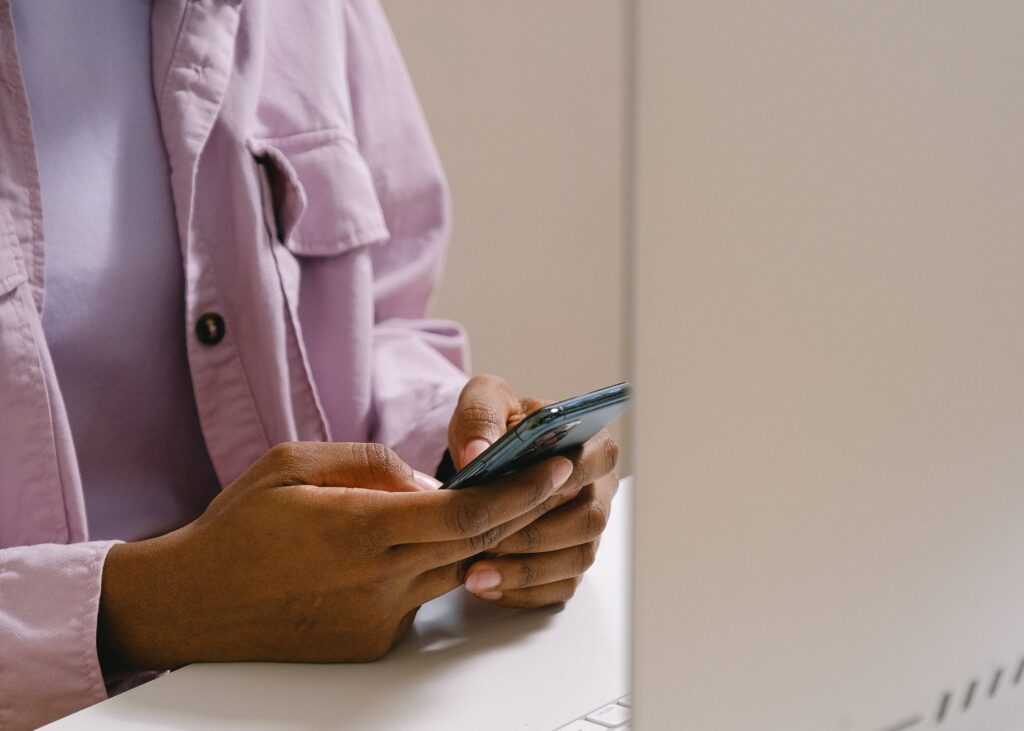 5 Best Fax Apps for Mobile Phones and Desktops
iFax
On top of our list for the best fax apps is iFax! iFax offers you an effortless way to send and receive faxes through its enterprise-grade complete HIPAA and GLBA compliant online fax service. It has 256-bit encryption to ensure your transmissions are safe throughout the process.
iFax is one of the best fax app solutions for personal, office, and corporations, including healthcare, legal, and financial services organizations. Its mobile app supports iOS and Android devices, and it has standalone software for Windows and Mac.
Other features include:
Send faxes anywhere in the United States, Canada, and the UK.
Import files from Dropbox, Box, Google Drive on mobile.
Customizable fax cover sheets to include your company logo.
Easy management of faxes in the cloud with an encrypted account.
Supports syncing in all devices (including Apple Watch and Android Wear).
Flexible monthly subscriptions start from $8.33 per month.
Free HIPAA-compliant fax cover sheets.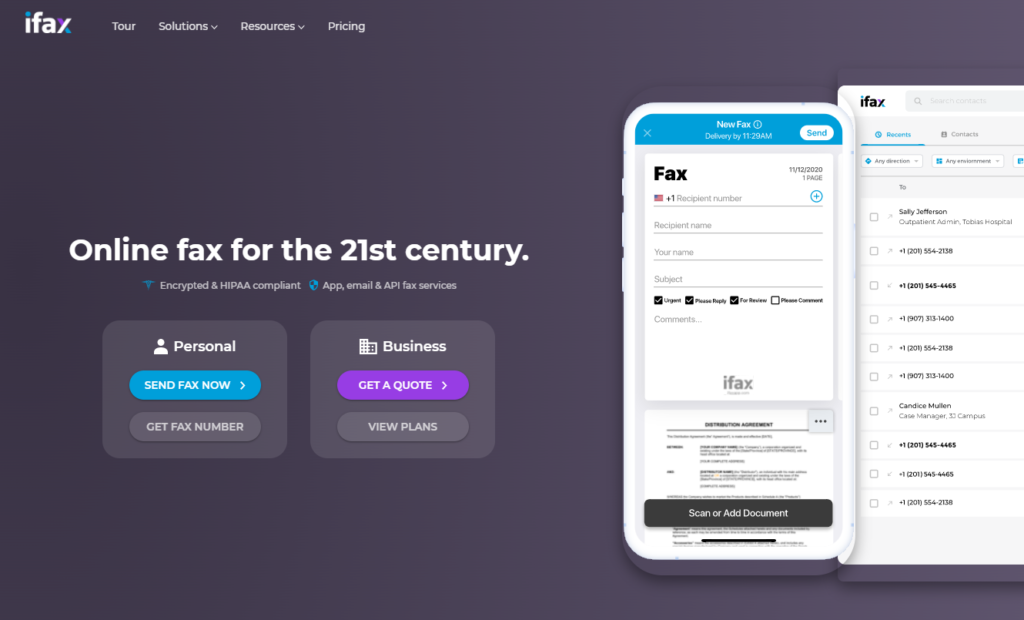 eFax
One of the best fax apps for mobile is eFax. It allows you to attach your electronic signature when sending faxes from your smartphone and tablet. It offers two signing options: sign in using your finger across the device screen or upload your signature in the fax. You can access your account through phone or computer.
If you have large documents, eFax lets you send high-resolution images and presentations of up to 20 recipients per transmission.
Other features include:
Storage of inbound and outbound faxes in the cloud.
Free fax number with your preferred local area code for business.
Fax from Microsoft Office applications like Word, Excel, and PowerPoint using the print driver.
Easy import and integration of Microsoft Outlook address book, especially email addresses.
Send and receive faxes to up to five different email accounts using one fax number.
Third-party cloud storage integration.
eFax Pro monthly plan starts from $16.63 per month billed annually.
PC-Fax
One of the best fax apps of today is PC-Fax. PC-Fax is a mobile app that lets you send faxes, mail letters, and broadcast SMS from your mobile phone and PC. It has intelligent FAX.de software that allows you to send fax and mail letters straight from Microsoft Office applications.
Your mobile phone becomes a virtual fax machine, and you can send documents to up to 50 countries worldwide. Fax one page a day for free, or you can also avail of its monthly subscription for regular incoming and outgoing faxes.
Other features include:
Directly print faxes via print driver.
An intuitive web interface for sending fax, letters, and SMS.
Free one-page fax per day in different countries like the US, Canada, China, Hong Kong, Russia, Japan, and more!
Offers pay per page on its pricing packages that start from €12 or $14.26 for 50 pages if you're using iOS devices.
Fax Plus
Worthy of its spot in our "best fax apps" list, FaxPlus is an entry that you shouldn't miss! With FaxPlus mobile app, you can send and receive faxes with ease! It is geared towards businesses and enterprises, so it is HIPAA-compliant. Moreover, the mobile app has a built-in scanner that you can use to scan and attach documents easily. It also lets you upload documents directly from your local storage or cloud account.
Other features include:
Sign your documents digitally.
All paid plans have a free fax number.
Transfer your old fax number from the previous provider to Fax Plus.
Safe and secured storage for faxes with two-factor authentication and TLS encryption.
Allows you to send a printable advance confirmation report for tracking.
Arrange scheduled faxes in advance with a specific date and time.
Full suite of enterprise features with a dedicated corporate admin panel.
MyFax
The fifth entry in our "best fax apps" list is MyFax. MyFax lets you send faxes from your smartphone, tablet, computer, and email. MyFax has three types of monthly subscriptions, although the prices are relatively steep. What's good about MyFax is that it offers a 14-day free trial, giving you enough time to explore its features. On top of this, you also get a free fax number.
Other features include:
Accessible via mobile app and web interface.
You can save faxes in the cloud and access them anytime from your device.
Receive fax straight to your email address. so you won't miss important documents.
The free trial lets you share your account with up to five email addresses, great for users who work as teams.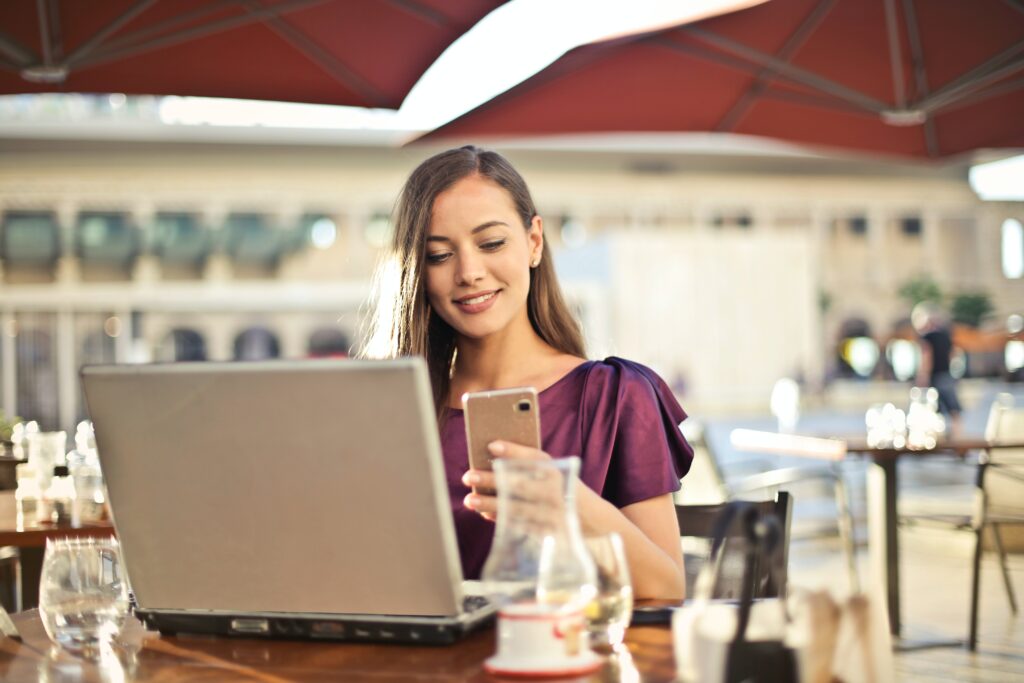 Which Fax App Is the Best?
Choosing the best fax app is never easy, especially if you don't know where to start. To make it easier for you to decide which fax app is the best, come up with things you want or need from a fax app and do a comparison check. The app you choose should best fit your needs so you can utilize its features to the fullest!
What Is the Best Online Fax App?
The list above is just five of the best fax apps available in the market! For sure, there are still other great apps out there that are worthy of mention!
If you need a fax app that is not only secure but also user-friendly, affordable, and HIPAA-compliant, definitely go for iFax! The iFax app is truly reliable. It makes your faxing tasks faster and easier, letting you fax while on the go!
Is There a Totally Free Fax App?
A lot of the fax apps available are free to install. However, not all of them are 100% free because you still need to pay for a subscription. Instead of looking for a free fax app, go for the fax app with the most affordably priced options.
iFax offers affordable subscription plans for all types of users. If you only fax occasionally, you can also use its one-time fax service and pay a fixed fee starting at $1.99 per page.
Final Thoughts
Not all mobile faxing apps are created equal. If you're going to choose an app for mobile faxing, you might as well choose the best fax app available in the market! Why settle for mediocre choices when you can always go for the best?
Looking for the best fax app? Install iFax on your smartphone or desktop today! Send secure faxes with full HIPAA compliance anytime, anywhere!
best fax app
fax apps
fax from phone
mobile fax
mobile faxing