Providing remote therapy services has become essential to any mental health practice. With the public's increasing awareness of mental health issues and the need for quality healthcare during medical emergencies, HIPAA-compliant phone service for therapists has become necessary.
Let's look at the best phone services that ensure patient confidentiality and privacy.
Top 5 HIPAA-Compliant Phone Services:
Importance of Secure Phone Services for Therapists
Choosing HIPAA-compliant phone communication for therapists helps deliver quality health care without the added worry of going against HIPAA rules. In essence, covered entities must follow the HIPAA Privacy and Security regulations, which include using software that meets the standards for securely handling sensitive patient-therapist communications.
Secure phone services can help therapists build patient trust, improving therapeutic outcomes. It encourages patients to open up and share sensitive information, knowing their therapist keeps their best interests at heart.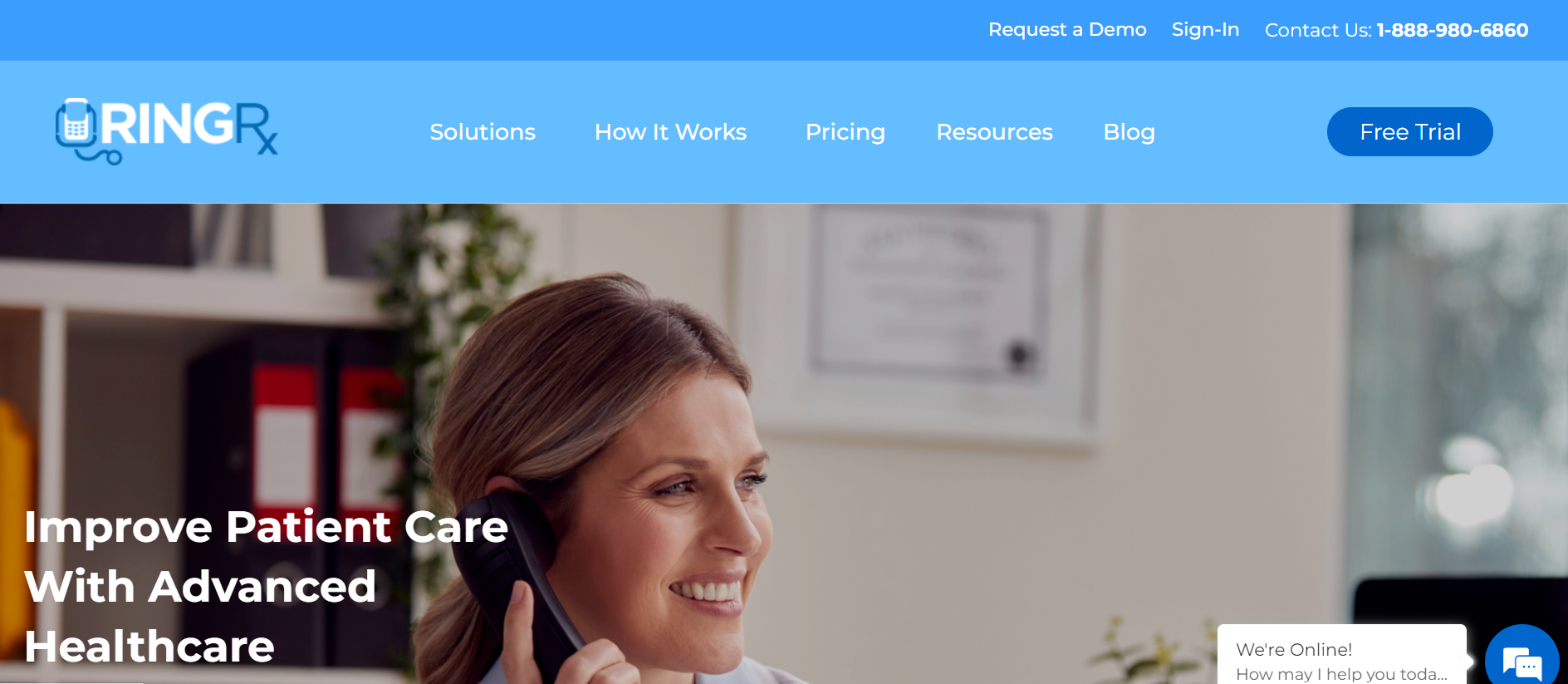 1. RingRx
RingRX is tailored to meet the unique needs of therapists. It offers various features designed to enhance your teletherapy practice, including voice, fax, text, and on-call services. A flexible API for third-party integrations with electronic health record systems, revenue cycle management, and practice management partners complements these features.
Key features: Transcribed voice messages, shared mailboxes, unlimited calling, advanced call routing, automated inbound faxing, text messaging, web-based or machine faxing, call analytics, and audio conferences for up to 10 participants
Pricing: RingRX offers a free trial and three paid plans: Lite at $15 per month per user, Grow at $19 per month per user, and Clinic at $25 per month.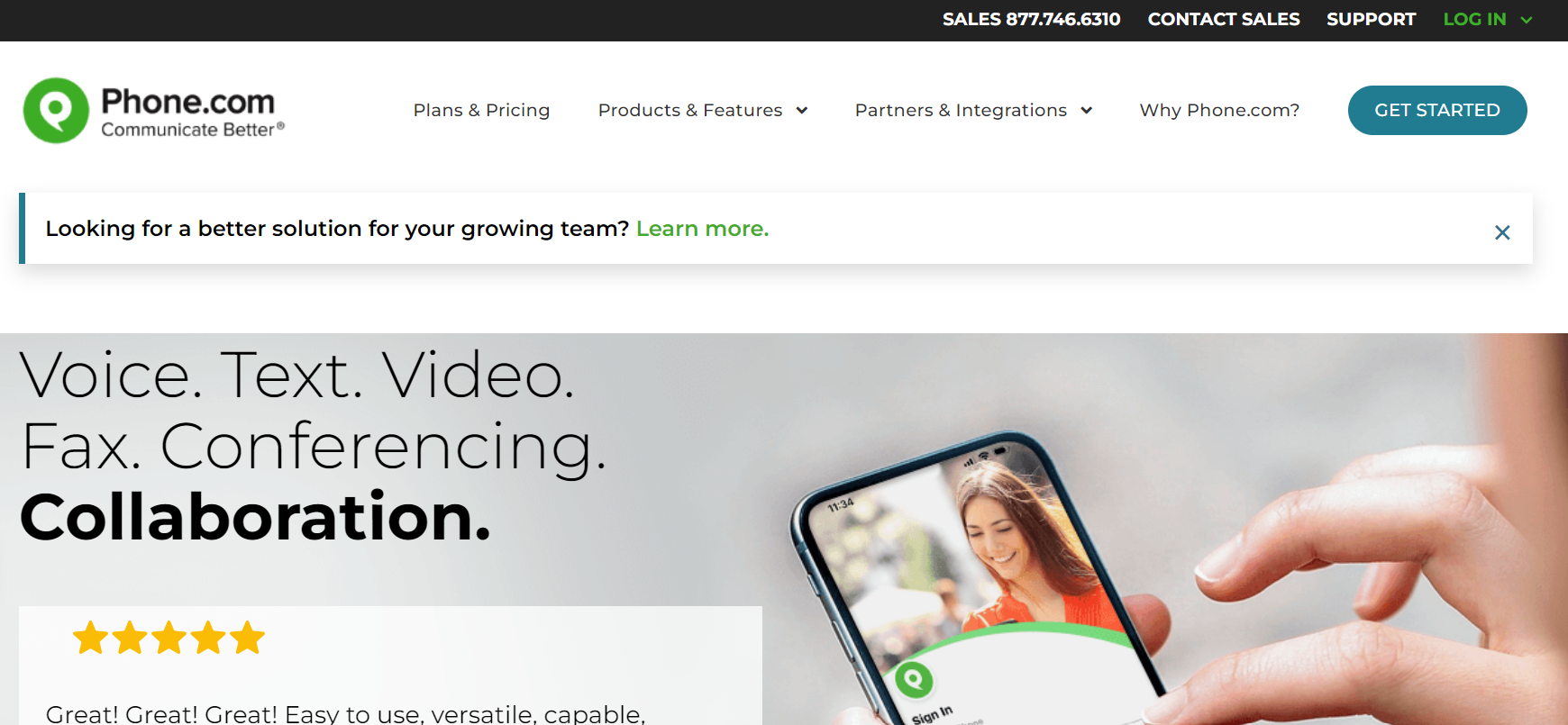 2. Phone.com
Phone.com caters to small businesses and healthcare providers. It offers a range of services at an affordable price point. One of its most helpful features is a web-based dashboard that allows you to easily manage your schedule and block off times when you're unavailable for calls.
Key features: Video meetings, business phone number, fax from phone, call waiting, blocking, forwarding, recording, free conference calling, voice tagging, voicemail to email, dial-by-name directory, live receptionist, network and Wi-Fi calls, number porting
Pricing: Phone.com offers three pay-per-minute plans with unlimited user extensions: Basic at $14.99 per month, Plus at $21.99 per month, and Pro at $31.99 per month. Get discounts when you pay annually.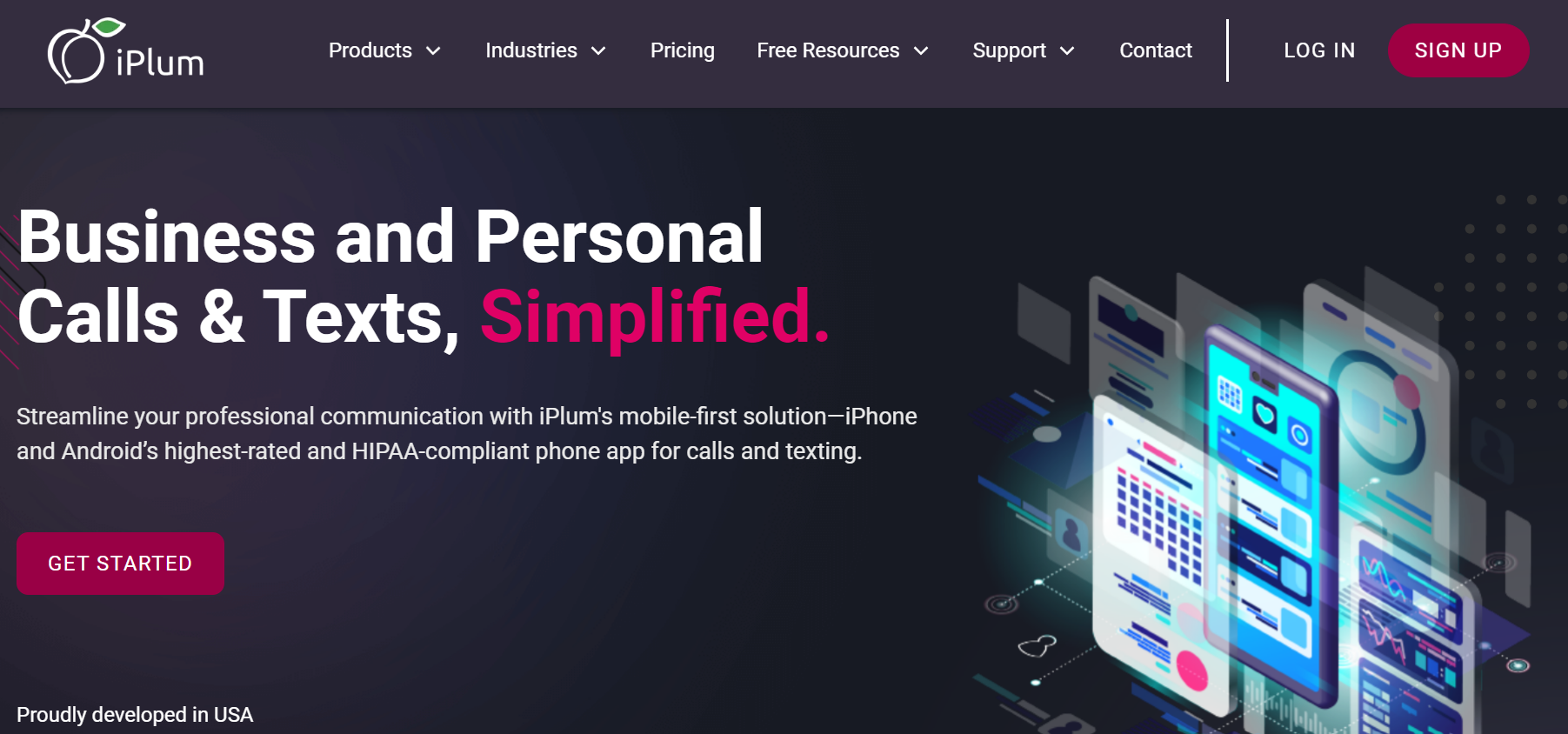 3. iPlum
iPlum provides HIPAA-compliant secure communications, offering calling, text messaging, and voicemail with specific features to enhance privacy and compliance. It creates a separate HIPAA-compliant second line on your mobile phone with full calling and secure texting capabilities.
Key Features: HD calling, messaging, recording, voicemail, carrier/Wi-Fi calling, porting, auto attendant (IVR), team account, local numbers, spam blocking, auto-text reply, text to email, text backup, text templates, and more.
Pricing: iPlum offers three pricing tiers: Standard at $8.99/user, Premium at $14.99/user, and Premium Plus at $19.99/user.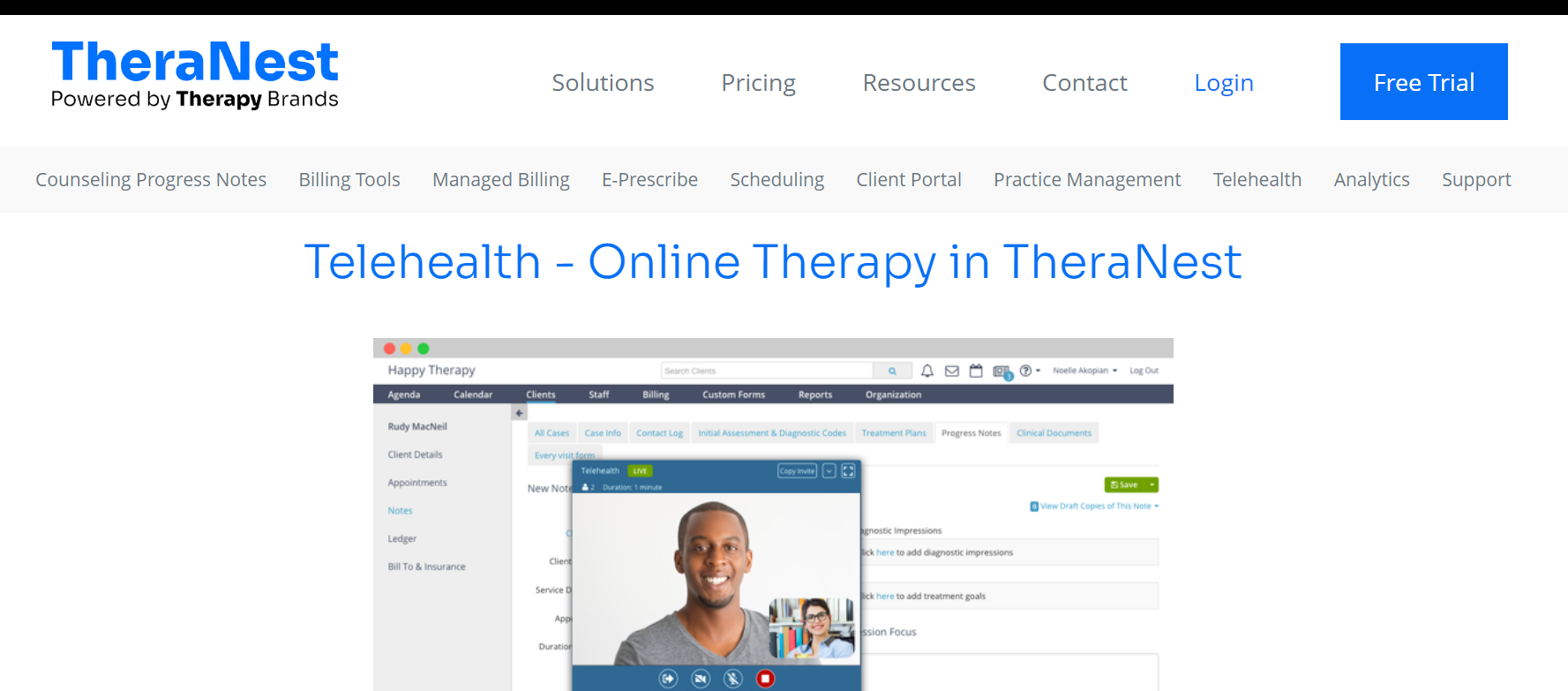 4. TheraNest
TheraNest is a practice management software for therapists, psychologists, social workers, and counselors. A HIPAA-compliant phone service with a wide range of features, TheraNest keeps you organized and ensures the privacy of your therapy sessions.
Key Features: full-featured calendar, automatic appointment reminders, client self-scheduling portal, accessible payment collection, electronic claims filing, unlimited document storage, mobile or phone apps, integration with Wiley Practice Planner, live phone support
Pricing: TheraNest offers tiered pricing, starting at $39 monthly for up to 30 active clients. Additional features include a full-featured calendar, automatic reminders, customizable intake forms, integrated credit card processing, and more.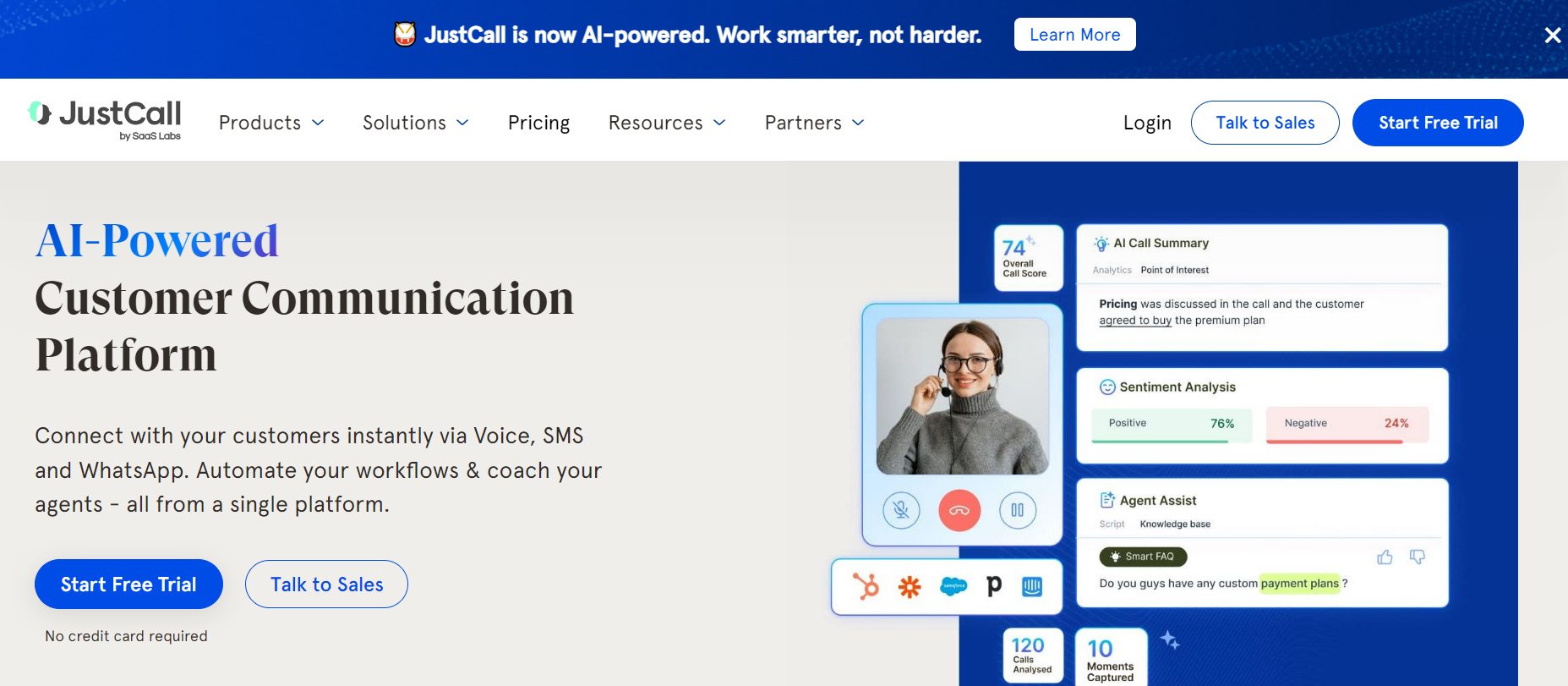 5. JustCall
JustCall harnesses the power of AI in its VoIP phone service. A unified platform for voice and SMS, JustCall handles customer calls for therapists in a HIPAA-compliant environment. The software employs highly secure data centers and safety features to safeguard client conversations.
Key Features: Outbound calling and SMS, unlimited inbound calling, local and toll-free numbers, AI-powered transcription and call summary, advanced appointment scheduling, blacklists, sales dialer, advanced analytics and reporting, API, WhatsApp integration, and more.
Pricing: JustCall is a subscription-based service offering four plans. A single-user account costs $19 per month. If you want complete feature access and ensure compliance, consider its Business plan with higher API and Webhook access thresholds.
HIPAA-Compliant Phone Services: Key Features
The specific features of HIPAA-compliant phone services vary from one provider to another, but there are some standard features you should be looking for:
E2ee encryption: End-to-end encryption ensures that sensitive data, such as patient information and therapy notes, remains confidential and secure during transit and storage.
Business Associate Agreement (BAA): A BAA is a legal contract that confirms the phone service provider's commitment to comply with HIPAA.
Secure messaging: HIPAA-compliant services often offer secure messaging features, allowing therapists and clients to exchange text messages without risking data breaches.
Videoconferencing: Many services provide HIPAA-compliant videoconferencing capabilities, enabling face-to-face therapy sessions while maintaining privacy and security.
Voicemail and call recording: HIPAA-compliant voicemail and call recording ensure that important messages and therapy sessions are stored and protected.
Access controls: Access controls allow therapists to manage who can join therapy sessions, ensuring that only authorized participants are present.
Audit trails: HIPAA-compliant phone services often provide audit trails that track user activity, helping therapists record who accesses patient data and when.
Secure file sharing: Services may allow secure file sharing for documents like treatment plans, assessments, or other patient-related files.
See also: HIPAA-compliant texting apps
Why Therapists Should Choose HIPAA-Compliant Phone Services
HIPAA-compliant phone services offer higher security than regular phone services, protecting PHI from unauthorized access and malicious attacks. The protection these services provide reassures clients of the confidentiality and privacy of their PHI during therapy sessions.
Moreover, clients can confidently contact therapists for support between sessions, helping bridge the gap and ensuring continuity of care. Ultimately, HIPAA compliance in phone services makes it possible to offer effective therapeutic conversations remotely and, at the same time, meet legal obligations without worry.
HIPAA compliance
HIPAA-compliant phone services
phone services for therapists