Release Date: November 24, 2022
Sending faxes to multiple recipients is a tedious and time-consuming process. One way to make faxing more efficient is to schedule faxes in advance. This feature is now available on iFax Web 6.48. Now, you can send online faxes at best possible time, ensuring that the right people see them. Your message will be seen when your clients are most likely online.
What's New With iFax Web 6.48?
Here are the noteworthy enhancements in our recent update:
1. SSO notifications
Users will now receive notifications whenever single sign-on (SSO) is enabled or disabled in iFax. All subusers in your team will be notified via email.
SSO allows you to use a single, secure credential to access multiple systems and services.
With SSO in iFax, you can securely access your faxes without logging in each time. No need to memorize multiple passwords or ask the IT department for a password reset.
2. Fax scheduling
Transmitting online faxes manually can be a hassle, especially if you send them to multiple recipients at different times. With fax scheduling, you can choose when your fax will be sent, allowing you to schedule it conveniently for you and your client.
3. Option to reschedule fax
Sometimes, you might need to change the scheduled time of a fax. With iFax Web 6.48, you can quickly reschedule a fax to get delivered at a different time or date. You also have the option to cancel a scheduled fax or send it immediately. This also applies to fax broadcasts.
How Can I Schedule a Fax in iFax?
1. Log in to your iFax account. On your dashboard, click the New Fax button on the bottom right.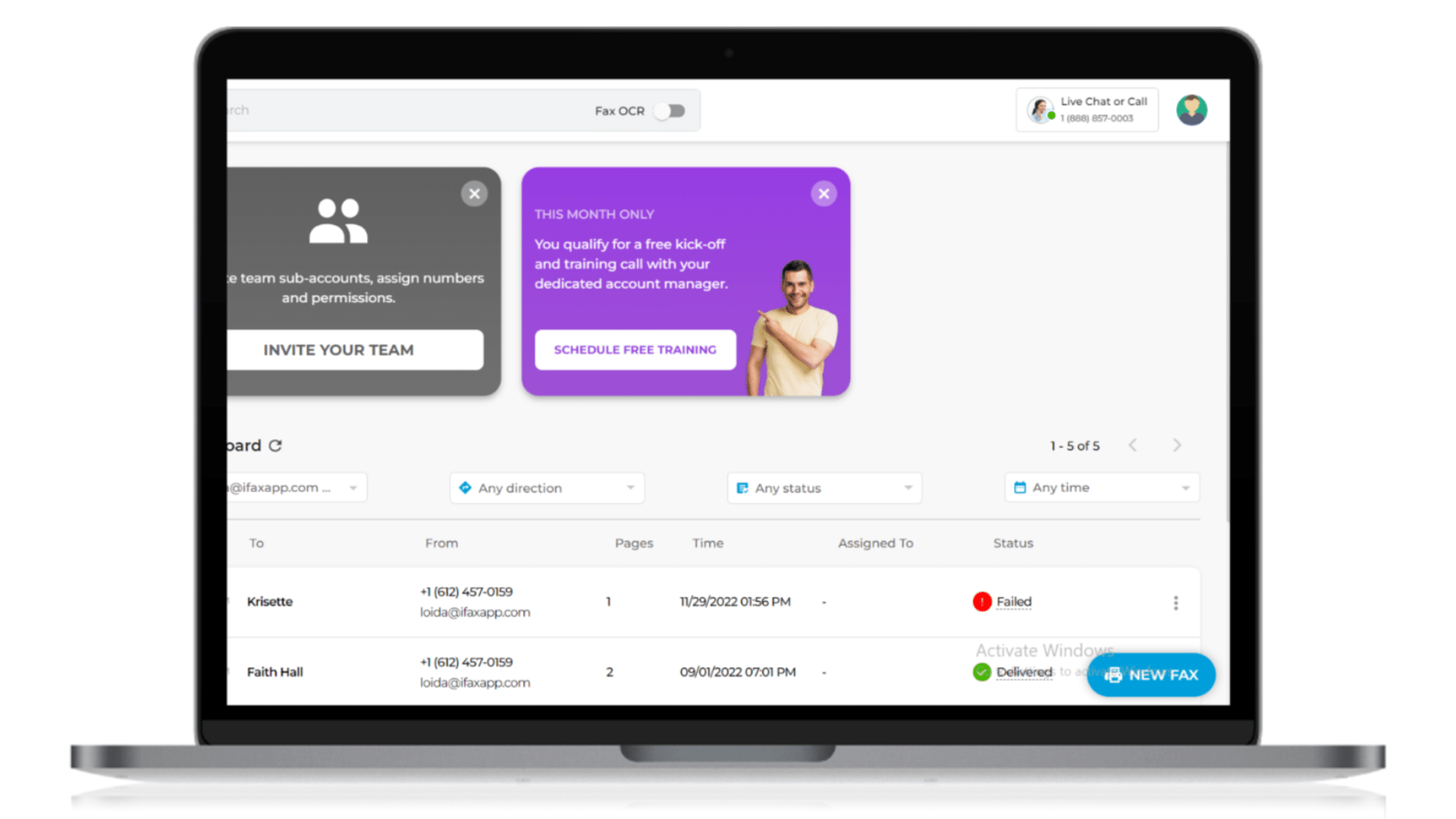 2. A pop-out window will appear for your New Fax. Select the recipient's fax number from your contact list. You can select multiple recipients for the same fax.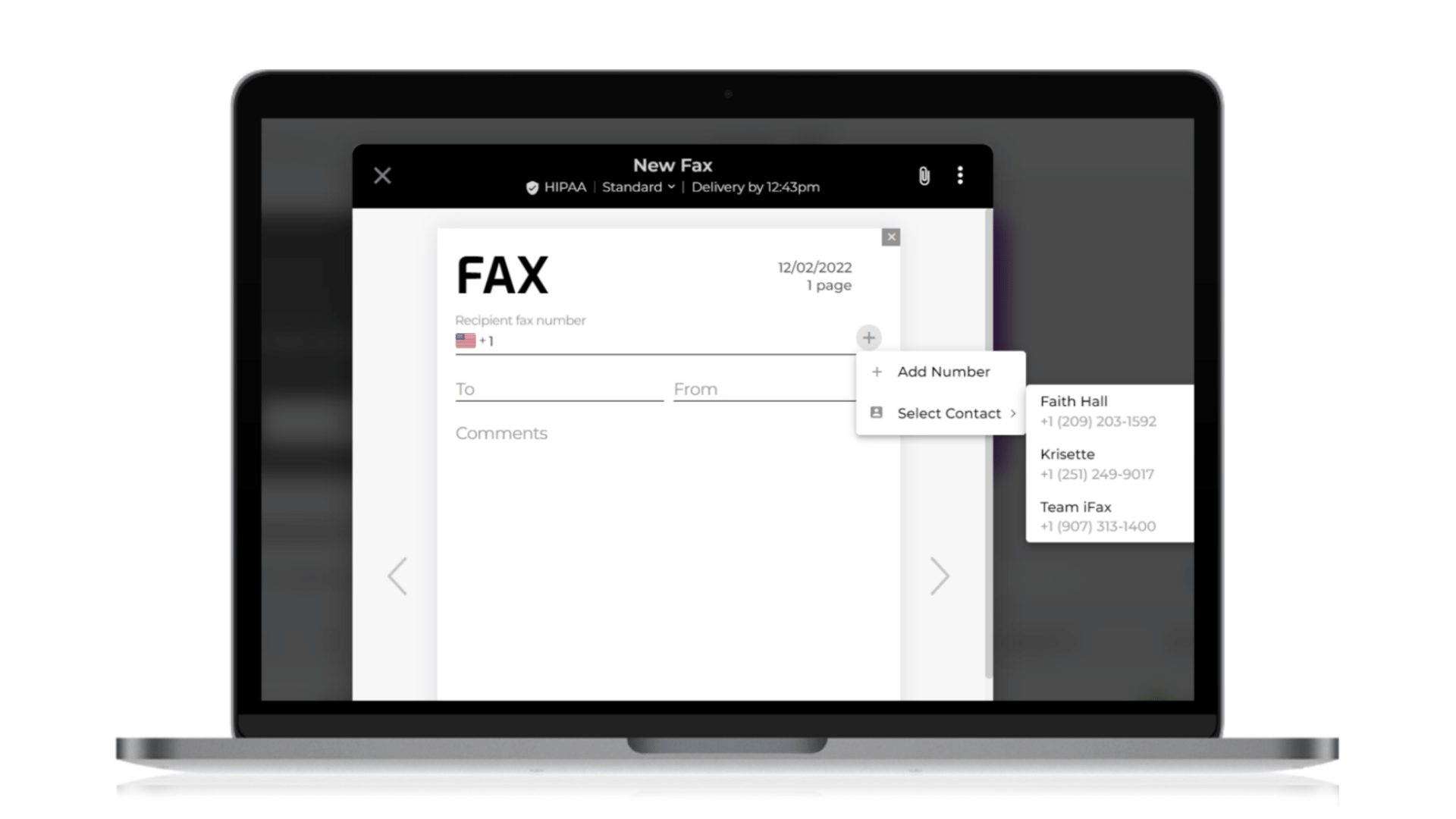 3. Compose your message and attach any necessary documents. Then, click on the drop-down arrow beside Delivery time, which you can see at the top of your fax.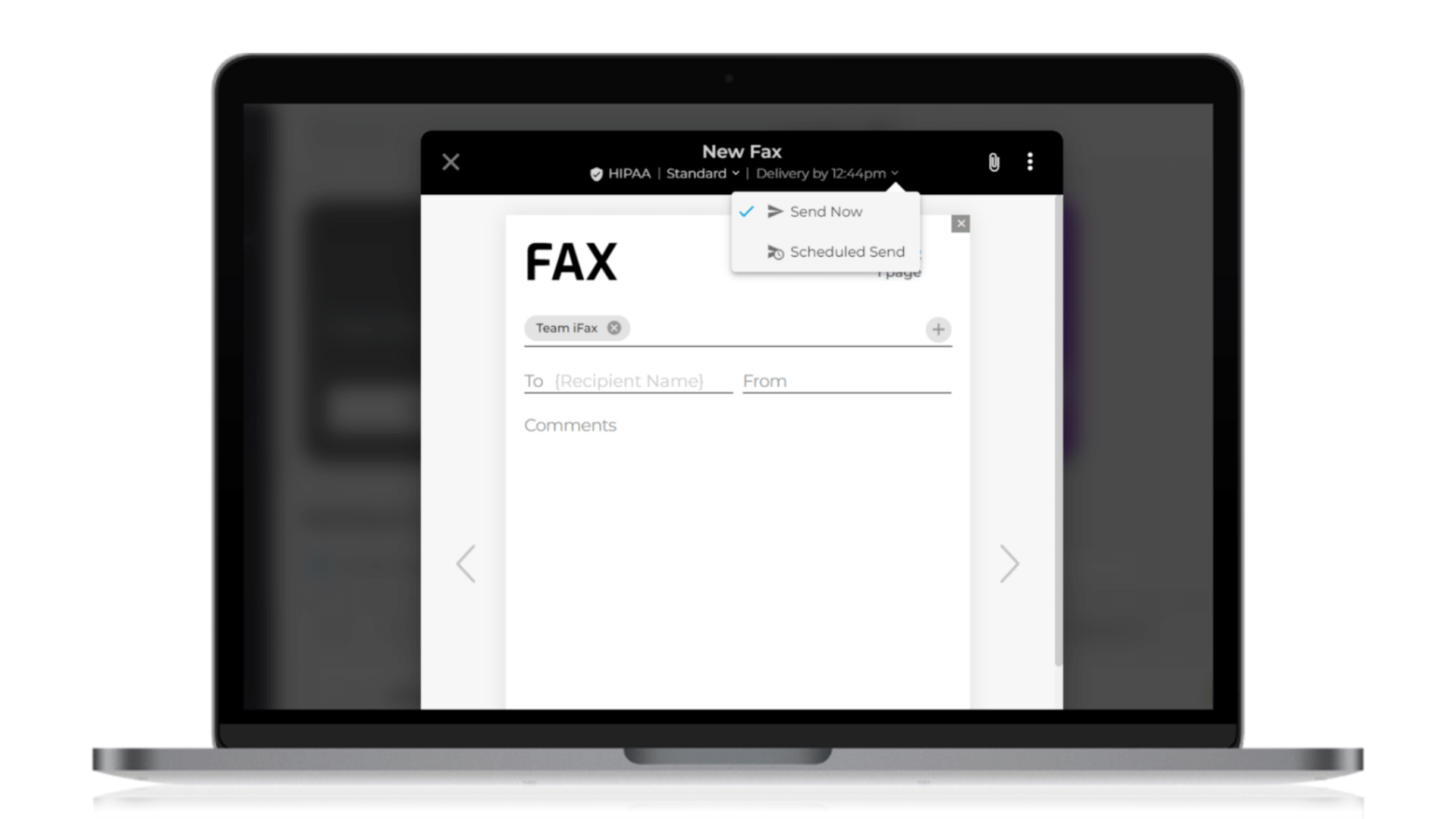 4. Select Scheduled send, then enter the date and time you would like your fax sent.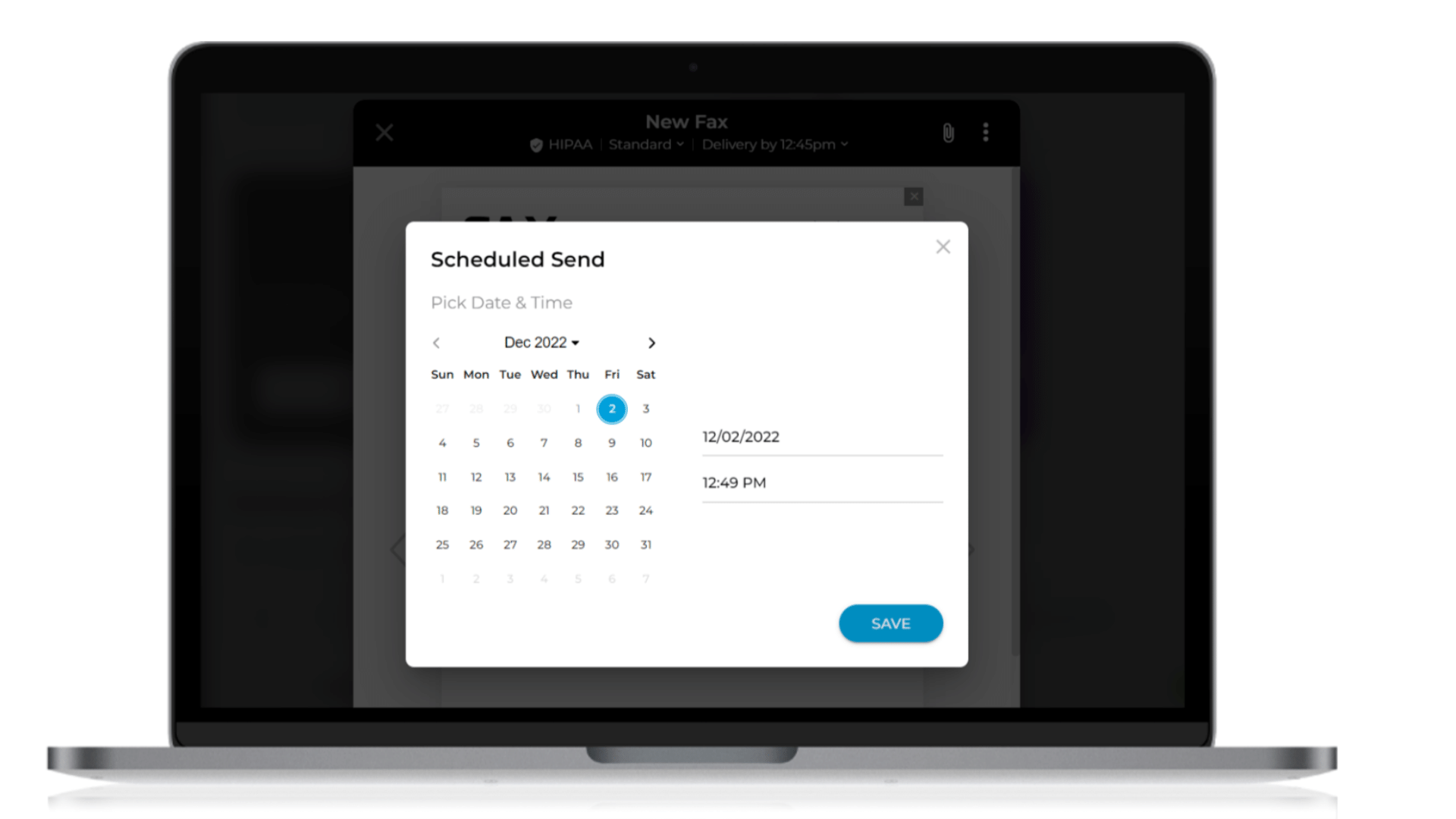 5. Once you have selected a delivery time for your fax, click on the Scheduled send button at the bottom of your fax.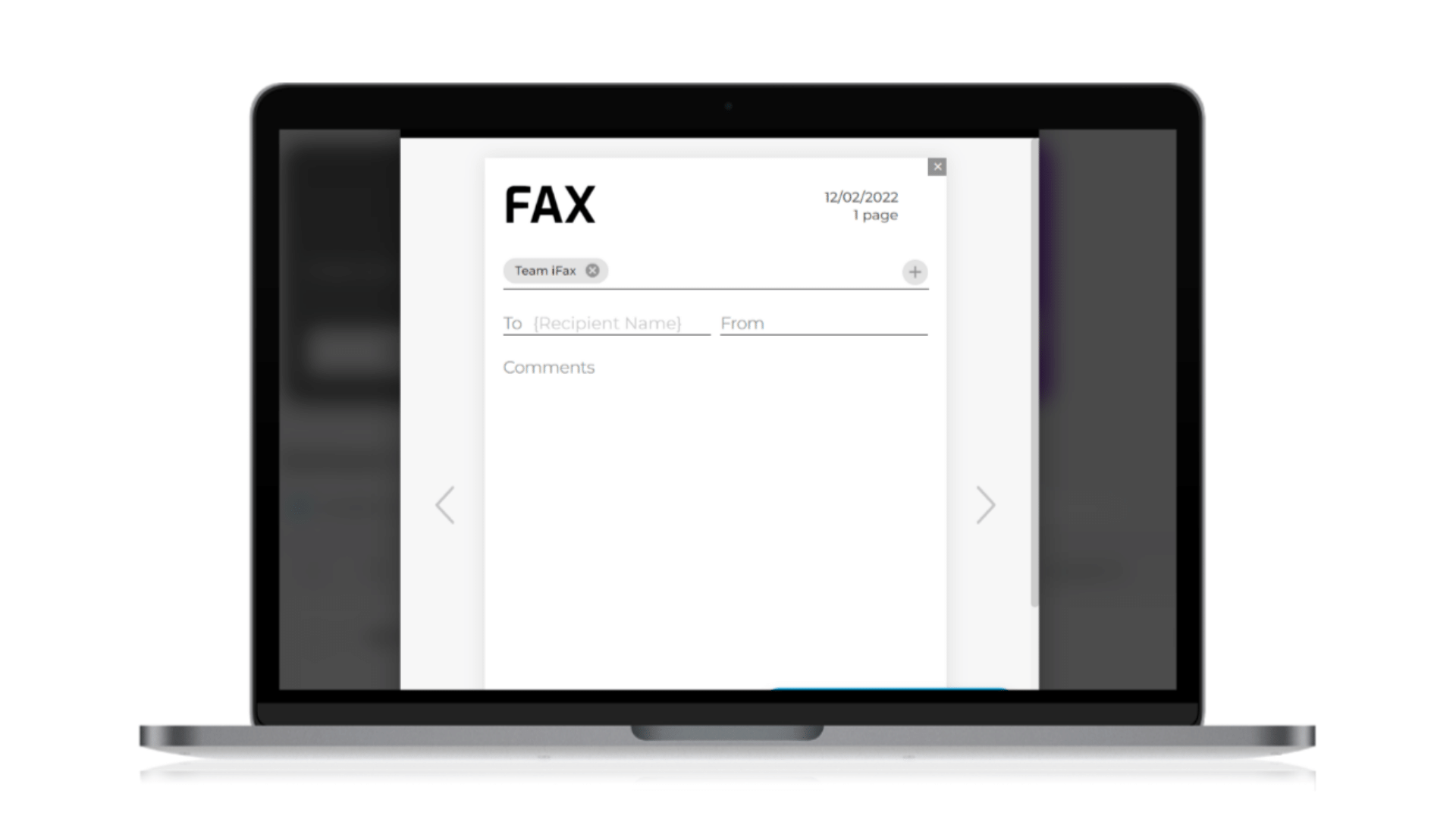 6. You will be redirected to your dashboard, where you can see the status of your faxes. Now, you can rest easy knowing that your important documents are on their way to the right people.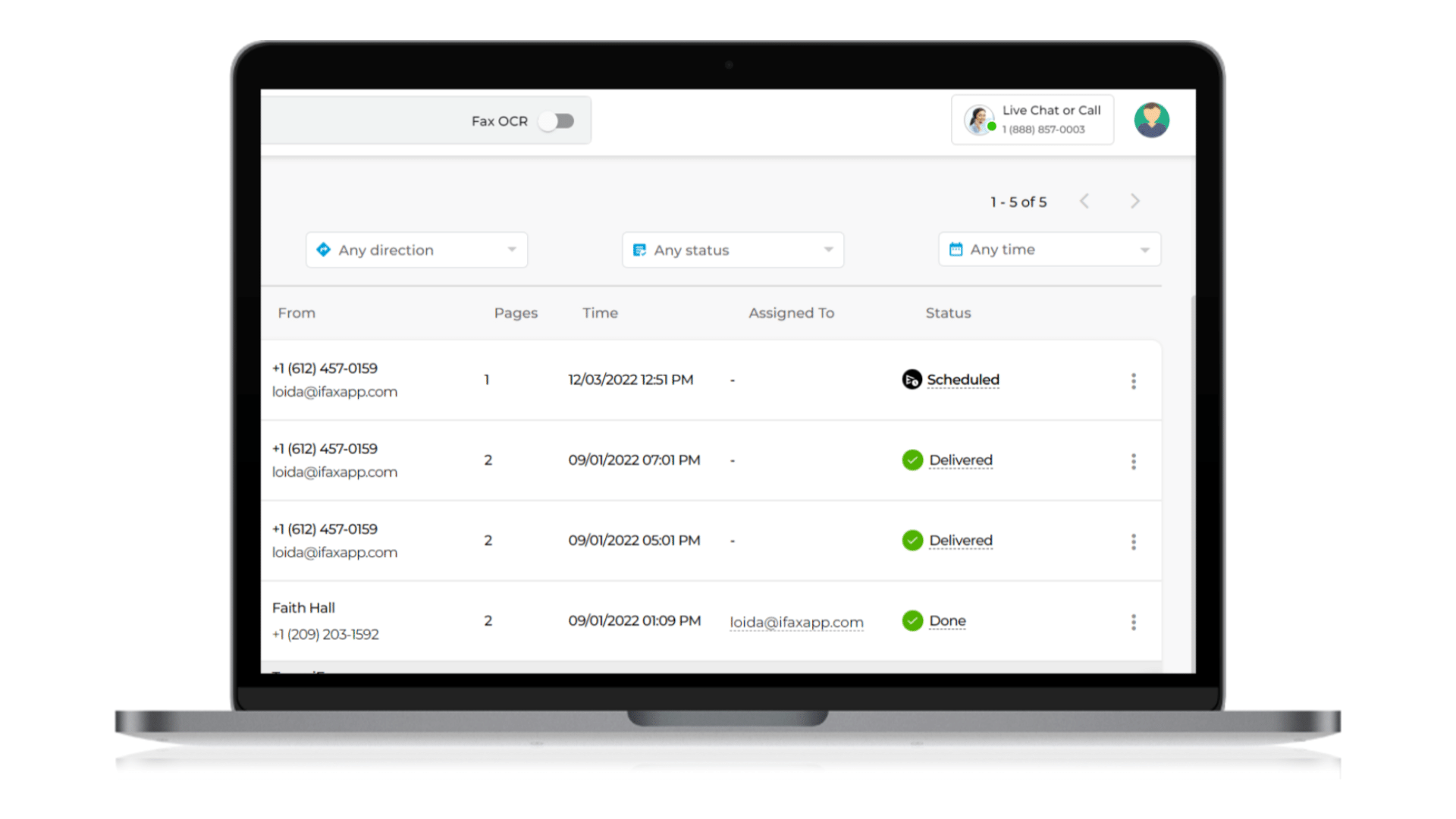 How Can I Reschedule a Fax Broadcast?
Go to your dashboard, where you will see your scheduled faxes.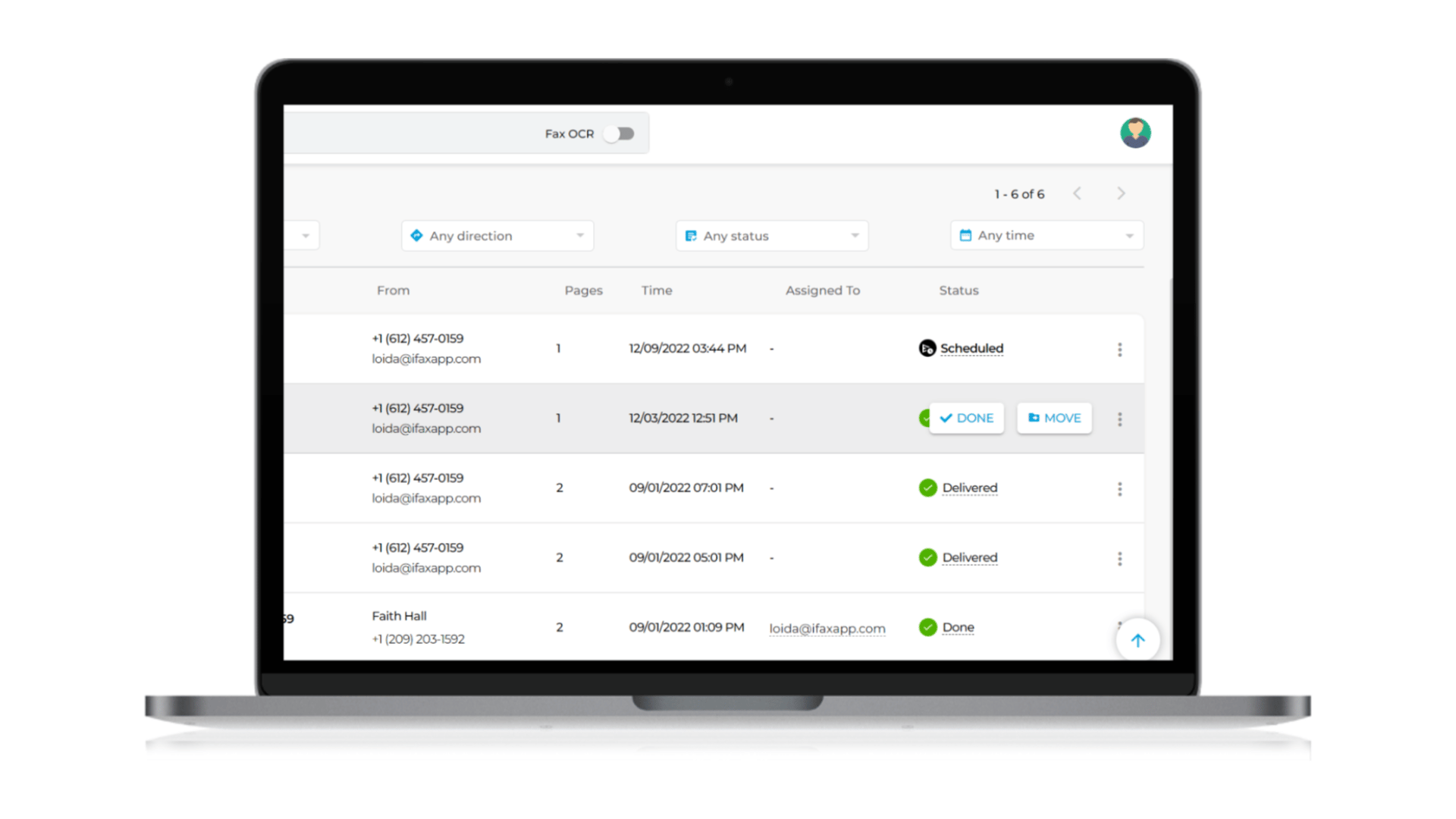 Click on the three vertical dots beside your scheduled faxes. You can choose from three options: Send now, Reschedule, or Cancel scheduling.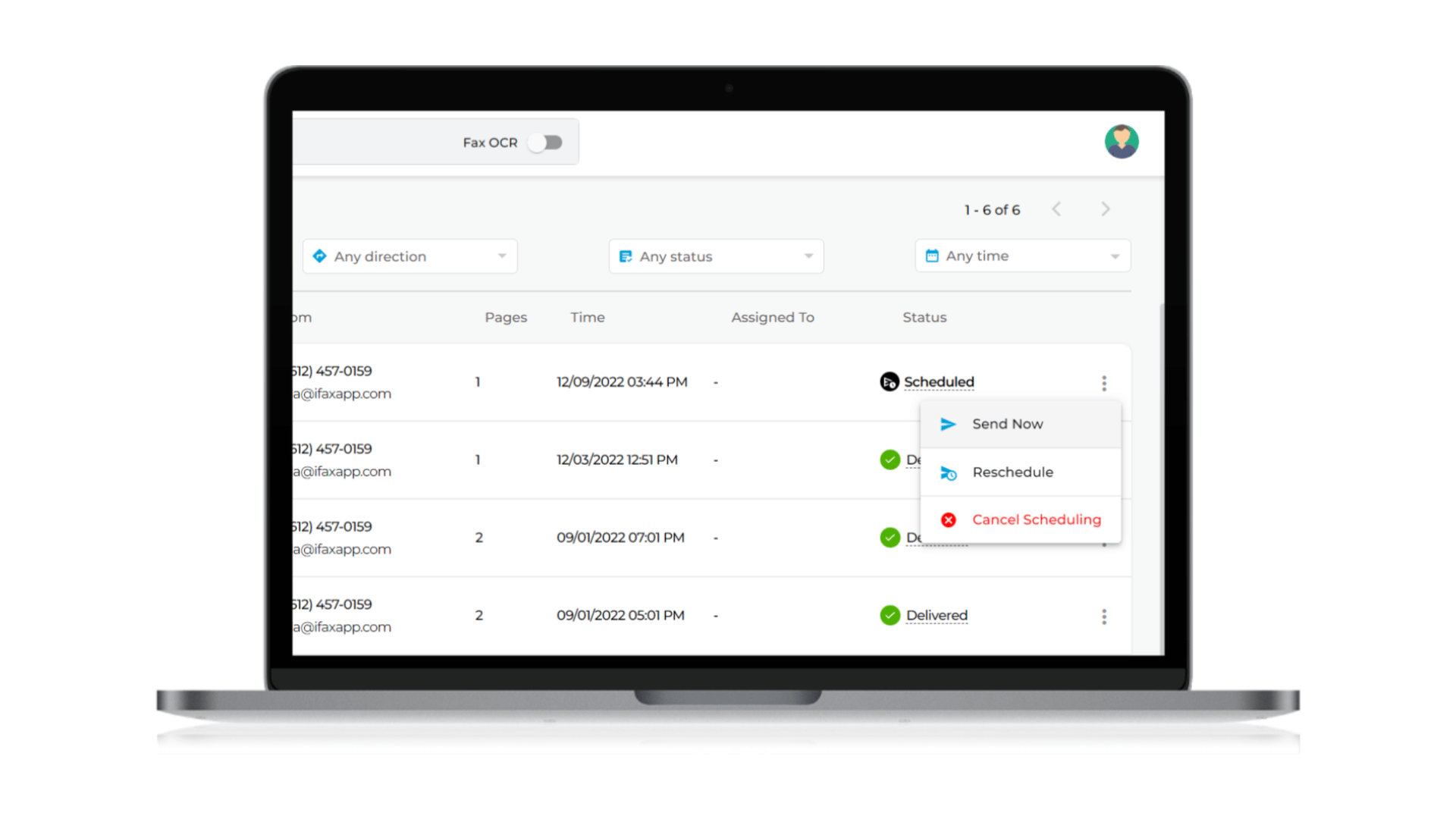 1. Reschedule a fax
To send your fax at another time and date, select Reschedule. This action will open the same window that appeared when you initially scheduled your fax. Click Save after selecting a new time and date.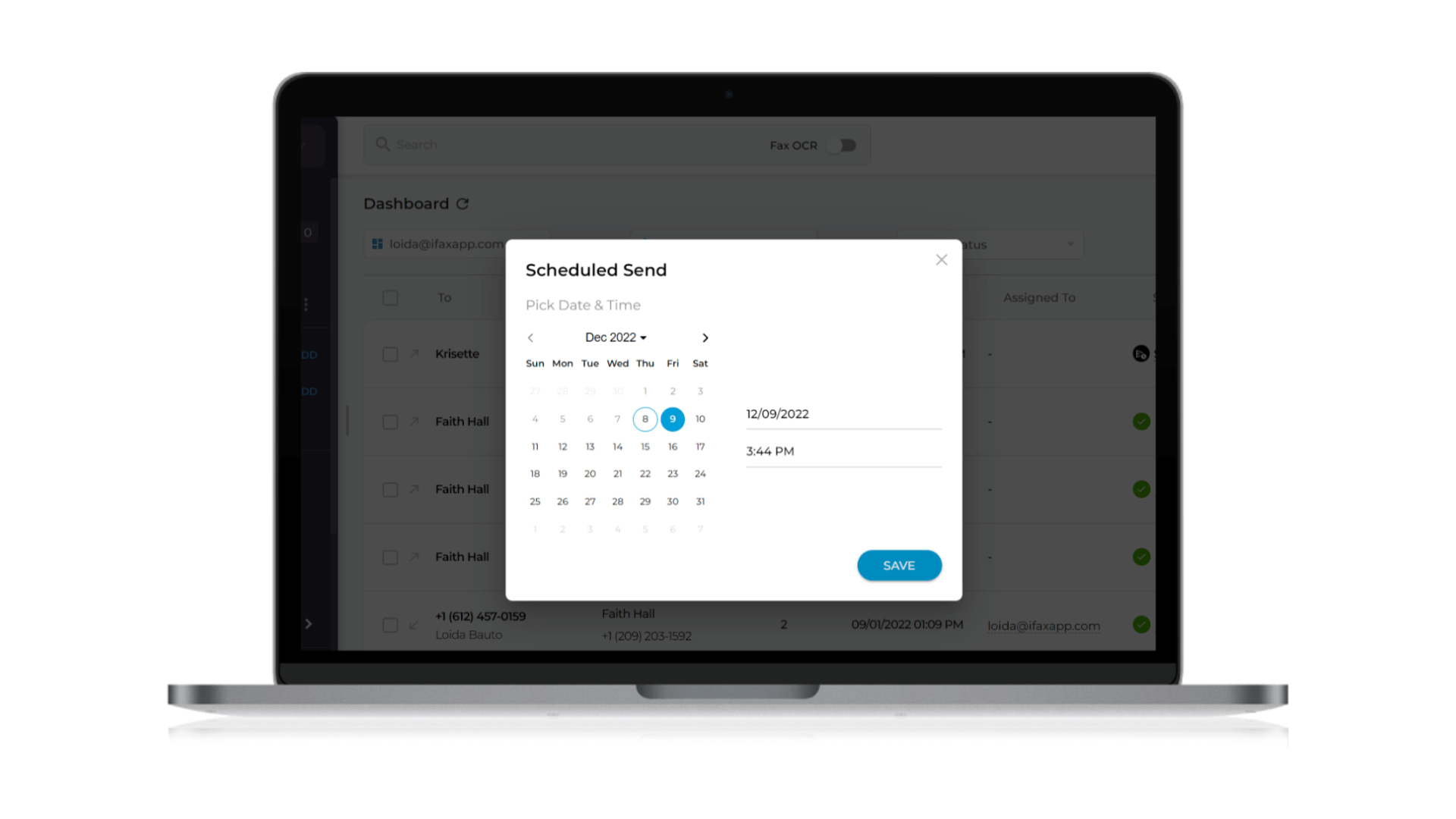 2. Send a fax now
If you choose to Send now, your fax broadcast will be sent to your recipients immediately after you click Yes.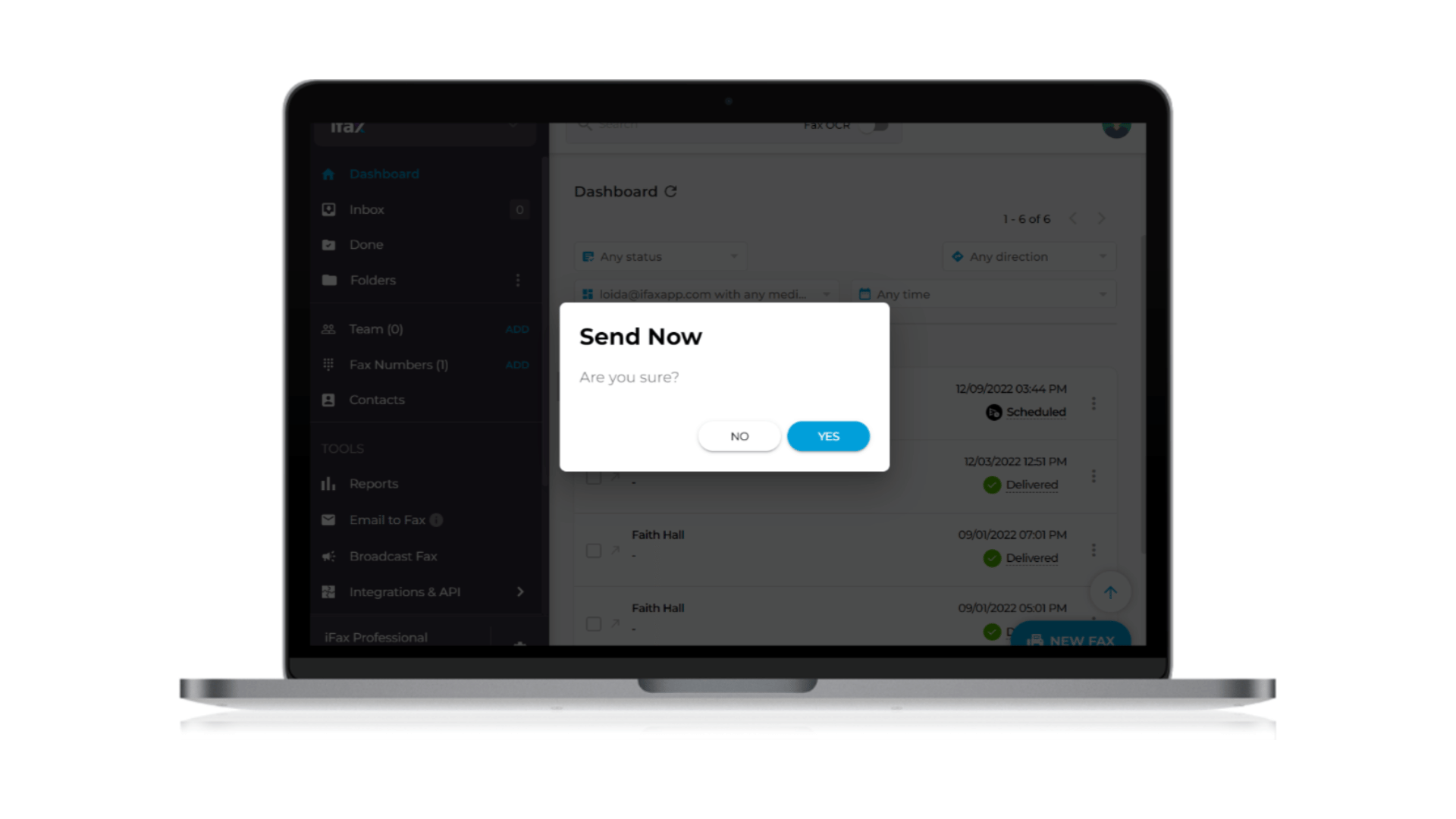 3. Cancel a scheduled fax
To stop the transmission of a fax that has already been scheduled, select Cancel schedule. Then, click Yes.

Fax Broadcast Scheduling
Fax broadcasts are a convenient way for businesses to reach out to hundreds of contacts. Scheduling fax broadcasts is similar to doing so for regular faxes, with a key difference. Instead of typing in multiple recipients one by one, you can add a fax broadcast list in the recipient (To) field.
With iFax, you can schedule a fax broadcast in one of 2 ways:
Option 1: Schedule a fax broadcast by creating a new fax
Click New fax.
In the To field, add a fax broadcast list. Your list will appear in the options if you've already created groups. It's similar to what you can see in the screenshot below.
Then follow the same steps as when scheduling standard faxes.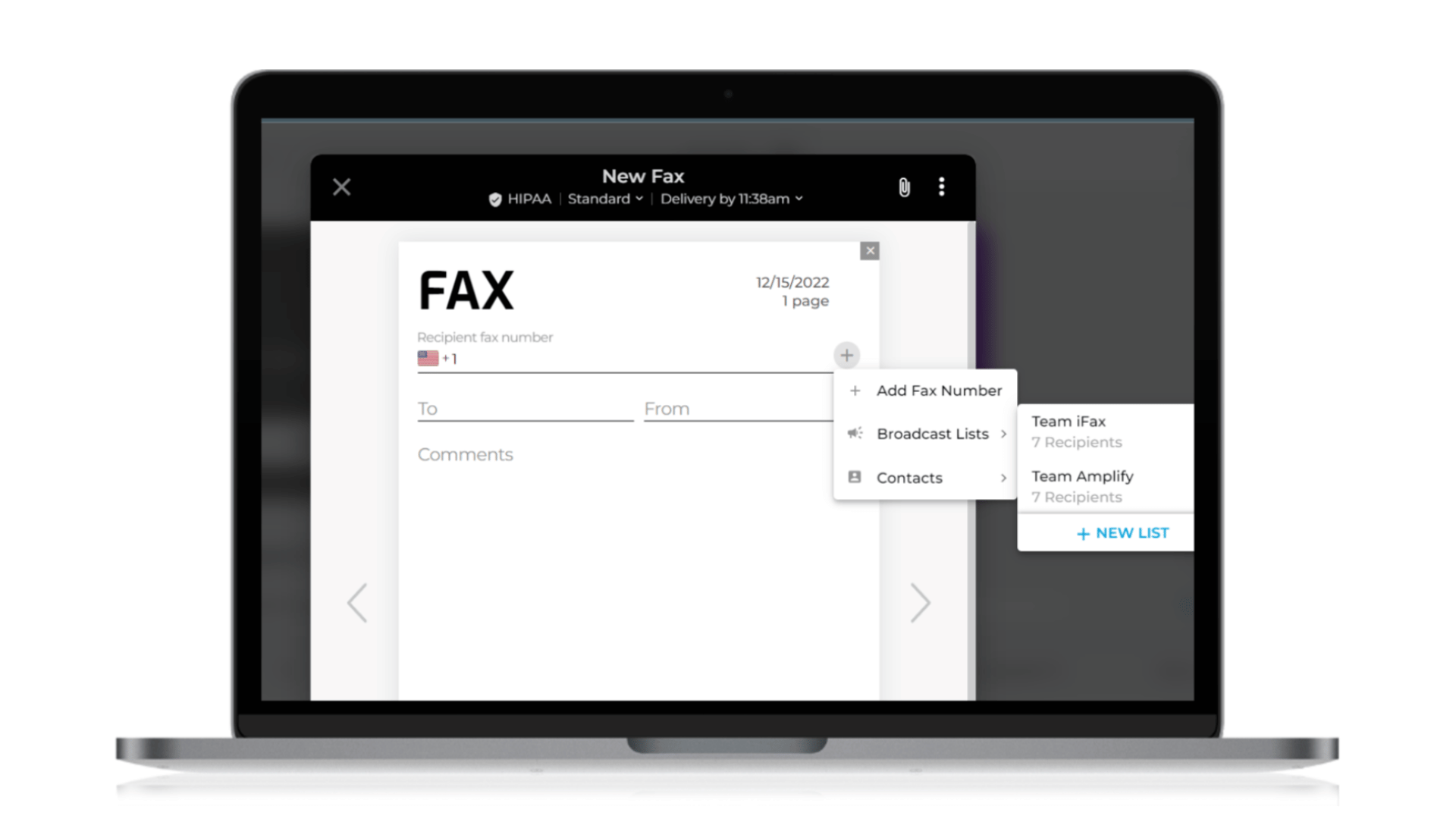 Option 2: Schedule a fax broadcast after creating a new broadcast list
Create a new broadcast list by uploading a CSV file. You can see the detailed instructions here.
Send a fax broadcast to your new list by hovering over the group name. This will allow you to see the Send Fax option.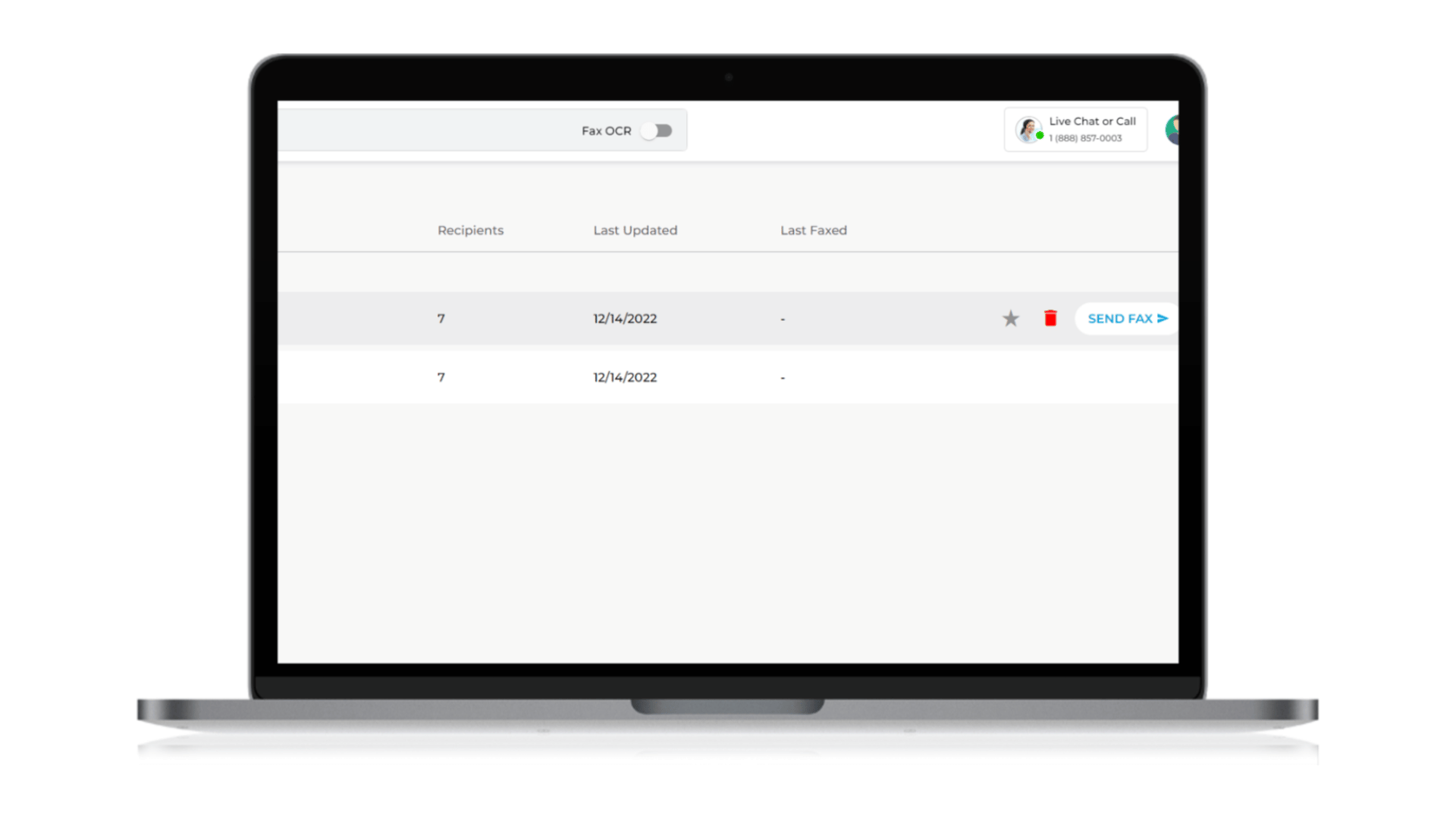 3. When you click Send Fax, a window will appear the same as when you send a standard fax. Follow the steps mentioned in the previous section.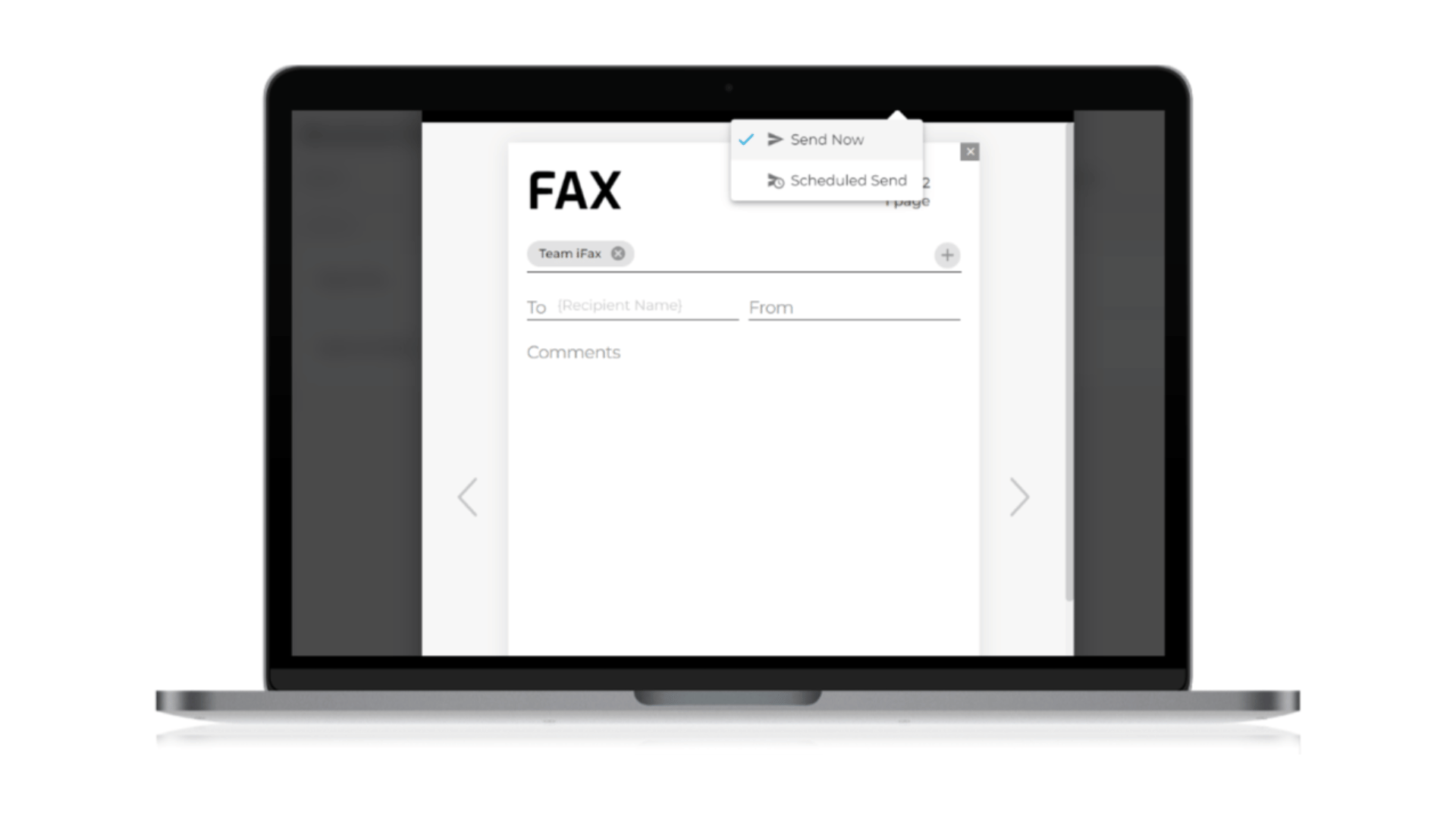 Your fax broadcast is now scheduled.
How to cancel or reschedule a fax broadcast
Suppose you have forgotten something and want to make changes to your scheduled fax broadcast. To reschedule or cancel the fax broadcast, here's how to do it:
View your faxes on your dashboard.
Hover over the scheduled fax broadcast you wish to revise.
Select your preferred action: reschedule, cancel, or send now.
How do you know that you've successfully scheduled or rescheduled a fax? A snack bar will appear, confirming that your action has been completed. Whether it's a single standard fax or bulk fax broadcast, iFax makes sure that your documents get to the right people without any delay.
Why Should You Schedule Online Faxes?
1. Synchronize with clients in different time zones
Scheduling faxes is useful if you work with clients in different time zones. A message sent during the day could be delivered to people in the middle of the night, which is not ideal if you want to be on top of their inboxes.
Instead of staying up late and setting your clock to different time zones, schedule your faxes ahead of time. This is much more practical, especially if you regularly send fax broadcasts.
2. Avoid missing deadlines
Missed deadlines can have long-lasting effects on your business. You don't want to lose a client to a competitor simply because you failed to send a contract on time. Fortunately, scheduling your faxes in advance is a sure way to avoid this problem. This way, you can ensure that your fax gets to your intended recipients as promised.
3. Stay connected with your clients
As a busy professional, it can be easy to let client relationships fall by the wayside. By setting up automatic send times for your faxes, you can make sure that you're always in touch. This can be a great way to remind your clients of important deadlines or simply to send them a thoughtful greeting.
Additionally, regular communication will show your clients that you value their business and are committed to providing the best possible service. It can build strong relationships that last for years.
Send Online Faxes at the Perfect Time
With iFax, you can now schedule faxes in advance without having to hit "Send" in the wee hours of the morning. You also avoid the hassle of coordinating with clients in different time zones. Schedule your fax in advance, and we'll take care of the rest. Whether you're transmitting an important contract or touching base with a client, iFax will ensure timely business communications.
Sign up today and experience the convenience of scheduling faxes.
Schedule faxes
Send fax later