Online faxing has made it possible to send and receive fax from Windows computers. These days, you no longer have to buy yourself a fax machine. As long as you are connected to the internet, there are other ways to do it without buying the good ol' fax machine.
Fax from windows PC services are aIn order to have a seamless experience when you fax from Windows PC, you have to find a reliable online fax provider. There are a lot of options in the market for you to choose from. Some offer free fax services with limited pages you can send, while others offer premium plans that let you send and receive online faxes with ease.
Of course, the goal is to make the process convenient, accessible, and cost-efficient using your computer. We will walk you through the different methods below. But first, let's explore the answers to some of your potential questions:
Table of Contents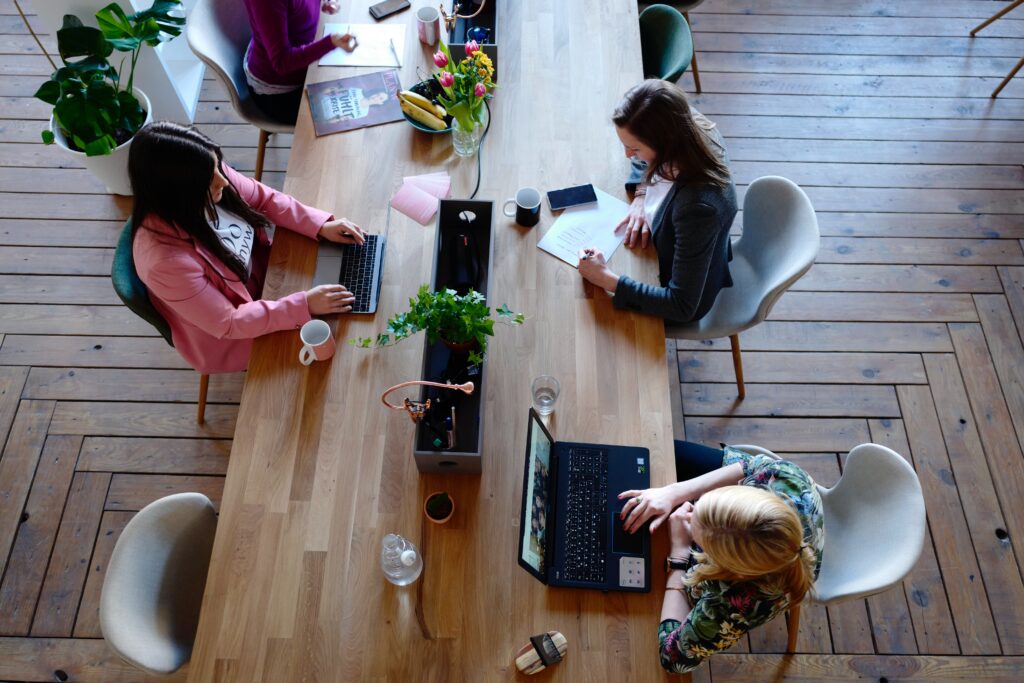 Can I fax from my PC Windows 10?
Yes, you can definitely send and receive fax from Windows computers. Microsoft Office allows you to send any documents from Word, Excel, and PowerPoint using the Windows Fax Printer Driver. You do need to connect your PC to a fax modem to do this, which can be an added expense if you do not have this already.
If you want an easier and quicker way to fax from Windows computer without needing to install any hardware, get yourself an online faxing subscription or plan. It's more cost-effective and it's compatible with any version of Windows.
Does Microsoft 365 have a fax service?
Sending a fax from Windows computers through Microsoft 365 is possible with the help of an online faxing service. With iFax, you can easily integrate their desktop application to your computer. You can download it for free, and the installation only takes seconds.
Can you send fax with Microsoft Office?
As discussed earlier, installing Windows Fax Printer Driver allows you to send fax Microsoft office. However, it requires you to connect your device to a fax modem.
Online fax doesn't need any other hardware for you to fax from Windows PC. iFax offers platforms that are compatible with any device as well as any operating system. For Windows users, you can download their desktop-based application for your convenience. It's compatible with Windows 10 or higher.
What Are the Benefits of Sending Fax From Windows Computer?
Are you still using a legacy fax machine? Maybe it's time to consider online fax services that allow you to send fax from your Windows computer in an instant. There are no maintenance costs, no need to replenish paper trays, and most of all, it's environment-friendly. It's the fastest way to send and receive faxes, offering you incredible benefits, whether it's for personal or business use.
Convenience and Flexibility – online fax services are intuitive that allows you to send and receive faxes straight from your computer or mobile device without printing your documents. You can attach your faxes, and the recipient will receive them as if you sent them using a fax machine. Moreover, online fax services have software that works across iOS, Android, Windows, and Mac.
Security – internet faxing services use strong encryption to secure the transmission on the internet. In this way, they protect sensitive information from cyberattacks and snoopers. Enterprise-grade services are equipped with 256-bit end-to-end encryption and offer two-way authentication to secure your accounts.
Affordable – online fax subscriptions offer monthly plans and pay per fax. If you only need to send one-time fax to a company or institution, the pay-per-fax is a good option, especially if you only send a few pages. Monthly subscriptions range from $7 to $20 or more for personal and business use. You can send hundreds and thousands of pages per month.
Suitable for Teams and Enterprises – if you have a large team, internet faxing is your best bet because each member or employee can send and receive faxes straight from their mobile devices. Whether they are at the office or outside for client meetings, faxing is within their fingertips. No more delays on critical documents like contracts, applications, and reports. They can fax them right off the bat.
How do I fax from Windows 10 without a phone line?
Sending a fax from Windows is super easy when you have an iFax account. Here's how to do it.
Visit www.ifaxapp.com to register a new account. You may do this on a web browser or sign up using your mobile device and avail of the 7-day free trial via Windows Store, Apple Store, or Google Playstore.
After signing up, iFax will take you to the main dashboard. The interface is like your email's inbox. This is where you can view the sent and received faxes. To send your first fax, click the 'New Fax' button.
A window will pop out showing a fax cover sheet to fill in, including sender, recipient, subject, and comments. Click the arrow [left or right] in the middle screen to change the fax cover page template.
After filling in the details, upload documents from your Windows computer. Click 'Add Documents'
Click 'Send Fax' when you're all set and ready. iFax will prompt you to notify the recipient via email of the fax you sent.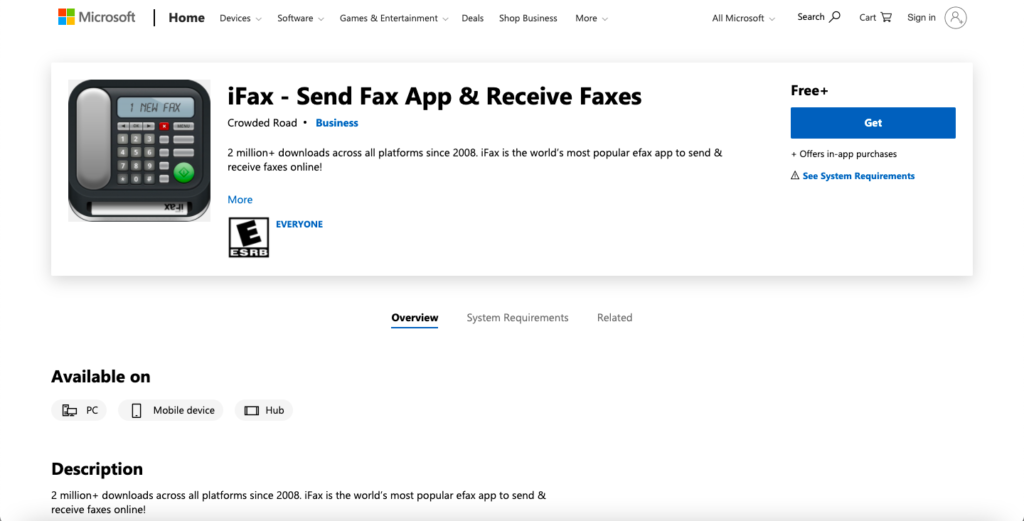 How to Send a Fax Using Email via Web Browser
Another way to send a fax from Windows is via email. As long as you have the recipient's fax number, then you may proceed.
Open your Gmail, Windows Mail, or email client of your choice and compose a new email.
Type 'send@ifaxapp.com' in the 'To' field.
Type the recipient's fax number, including international and local code, without spaces or dashes in the subject field. (e.g. +12512509117)
Type comments in the body, as this will show on the fax cover page.
Attach the documents that you need to fax and then send the email.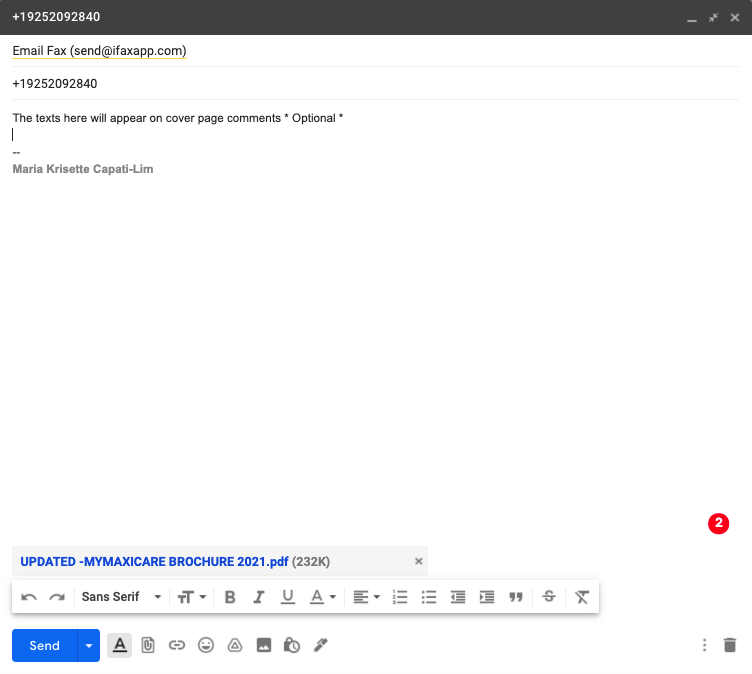 How can I send a fax from Windows for free?
iFax allows you to send faxes at no cost with their 7-day free trial. You can, however, take advantage of this fantastic offer by downloading their app on your mobile phone.
Final Thoughts
If you haven't made the switch from traditional faxing to this new-age faxing method, this is your sign to do it. Try any of these options so you won't have to visit an outlet or store that offers self-service faxing. Furthermore, if you think switching to an online fax service like iFax boosts your productivity, then why not give it a try and download the app now. More than 5 million users rely on its services and features. Maybe, it's for you to find out why they love it!
mobile fax apps
Online faxing
Send Fax Online