Release date: June 9, 2023
As our cloud-based fax solution continues to provide streamlined fax communication to businesses, another lucrative opportunity awaits those who want to stay ahead of the curve. That's why we are thrilled to present our iFax Partner Program for white label fax partners and resellers.
With this exclusive opportunity, you can empower your enterprise by offering our cutting-edge cloud-based fax solution to your valued clients. By joining our program, you can amplify your product portfolio, establish your brand, and, at the same time, unlock a new revenue stream.
Indeed, this is something to look forward to, along with the new updates included in this latest iFax Web release.
What's New With iFax Web 7.0?
iFax Partner Program

White label fax partners
Reseller dashboard
Unlimited revenue

Box Drive Sync
Interface improvements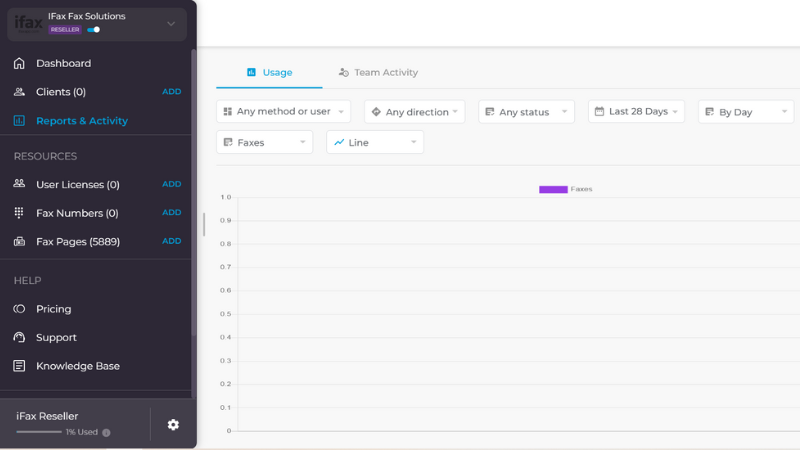 iFax Partner Program
Whether you want to expand your product offering or enhance your existing services, the iFax Partner Program can take your business to new heights. By opting in, you gain access to a full suite of tools and features designed to meet the ever-changing needs of your clients.
What sets our reseller and white label program apart is you get to leverage our secure and reliable fax technology quickly and effortlessly. Best of all, you have complete control over how you want to distribute and market our online fax solutions to your clients. It is totally up to you to offer our service as a white label partner or generate revenue faster as a reseller.
White label fax partners
As a white label partner, you can customize our platform as your own. There's no need to develop a product from scratch. It is the perfect option, especially if you want to maintain your brand's identity while offering secure and lightning-fast online fax transmissions.
Also, our customizable branding options allow you to establish brand consistency while meeting the specific needs of your target market. Plus, you can cater to growing customer demands without compromising quality and security.
Reseller dashboard
Becoming our partner gives you access to an intuitive and robust dashboard that provides a comprehensive overview of all your client accounts. It's an efficient and hassle-free way to manage and monitor their faxing activities.
By switching to "Reseller View," you can quickly access usage reports, allocate resources, and extract valuable insights that can help boost revenue growth. You can also revert to the default dashboard view anytime to monitor your own fax usage.
Here's an overview of how it works:
Unlimited revenue
As an iFax white label partner or reseller, you will have a lucrative revenue stream without making costly internal investments. Earn recurring commissions or set a custom pricing structure based on the ever-evolving client demands.
Our support representatives will also work closely with you, providing all the resources you need to optimize your revenue strategy and maximize your profits.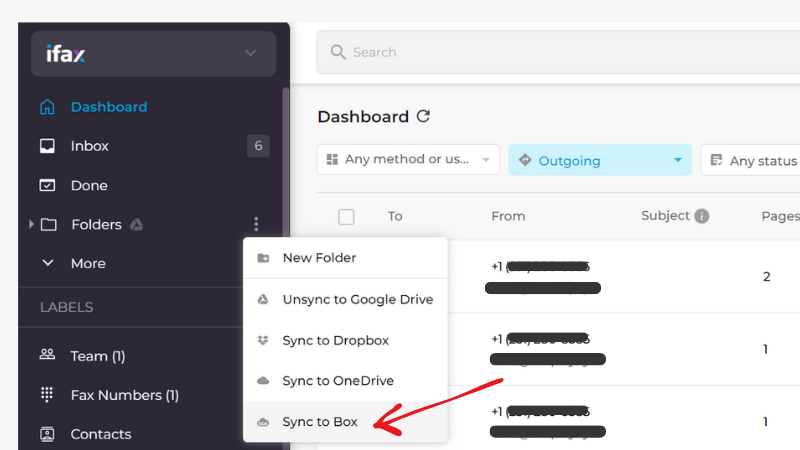 Box Drive Sync
On top of our Dropbox, Google Drive, and OneDrive Sync features, you now have the option to sync faxes and file folders into Box Drive.
With Box Drive folder sync, you will never have to worry about manually backing up and syncing your faxes across multiple devices. It also eliminates the risk of version control issues, keeping your faxes up-to-date.
To sync fax to Box Drive, you will need to:
Go to Dashboard > Folders.
Click the hamburger menu icon next to Folders.
On the dropdown menu, click Sync to Box.
Log in using your Box Drive credentials and let iFax do the rest.
Note that the Box Drive Sync feature is only available for Pro users.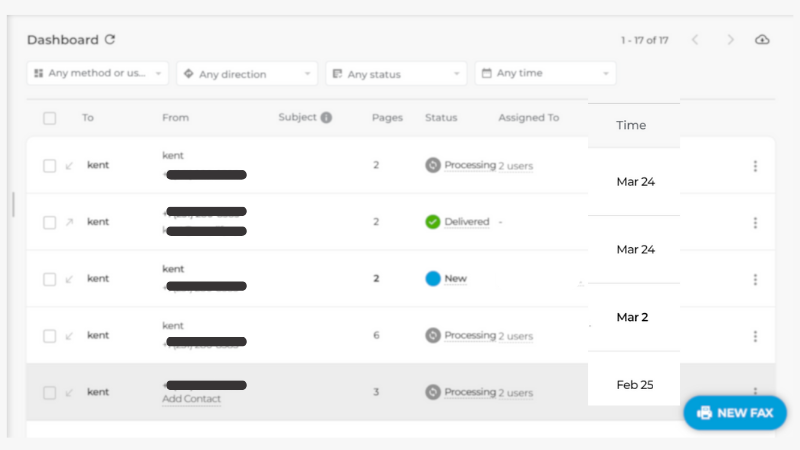 Interface Improvements
Now, you can enjoy looking at a cleaner dashboard with an updated time format. When you go to the main screen, you will notice that the time and date no longer show the usual MM/DD/YYYY. Instead, it will display a sleeker format that's easier on the eyes.
On top of this visual improvement, you can resize the dashboard columns effortlessly by holding and dragging your mouse. Doing so enables you to customize your workspace with little to no effort.
Unlock New Business Possibilities With Our Cloud-Based Fax Solution
Take advantage of this opportunity to offer robust and reliable online faxing services. With iFax, you can join our fax partner program anytime and from any location. You are also at ease about keeping confidential information safe as our platform is highly secure and fully compliant with HIPAA and other data protection regulations.
All set? It's time to take the next step towards becoming a valued iFax white label and fax reseller program partner.
Box Drive Sync
iFax Partner Program
iFax Web updates