It's not true that faxing is obsolete. In fact, with the introduction of cutting-edge technology, it has never been more accessible. Faxing is one of the most secure ways to transmit and receive sensitive documents. But what if you need to use this approach but don't have a fax machine? What if your phone line doesn't allow fax transmission?
You may still send high-quality faxes using an online service to deliver your material for you. All you need is access to the internet, a smartphone or computer, and a cloud-based online fax service without requiring any additional hardware. There are several advantages to using these services since they provide low-cost alternatives with no installation costs or upfront fees.
If you still use an old-fashioned fax machine or don't have one, this blog article will explain how to locate a free online fax service provider. You may also select from various features, including scanned picture transmission, email delivery confirmation, etc. Moreover, you will know how to choose the most responsive free fax service for your business needs, so keep reading.
Table of Contents
What Is a Free Fax Service?
A free fax service does not charge money for its use, set up, or installation. When you signup, all you have to do is choose the features and options you want from the web portal based on your faxing needs. Some sites give a free trial period, while others provide their services without charging any money indefinitely. You may use these services to securely transmit documents between offices or departments without depending on physical faxing or third-party networks that might cause delays and transmission errors.
Even the functionality varies depending on the online fax service provider. Many of them provide limitless storage space. It means you won't have to worry about losing incoming information because it will be instantly added to your cloud-based account without any tangible loss of printed materials. To access your faxes, use a smartphone or computer with an internet connection. Suppose you need to send a physical document by fax. In that case, you can take pictures of it with your phone's camera and transmit the digital copy online using the service provider's fax software or application.
Why Do I Need a Free Fax Service?
There are several reasons to use a free fax service. First and foremost, these online fax service providers offer an alternative to purchasing and maintaining a physical fax machine and paying for phone line charges over time. Unlike traditional fax services, online providers offer free trials of varying lengths, so you may send and receive faxes for free and explore their features.
They will only charge you a monthly fee or per page if you voluntarily and happily subscribe. In short, you only pay for what you need. Plus, many free services give users the option to choose between sent and received pages to monitor how much their balance decreases with each transmission made.
Secondly, you may use other software or applications that could benefit from this feature. For example: If you're using Google Docs and need to send documents through email attachments but don't want any formatting changes, save them in your account. Most online fax services allow you to connect Google Drive account to import files directly when you use the fax application and send them right away.
Thirdly, document transferring is more secure on the internet since no new data travels through your telephone line, which can be tapped into. Instead, pictures and documents are transmitted between you and the recipient using an encrypted connection that only the two of you have access to. This technology allows for easier paperless office processes that involve plenty of secured exchanges with clients and partners in distant locations.
How Does Free Fax Online Work?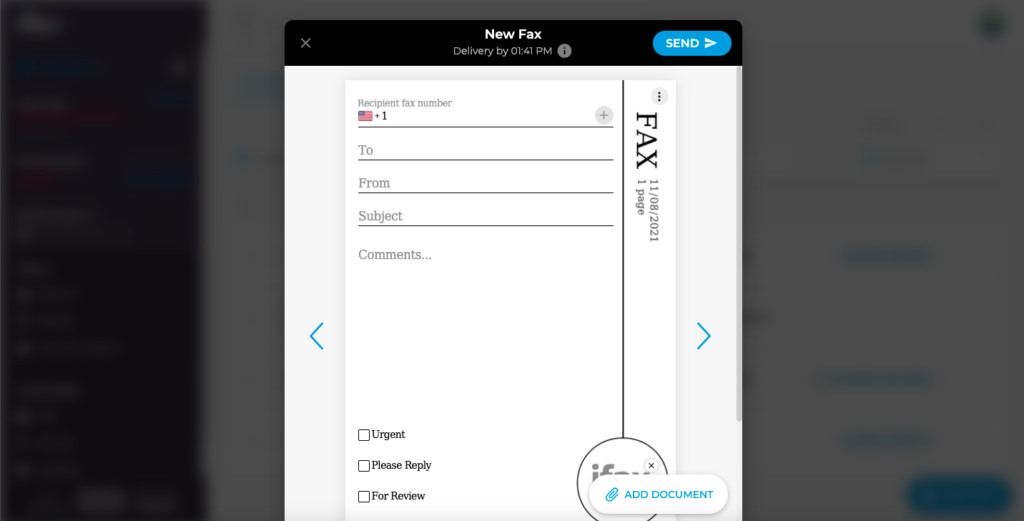 To use a free online fax service, you must first register for an account using your email or phone number. Sign up for a free trial to have full access to the features and download the software or application on your smartphone or computer. Most online fax services also let you log in on the web portal or dashboard, which you can access on the web browser.
To visualize the whole process, let's use iFax software in this quick tutorial. It's super easy to use, and you can send free fax in minutes.
Visit www.ifaxapp.com and sign up using your email address or social media account on your web browser. You may also download iFax on App Store or Google Play Store for quick access. Get the 7-day free trial and choose the plan to accommodate the number of pages you want to send and receive each month.
Go to the dashboard and click 'New Fax,' and a fax cover sheet template will pop out – this is where you fill in the details of the sender and recipient and other instructions.
iFax lets you connect your online storage cloud account to import files and documents you wish to fax. Click the 'Add Documents,' and that's it.
For an additional layer of customization, you may add your company's logo and attach a digital signature as you wish. Click 'Send,' and you are all set.
iFax will send you updates on the status of the delivery. To get the latest updates, you may activate the transmission receipt to show to the recipient to verify that the fax has been successfully sent. You may even include the recipient's email address so they can be notified of the fax you sent.
What Makes an Excellent Free Fax Service?
To figure out what makes an excellent free faxing service, you must evaluate each alternative based on your company's needs. You may, for example, want high-resolution pictures or multi-page transmission with automated send/receive functionality to meet the demands of your small business.
There are several things to consider before using a fax service online. Fortunately, you'd be able to compare the benefits when you sign up for free trials. For example, you must evaluate the following factors: storage possibilities, security procedures, file size restrictions, and whether it works with various operating systems such as iOS, Android, Windows, and Mac.
It would be best to consider the level of customer care provided, particularly when creating an account. Some firms offer live chat support, while others have FAQs available. If you're not sure how to continue during signup, make sure they give a phone number for further assistance.
These are just a few of the many features to consider while deciding which online faxing service to use. There is no one-size-fits-all solution for determining what makes a great free fax provider. After all, what good is a free fax service if you can't quickly contact the firm to ask questions about processes, pricing, and account administration?
You can easily send free faxes using email or mobile applications, but there are a few things to consider before committing to a service if you want to pay for a subscription.
Size limitations on PDF files that can be sent via email
General restrictions on file size when sending through an online fax portal
Email spam filters which might delete your faxes
Security and privacy when sending a fax through email
Reliability when using a free online fax service that should be available 24/7
Support of fax broadcasting if you wish to send a single page to multiple recipients
And, of course, affordable pricing plans
To sum up, if you're looking to send black and white documents with low resolutions, use multiple page transmissions, or large files, we suggest you choose another type of solution for sending faxes. Fortunately, the iFax Professional Plan paid subscription offers this multiple recipients sending option or fax broadcasting, making it more convenient for you. You can also get the 7-day free trial of the Professional plan to enjoy the service.
What Are the Benefits of Using a Free Fax App?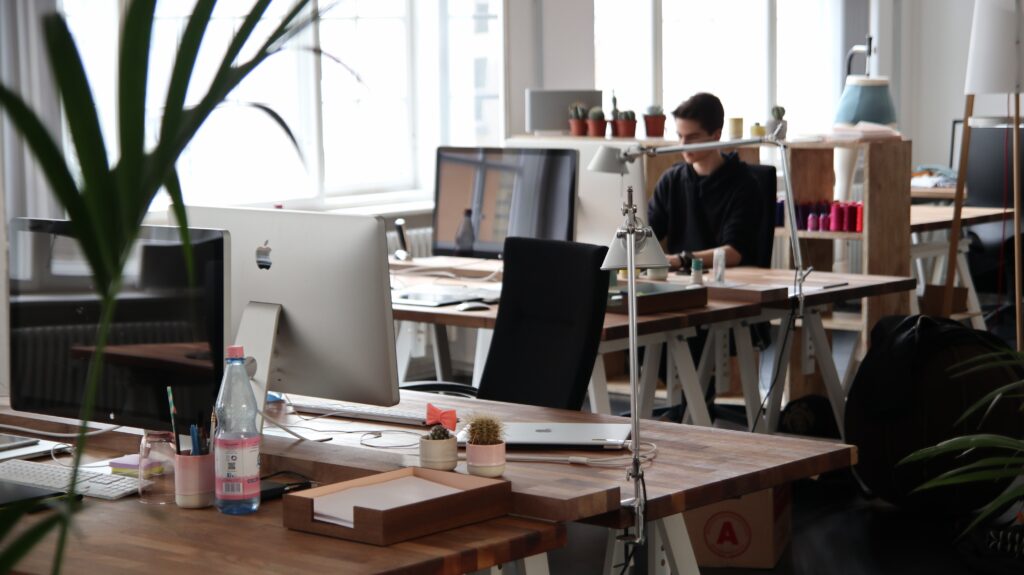 When it comes to faxing, most people pay either a monthly rate, flat fee, or per-page rate for the convenience of sending and receiving transmissions. The free fax service works differently. Users can send faxes at no cost, usually under a free trial account. There are also applications available online that offer this same service without any additional setup costs, which is why more individuals would rather use this instead of buying an expensive fax machine or finding a fax service nearby.
Convenience – you don't have to go out and visit an outlet to use their fax machines. As most online fax services offer free trials, you can sign up and scan the document you need to fax straight from your phone, tablet, or computer.
Cost-efficient – most fax services charge you per page and with an additional charge if you're faxing the documents overseas. When you use a free fax app, you don't have to think about these costs.
Eco-friendly – it eliminates the need to print documents, so you save more papers, ink or toner, and maintenance costs. In contrast, using traditional fax machines requires you to have physical copies.
No commitment required – when you use a free fax app, you're not committed to availing any of the subscriptions unless you happily buy the account out of your need if you have a regular flow of faxes each month.
Disposable fax number – most online fax services that offer free faxes give customers a temporary fax number for sending and receiving faxes online. This is also practical because you don't need a telephone line dedicated to faxing, especially if it's just one-time fax.
Customer support – if you need help using the free fax app, you can always reach out to the support team for questions and assistance. Even if you're just using the free service, most of these online fax services support teams will make a way to assist you in any way.
How to Find Free Fax App Services?
The quest to find free fax app is easy. Thanks to Google, Bing, and DuckDuckGo, you can search for 'free fax services,' 'free fax app for iPhone,' 'free fax app for Android, and other related keywords. The search engine will spit out plenty of options on the search results. The great thing about this is that you can freely choose a service and avail a free trial anytime.
Another way is to use your App Store or Google PlayStore app so you can directly download the free fax app on your smartphone or tablet. If you want to download the fax app on a computer, it's best to visit the Windows Store or Mac App Store for more options. Other fax online service providers don't require you to download any application. Once you sign up, you can access the web portal and start faxing with your temporary fax number.
Is There Anything Else You Should Know About Using a Free Fax Service?
For individuals and commercial usage, free fax services are ideal. They may, however, restrict what you can transmit and receive via the system. Here are some additional factors to consider and the ones listed above.
Free trials are the best way to experience the fax app by yourself. Of course, when signing up, most of these online fax services will require you to fill out a form to collect your personal information. You may also want to check how the company handles the personal information you share with them. You may find these under their terms and conditions.
Some online fax services that offer free faxes require you to sign up with your credit card. They will only charge your when the trial period expires. If you intend to use the free faxing app for a day or two to send a few pages, this won't be a problem. You can always cancel the subscription anytime. However, you'd instead set a reminder to ensure that your card won't be charged once the trial ends.
You may also find that some companies offer you predetermined quantities of pages each month and page length restrictions. Before signing up, double-check these to ensure there are no limits mentioned since you're using a free account.
However, some free services provide restricted features and options to non-paying subscribers, so it may be tough for you to customize the number of pages and documents you send each month. If you need a higher number of pages than your current plan offers, look into signing up for a premium service that offers extra features and capabilities.
It's also crucial to think about the customer service and the available support hours since faxes need immediate attention and confirmation at times. Choose a free online fax service that offers various pricing tiers depending on whether you're sending files only during the day or night and those who provide 24/7 email and online chat assistance.
Ask the provider about the rates when you exceed the number of pages allotted for your account. In general, they charge users either per page or per fax. There's a difference between the two. If you're charging per page, this could range from $0.01 to $1.5 or more. When it's per fax, they have a maximum limit of pages you can send, let's say 25 pages, and they charge you about $1 to $3 or more. Rates may vary from service to service, especially if you're faxing documents overseas.
Once you end your trial, the fax service provider may have a record of your email address. You might be receiving offers and deals through their newsletters. You can feel opt-in if you're not interested. This is their way to promote their service and get in touch with you.
What Makes iFax Different Than Other Free Online Fax Services?
We understand how critical it is to stay in touch with clients despite the rise of email communication throughout industries. Therefore, we attempt to provide you with more options for interacting without calling or sending a fax by mail.
We provide a variety of low-cost plans with valuable features, such as our free online fax service for seven days if you join today. As a result, iFax is the ideal option no matter what industry you work in or which plan you select. You can ask for a custom pricing plan to match your team's faxing activities for enterprise clients.
Of course, it's also essential to examine each of their pricing plans, how easy they are to use, and whether they have any restrictions when sending black-and-white documents with low resolution. Fortunately, this isn't a problem since we provide high-quality image compression technology that allows you to take advantage of our platform's features without sacrificing quality.
Download the iFax today and discover why more than 5 million users rely on the service for the long term.
cloud fax service
free fax app
Send Fax Online