Need to send important documents using a faxing machine? Perhaps you're searching how to find a fax service near me and found a few links, but they're not enough. Well, you are in the right place. Searching for a fax service near you can be cumbersome. We'll show you the best places to find fax services.
If these are urgent documents that need to be sent, there are two options: visit a fax service near you or use an online fax service like iFax, and you can fax right off the bat straight from your smartphone or computer. It's totally up to you how you would want to use the fax services below. Let's begin!
Places to Find Fax Service Near You
The fax services available in each location may have varying prices and offers. Here are some of the places you can check if you want to use a fax machine. Before visiting the store or place, call first and inquire about the rates. Most of them charge per page, and the prices are steep. So, manage your expectations if you're going to fax multiple pages.
UPS Store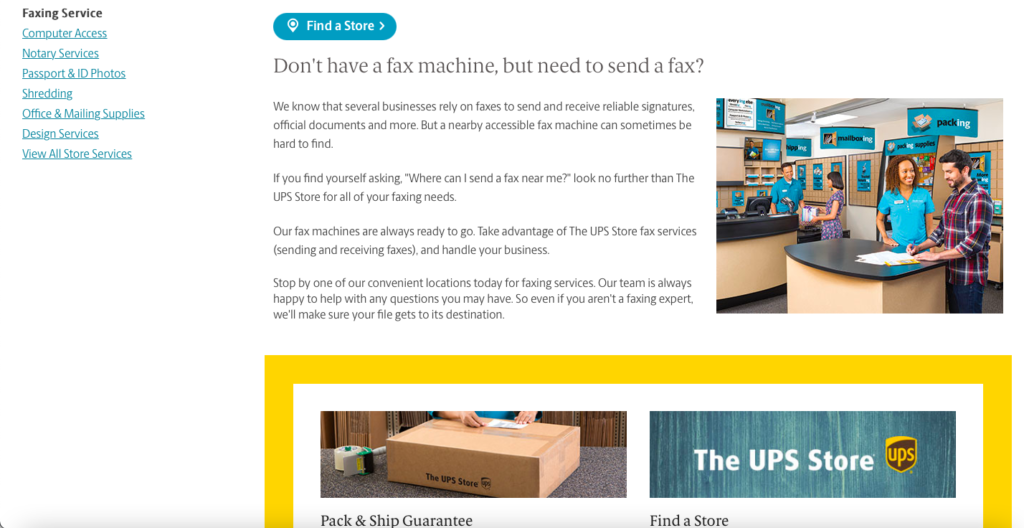 UPS (United Parcel Service) Store has over 4,600 stores worldwide, and most of these offer fax services. Check out your neighborhood, and you might find a nearby outlet. If you fax regularly but don't want to invest in a fax machine, you can use their services for sending and receiving faxes.
Rates start from:
$1.00 per page (local) + $1.00 for additional page
$2.00 per page (national) + $1.00 for additional page
$3.00 per page (overseas) + $3.00 for additional page
FedEx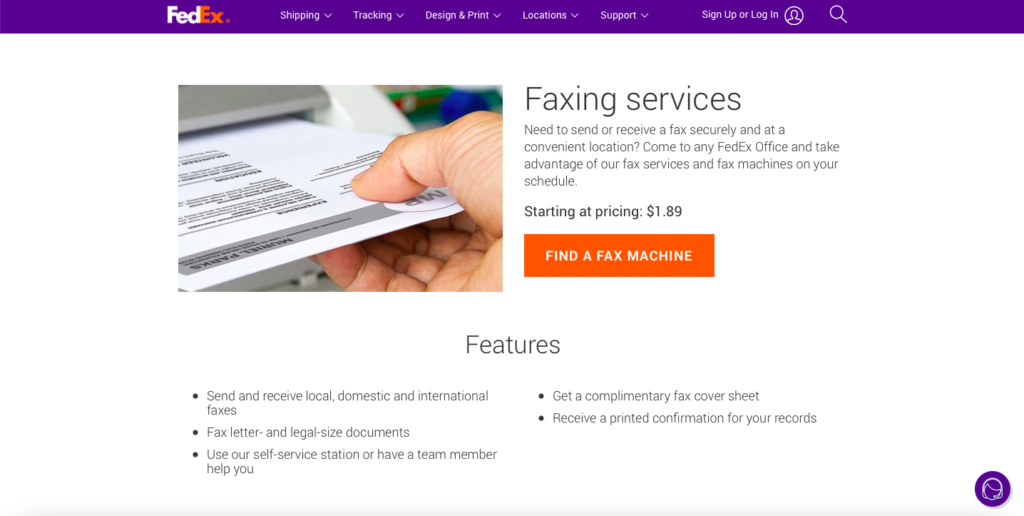 Most FedEx outlets offer fax services for local, national, and international numbers. You can also send and receive faxes at the nearest outlet. If you have incoming faxes, the FedEx employee can collect them for you until you pick them up. Don't forget to call the outlet first for the updated prices.
Rates start from:
$1.89 per page (local) + $1.59 for additional page
$2.49 per page (national) + $2.19 for additional page
$5.99 per page (international) + $3.99 for additional page
Office Depot/OfficeMax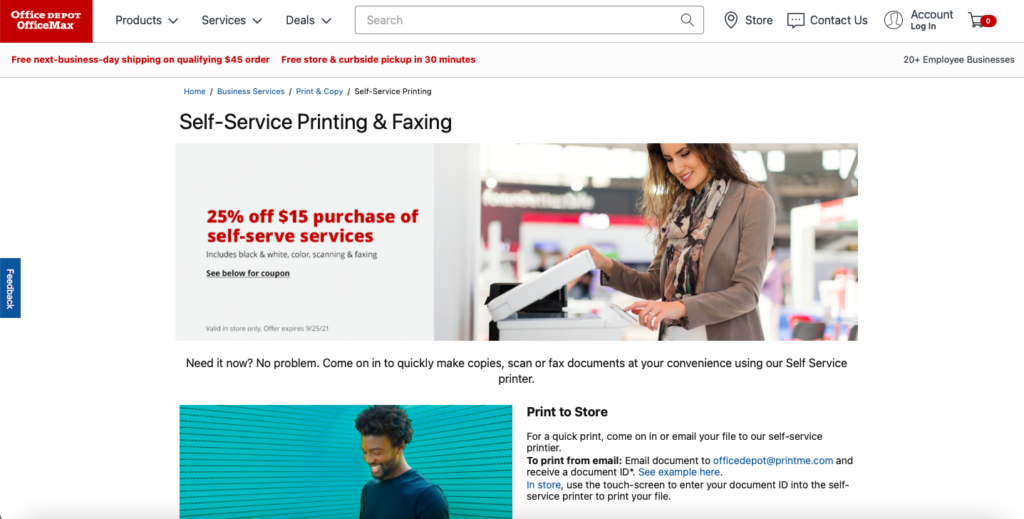 Visit the nearest Office Depot store and avail of their self-service for faxing services. You can send and receive faxes, and once you're finished, you will have a receipt of your transaction, which you will show to the Office Depot cashier for payment. The outlets offer varying prices for faxing services.
Rates start from:
$1.50 per page (local) + $1.29 for additional page
$1.99 per page (national) + $1.79 for additional page
$7.99 per page (international) + $3.99 for additional page
HyVee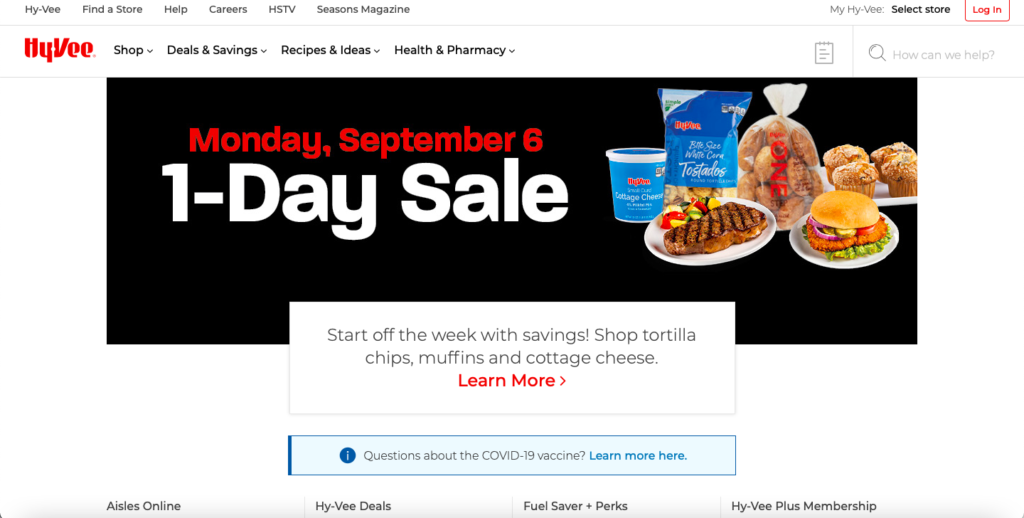 HyVee has over 240 retail stores in eight states in the Midwest, including Iowa, Illinois, Kansas, Minnesota, Nebraska, Wisconsin, South Dakota, and Missouri. According to its website, it charges $2.00 per page and $1.00 for the succeeding pages. Keep in mind that the prices vary in other retail stores.
There are no specific rates for local, national, and international fax numbers. So, better call or visit the nearest grocery store to know more.
Staples
Staples offers an Office-on-the-Go service that lets you scan, print, copy, and fax documents. It has more than 300 outlets in the US and Canada, and they offer self-service on fax machines. Rates may be different in your location, but you may use the following as your reference:
Rates start from:
$1.79 per page (local) + $1.59 for additional page
$2.39 per page (national) + $2.19 for additional page
$5.99 per page (international) + $3.99 for additional page
Nearby Credit Union or Bank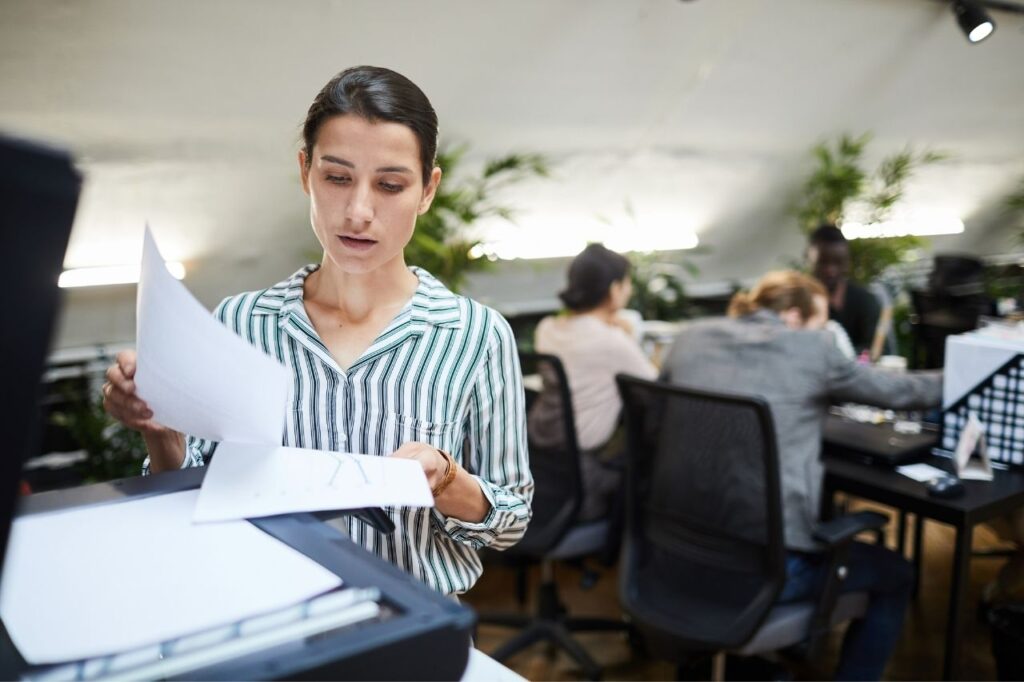 Most credit unions and banks offer fax services, and they are free to use for customers. However, if your nearby bank or credit union doesn't specify the service, there's nothing to lose if you inquire especially if you are a member or depositor of the bank.
Local Library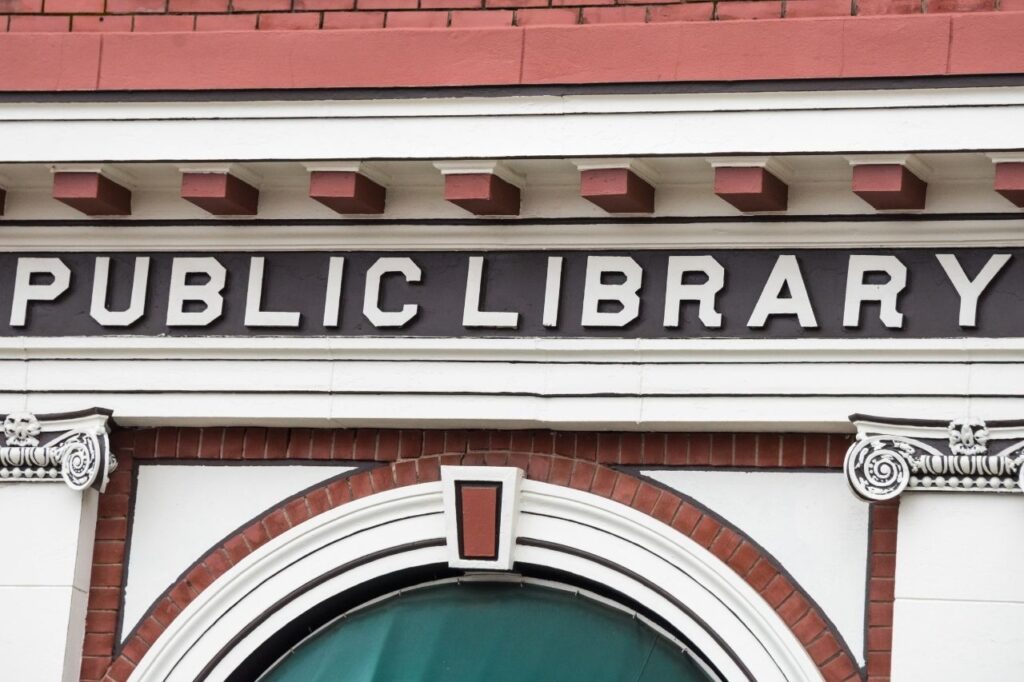 This would probably be the last place you want to check, but you might be in luck if your local library offers fax services. Call or visit first to check the rates just to be sure.
Send and Receive Faxes from Mobile Device or Computer With iFax
Online fax service is a better option because you don't need to visit a physical store. Send and receive faxes using your mobile device or computer as long you have internet, and a subscription to your preferred fax app. iFax simplifies the process. It offers flexible packages per month and additional pages if you exceed the limit.
Here's how to send and receive fax with iFax
Step 1
Visit the iFax website and sign up for a new account to get started. For personal use, just click Get a Fax Number under Personal or get a quote if it's for business use. Choose the plan that best suits your needs every month. You may also sign up via a mobile app and get a 7-day free trial on Apple or Google Playstore.
Step 2
Once you're inside the dashboard, click the New Fax button at the bottom-right corner to start sending faxes. Using a computer, you can attach documents in PDF and Word documents from your local storage. If you're using a mobile device, simply scan the document, and iFax will optimize the image. Fill in the fax cover sheet and leave comments to the recipient if it's necessary.
Step 3
Click the Send button once your documents are ready, and a window will pop out as a confirmation. Click Continue, and you are also prompted to enter the recipient's email address if you wish to notify them via email.
That's it! If you have iFax, everything else is possible when sending and receiving faxes. Unless you really want to find fax services nearby, you can also use Google maps if you wish to use a fax machine.
But you might be curious why more than 5 million users are making the switch to iFax. Download the app now and check how easy it is to send multiple documents.