While today's modern world has gotten over old technologies such as film cameras for taking photographs and the pager for sending messages, a fax machine can still be of great use until today. If you want to know if the UPS store offers fax service/machine, we've got you covered.
This is because many businesses and institutions still make use of faxing for its unique benefits. Unlike emailing and other forms of sending messages and documents, faxing can be far more secure because of its nature.
Unfortunately, while faxing services are still widely used, you might not have a fax machine of your own to send faxes. This might have you asking yourself, "does UPS store have fax service/machine?".
After all, finding a UPS store near you might not be too difficult. They can be found almost everywhere. In this article, you'll find out how a UPS store can help you out with sending and receiving faxes.
Table of Contents
UPS In Store Faxing Service/Machine
The United Parcel Service or the UPS store provides a wide variety of services. Besides just shipping packages, you might be surprised how the UPS store also provides services for faxing, shredding and more.
So, does UPS store have fax service/machine? Yes! In fact, the staff of UPS stores are very willing to help you out if you are not too familiar with faxing to ensure nothing goes wrong if you have to send and or receive a fax.
This means that if you do need to send or receive an urgent fax, look for the nearest UPS store. With the UPS store, all your troubles with faxing will be a thing of the past. You no longer have to worry about not being able to send or receive important faxes.
Does the UPS Store Have A Fax Service/Machine?
The UPS stores use fax machines to send and receive faxes. This means that you can rely on them to print faxes for you instead of just having a digital copy. This way, you no longer have to go to another establishment just for your fax to be printed.
The aim of the UPS store is to be like your office on the go. They can be your one-stop-shop for any office related needs. Whenever you visit any UPS store, you can expect them to have a fax service/machine for all your faxing needs.
How to Send Fax at the UPS Store
To send a fax via the UPS store, the first step is to go to your nearest UPS store. From there, ask assistance from their staff and tell them that you need to use their faxing service. If you're already familiar with using a fax machine, they can let you do everything on your own.
But if you need assistance, don't worry. The staff at the UPS store are always happy to help you out with your faxing needs. They will ensure the fax you need to send will go to its destination and the fax you need to receive will get to you.
Just make sure you bring all that you need for faxing with you.
How Much Does it Cost to Send Fax at the UPS Store?
Now that you know you can rely on the UPS store for your faxing needs, the next question would be how much it would cost to send a fax at the UPS store. The price would actually depend on the type of fax you are going to send.
Here are their rates:
For a single document, each page would be $2.00.

For extra documents per page, the price is $2.00.

For international, the price per page is $7.99.
The UPS stores are open from 7am to 10pm, Mondays through Fridays. Keep this in mind the next time you need to send or receive an urgent fax.
Is Sending a Fax at the UPS Store Safe?
Industries that typically still fax are those that handle sensitive documents such as the medical and legal industry. This is because with faxing, they have a more secure way of sending documents.
Unlike emailing, faxing is less prone to hacking. With faxing, the only person that can have access to the documents is the person who sent the fax and the person who received it. This is why faxing is still widely used.
When you fax at the UPS store, you can be sure that your documents are safe and won't be accessed by just any people. Only the person whom you sent the fax to can receive the fax and no one else.
What do I Need to Bring to Send A Fax at the UPS Store?
If you need to send a fax at the UPS store, all you have to bring are the documents you need to fax and the payment for the faxing service. Those are all you need to send a fax at the UPS store.
This is perhaps a reason why it's not all too bad not having a fax machine. Because although you can't fax from your home, you still have a convenient alternative for faxing. Unless you send out a lot of faxes each time, only then can having your own fax machine be a more cost-efficient way of faxing.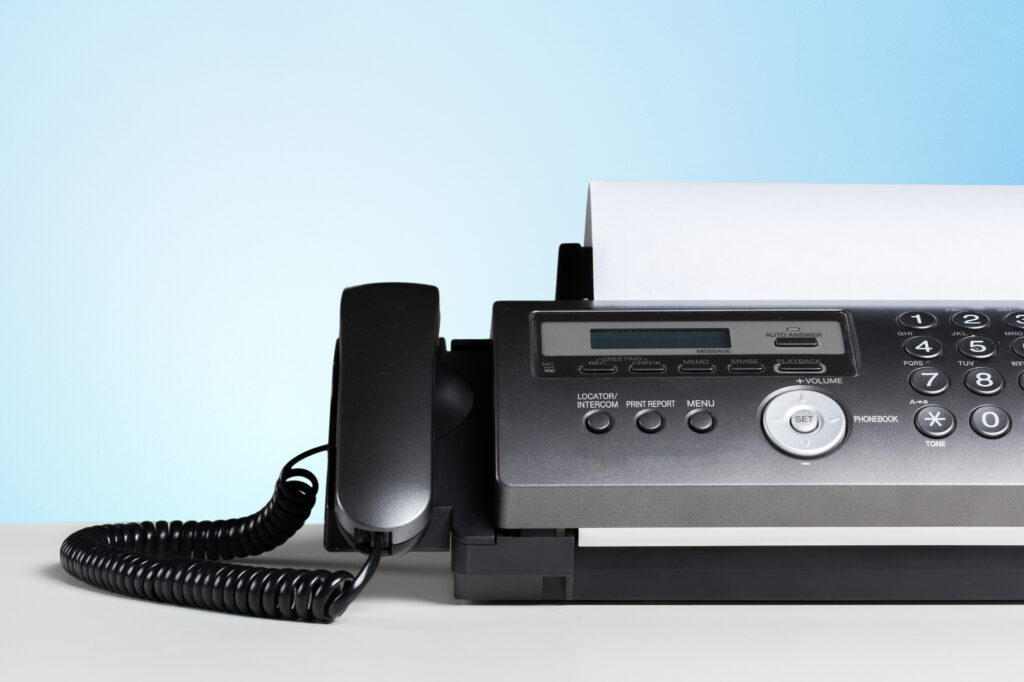 Need to Fax? Go to the Nearest UPS Store Today!
While faxing isn't a practice as common as it used to be, it's still widely used. Especially if what you need to handle are medical or legal documents, faxing will be your go-to option for sending or receiving them as they are highly-sensitive documents.
Faxing is safe. Unfortunately, if you don't have a fax machine, you may not be able to fax. However, the UPS store has your back. You can count on them for fax service/machine usage at an affordable rate.
Not having a fax machine will no longer limit you from being able to send or receive faxes. The next time you need to fax, go to a UPS store near you. They have a reliable and safe faxing service you can use to send and receive faxes.
Go to your nearest UPS store today to avail their fax service/machine!
Stores with Fax Service vs. Online Fax Services
Stores that have fax service are usually one-stop business shops. It's best to go to these places if you are running other errands. For example, you could go ship something at UPS then bring your documents along so you can also get them faxed. This way, you'll accomplish two things in just one go. No time wasted.
If you're looking for a convenient way to send a fax at home, then an online fax service would be a better option. When you have a fax service that uses the Internet, sending and receiving fax documents become hassle-free.
With an online fax service, no need to go to the nearby Staples or Office Depot to fax. You can even fax while sitting comfortably on your couch! It effortless gets your faxing tasks done! There's also no need for a fax machine. Just fax straight from your computer or mobile fax app.
Using an online fax service gives you an advantage. Instead of getting stuck in traffic while driving to a nearby store with fax service, you can just fax it online. It's so conveniently simple! No-hassle.
Final Thoughts
Your nearest UPS Store may not have a fax service, but there are still plenty of stores that do! Therefore, it would be best to search for other stores with fax services.
Another good option would be to try online fax services. By choosing to use an online fax service, you can fax without the need to go to the nearest UPS or Staples. Just send or receive fax via the Internet using your computer or mobile fax application.
No UPS Fax Service Near You? Fax It Online with iFax Pay Per Fax!
Send and receive fax anywhere you are in the world! No fax machine is needed. No hidden setup charges with 24/7 customer support. Send a fax using iFax today! Click here to get started.
fax machine
faxing service
ups
ups fax service