Digital technology has changed the way most businesses operate. Communication is now done mostly through email and instant messaging platforms. Meanwhile, paperless solutions are available for most tasks that used to require printed documents.
Initially, the assumption was that industries would stop using fax machines because of email. However, the healthcare industry still relies on this technology to transfer patient records in compliance with HIPAA.
While it may seem outdated, the fax machine remains a staple in clinics and hospitals. Let's dive deeper and explore why doctors fax instead of email.
Table of Contents
The Switch to Electronic Health Records (EHR)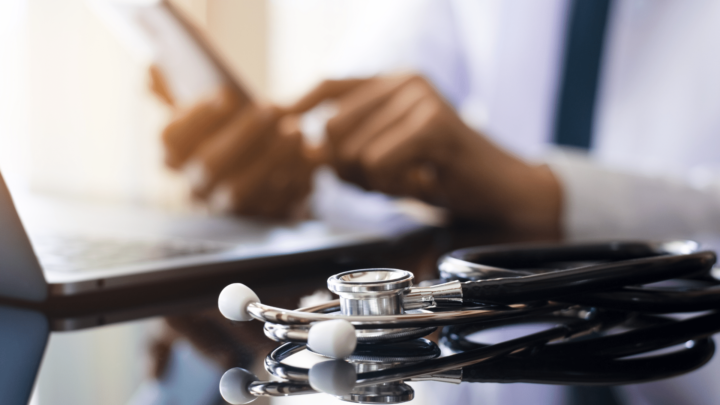 The Health Information Technology for Economic and Clinical Health (HITECH) Act of 2009 encouraged medical providers to switch from paper records to digital ones. These electronic health records (EHRs) include everything in a patient's medical history, from demographics and lab results to clinical notes and billing information.
The switch was supposed to make sharing records between providers easier and give patients better access to their medical records. However, the implementation of EHR systems has proved to be more complicated than expected.
Many doctors found them challenging to use, so they still preferred to use paper charts and other printed records. In a 2018 poll, nearly half of doctors said they would rather use traditional methods in their work.
Another issue is the lack of interoperability between EHR systems, causing providers to rely on fax machines and physical copies of records.
Why Do Doctors Prefer to Use Fax Machines?
While faxing might seem archaic when email is available, doctors continue to show a preference for the former. Here are some reasons why:
Faxes are more secure than email
Security is critical for sensitive patient information. Since faxes go through dedicated phone lines, hackers are less likely to intercept them. On the other hand, emails are sent over the internet, which makes them more vulnerable to cyber attacks.
Faxes are more private than email
You can forward an email or transfer them to external devices without the sender's knowledge. On the other hand, faxes are sent directly to a specific machine. However, the printed fax still needs to be destroyed or kept in a secure location to ensure confidentiality.
Faxes are more likely to be read
Fax machines automatically print out incoming documents, which have to be retrieved right away to prevent the feeder from overflowing. This means that the recipient is more likely to see a faxed document immediately. With email, an overcrowded inbox can lead you to overlook some messages.
Faxes are HIPAA compliant
Faxes meet HIPAA standards, which safeguard patient health information (PHI). This data privacy law is a must for covered entities like hospitals and clinics. On the other hand, emails are less secure and may not comply with this federal law.
Faxes are reliable
With a fax machine, you can be sure that the document was sent and received as long as there's a confirmation sheet. Email, on the other hand, might get ignored in an overcrowded inbox or go to the spam folder. For time-sensitive documents, faxes are the better option.
What Documents Do Doctors Fax?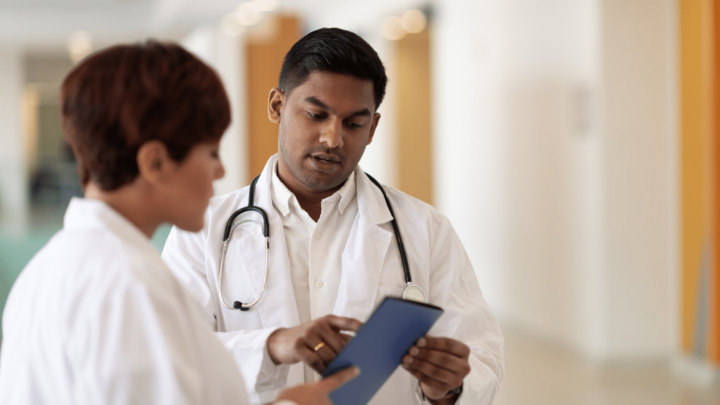 Patient records
Sometimes, patients must see multiple medical professionals or get a referral to another facility. Faxing medical records is the most efficient way to ensure everyone has accurate and up-to-date information.
Prescriptions
Pharmacists need a doctor's authorization before they can dispense specific drugs to a specific person. Faxing prescriptions is a quick and easy way for doctors to provide this approval. It also prevents patients from using fake prescriptions.
Referrals
A referral is a letter from one doctor to another recommending that a patient see another physician, usually a specialist. The specialist will need the referral letter before they can provide treatment. After receiving the referral, the other physician can give a diagnosis and recommend a course of treatment.
Prior authorization for insurance
Insurance companies require prior authorization before they cover certain medical procedures. The insurance company will need specific information about the patient and the treatment plan. Doctors provide these details by faxing the forms to the company for approval.
Nursing orders
To provide the best care, nurses must be aware of changes in a patient's condition. Faxing nursing orders is a common way for doctors to communicate these changes. These include medication administration changes and dietary changes.
The Problem With Fax Machines
The fax machine has been a reliable way to send documents for decades. However, they're not without their downsides. Here are some of the issues you may encounter when using this legacy technology:
Busy phone lines
Have you ever tried to fax a document only to get a busy signal? It's frustrating. You have to keep trying until the phone line is free.
Running out of paper
What happens when you're in the middle of sending a fax, and the machine runs out of paper? You have to stop and reload the form. The same holds true if you get a paper jam or run low on ink.
Low-quality prints
Sometimes, fax printouts are blurry and difficult to read. There can be problems with the tone being too light or dark. You'll also end up with low-quality faxes if the original documents are not clear.
Costly
It can be expensive to keep a fax machine running. Setup, maintenance, and repair costs can add up. You also need to buy paper and ink cartridges for the machine.
The Solution: Online Faxing
So what's the future of faxing in healthcare? With all the downsides of fax machines, you may wonder if there's a better way to fax. This is where online faxing comes into play.
Online faxing is a cloud-based solution that lets you send and receive faxes from your computer, smartphone, or tablet. There's no need for a dedicated telephone connection and fax machine as everything is done through the internet.
Online faxing can help doctors:
Send and receive fax securely
With the right online faxing service, your documents are encrypted and password protected. These measures mean that only authorized users can view and receive your online faxes.
Access faxes anywhere, anytime
Instead of being tied to a machine, you can send and receive essential documents without delay. Doctors can access it through their mobile phones or tablets. This will help enhance communication and streamline hospital workflows.
Stay HIPAA compliant
By being HIPAA compliant, healthcare providers reduce the risk of improper handling of PHI. When medical professionals manage patient information well, the quality of care improves. This leads to increased patient satisfaction and trust in their care providers.
However, online faxing is not automatically HIPAA-compliant. You must check if your service provider has passed a rigorous security audit and offer encryption protocols.
Get rid of paper
By using online faxing, you can say goodbye to paper clutter. Paperless faxing helps to save time, money, and the environment. Not only that, but you also avoid the hassle of paper jams and physical files.
Physicians can also take advantage of the best of both worlds using email to fax. It allows you to send faxes directly from your email without using a machine or finding a working landline. You can quickly and securely fax documents straight from your computer or smartphone.
How Can Physicians Switch to Online Faxing?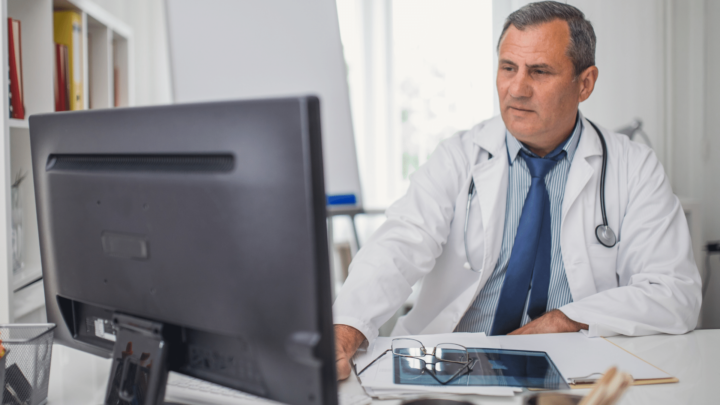 What if there was a way to make faxing even more efficient? What if there was a way to have all the benefits of online faxing without the downsides?
It's possible with iFax. This platform offers a secure and effortless way to send sensitive documents, with 5+ million satisfied users and 20+ million faxes processed to date.
Doctors and medical staff can take advantage of its benefits:
24/7/365 support
Time is of the essence in the medical field. That's why we offer 24/7 customer support. You can get the help you need anytime, day or night. You can rely on our team to answer your questions. With our 94% customer satisfaction rating and prompt responses, you know you're in good hands.
Cloud storage sync
Your documents are stored safely in the cloud that you can access anywhere with an internet connection. Sync your documents with popular cloud storage providers like Dropbox, Google Drive, and OneDrive.
EMR integration
We offer a secure faxing method that combines seamlessly with your EMR system and other productivity apps. There's no need to switch between platforms to get the information you need. Instead of tracking down paper charts, you can search for faxed records in seconds.
Flexible pricing
iFax offers a free trial with no overage fees and commitments — you can cancel anytime. Scaling is just as easy. You can upgrade or downgrade without having to contact customer support.
Say goodbye to fax machines and hello to modern convenience with iFax. Send and receive faxes from any device, just like sending an email.
Make the switch to iFax for seamless, secure faxing at your fingertips. Get a free consultation today.
cloud-based faxing
fax for healthcare
healthcare software
HIPAA compliant faxing