Healthcare facilities handle tons of data and need a reliable and secure way to store, manage, and share essential documents. With Microsoft SharePoint, you get a cloud-based solution to address this need. Instead of relying on old-school methods like handwritten shift notes or locally stored patient records, you can now use a secure and centralized online repository.
Still, asking the question, "Is SharePoint HIPAA compliant?" is a must to ensure the privacy and confidentiality of patient data.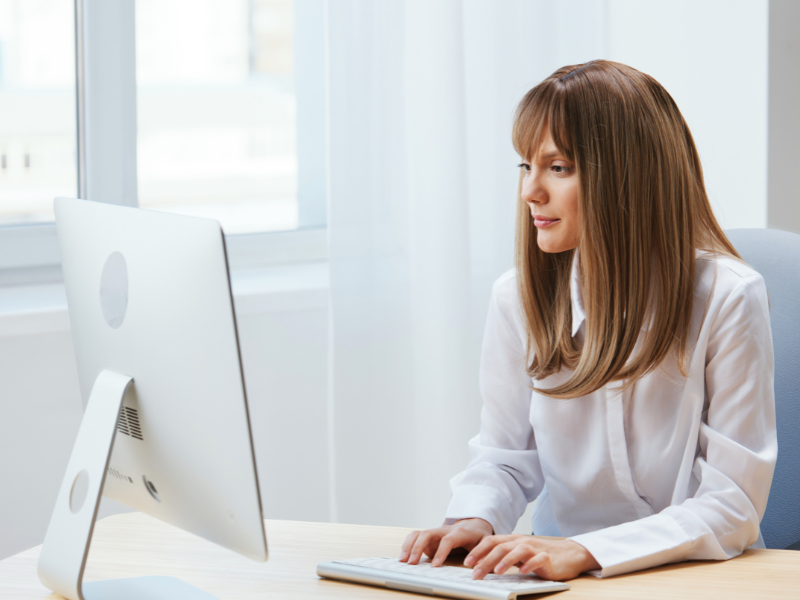 The Role of Document Management in Healthcare
For hospitals or clinics, efficiently managing documents such as patient intake forms and medication prescriptions is critical to ensure data consistency and avoid life-threatening errors. In an emergency, for example, a document management system (DMS) will help you quickly retrieve vital patient information to make well-informed and prompt decisions.
Document management is also indispensable in protecting private patient data. Under the Health Insurance Portability and Accountability Act (HIPAA), DMS software like SharePoint enforces strict standards to safeguard protected health information(PHI) from unauthorized disclosure or access.
With DMS like Microsoft SharePoint, you can create automated workflows to increase productivity and eliminate redundancy. This gives patients a seamless journey from admissions to billing to aftercare.
Document management is also indispensable in protecting patients' private data. DMS enforces strict standards such as HIPAA to mitigate the risks of data breaches.
You can also create automated workflows in a DMS like SharePoint to increase staff productivity and minimize document processing errors. This gives patients a seamless journey from admissions to billing to aftercare.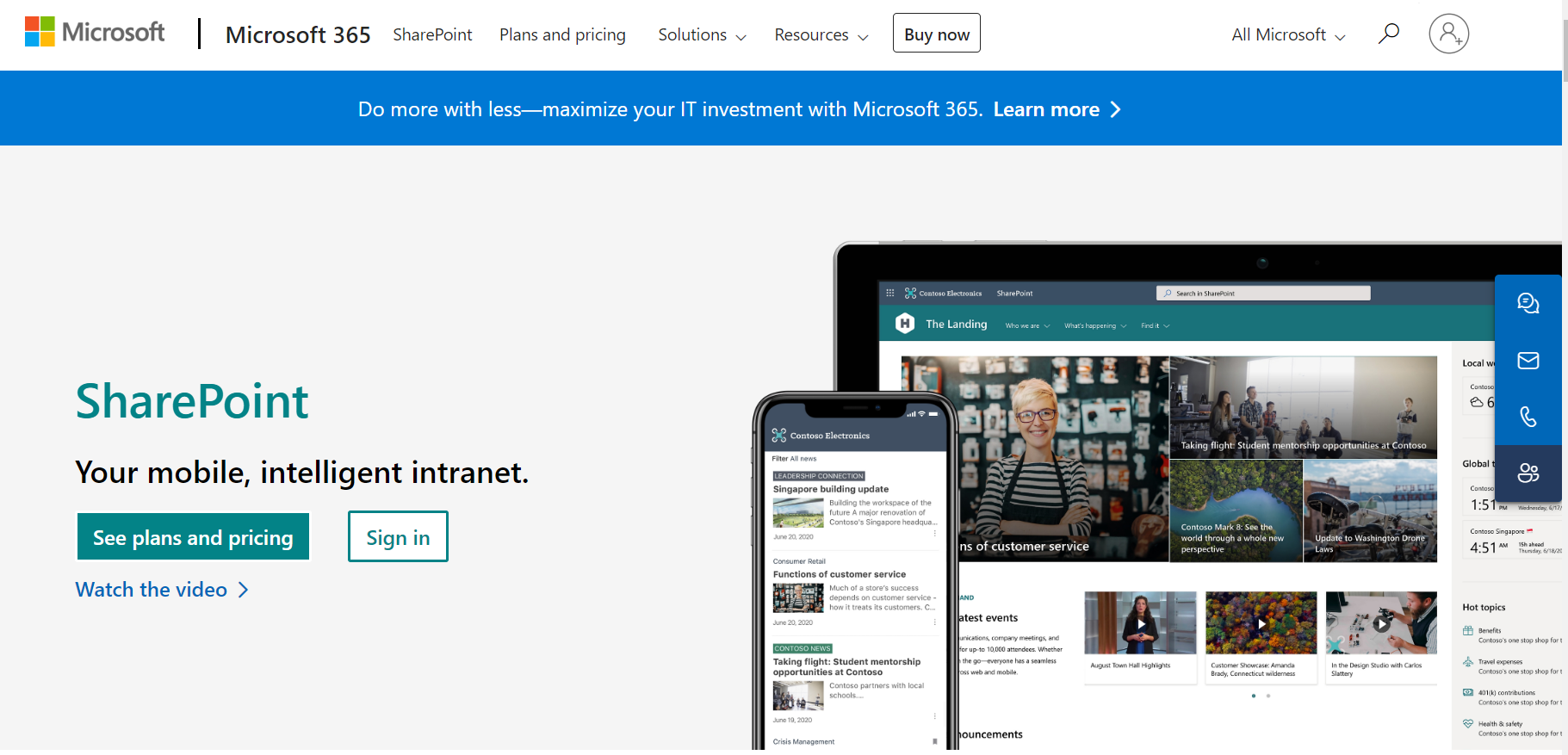 Is SharePoint HIPAA Compliant?
Yes, Microsoft SharePoint users are assured of HIPAA compliance, provided they're subscribed to Office 365 Enterprise. Covered entities and businesses who intend to use this service to process PHI can request a Business Associate Agreement (BAA) with Microsoft. On top of this, the cloud-based collaborative platform also has the security and privacy measures necessary to keep PHI safe during transit and storage.
As a document management software, SharePoint provides a secure place to store, organize, access, and share information. Like Google Drive and Dropbox, it includes access restrictions, audit logs, and real-time activity notifications.
Enterprise users can also leverage Microsoft's Trusted Cloud Principles, which helps solidify its HIPAA compliance. Some of its notable security features include:
Anti-malware protection
Advanced threat detection
Identity protection
Log analytics workspace
However, Microsoft's responsibility is only one end of the bargain. You must also do your part and strictly adhere to HIPAA Rules to avoid legal sanctions and costly fines.
5 Benefits of Using SharePoint in Healthcare
SharePoint improves operational efficiency, data security, and team collaboration. Its benefits include:
1. Enhanced data security
Microsoft uses state-of-the-art technology to protect and encrypt your data. Their products are independently certified by numerous organizations for compliance with security standards. These security capabilities include advanced threat protection, intelligence, monitoring, and management.
2. Streamlined collaboration
SharePoint lets you work in real time with peers on patient records, treatment plans, research projects, etc. These collaboration features include:
version control to track document changes and reverse edit mistakes;
built-in commenting system for quick feedback on documents;
shareable links for external collaboration with people outside your SharePoint team.
3. Centralized data storage
Using SharePoint mitigates the risk of data fragmentation by keeping records in a centralized location. It ensures patient documents are easy to find and access, which is helpful if several people are reviewing the same document.
4. Audit and compliance tracking
SharePoint simplifies compliance monitoring. You can set granular user permissions and role-based access control. This lets you track data access and modifications straight to a user.
5. Efficient workflow automation
SharePoint uses Power Automate to automate various healthcare workflows, such as approvals, organizing lists, and sharing completed documents. This helps staff intuitively follow the right processes and identify which tasks to complete before the deadline.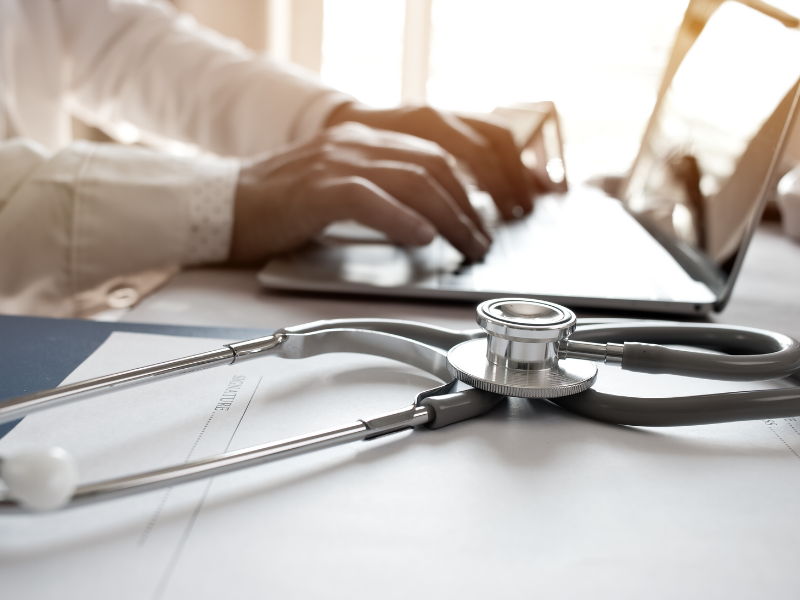 Challenges and Solutions
Despite its numerous advantages, Microsoft SharePoint also presents significant challenges. For starters, it can be complex to set up, especially if you have yet to gain prior experience with similar technology.
Adoption rates can also be low if staff resists incorporating newer technology. If you're already using another DMS, migrating to SharePoint can be daunting and prone to errors.
Overcoming Document Management Implementation Challenges
To address these challenges, you must have a comprehensive implementation plan. Collaborate with experienced consultants who can guide you through the system setup and customization.
Also, it pays to help staff adapt to the new system by providing sufficient training and ongoing support. It would also be best to involve key stakeholders in the decision-making to foster buy-in.
Remember to configure SharePoint's security features and regularly audit user access and permissions to ensure HIPAA compliance. Observing these best practices will help avoid noncompliance with HIPAA. At the same time, you can count on the software to manage and protect sensitive patient data.
Adapting to Evolving Healthcare Document Needs
As technology advances and telehealth becomes commonplace, the volume of healthcare data will continue to surge. The demands on document management systems will also grow exponentially.
Proactive and innovative approaches will help you to remain agile and responsive in the face of these changes. When choosing a suitable DMS, look for those that will meet current demands while anticipating an increase in future requirements.
Effectively Manage Documents With HIPAA-Compliant Tools
Serving patients in modern times calls for advanced and streamlined solutions. Therefore, choosing a document management tool that complies with HIPAA regulations is a must. The good news is there's no need to wonder about SharePoint compliance since the Microsoft-owned platform meets the requirements.
Another solution worth exploring is iFax, a secure fax solution that lets you automate fax workflows while keeping PHI safe. It also has a Fax API, which allows the smooth integration of fax capabilities into any DMS, EMR, or EHR system.
With tools like SharePoint and iFax, you can deliver quality patient care while adhering to HIPAA regulations. Book a demo today to learn more.
HIPAA compliance
SharePoint