It's no secret that orthodontist software can tremendously help any dental practice and other medical and healthcare services. With the right management software, you can easily track your patients' progress through photos, x-rays, and models. It allows you to stay compliant with HIPAA rules by providing electronic forms to patients rather than paper files. You can also share patient health information (PHI) with other practitioners.
So if you're looking for a way to improve your dental practice, investing in orthodontist software equipped with comprehensive practice management capabilities is the way to go.
Here are our top picks:
8 Best Orthodontist Software
1. Curve Dental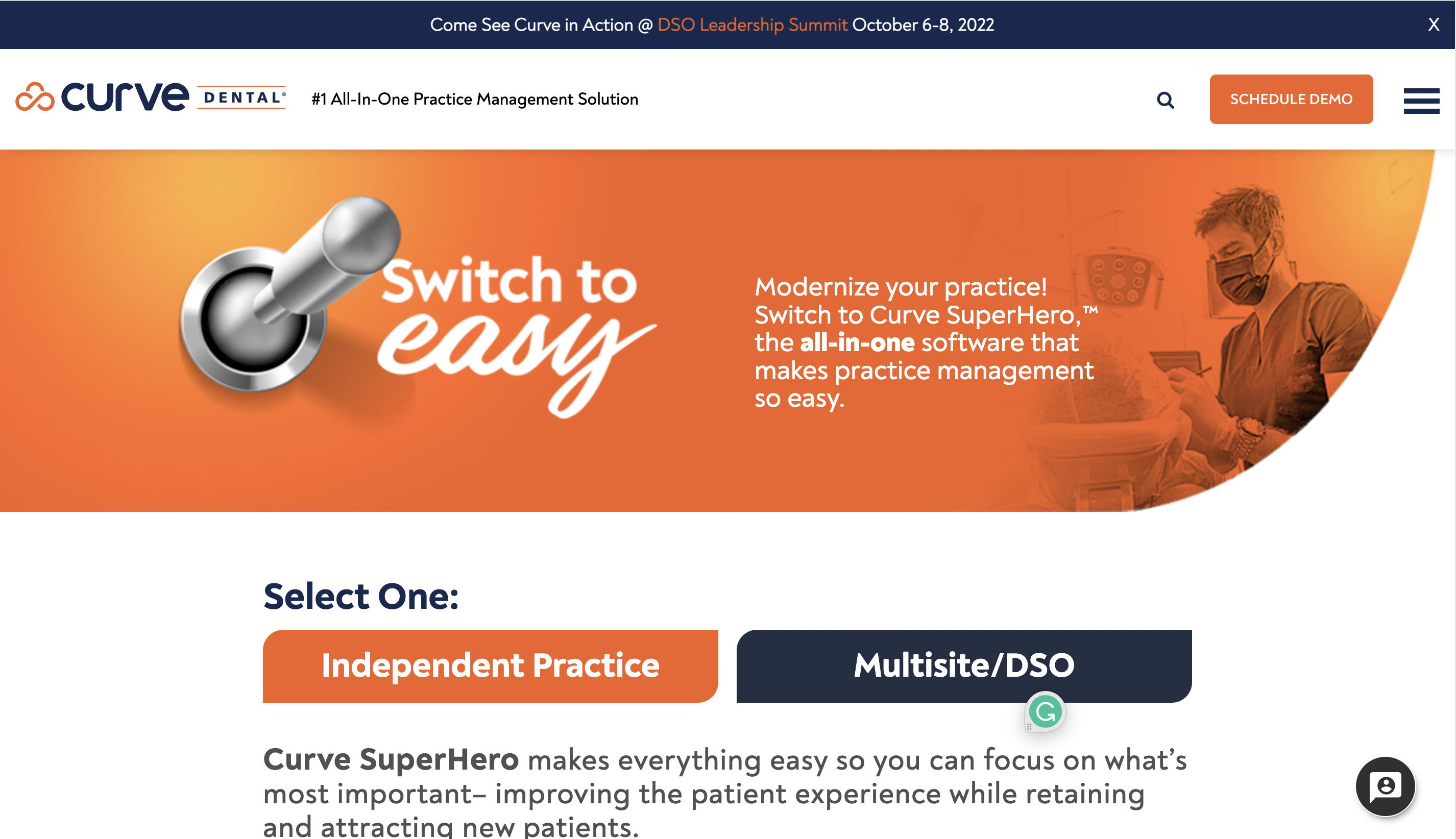 Curve Dental's SuperHero is one of the best dental practice management software on the market. It is a comprehensive solution that offers support for orthodontists through its full-featured platform. You can easily manage appointments, process billing statements, and send patient reminders online.
Dentists can also perform data conversion, view reports, and update records and charts. Curve Dental is also HIPAA compliant and meets all requirements for electronic information sharing.
One advantage of Curve Dental is that it can be used with various dental imaging software programs. This allows you to import images from different sources into one platform for easy viewing and comparison. It also has a built-in photo editor so you can make changes or adjustments to images before printing or sending them electronically.
2. Dentrix Enterprise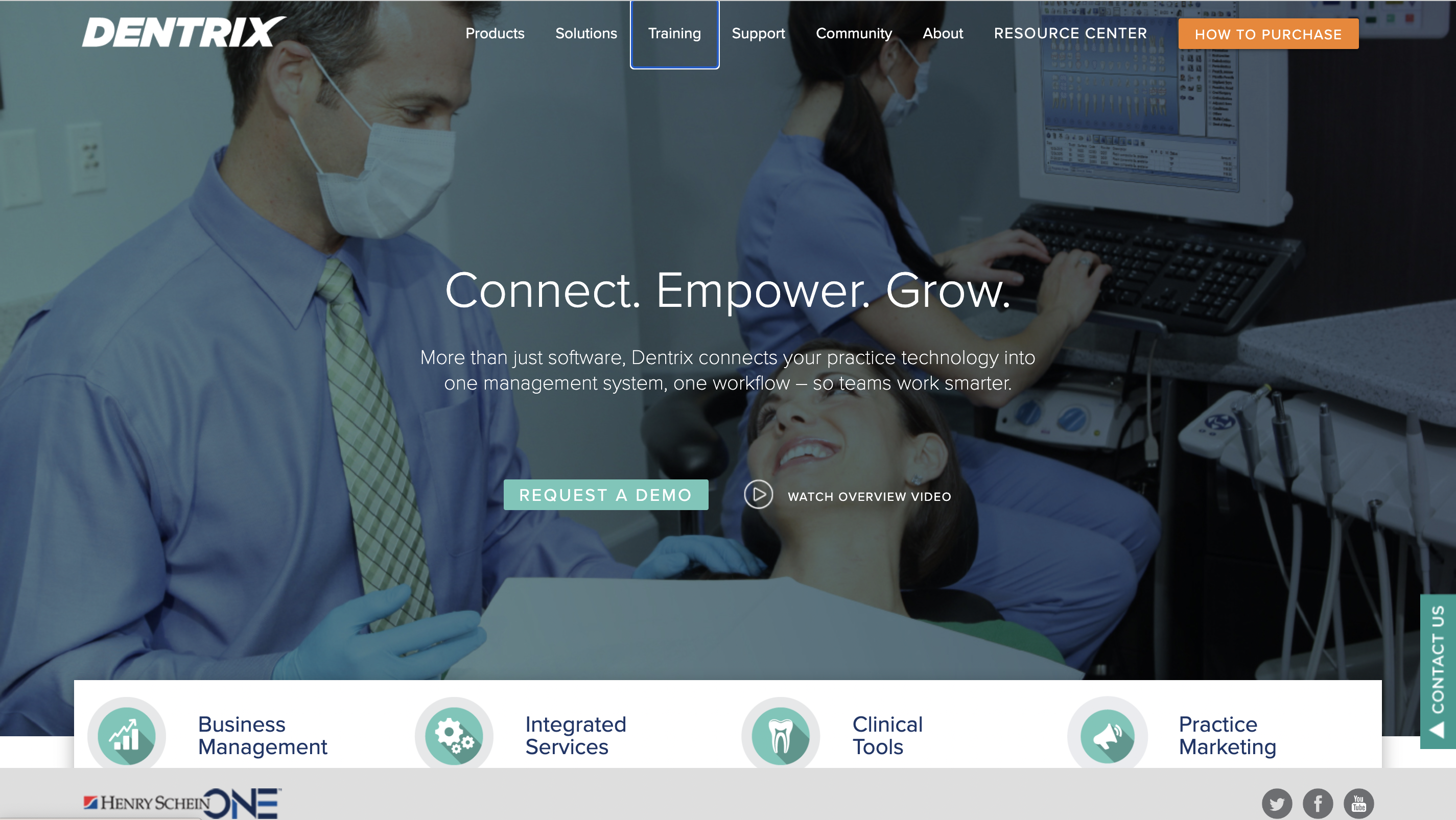 Dentrix Enterprise is another excellent option, especially if you wish to shift to a paperless workflow. Dentrix features more than 300 e-forms for patient care and reporting needs, which you can customize to your preference.
It also offers unlimited document storage at no extra cost, making it an excellent choice for small or large practices. The software is compatible with multiple platforms and devices. This ensures that you can access patient records no matter where you are. Additionally, it supports all major electronic health record (EHR) systems, including ICD-10 codes.
The International Classification of Diseases, Tenth Edition (ICD-10) is used by healthcare practitioners to code and classify medical diagnoses, including symptoms and procedures. It is used to document and track healthcare statistics and patient outcomes.
3. Denticon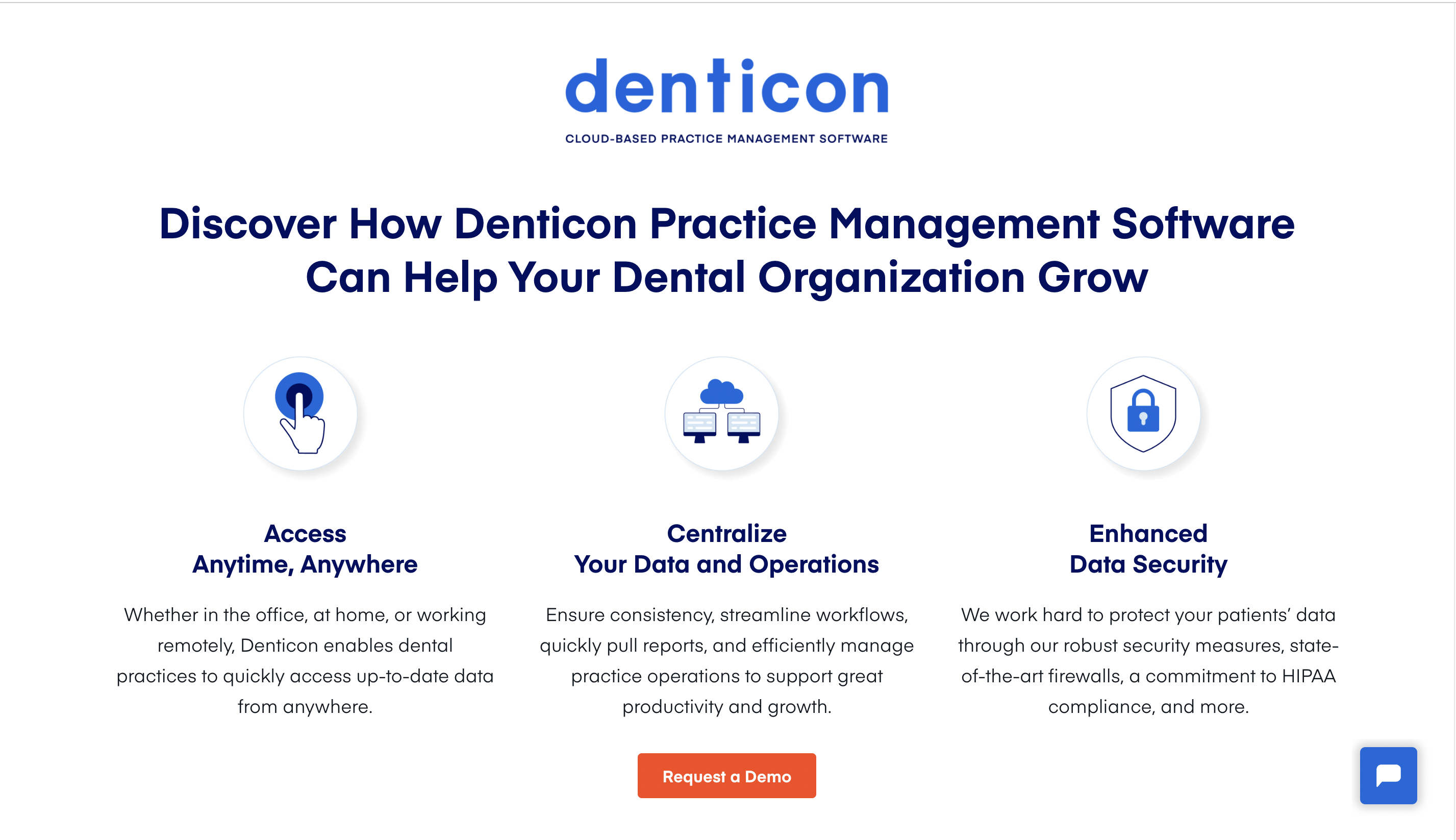 Denticon is a web-based practice management software that helps dental professionals manage their schedules, patient records, and finances. Denticon also offers online appointment booking.
One of the advantages of Denticon is that it can be accessed from any computer or device with an internet connection. This makes it ideal for practices with multiple locations. This software also comes with an integrated electronic health records (EHR) system that lets you store all of your patient data in one place, including dental information and insurance claims. It also includes a patient portal that allows clients to view their dental records, treatment plans, photos, and more online.
4. tab32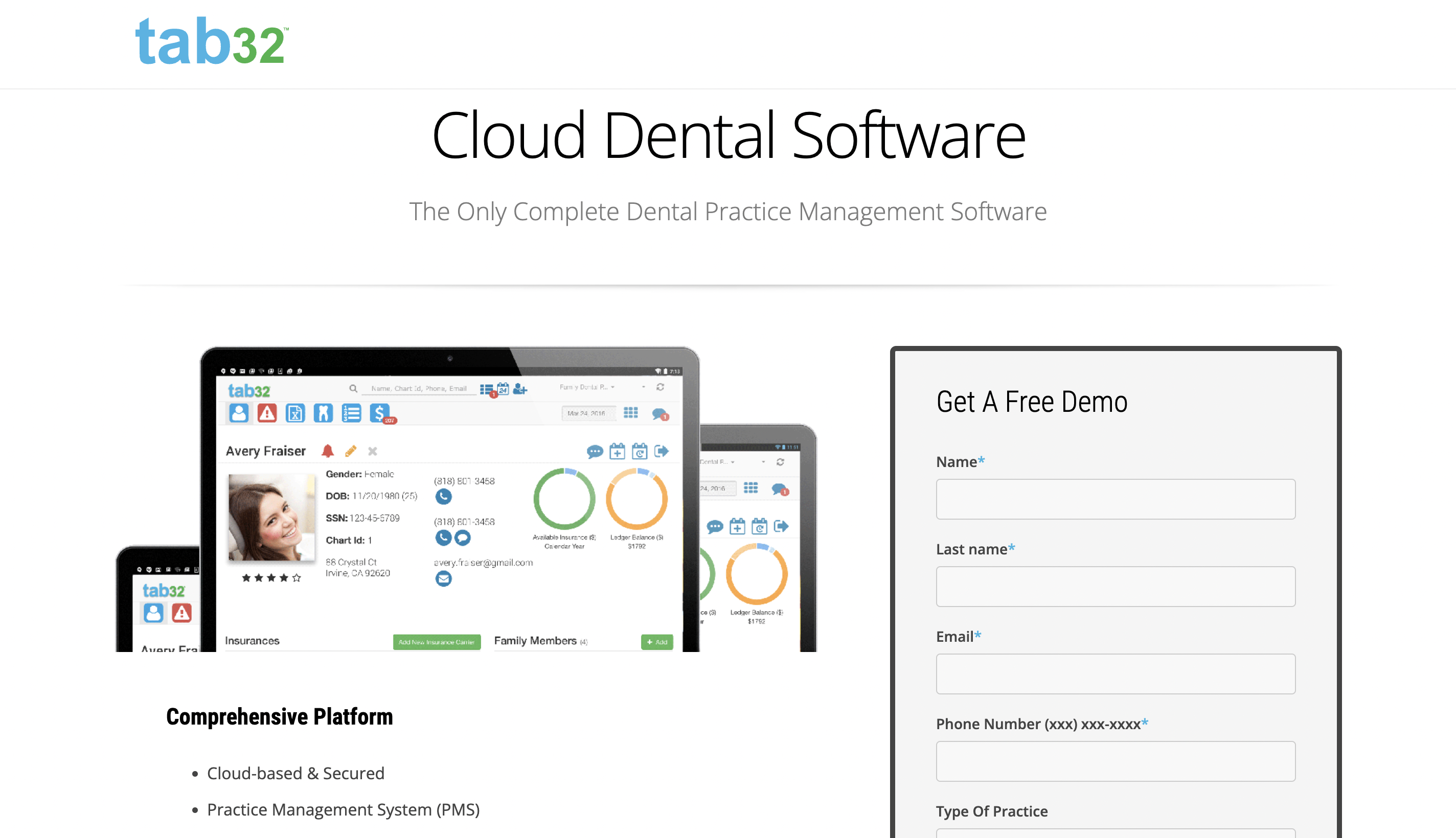 tab32 is a cloud-based dental office software that helps practitioners communicate with patients and book appointments. This practice management system offers x-ray studio on the cloud, e-claims, and e-attachments at an affordable cost. It also requires little to no maintenance. You do not have to download or update it.
Some features of tab32 include patient scheduling and appointment management, patient portals for online access to records, appointment history, extensive insurance billing, orthodontic charting, and more. You can also avail of expert training for your clinic staff on how to use this software.
5. BlueIQ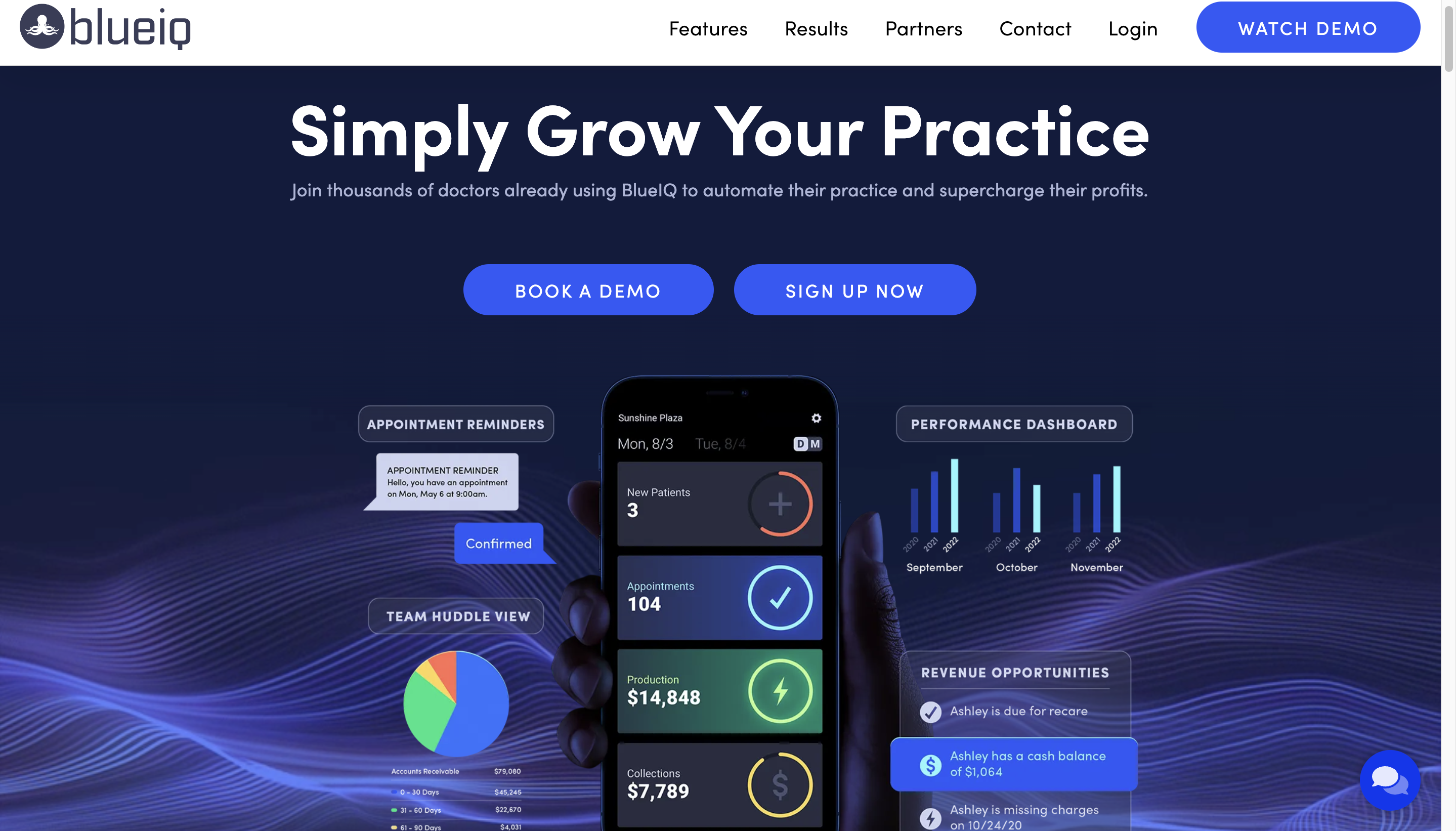 BlueIQ brings all of your data into a simple, unified app. It collects data from QuickBooks, Facebook, and Google Analytics to help you analyze the progress of your practice. If you have multiple branches, you can use this app to view each location's collections, expenditures, and budget reports with your bookkeeper or accountant.
You choose which information to make public, so you can properly handle collection activities and purchase orders. This orthodontist software lets you monitor and adjust important metrics from the top and zoom in on a specific category, issue, or achievement. BlueIQ's dental practice management software makes it easier to grow your practice.
6. CareStack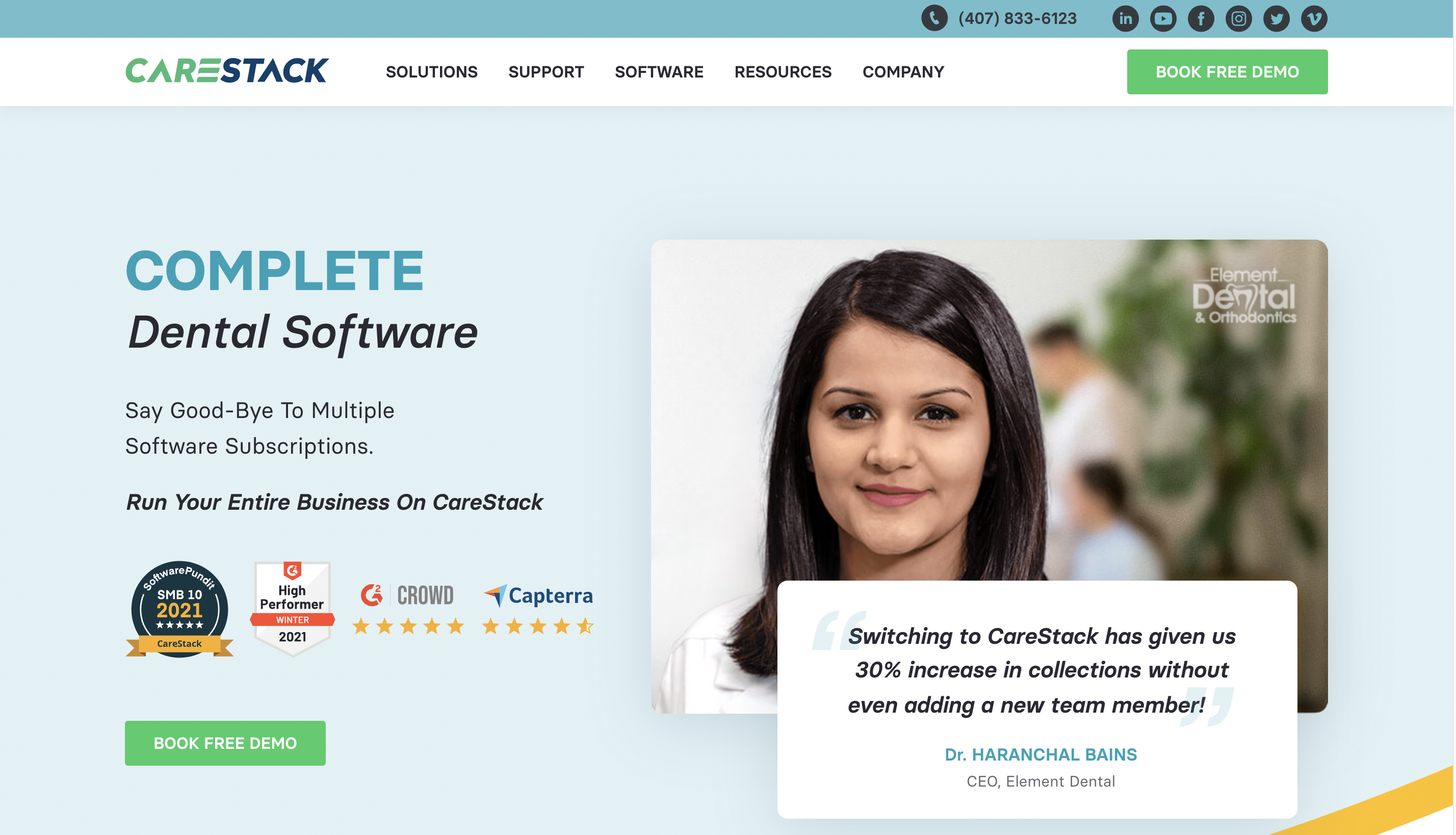 CareStack is a fully integrated platform for dental practitioners. For front desk operations, the software automates patient check-in and appointment reminders. It even tracks the status of an insurance claim in real time. The platform includes modules such as CareRoster (for staff scheduling), MyPractice (a customizable EHR), eClaim (to automate billing and claims submission), and more.
You can communicate with patients through messages and schedule mobile, video, or telemedicine appointments. Carestack also lets you make referrals to specialists and get electronic signature approvals on any document you need to sign.
This practice management software makes sure your follow-up task lists are always up-to-date. You can keep track of all outstanding treatment by the patient and see what work still needs to be completed in a specific case.
7. NexHealth Dental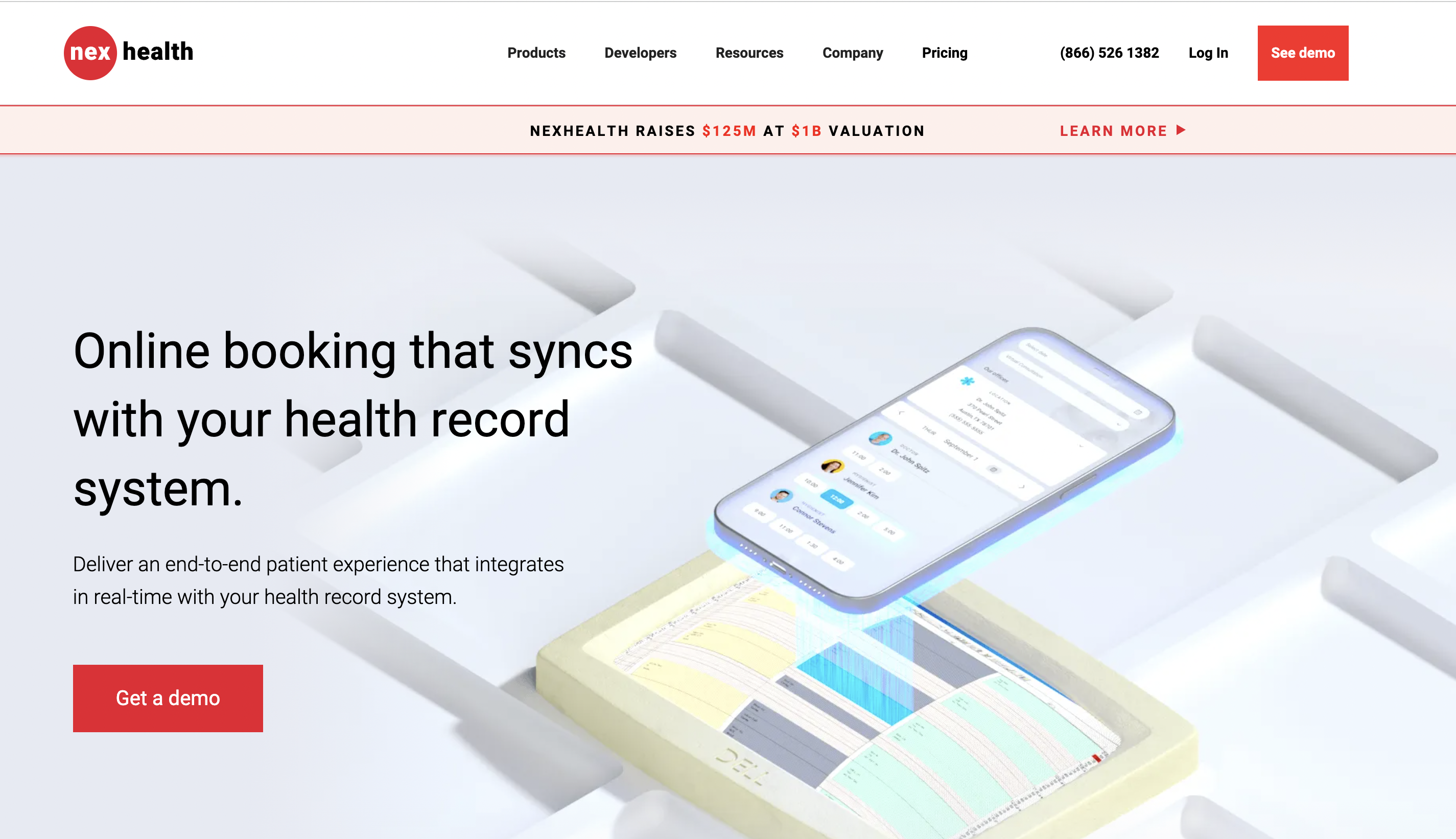 NexHealth is designed for dental offices of all sizes. The software is easy to use and helps manage your patient records, insurance claims, and appointments. You can also use the software to track your inventory and budget. It automatically retrieves information from insurance companies so you can quickly see what has been billed and paid on any given claim.
The software also offers a patient portal that allows clients to view their appointment history, lab results, and other important information. Patients can even pay their bills online using the portal. You can also use NexHealth Dental to send text messages and emails to patients to remind them of upcoming appointments.
8. DentiMax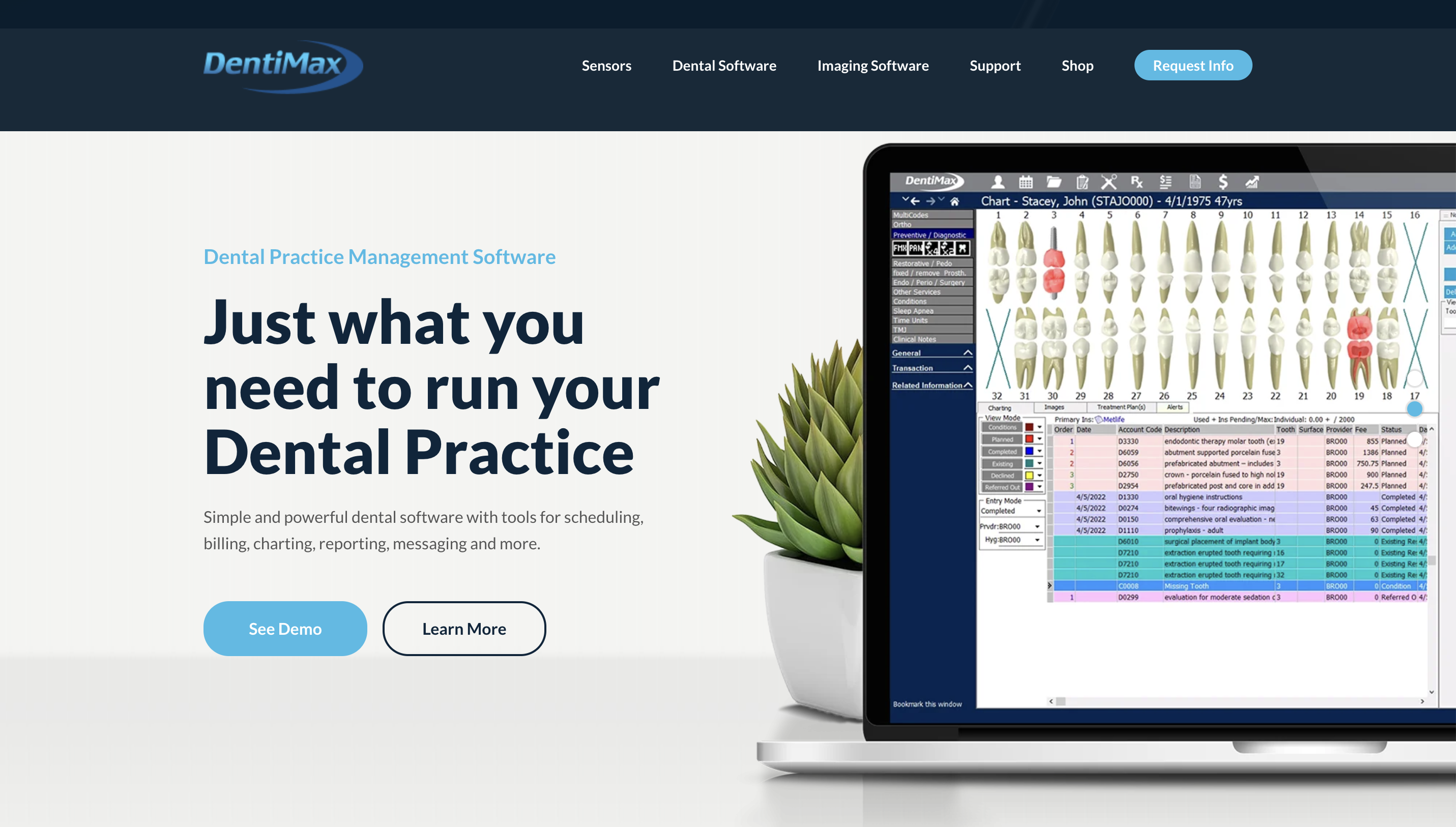 If you're looking for powerful dental software to help you manage your practice more efficiently, DentiMax is a great option. This comprehensive solution helps dentists manage patient information, treatment plans, and appointments.
Some features include EHR integration to keep your patient information secure and organized. You can also improve your billing process using its built-in billing system.
DentiMax is available in both desktop and cloud-based versions. It's designed for dental practices of all sizes and has won several awards for its innovation and usability.
How Can iFax Help Your Dental Practice?
The necessity of orthodontic software cannot be overstated. It helps make your job easier and improves the quality of care you provide your patients.
There are many great dental software options on the market today, each with a unique set of features and benefits. If you're looking for powerful, comprehensive software to manage your entire dental practice, then feel free to compare and explore the best orthodontist software we mentioned above.
While you're at it, consider a HIPAA-compliant faxing solution to match your orthodontist software. Efficient faxing of medical records is now possible with iFax. You can send and receive reports, PHI, invoices, billings, and more without worrying about interrupted faxes or data breaches. You only need a smartphone or a computer with an internet connection to do it.
View the iFax pricing plans to get started.
healthcare tools
HIPAA compliance