When it comes to telehealth, any video conferencing service won't do. You must use a HIPAA-compliant telehealth tool with dedicated features that fit your organization's requirements. This includes unlimited video calls, appointment scheduling, and waiting rooms.
But beyond these features, you need a reliable telehealth solution to handle protected health information (PHI) securely. After all, you will use it to communicate and do video consultations with patients.
If you're yet to decide, consider the best options available.
Here are 5 of the top HIPAA-compliant telehealth platforms worth considering:
1. Doxy
Doxy is among today's most popular HIPAA-compliant telehealth solutions that boast HIPAA, GDPR, HITECT, and PHIPA/PIPEDA compliance. Patients can conveniently attend appointments without making an account or downloading software. They can wait in a virtual waiting room where the app displays images, videos, and reading materials.
The telemedicine solution also keeps track of meeting histories so you know the time and duration of each patient session. If you operate a larger practice, its Clinic plan includes custom branding, a dedicated landing page, shared waiting room access, and analytics for monitoring performance and usage.
Doxy has a free plan with unlimited call minutes and all the essential telehealth features you need. It's also worth noting that even its free plan comes with a signed BAA.
Best for: Healthcare providers starting out in telemedicine
2. eVisit
eVisit removes the complication of integrating multiple telehealth platforms to achieve a complete solution. Their product combines appointment scheduling, patient intake, virtual waiting room, actual scheduled visits, electronic prescriptions, payment collection, post-discharge check-ins, and reporting analytics.
You can customize the eVisit software to fit your workflow so it mirrors your actual operation. Also, this tool uses a double-encrypted patient information database to ensure HIPAA compliance. Since it is an enterprise product, its pricing depends on your organization's size and needs.
Best for: Large hospitals and health systems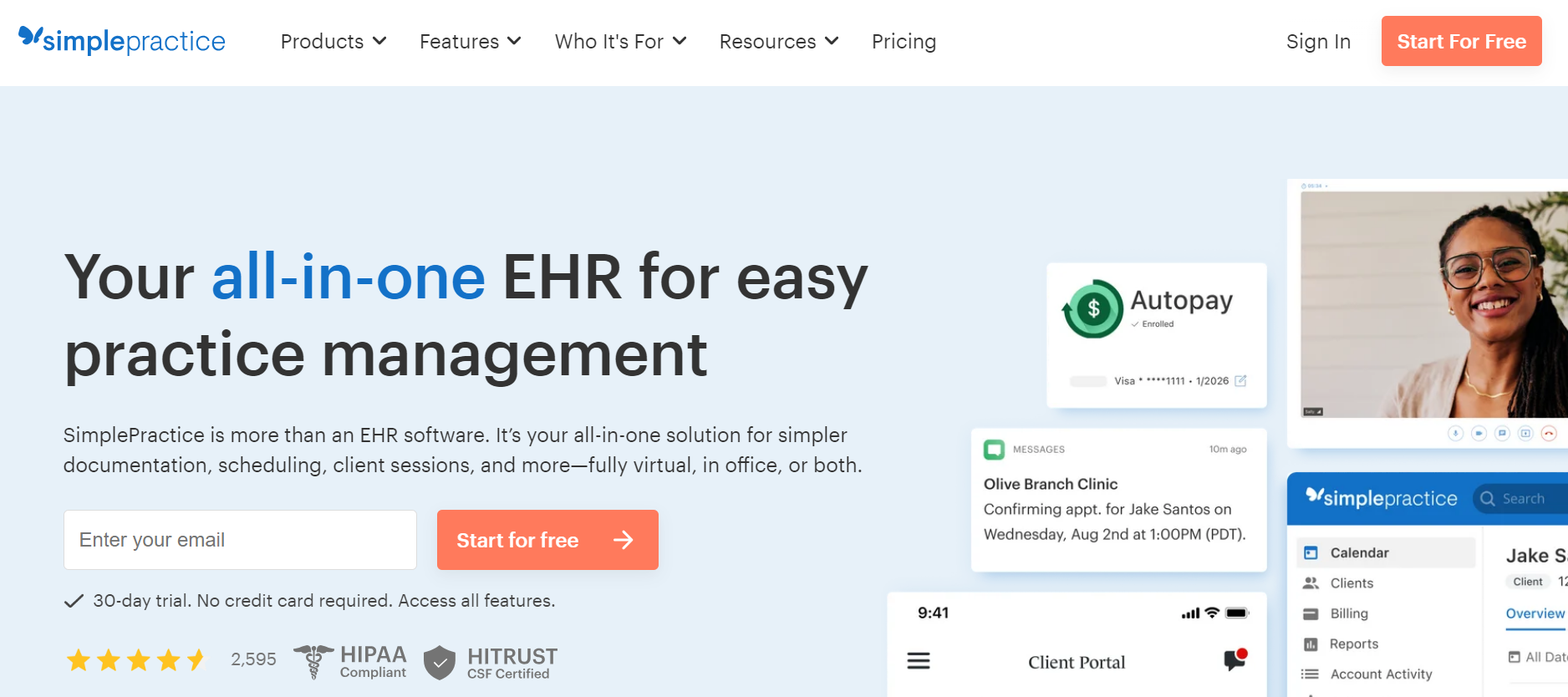 3. SimplePractice
SimplePractice is an EHR software that offers HIPAA-compliant video appointments and everything you need to render telehealth services, from booking appointments to billing patients. It's built for solo and group practices, so you can streamline your operations, whether entirely virtual, physical, or a combination of both.
One thing that sets SimplePractice apart from other HIPAA-compliant telehealth tools is its insurance processing feature. It lets you process insurance claims on a patient's behalf. It also offers a 30-day trial, allowing you to take its platform for a spin.
Best for: Small practices that need a comprehensive solution

4. Zoom for Healthcare
If you only need a HIPAA-compliant video conferencing tool, check out Zoom, a popular webinar and group video conference app. It offers high-quality (HD) video calls even in poor service areas, so you can host group calls and collaborate with peers with screen shares, annotations, polls, and other engaging features. You can also record sessions for future use.
The cloud-based service has a free Starter plan, but to use it for meetings with PHI, you have to subscribe to its HIPAA and HITECH-compliant plan, which starts at $14 per user per month.
Best for: Conference meetings with peers or quick video calls with patients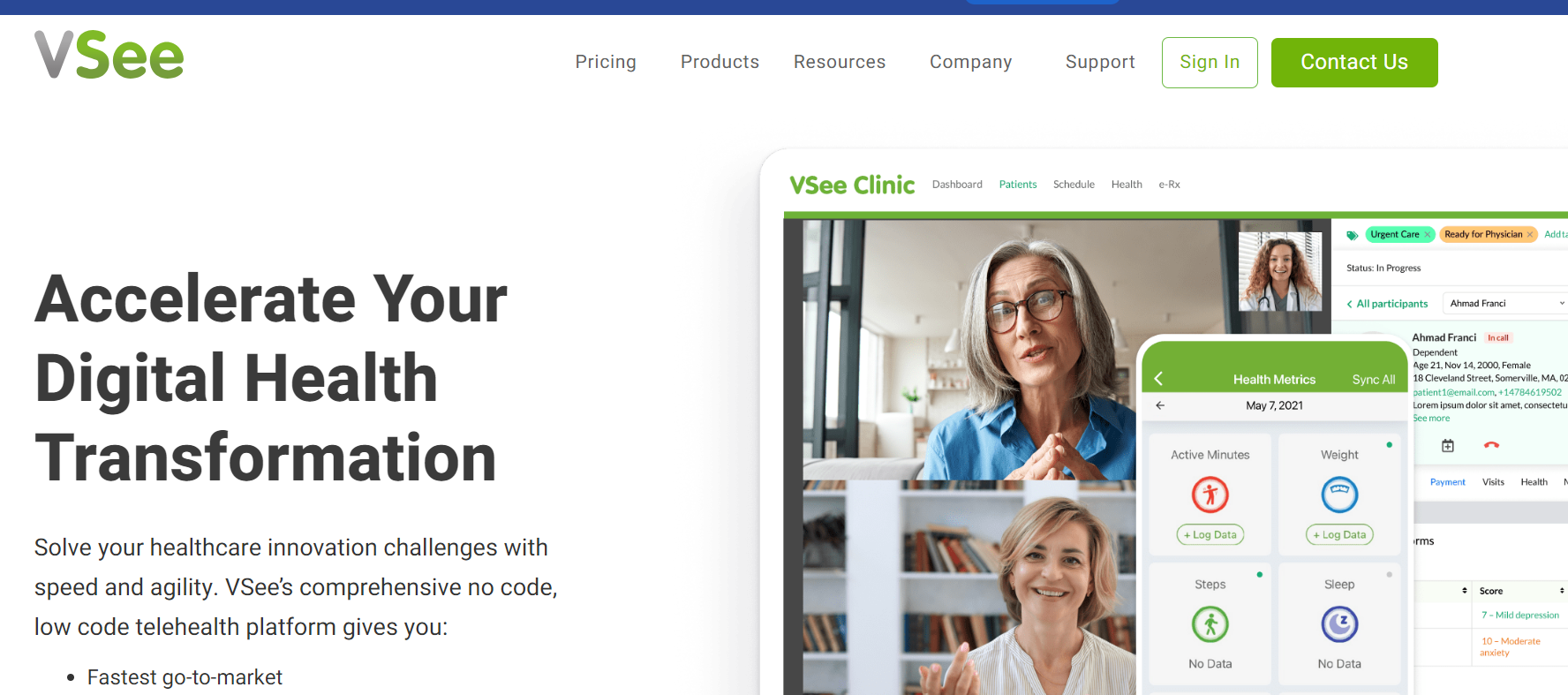 5. VSee
VSee increases the standards of telehealth care by giving healthcare providers access to unique features such as controlling a Pan-Tilt-Zoom (PTZ) camera on the patient's end to conduct a remote exam, allowing them to stream images to providers during a video call. It also allows connecting a patient's medical device, like an Apple Watch, for automatic monitoring.
A powerful no-code platform, VSee offers a practical solution so healthcare providers can create the apps they need to simplify their workflows. It has a free plan with all the essential features to run a telehealth practice.
Best for: Practices who want to customize their own solution
Key Features of HIPAA-Compliant Telehealth Platforms
With so many other telehealth platforms in the market today, how do you know the HIPAA-compliant ones?
Here are three must-have features:
Safeguards
Beyond security measures during video meetings like 256-bit encryption, it's necessary to consider the safeguards implemented in managing the handling and disposal of PHI. Administrative and technical safeguards should be in place to keep malicious users at bay.
Access controls and authentication
Access controls restrict who can enter the telehealth systems and what data they can view or modify. Look for HIPAA-compliant platforms with multi-factor authentication, which adds an extra layer of security by requiring users to provide multiple verification methods before gaining access.
Secure patient records
Patient records must be stored in a secure, organized, and standardized format so it's easier to manage and protect. There must be audit trails to track and identify those who accessed sensitive patient records and enforce accountability.
Why HIPAA Compliance Matters in Telehealth
HIPAA compliance safeguards patient privacy and sensitive health information. It's a non-negotiable requirement for all tools used to handle patient details. Adhering to HIPAA regulations is not just a legal requirement. It builds trust and assures patients you care about keeping their information private.
When using any healthcare tool, always check whether it complies with HIPAA standards. Here are some of the benefits of using HIPAA-compliant telehealth solutions:
Improved access to care
Telehealth expands healthcare's reach to underserved and remote areas. It allows people with mobility limitations to access care conveniently. It also reduces appointment waiting times, enabling providers to render care promptly, especially to patients in urgent need.
Enhanced data privacy
HIPAA-compliant telehealth software ensures the confidentiality of patient records and conversations by protecting data against unauthorized users, data breaches, and cyber threats. This fosters patient trust and increases their willingness to seek and engage in telehealth services.
Compliance with laws and regulations
Using HIPAA-compliant solutions ensures you don't breach any laws and face legal consequences, penalties, or potential lawsuits. HIPAA also helps you navigate the complexities of cross-border and state-specific healthcare regulations using a standardized framework.
Get Started With Telehealth Using HIPAA-Compliant Tools
Telemedicine is the future, and building a thriving telehealth practice involves using the right software. It's not a one-size-fits-all solution, so you must carefully evaluate which tools will work the best for you and your patients.
HIPAA compliance
telehealth
telehealth platforms