With all the hype surrounding 'digital trends'—the medical world is often left in the dust. With technological advances quickly surpassing traditional paper-based practices, it's easy to see why many are moving towards cloud based EHRs (Electronic Health Records).
As any busy medical professional will tell you—time is of the essence, especially during a patient visit. Cloud based EHRs allow medical professionals to efficiently record patient data with relative ease, minimizing time spent flipping through pages to find an essential piece of information or charting progress during a down moment.
Of course, there are always downsides to such things: Privacy concerns and security breaches can be a major problem for those who wish their information to remain private. There is the risk of not important information clogging up one's system, leading to unnecessary information, which slows down the work.
Cloud-based EHRs are an excellent option for those who can't keep track of an entire filing cabinet worth of charts and need or want to spend less time at the computer and more time with patients. Below, we have listed five cloud-based EHRs that you can compare online.
Table of Contents
#1 Practice Fusion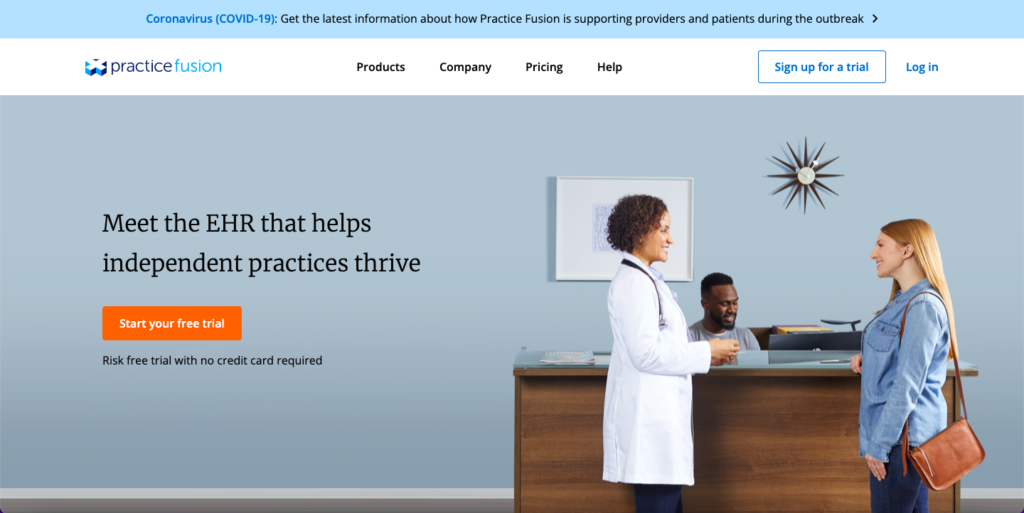 Practice Fusion is a popular EHR solution among medical practitioners. The system provides several features to make note-taking easier, including generating templates based on each patient's needs.
Physicians may even snap photographs of their patients during examinations and capture lab results with just a few clicks using this platform's specialty HIPAA-compliant communication tools for sending secure communications to patients about upcoming appointments or treatment plan modifications.
Some of the key features of this cloud based EHR are customizable HIPAA-compliant form completion with advanced options for capturing information, including links to video tutorials, personalized patient portals so you can use whatever language you feel your patients understand best. Time-saving defaults include automatic checking of required fields before document submission.
#2 DrChrono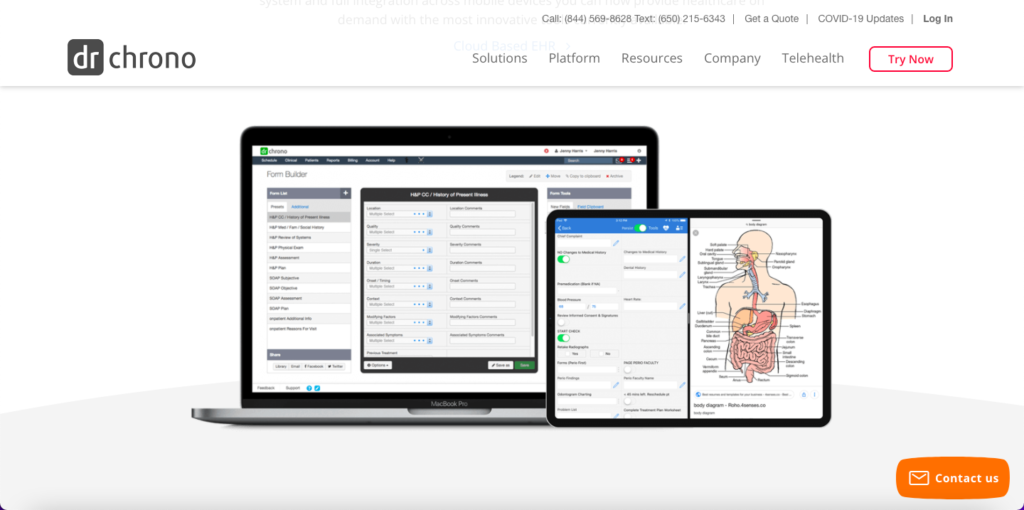 Another cloud-based EHR system, DrChrono is a simple and easy-to-use solution for busy medical professionals. The intuitive interface makes charting quick and effortless by allowing you to drag and drop notes from one of the pre-made templates into patient charts. Documents can be scanned directly into patient files, reducing the need for more filing cabinets.
Multiple language support allows for comprehensive documentation in various languages—making it convenient when working with patients from different backgrounds. Patient privacy is guaranteed via HIPAA compliance audits that ensure systems are safe from any potential security breaches or data leaks that could put your patients at risk.
DrChrono's excellent service doesn't end with the signup process—a full suite of training courses ensures that all employees understand how to make the most out of their software, allowing them to effectively communicate important information between themselves and medical professionals without needless delay. With an entire staff on board, there's no waiting around for someone to figure out how everything works—you'll be up and running in minutes.
#3 Kareo Clinical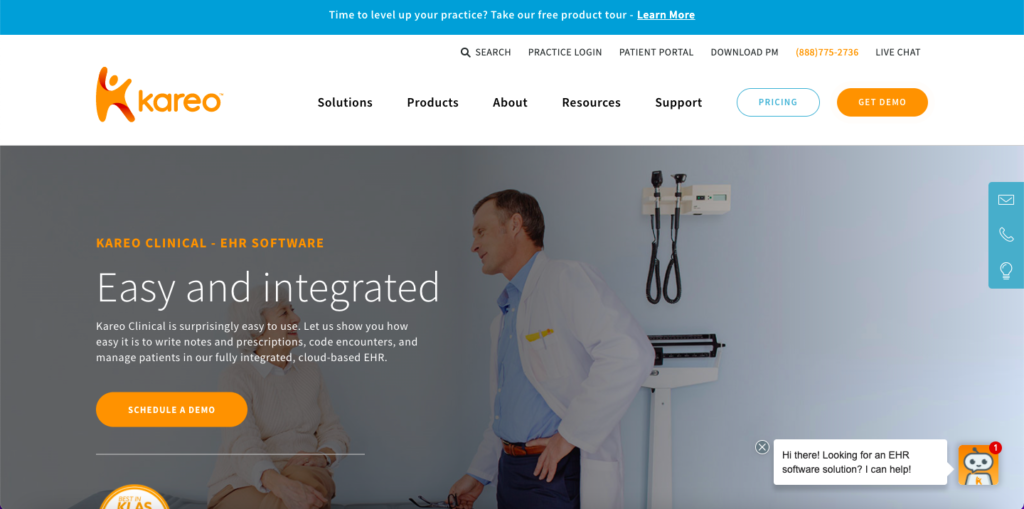 Kareo Clinical is a cloud-based EHR designed with physicians in mind, focusing on ease of use and interoperability. The platform allows users to access services through standard web browsers for compatibility across mobile devices, tablets, and PCs. This means you can always have your patient information at hand—including past history, test results, hospital records, and insurance details.
With Kareo Clinical software, form creation is simple. Custom forms can be created directly within the application without the need for third-party tools or design experts—choose from pre-made templates that are already fully customizable or start from scratch using intuitive point-and-click tools to create custom forms rapidly.
This cloud based EHR system makes it easy to share important information with patients. You can send messages directly to their email or post them on portals within your account to ensure your patients are up-to-date on important details related to their care.
#4 NueMD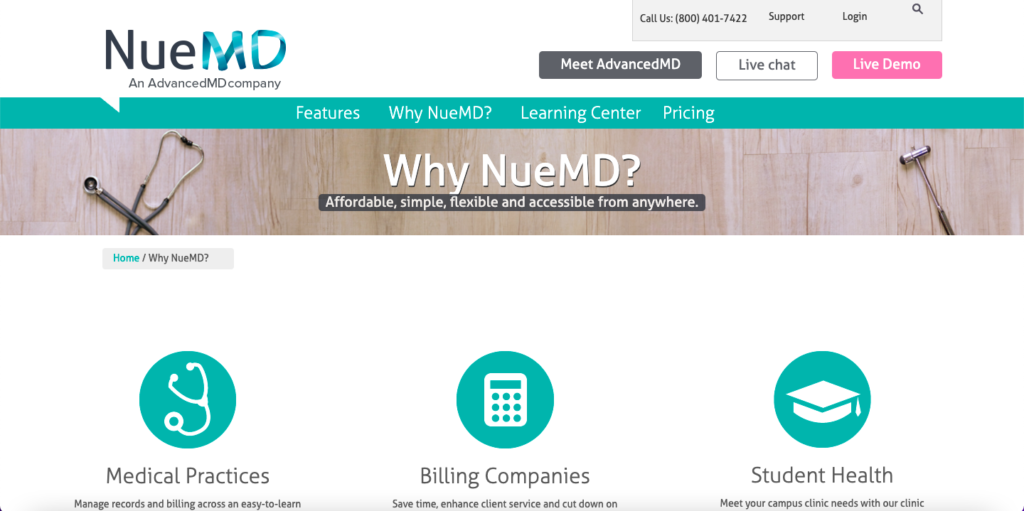 NueMD is a fully-functional EHR designed to streamline the documentation process for busy medical professionals. Whether you work in family medicine, pediatrics, or another specialty, this software provides an easy way of tracking patient information—from contact information and visit details to medications and allergies.
You can access patient records from anywhere using a secure web portal that allows physicians access to patient health history, including their previous visits, lab reports, and medication records. It ensures continuity of care when multiple providers in different offices or clinics oversee patients.
In addition to making it easy to keep track of your existing patients, NueMD makes it simple to add new ones to your practice. Create customized forms for new patients based on individual needs with this fully customizable EHR. These powerful forms can be used offline and online to ensure paperwork is completed efficiently.
#5 CareCloud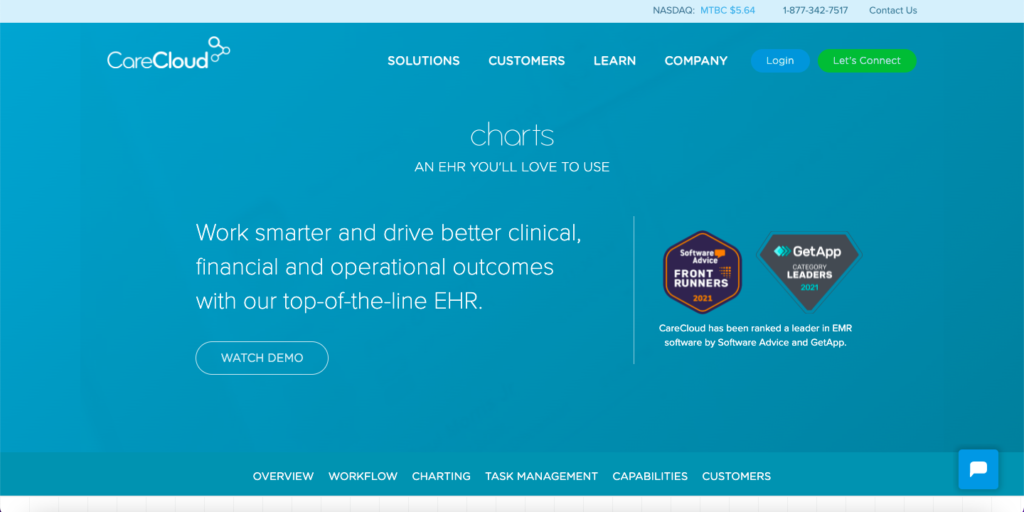 The cloud based EHR system, CareCloud, is a refreshingly functional and user-friendly update for medical professionals. This platform has customizable options to help streamline workflow, including a dynamic template function that lets you create documents once and use them across other patients. You can even share patient information securely via the cloud with patients themselves.
Additionally, online payments provide a convenient way for patients to pay for services—and improve cash flow by letting practices take payments from anywhere at any time. Other features include HIPAA compliance, security measures like end-to-end encryption, and automatic backups.
You can also access customized templates that allow users to create forms once and reuse them across other patients, use advanced data importing capabilities, which will enable you to upload structured data to save more time. It's also equipped with HIPAA compliance tools like audit trails to provide proof of access and updates to patient information.
Final Thoughts on Cloud Based EHRs
The best way to find the right cloud-based EHR for your practice is to look into which system will help you manage patient information, track compliance checks and adhere to regulatory requirements.
From insurance providers and patients to medical professionals themselves, managing all this information is difficult at best. Luckily for these busy individuals, there's now an easy way to access their own electronic health records right from their mobile phone or computer – no more paperwork thanks to cloud based EHRs.
If you are a busy medical professional who would like to be more efficient with your time, the cloud based EHR options we've discussed in this blog post may provide some relief.
Lastly, if you think you need another HIPAA-compliant platform for faxing medical health records, then you may also want to explore our very own iFax. It's an online fax service that you can access on a web browser. It's also equipped with cross-platform features, allowing you to download and access all faxes straight on your mobile device and computers.