Most people are familiar with Google as a search engine. But the company also offers Google Workspace, one of the most popular collaboration and productivity platforms on the market today. It features free services like Gmail, Google Drive, and Google Docs. From email to cloud storage, Google has you covered.
Given the company's wide range of digital solutions, you may be wondering if there's such a thing as a free Google fax online service. If this question has ever crossed your mind, you're not alone. With the rise of email to fax solutions, it's a valid query.
In this article, we'll find out if free online faxing is part of Google's services. We will also explore other ways to send and receive faxes without breaking the bank.
Table of Contents
Can I Fax for Free Using Google?
Unfortunately, the answer is no. Google does not offer a standalone free fax service. However, you can still fax from Gmail without paying a fee. To do so, you'll need workspace integrations that would connect an online fax service to your Google account.
Several services will allow you to do this by subscribing to premium plans, while others let you fax without spending a dime if you avail of a trial account.
How to Fax From Gmail for Free
It is possible to fax for free using Gmail even if you don't have a fax machine or a telephone line. All you need is a reliable provider that offers email to fax.

When you sign up for an iFax Professional account, you can send or receive faxes without incurring fees during the seven-day trial period.
Here's how to do it:
Launch your web browser and go to ifaxapp.com.
Sign up for a Professional account. Fill in your personal information and choose your fax number.
Open your Gmail account and create a new email.
Type send@ifaxapp.com in the To: field.
Type the recipient's fax number in the Subject line.
Attach the documents you need to fax. You can import files from your device or cloud storage like Google Drive.
To personalize your fax, include your signature and a cover sheet.
Once you're set, click Send.
The recipient will receive the fax as they usually would from a fax machine. If they already use an online fax service, they can easily access it on their dashboard.
Send a Fax for Free From Google Workspace
Install the iFax plugin for free if your company uses Google Workspace. Here are two ways to do it:
Admin install
Individual install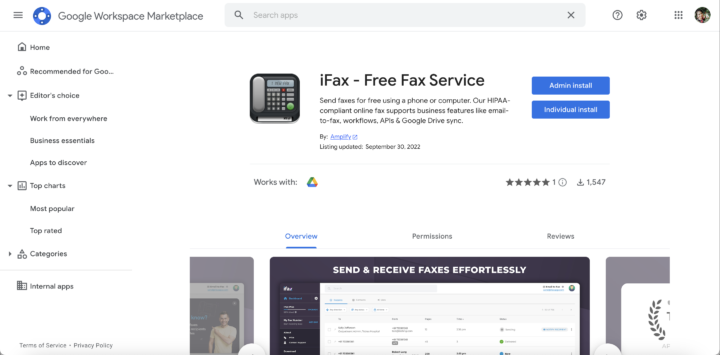 Admin install
This option is only available to administrators. All team members using the Google Workspace domain can access the iFax app on Google Apps. If you have a large team, you don't have to remind them individually to install the iFax plugin on their account. That's a time-saver.
How to install the iFax plugin with an administrator account on Google Workspace
1. Go to Google Workspace Marketplace and search for iFax – free fax service.
2. As an administrator, you will see both admin and individual install. Select the Admin install.
3. A window will pop out with instructions and reminders about the iFax plugin.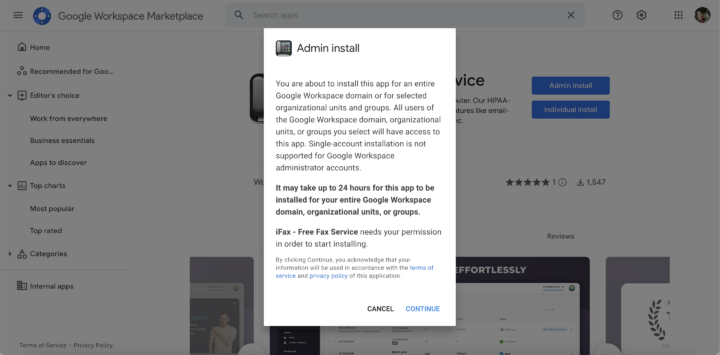 4. Click Continue. The consent window will pop out. Choose your preferred option:
Everyone at your organization
Certain groups or organizational units.
Then, tick the checkbox at the bottom to agree to the Terms of Services and Privacy Policy.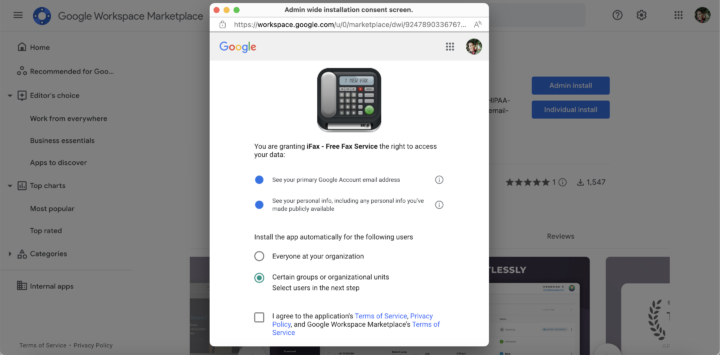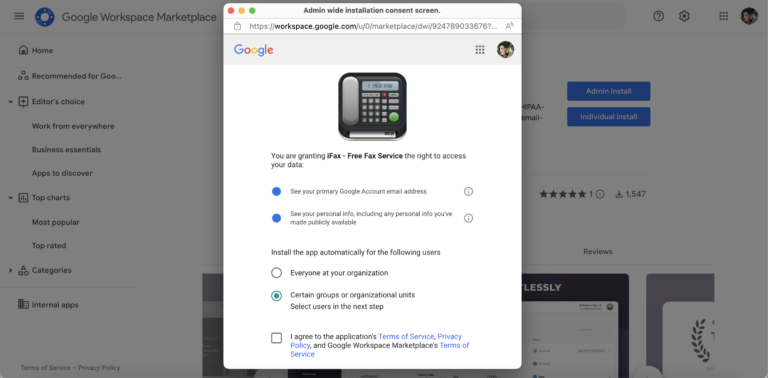 5. If you selected Everyone at your organization, it may take up to 24 hours for the plugin to be available to all users.
What happens once the iFax plugin is already installed? Team members can access it under the Google Apps launcher icon. When they click it, they will be directed to the iFax web portal. It's like creating a shortcut to the web app, making it convenient to send a fax with a few clicks.
Individual install

Alternatively, you may install the plugin as an individual user. It will only be available in your account. You can only see the iFax app on your account even if you have administrator rights. It will not be available to other team members.
If you're using a free Google account (e.g., Gmail), install it as you would normally do when adding your favorite apps.
How to install the iFax plugin with an individual (free) account on Google Workspace
1. Go to Google Workspace Marketplace and search for iFax – free fax service. Click Install.
2. A small window will pop up asking for permission to start the installation. Click Continue.
3. Another window will open, letting you know the installation is complete. It will also tell you where to find the iFax app – under the Apps launcher icon. Click Done.
When you click the iFax app under the Apps launcher icon, you will be directed to the iFax web portal. If you're using a Free account, send a free fax as you typically do when working online.
Other Ways to Send Fax for Free With Google
Aside from the email-to-fax feature, you can send and receive faxes using Google Chrome. You will need the following:
Internet-ready computer or mobile device
iFax account
Stable internet connection
Recipient's fax number
How to send a fax via Google Chrome
You can send a fax from your computer in a few easy steps.
Here's how:
1. If you already have an iFax account, sign in and go to your web dashboard. The interface looks similar to your email inbox on desktop view.
2. Click the New Fax button. Add information in the fax cover sheet, including the sender and recipient's fax numbers, subject, and comments.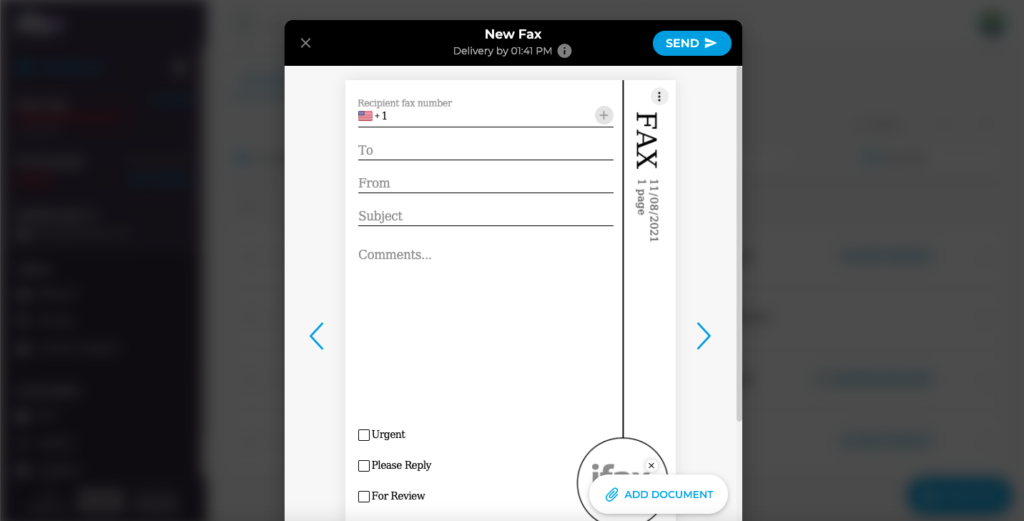 3. Once you are finished, click the Add Documents button to upload your files from your device or cloud storage.
4. Review the fax cover sheet and attachment again. When you're done double-checking all the details, click Send Fax.
How to receive a fax via Google Chrome
iFax will notify you via email when you receive a fax. The notification would look like this: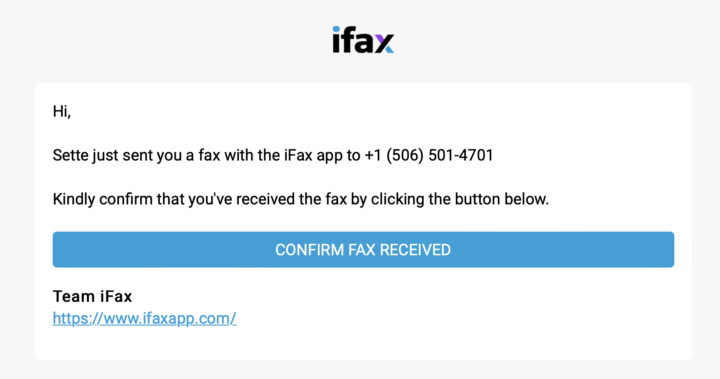 Here's how to access incoming faxes via your email:
Open the email inbox that you used to sign up with iFax.
Click the Confirm Fax Received button, which will direct you to the iFax main dashboard.
Open the received fax to view it.
How to sync iFax files to Google Drive
If you want to back up your faxes to the cloud, you can do this with the Google Drive sync option. This will let you move the fax to the Google Drive folder. iFax automatically saves all your digital files to the cloud.
Here's how you can export faxes to Google Drive automatically:
Open Google Chrome and go to the iFax web-based platform. Head on to the sidebar of the dashboard and click the three vertical dots beside Folders.
Click Sync to Google Drive. iFax will upload all faxes to your Google Drive account.
A pop-up message will inform you that the sync is in progress. Click Okay to proceed.
Check your Google Drive account and see if the folder you created is there already.
This process is usually fast, but it also depends on the number of files that you already have on your iFax dashboard. You can add folders on Google Drive for your iFax files. You can even share these with third parties like clients and business partners.
Benefits of Using Google to Send a Fax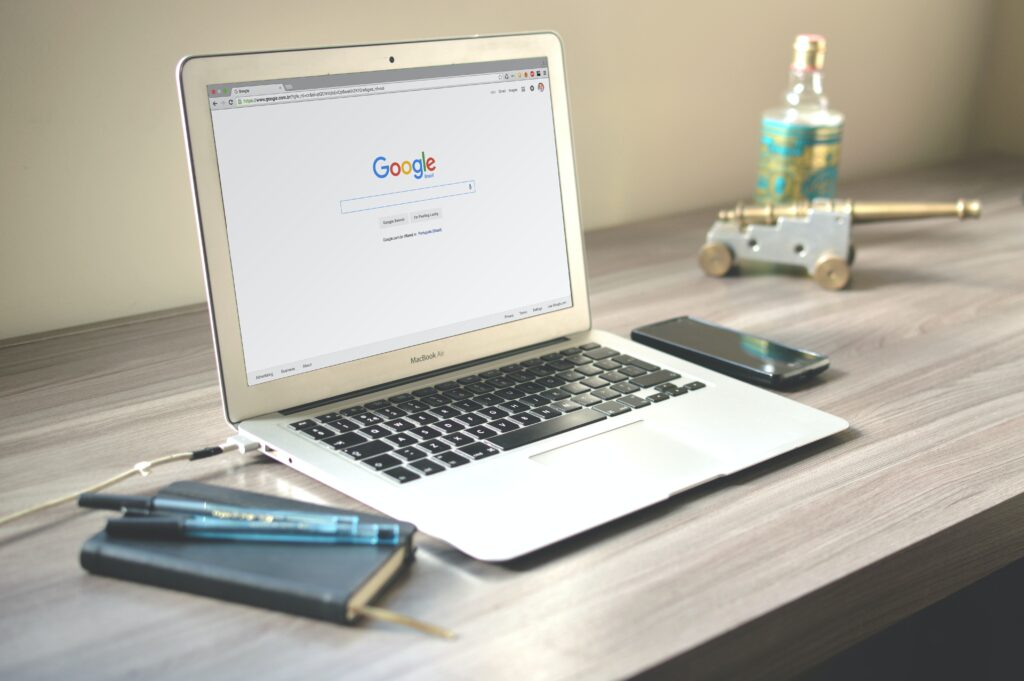 Quick transmission
With the email-to-fax feature, it takes seconds to attach scanned documents from your smartphone or import files from Google Drive. You can then send them right away without waiting for your turn to use your office fax machine. You will also receive real-time notifications to confirm that the faxes have been sent successfully.
Unparalleled flexibility
Your team can send documents without leaving their desks to use a shared fax machine. Plus, if they are meeting clients outside the office, they can fax documents from a smartphone or tablet. This allows them to complete transactions and close deals fast.
Seamless integration
Most companies use Google services to streamline their workflow and meet business needs. These include Gmail for communication, Google Drive for storage, Google Docs for content, and Google Chrome for research.
While Google does not have a dedicated app for online faxing, it's possible to integrate its existing software with iFax. This way, you can still benefit from features like email to fax and cloud storage.
Google and iFax: The Perfect Combination
While Google does not have a free fax service, it's possible to use online faxing apps with existing Google software. Make sure that iFax is at the top of your list for internet faxing.
When you use iFax, your documents are protected by robust military-grade encryption. You can also activate two-way factor authentication on your account as an added layer of security. Plus, you don't need to worry about compatibility. The iFax app works with iOS, Android, Windows, and Mac devices. iFax also offers an email to fax feature.
It gets even better when you're using Google Workspace. Install iFax quickly via the Workspace Marketplace, and it will be automatically connected to your Google account. You can access the iFax app when you click the Google apps. You will be directed to our web fax portal.
iFax Professional account includes a free fax number. Choose a US, Canada, or UK fax number of your choice. For businesses, you can get your toll-free fax number for local and international faxing.
Sign up for a free account today.
best online fax service
cloud-based faxing
internet fax services