Are you looking for a guide on how to fax a prescription to a hospital using your fax machine or an online fax service? You have come to the right place, and this blog post will provide you with everything you need to know about faxing prescriptions.
We will cover the basics and information you need to include in the fax transmission and how to correctly input the hospital's fax number. We will also give you some tips on ensuring that your prescription is received by the hospital as quickly as possible. So, if you're ready to learn more about faxing prescriptions, read further.
Table of Contents
What Is a Fax Prescription?
A fax prescription is a written order from a doctor, dentist, or another medical and healthcare professional to dispense medication. A pharmacist uses the information on the faxed prescription to fill and deliver the medication order.
While most pharmacies do not accept fax prescriptions for controlled substances, many will allow you to submit routine medications via this method.
This practice has saved healthcare providers significant time and money while improving patient care.
However, since it does involve an extra step in getting your medications filled, we recommend calling ahead before your first time submitting a fax prescription just in case there is anything specific that they require for their pharmacy.
Why Should I Fax My Prescriptions Instead of Mail Them or Take Them in Person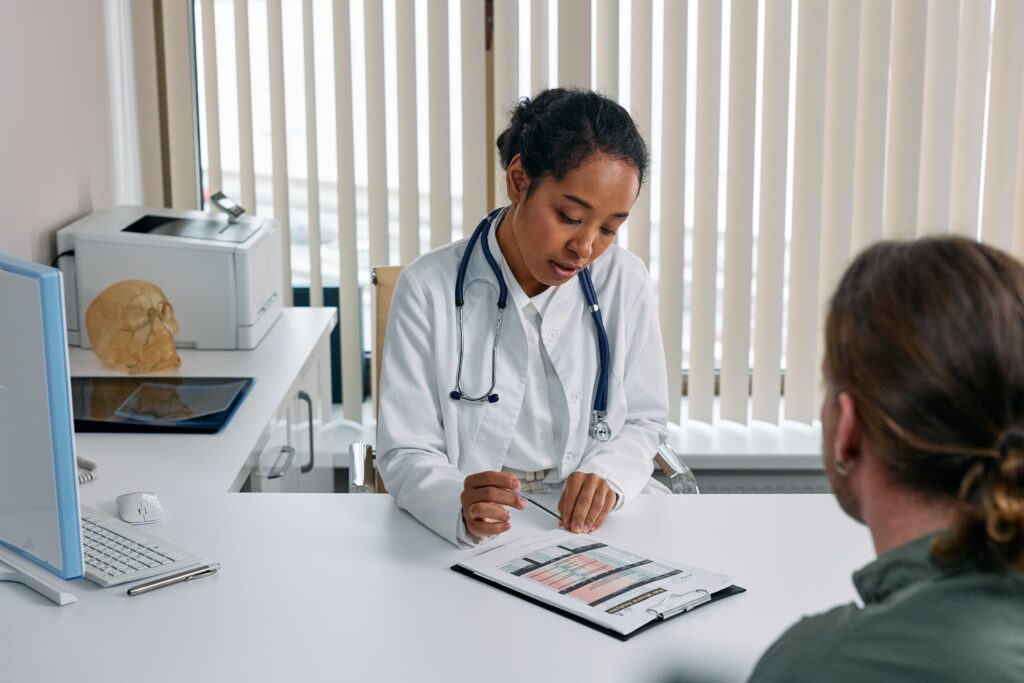 Faxing your prescriptions is an effective way to speed up the process of getting filled up with your medications. By sending in your order via fax, your patient will be able to receive your medications faster than if they were received through traditional means such as mail or in person.
This process benefits both you and the pharmacy because it ensures that every patient has access to their medication—even those patients who are homebound or otherwise confined to their residences.
One important thing to remember about faxed prescriptions: if the pharmacy does not receive any word from the healthcare provider after trying to reach them by phone for three days (in some cases longer), they will typically call the patient (or your emergency contact) before proceeding with filling or refilling your order.
On that note, it's also important to keep in mind that many pharmacies will charge extra fees for processing fax orders—so make sure to ask about any potential costs before you fax your prescription.
Can a Patient Fax a Prescription?
Faxing prescriptions for controlled substances is not legal in all states. However, faxing standard (non-controlled) medication orders is considered safe and effective. If you're a healthcare provider, you may also read Prescription Requirement Under Section 503A of the Federal Food, Drug, and Cosmetic Act Guidance for Industry to know the restrictions.
Pharmacists must understand the distinctions between genuine e-prescribing and other forms of e-prescribing, such as computer-generated paper prescriptions, facsimile, and so-called e-fax.
To aid in this discussion, see the table from the Drug Enforcement Administration (DEA) from the US Pharmacist website, which details various sorts of prescribing situations, prescription types, and some of their characteristics.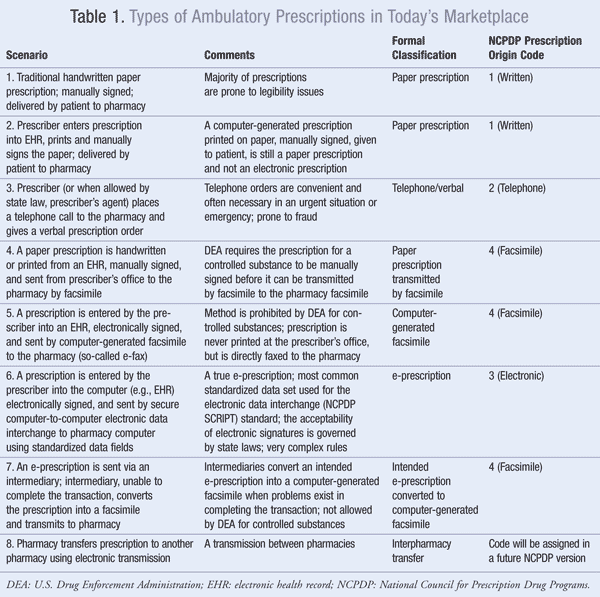 If you are sending a sensitive or controlled prescription via fax, you must comply with the HIPAA regulations to protect the patients' health information as you fax prescriptions.
Some pharmacies might require that the patient either bring the original (hard copy) prescription into the store or have a photo ID on file with the pharmacy, so make sure you also notify your patients of the following steps if they fax your printed or hard copy prescription.
Is an Emailed Prescription Legal?
There is no national law that governs the legality of emailing prescriptions, and however, many states have their rules in place. It's important to check with your state's department of health or pharmacy board to learn more about the specific regulations that apply to you.
In general, though, emailing a prescription is considered safe and effective if you take certain precautions, such as verifying the prescriber's identity and ensuring that the email is encrypted.
Generally, a doctor can't prescribe medication by email because it can be easily edited and tampered with. There's also a standard format required by law that healthcare professionals and providers should follow.
Some pharmacies might also charge an extra fee for processing emailed prescriptions.
Since the pandemic started in 2020, there are practices in some states where patients scan the prescription and send it to the pharmacist.
The medications are delivered to their homes to prevent the spread of the virus and practice social distancing. However, the doctor should sign the prescription and include the doctor's name, license number, and the medications as specified.
All in all, it's best to contact the pharmacy and hospital regarding the process of dispensing medications.
How Do You Write a Prescription for a Hospital?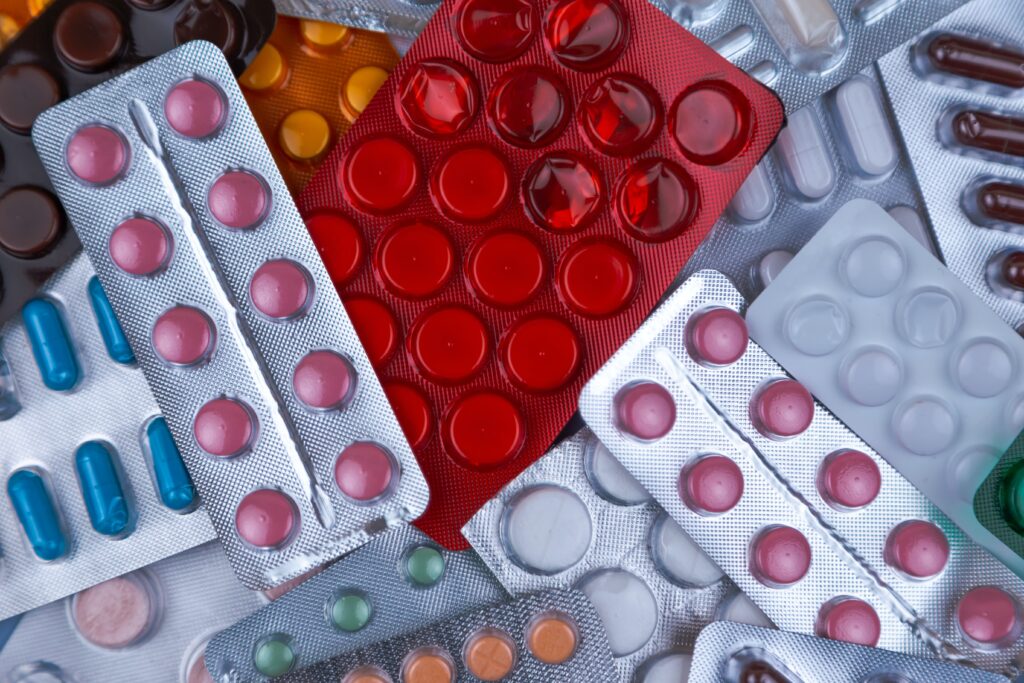 Most hospitals have specific requirements for writing a prescription. Still, in general, the patient's name, address, and phone number should be included (or other identifying information), the hospital name, department where the patient is receiving treatment, and prescribing doctor's name.
You should also include the pharmaceutical's brand name, dose, form (solid oral dose or intravenous), and administration method (PO or IV).
When writing a prescription, the drugs should be legibly printed and appropriately typed, including your name, the practitioner, the strength of the medication, the quantity of the drugs both in a textual and numeric format, the direction of use, and date with month and year, written in textual letters and not numbers.
After writing all these things, you can actually fax a prescription to a pharmacy or a hospital using a mobile fax app or e-fax to ensure it will be quickly received as soon as possible.
Final Thoughts
Fax prescriptions are a great way to dispense medications quickly and conveniently, especially if it's an emergency for your patient. Online fax services are popular in the medical and healthcare industry because of the convenience and security they bring to the workflow.
You don't need a fax machine to do this as you can take advantage of iFax pay-per-fax feature if it's just for one-time use. However, if you regularly fax a prescription to a hospital, then having a subscription plan at iFax will make it more efficient for you to send and receive faxes as a healthcare practitioner.
If you want to get access to our free trial, download the iFax app now and explore the features on your smartphone or computer without commitment.
HIPAA compliance
HIPAA fax solutions