Technology has come a long way in the last few decades. When faxing was first invented, it seemed like a novelty that businesses would only send information quickly and efficiently. Many don't know that sending a fax is still one of the fastest ways to transmit large amounts of data over long distances.
This article will discuss fax facts and how the fax industry has drastically changed over the past few years. Moreover, we will also guide you through the online fax industry and what to expect in 2023 in faxing.
To begin with, did you know that it used to take an average of 6 minutes and the price of a fax machine was a whopping $20,000 in 1982?
But with the onset of the 21st century and the internet wave paved the way for internet fax services, which made it easier to send and receive faxes online from anywhere, anytime.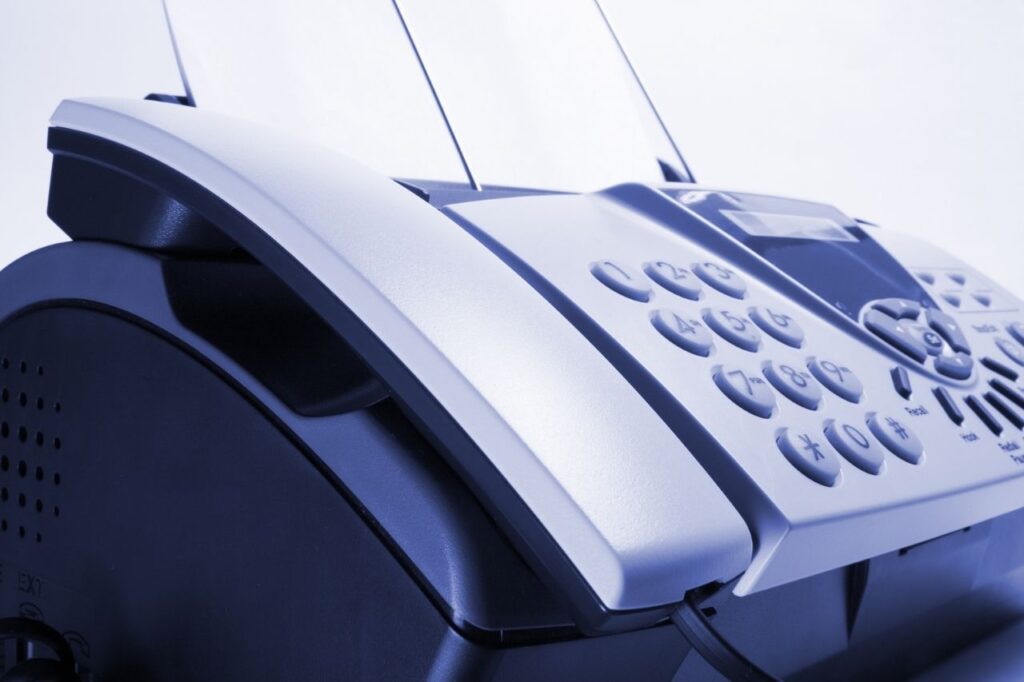 Fact #1: The First Fax Was Sent Almost 180 Years Ago
In 1843, Scottish inventor Alexander Bain sent the first fax. He sent the fax to his associate in England via telegraph wires. It marked the beginning of a new era for communication with the modern world being able to send documents across long distances electronically using telephone lines.
Fact #2: Xerox Corporation Created the Modern-Day Fax Machine
The AT&T Corporation developed fax technology in the early 1900s by sending photographs over the wire. After this, the Radio Corporation of America (RCA) successfully transmitted wireless fax across the Atlantic Ocean. It wasn't until many years later that the Xerox Corporation created the first modern-day commercialized fax machine.
Fact #3: The First Colored Fax Was Sent 80 Years Ago
In 1942, Herbert E. Ives was an American scientist who sent the world's first color fax. He's famous for various accomplishments, including sending the world's first color fax. His invention of color fax eventually influenced early television programming, so we have colored TVs today.
Fact #4: Faxing is One of the Oldest Forms of Electronic Communication
Faxing is one of the oldest forms of electronic communication still in use today. Many businesses and organizations rely on faxing because it's one of the most secure and fastest ways to send and receive files that contain sensitive information.
Fact #5: Japan Is the Early Adopter of Faxing
Japan is one of the first early adopters of fax machines during the economic heyday in the 1980s. The fax machine was a staple in every household more than the automatic dishwashers. The country dominated global fax manufacturing, making 90 percent of millions of devices.
Fact #6: 3D Faxing Became Popular in Early 21st Century
In the early 21st century, 3D Fax transmitted and scanned three-dimensional data. This was called the Michelangelo Project, which scans 3D images of Michelangelo's work and other historical works of art.
Fact #7: Internet Replace the Good Ol' Fax Machine in The Early 21st Century
As technology advances, every invention is eventually replaced with a more advanced, faster, and safer alternative. The first decade of the 21st century has witnessed an exponential increase in internet-related functions, most notably replacing the regular fax machine. Fax transmissions have decreased dramatically as volume shifts to more internet-based alternatives or online fax services.
Fact #8: iFax Launched Its First-Ever Mobile Faxing on App Store
In 2008, iFax was one of the pioneers in the online faxing industry and introduced its first-ever iFax app to mobile users. Apple users can send and receive faxes from iPhone and iPad by scanning the documents with the image scanner with the mobile app. Faxing has never been the same since then.
Fact #9: Faxing is Still Secure than Email
Faxing is often considered a more secure form of communication than email because it's harder to hack into a fax machine than into an email account. It is also more reliable than email, as there is less chance of messages getting lost or blocked by spam filters.
Fact #10: You Can Save More Time and Money With Online Fax Services
Using fax apps means no more wasting paper. You can send and receive faxes electronically from anywhere, and it will save a lot of time and money. Although fax machines are still available in the market, the average cost of equipment is about $100 to $200 for personal use, and high-end fax machines for office use cost $500 or more.
Fact #11: Online Faxing Keeps Your Documents Organized
Using fax apps, you can easily store all your sent and received faxes in a single place and access the files whenever you need them. Most online fax services offer cloud storage, so you can easily save your faxes in the cloud.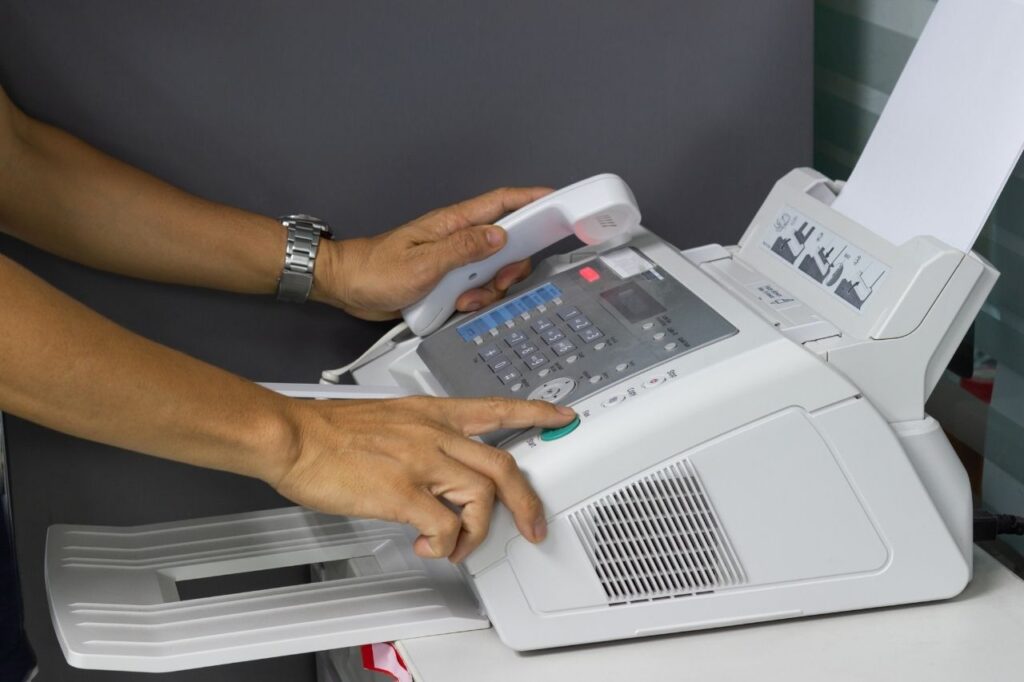 Fact #12: Faxing Through Outlets Is Still Available
If you need a one-time fax service, you can visit nearby outlets and stores that offer fax and printing services. The average cost of local fax service is between 2 and 5 cents per page, and it can go higher if you fax a document to an international number.
Fact #13: The Healthcare Industry in The United States Still Rely on Faxing
Sending patient health information (PHI) is part of the regular tasks of most healthcare professionals and workers. Handling PHI is critical in this industry as everyone should comply with HIPAA regulations, and that's why faxing is still the preferred communication when sharing or sending PHI.
Fact #14: You Can Send Fax to Multiple Recipients With Fax Broadcasting
You can use a fax machine to send documents to multiple recipients simultaneously by entering their numbers into the broadcast field. It also works on several online faxing services where you can send a single fax to multiple recipients straight from the computer or smartphone.
Fact #15: Online Faxing Doesn't Require You to Use a Telephone Line
Most online faxing services provide users with a dedicated fax number in their accounts. It's more convenient than using a traditional fax machine because you don't have to install a telephone line to get started.
Fact #16: Mobile Users in The U.S Spend More Than 4 Hours on Their Devices
According to Statistica, the average time spent on a phone each day, not including talking, has grown in recent years. It has reached 4 hours and 23 minutes by April 2021. By 2023, this figure is expected to be around 4 hours and 35 minutes.
Fact #17: Cloud-Based Faxing Will Continue to Grow
The worldwide market for fax services is growing due to the increase of cloud-based communication and collaboration systems. Fax usage is increasing in large businesses throughout the region in the United States. The North American fax services industry was the most lucrative, accounting for 49.70 percent of revenue in 2021.
Fact #18: Online Faxing Improves Tracking of Transmissions
Cloud-based faxing allows users to have digital copies of faxes in their online storage accounts. They also offer transmission delivery receipts so you can track each fax. Online faxing makes the process easier for businesses of all types instead of manually tracking all transactions, from incoming to outgoing faxes.
Fact #19: Mobile Faxing Online is Easy to Set Up
Fax apps are pretty easy to use, and you need to have a computer or mobile phone along with the internet. You can install the fax app and use it to send and receive faxes on the go.
Fact #20: The Use of Fax Apps Allows You to Sign Documents Electronically
The Electronic Signature feature available on fax apps allows you to sign faxes from your mobile phone or other devices and fax it back. You don't have to print the document to sign it.
Fact #21: Allow You to Send and Receive Faxes Quickly
As there are many internet fax apps, you can use them to send and receive faxes online on the go.
Fact #22: Faxing Isn't Dead
The worldwide fax services market was valued at $2.92 billion in 2021 and is projected to reach $5.47 billion by 2027, with a CAGR of 11.03%. Emerging technologies such as 5G, the Internet of Things, and cloud computing will contribute to the growth of the faxing market.
Fax Facts 2023: From Traditional Fax Machines to Mobile Fax Apps
Cloud or online fax service brings you many features rather than just the regular facility to send and receive faxes online. It is a cost-effective option as you can get rid of the fax machine, no paper, ink, or toner. Moreover, you'd also be saving on the fixed phone line plans for every month.
Online fax service provides security with encryption technology when sending, receiving, and storing faxes online. There are many online fax service providers, but the top online fax app is HIPAA compliant, and by law, they are supposed to sign a business associate's agreement (BBA) with you.
The fax industry has seen a significant shift starting from the mechanical fax machine, first introduced in 1843, the world's first fax device. By the late 1980s, we could scan images and send signature images over long distances.
By the mid-1920s onwards, wire and wireless transmission were developed, and also the first color fax happened at the same time. Then there was no looking back for the rest of the century as we progressed to send satellite fax, telephone transmission, and then the first computer-based fax-in 1982.
Much of that phase shaped the online fax service we are mainly using in today's time. By 2009, the world witnessed the first mobile fax machines from iFax.
Download iFax Today
The iFax app is available on five major platforms: iOS, macOS, Android, Windows, and WebApp.
Its presence spanned across 17 countries and already comes equipped with a state-of-the-art integrated document scanner. Additionally, it features fax image editing with automated fax image optimization. With annotating PDFs, filling forms, and adding a digital signature, iFax is a clear winner for the pool of companies offering online fax services.
iFax even offers you a pay-per-fax online or buy credits at a discounted price. iFax is the lowest-cost way to fax. With over 2 million downloads, iFax remains the favorite among the users who want to send or receive online faxes, whether for personal or professional or business needs.
best fax service online
fax service online
world's #1 best online fax services