From online prescriptions to consent forms, document signing software simplifies adding and requesting signatures. It eliminates the need for manual entry and uses modern technology to make paperless signing possible. And, of course, that includes documents often used in a healthcare setting. That is, for as long as the document signing solution is HIPAA-compliant.
A HIPAA-compliant document signing software allows any entity or organization to handle and sign health records with protected health information (PHI). The same rules apply when signing forms with personally identifiable information (PII).
So, without further ado, here are the top 5 HIPAA-compliant document signing software for healthcare providers and other covered entities.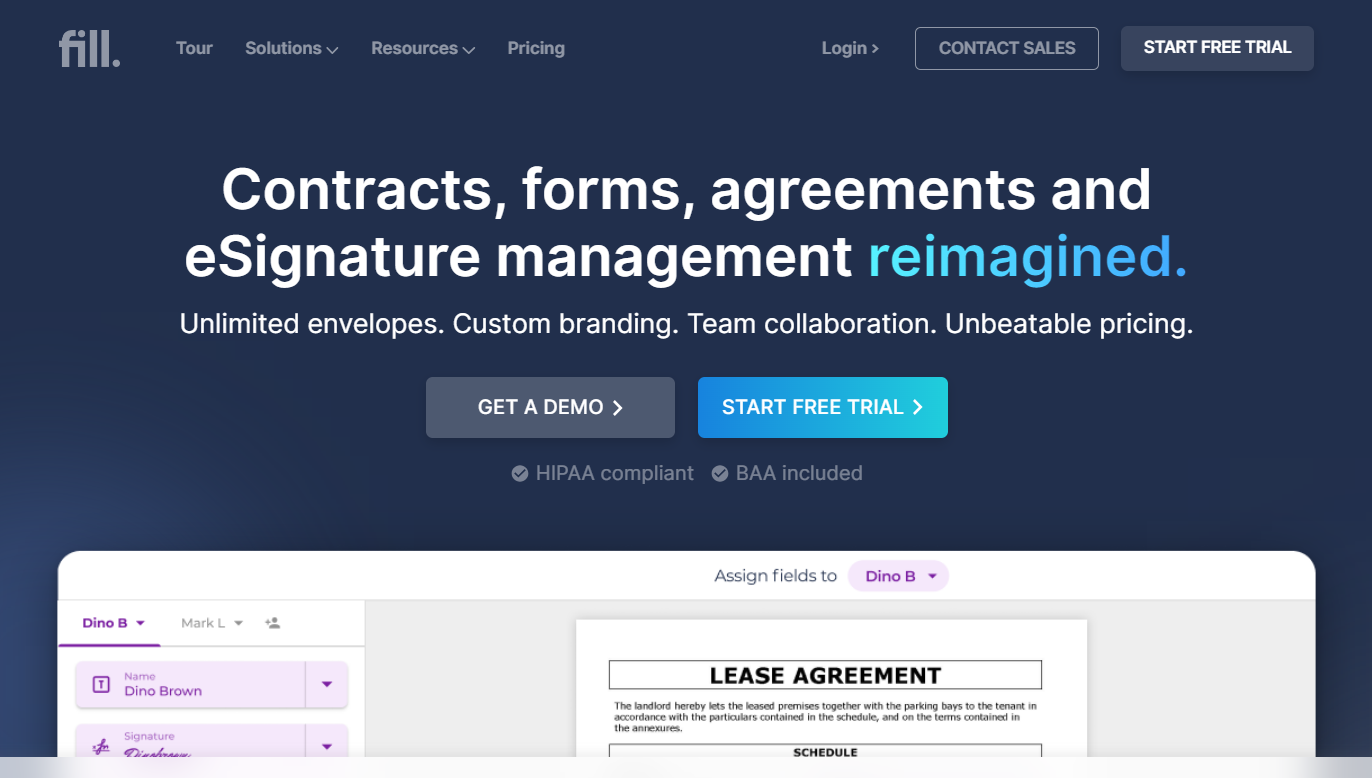 First on our list is Fill, a trusted web and mobile application for creating legally binding digital signatures and online document signing. Plus, it lets you maximize the use of online forms instead of emailing back and forth. It also stands out as the best HIPAA-compliant document signing software for all types of businesses with its robust and user-friendly platform.
Key features
eSignatures: Sign documents and request signatures anytime.
User-friendly interface: Fill makes it easier for users to navigate the software with clearly labeled options.
Secure encryption and authentication: Collect and store sensitive information that only authorized users can access.
Pricing
All you need is $25 monthly to pay for its Pro Plan, giving you complete access to its features and functionalities while ensuring HIPAA compliance.
2. SignNow
SignNow is a reliable cloud-based document signing platform with customizable built-in templates. Aside from letting its users create and affix signatures online, its robust features can help you make the most out of your document workflows. Best of all, you can effortlessly sign healthcare forms without printing.
Key features
Fillable fields: Easily create forms with fillable fields for custom user input.
HIPAA-compliant digital signatures: Sign patient documents while complying with HIPAA privacy and security regulations.
Workflow automation: Automate what used to be manual tasks to save time and effort.
Pricing
SignNow offers HIPAA compliance through its Business Cloud plan, which starts at $50 monthly per user.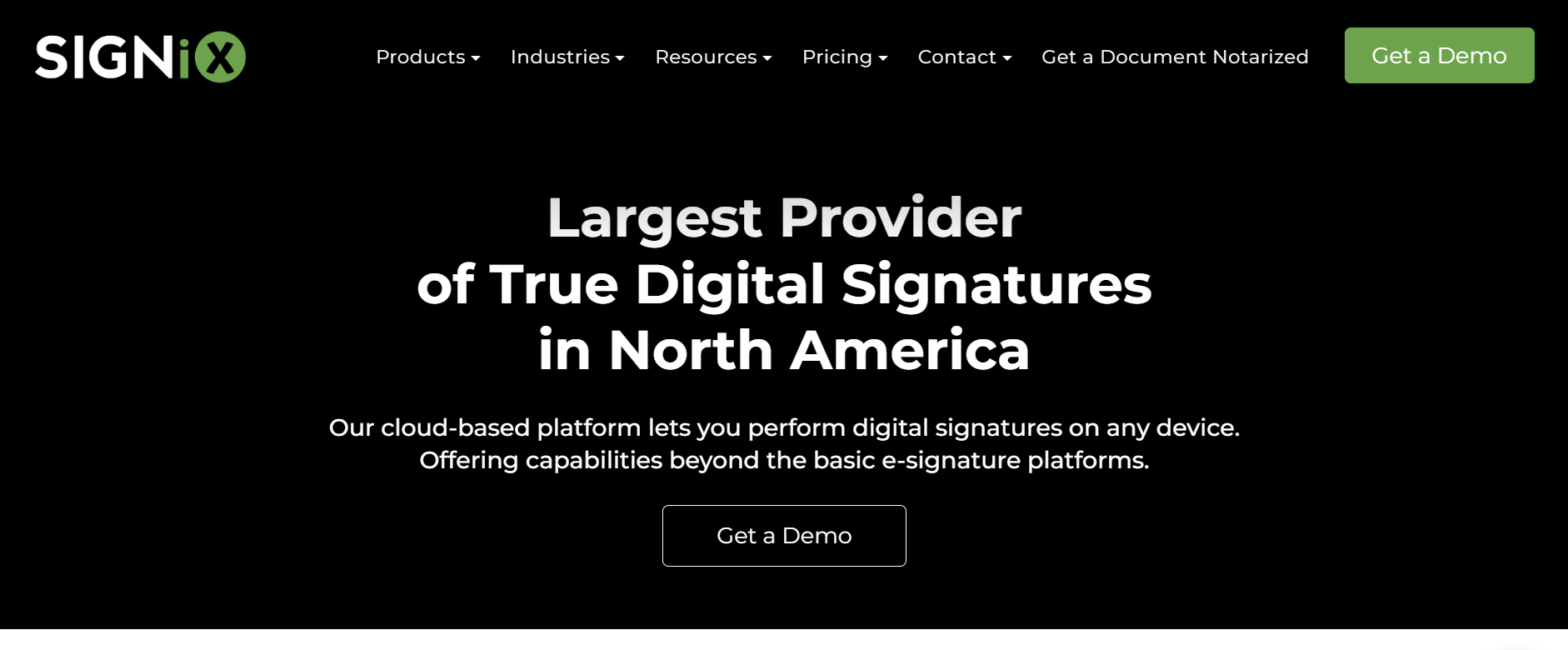 3. SIGNiX
Designed for healthcare organizations and businesses, SIGNiX is a cloud-based digital signature suite that helps users sign PDFs on a secure platform. It provides various features such as layout modifications, MyDoX document tracking modules, access controls, audit trails, and more. With SIGNiX, you can perform document signing on any device.
Key features
eNotary: With a patented digital signature technology, SIGNiX converts notarization electronically.
Flex API: SIGNiX provides fully integrated custom branding options using advanced API.
eSignatures: Get your documents signed immediately without the tedious pen and paper process.
Pricing
A single-user account on SIGNiX would cost you around $120 monthly.
4. eSignly
Fourth in the list of the best HIPAA-compliant document signing applications is eSignly. With it, users can get their patient forms and agreements signed quickly. Its automation features help speed up and simplify document signing processes.
Key features
Scheduled signing: Set a later time and date to sign an important document so you won't have to rush about making critical decisions.
In-person signing: Have your signer sign a document in person via tablet, computer, or phone.
Self-signing: You can send a signature request to a signer living in a different state or country.
Pricing
For $30 per month, large enterprises can make the most of eSignly's integrated digital signing solutions.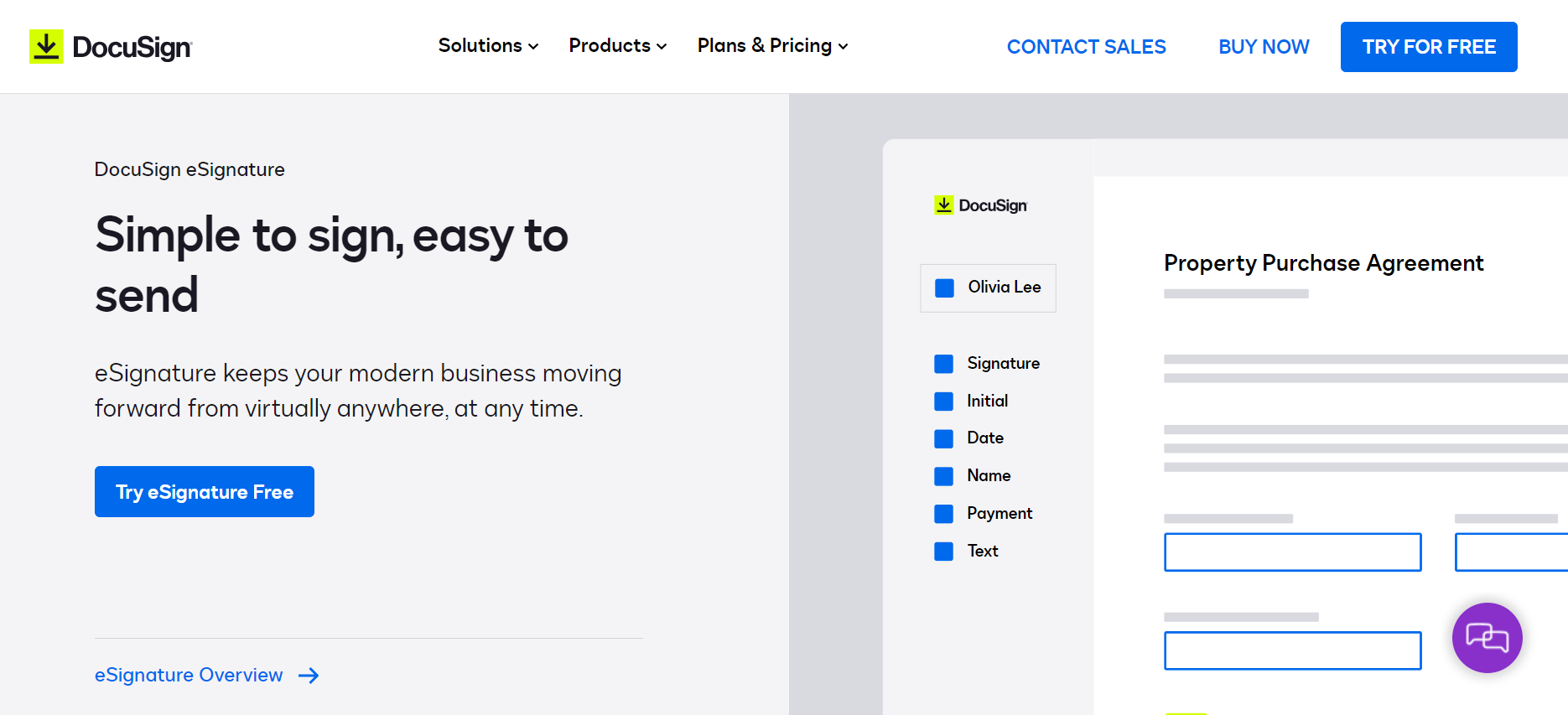 5. DocuSign
DocuSign is a document-signing app that helps healthcare providers ensure HIPAA compliance using digital signatures. It supports cloud storage integration, dynamic document generation, and robust threat detection. You can also use its API to integrate document signing into your app of choice.
Key features
Custom branding: Customize your emails and document templates by adding your logo or changing colors and themes.
Templates: Automate your document workflows and save time by creating reusable templates.
PowerForms: Reduce preparation time during filling and signing by pulling data from previously signed documents.
Pricing
You need to pay $65 per user for a Business Pro account monthly, but by doing so, you can request DocuSign to sign a Business Associate Agreement (BAA).
What to Look For in a HIPAA-Compliant Document Signing Solution?
Here are three core features to look for when choosing a document signing software to ensure HIPAA compliance:
ID verification
A HIPAA-compliant document signing software must have a reliable biometric security system to validate each signatory's identity. Through this, you can restrict certain people from viewing and signing documents beyond what they can access.
Audit trails
Having a chronological log of events in a document signing system, including the date and time of signing, is crucial to proving the authenticity and integrity of a transaction. It also helps prevent fraud.
Advanced encryption
Your document-signing software must have the capability to protect sensitive patient information using military-grade encryption. Encrypting data that goes to and from your software ensures safe transmission, helping prevent unauthorized access and potential breaches.
Choosing the Best Software for Signing Documents
Selecting the best HIPAA-compliant document signing software depends on your specific needs. Our top picks above showcase various features and functionalities, but all are up to par to meet HIPAA's stringent security and privacy requirements.
But if you want a scalable and reliable solution within your budget, consider Fill. It has flexible plans, so you only pay for what you need with the option to upgrade whenever you want. The best part? It has everything you need to sign your important documents on time.
digital signing
document signing
document signing software