Signing forms and other documents is common practice in a healthcare setting. From patient intake forms to post-discharge instructions, affixing signatures is crucial for ensuring accountability and legal compliance. Thus, choosing secure and efficient electronic signature software that meets HIPAA compliance requirements is essential.
This article showcases five of this year's best HIPAA-compliant electronic signature software. Whether you're a covered entity or a business closely working with healthcare institutions, you can look below and select the software that best fits your needs.
5 Top HIPAA E-Signature Software of 2023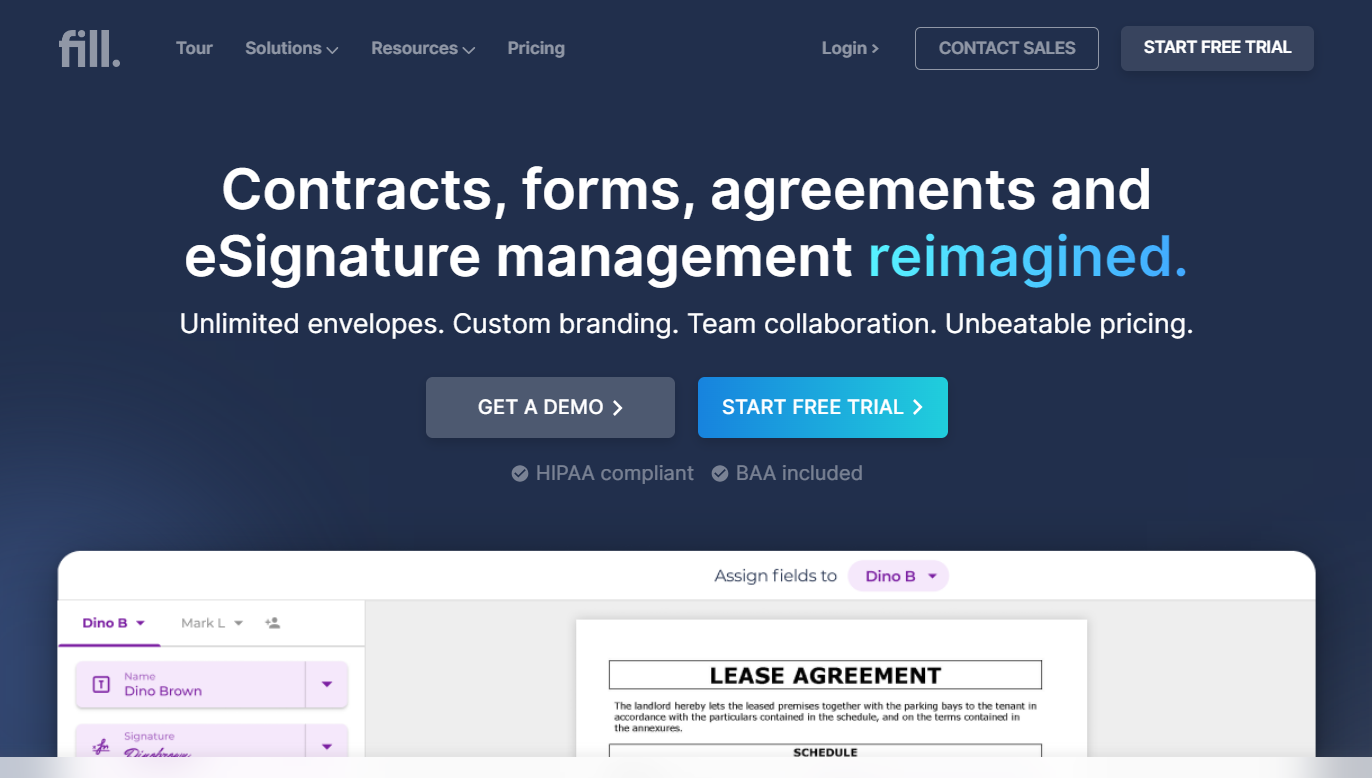 Fill is a HIPAA-compliant electronic signature software that lets you create, manage, track, annotate, and digitally sign documents. Dubbed the "Swiss Army knife" of eSignature and document workflow management, this go-to platform caters to covered entities looking to ensure compliance while handling and signing health records.
With a strong emphasis on security, Fill employs 256-bit AES encryption, detailed audit trails, access controls, multi-factor authentication, and secure cloud storage. It also generates a certificate of completion to let you know who signed the document and when.
Beyond security, Fill offers comprehensive features for collaboration, data safety, and efficiency:
HIPAA-compliant electronic signatures
Secure data infrastructure
Signer ID verification
Seamless EMR/EHR integration
Multiplatform support
Pricing for Fill's Pro Plan starts at $24.99 per month with unlimited signature requests, custom branding, and integration to over 6,000 apps.
2. Foxit eSign (formerly eSign Genie)
Foxit Esign is a secure eSigning platform for businesses of all sizes. It complies with industry security standards, utilizing 256-bit SSL encryption, audit trails, multi-factor authentication, SOC2, HIPAA, and 21CFR Part11 compliance. With it, you can confidently sign and request signed patient health forms.
Like Fill, Foxit eSign offers features that make document signing a breeze. It has premade templates and an online document builder. Plus, it supports custom branding, bulk signatures, boardroom signing, and more. With it, you will never miss signing a document with real-time status updates, emails, and SMS reminders.
Pricing for Foxit eSign Pro with HIPAA compliance starts at $300 per year.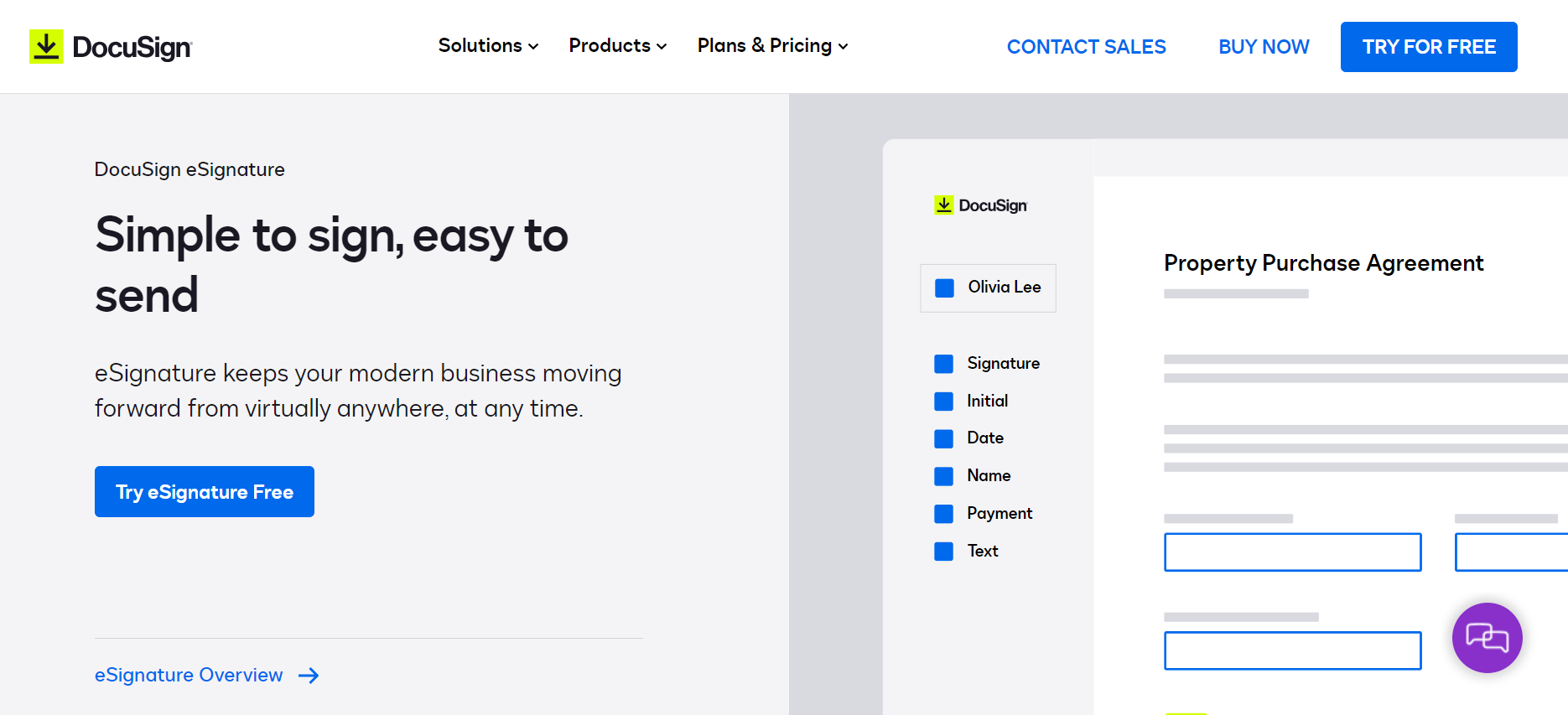 3. DocuSign
DocuSign is an industry-leading platform offering secure e-signatures for healthcare organizations. It's also a Business Associate for covered entities, a core component for ensuring compliance with HIPAA.
Its seamless interface simplifies collecting signatures and managing documents, including health records. Moreover, DocuSign saves you time by letting you create templates for contracts you use repeatedly. It also has reporting features to help you keep track of all your document and eSignature activities.
Addressing HIPAA compliance requirements with the help of DocuSign is possible through its enhanced plans.
4. jSign
jSign is a scalable, HIPAA-compliant solution that focuses on simplicity and provides a user-friendly interface for creating and signing documents. Its simple design and intuitive platform make jSign accessible to users of all technical skill levels.
On top of this, the platform's electronic signatures make it possible for healthcare professionals and organizations to sign documents while complying with HIPAA regulations. Plus, it supports direct uploads from cloud storage services like Google Drive and Dropbox. You can also make the most of your signing experience with its full suite of features that lets you save time and money.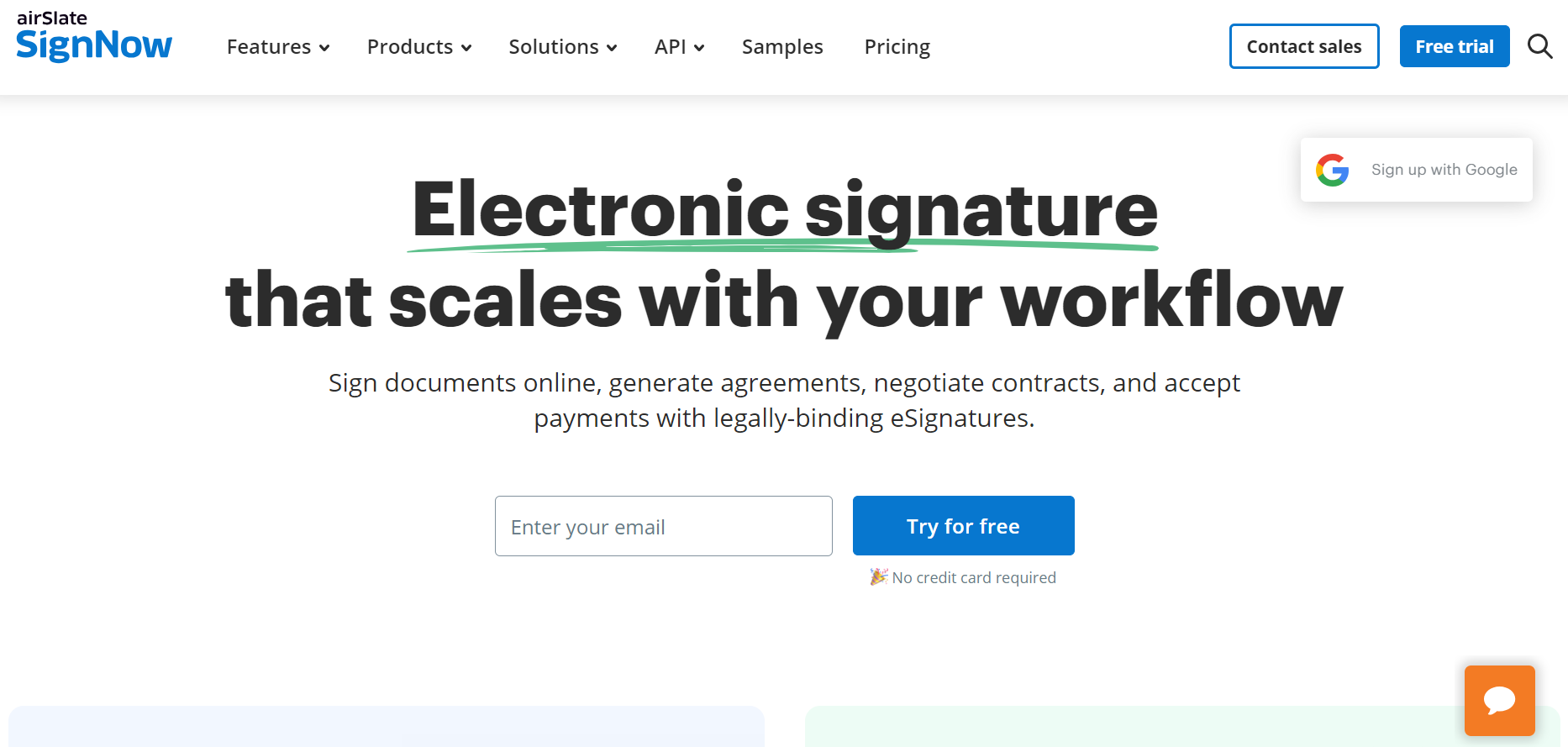 5. SignNow
SignNow provides collaborative features that are best for teams. As a HIPAA-compliant platform, SignNow uses various authentication methods, including phone calls, two-factor, unique document IDs, or document password authentication. Two-factor authentication on iOS is also available.
Moreover, SignNow's business cloud features enable you to create pre-filled documents, automate workflows, create interactive web forms, and automate repetitive tasks. Like Fill and Foxit Esign, it lets you add legally binding signatures to documents of multiple formats.
Why HIPAA-Compliance Matters in eSignature Software
Healthcare organizations and professionals must ensure that any software they use adheres to strict HIPAA regulations. Medical records contain sensitive data. Any document containing these health data and a legally binding signature requires extra layers of security to ensure patient privacy and compliance with HIPAA.
Additionally, overlooking HIPAA compliance can lead to massive fines, the loss of medical licenses, and other severe legal penalties. Choosing secure eSignature solutions for healthcare helps prevent these consequences.
Top Features of HIPAA-Compliant E-Signature Software
If you want to be confident that the software you use is HIPAA-compliant, look for the following features:
Encryption: Encryption helps protect private information from unauthorized access. In a time of increasing cyber threats, look for software that offers 256-bit encryption.
Audit trails: In cases of potential data breaches, you need to know who accessed data from your software. An audit trail provides this detailed record, showing you all actions that were taken during the signing process.
Authentication: Multi-factor authentication requires users to provide two or more credentials to verify the identity of users. This ensures that only authorized persons can access your documents.
Secure storage: Check if the software includes cloud storage options. If yes, the storage should also adhere to HIPAA guidelines.
Access controls: Access control is another HIPAA technical safeguard. This feature lets organizations manage who is allowed to access sensitive information.
Choose the Best HIPAA-Compliant Electronic Signature Software
Choosing HIPAA-compliant e-signature solutions is a must for healthcare professionals and organizations. While many services offer eSigning capabilities, not all are capable of helping your business meet compliance requirements.
The good news is that you already have the list above to help you narrow your options. If you want a comprehensive eSignature platform to access and use anywhere while saving on costs, consider Fill. Besides HIPAA compliance, you can count on it to streamline your workflow and improve your document signing efficiency.
document signing
electronic signature software
esignature software