Healthcare professionals are finding new and innovative ways to improve patient care in our increasingly digital age. One way to do this is by using HIPAA compliant file sharing services. These services allow for the easy exchange of files between doctors, nurses, and other medical personnel. And with so many options on the market, it can be challenging to determine which service is right for you.
That's why we've put together a list of the five best HIPAA compliant file sharing services for healthcare professionals. We'll look at what each service offers and its key features. So whether you're looking for a service to store patient data or need a way to send files quickly and securely, we got you covered.
Table of Contents
#1 Google Drive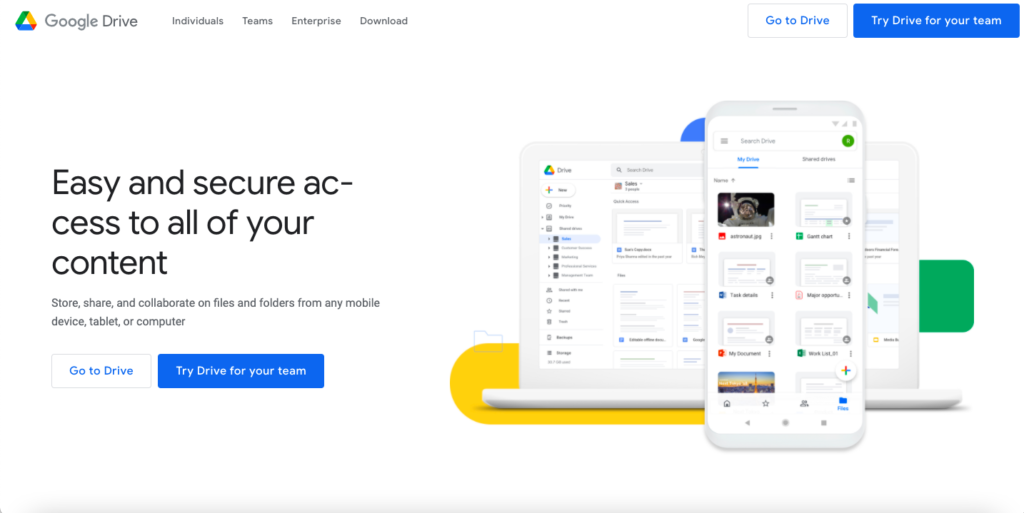 Google Drive is a popular file-sharing service that works on desktops and smartphones. It is one of the most user-friendly services, allowing quick file sharing with its easy-to-use interface. This service is HIPAA compliant as well as encrypted and secure. Google will sign a BAA (Business Associate Agreement) for the subscribers with business plans.
Google Drive is one of the services of Google Workspace. All users gain access to 15GB free from, and all they have to do is signup, upload files, and start sharing. Additional storage plans are also available at an affordable monthly rate. It's important to note that unlimited storage comes along with any G Suite subscription—a plan marketed toward businesses offering a variety of tools such as Gmail, Hangouts Meet, Docs, Sheets, and more.
Google Drive is HIPAA compliant because of its encryption and security measures. Files stored on the service are encrypted, and each user gets their own private storage space secured by a PIN or password—no other information is required to get started. Whenever work on file changes, all changes are automatically and instantly synced so users can share the most up-to-date files any time they need to.
#2 Kiteworks (Formerly Accellion)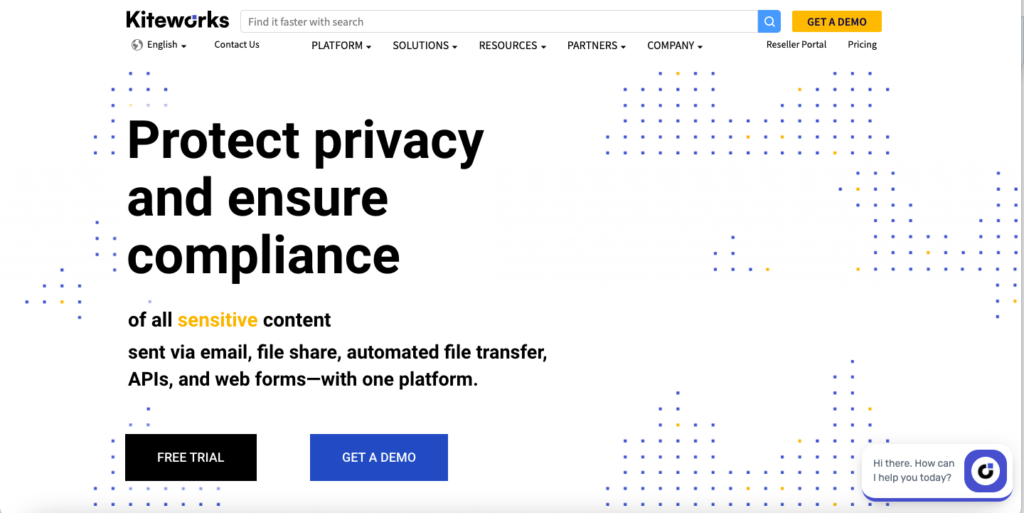 Another HIPAA compliant file sharing service on our list is Kiteworks. This cloud-based platform enables secure file sharing, including options for uploading and downloading files from mobile devices. It works with a wide range of operating systems and browsers, allowing users to share files quickly no matter where they are or what device they're using.
Each user also gets their own private storage space, so there is an added layer of security every time a file is shared. Two-factor authentication is an added security measure that allows users to access files only after entering a PIN via text message, phone call, or email.
Kiteworks is HIPAA compliant because all data stored in the company's servers are entirely encrypted at rest and in transit. Data is also protected by a secure login method that consists of two-factor authentication. The service works with a wide range of operating systems and browsers, supports mobile access across several devices, and lets users share files quickly while keeping all data private from other parties.
#3 FTP Today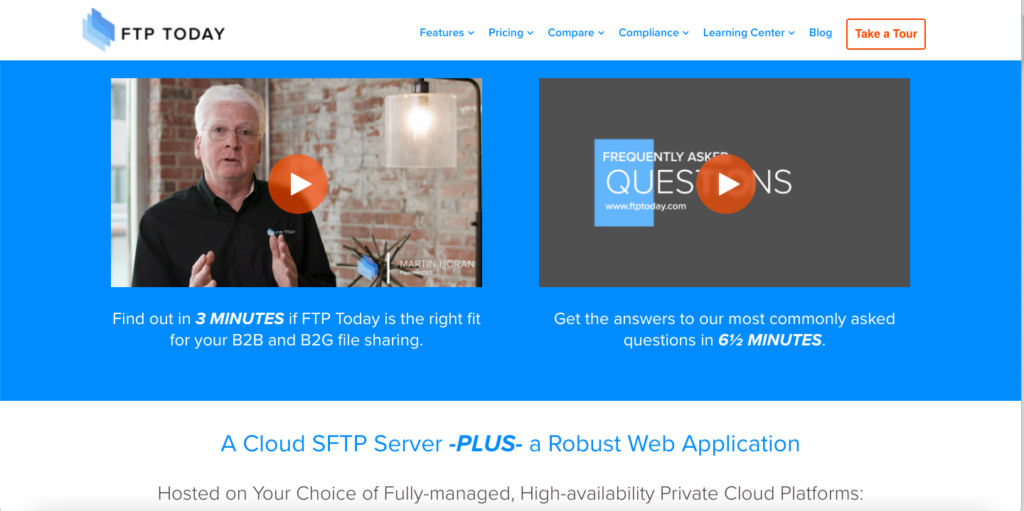 File Transfer Protocol Today or FTP Today is a cloud-based service that brings together many useful features in one place. The platform was designed with businesses in mind and came with three robust solutions to suit the unique needs of any business environment—FTP/SFTP, FTPS, and SCP file sharing, all of which are secure by default.
The platform supports SSL encryption for added security and options to require users to log in before downloading or uploading files. In addition to two-factor authentication, the system also offers IP address verification and digital signature support.
By default, all data shared through this service is encrypted using 256-bit AES encryption. If your company needs to adhere to HIPAA standards while keeping files private from other parties at all times, then this cloud platform can accommodate you. It also offers an added layer of security through two-factor authentication for logging into accounts, which means nobody can access your files without your permission.
#4 Tresorit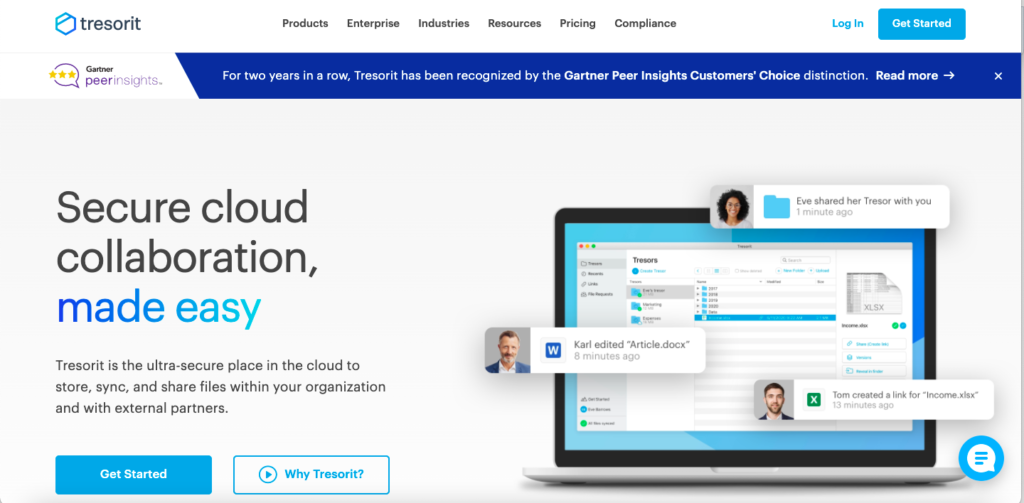 Tresorit is an end-to-end encrypted cloud storage solution designed for businesses and other organizations. It offers the convenience of sharing files with colleagues without worrying about third parties gaining access to private information—whether it's patient records, company documents, or personal data.
As long as you have access to the internet, you can retrieve your files no matter where you are or what device you're using (you'll need the mobile app installed on any devices you want to access). You can easily share files by inviting colleagues or members of your team directly from within the interface. Once they sign up for their account, they'll be able to access those files just as quickly.
All user data is encrypted before being uploaded or stored on the company's servers, which means that no outside parties can gain secret access to any of your sensitive business information. What's more, all communications between users are also encrypted so nobody can eavesdrop on conversations. Users get to enjoy peace of mind knowing their files will be kept safe at all times, whether they're accessing them via desktop or mobile devices running iOS or Android.
#5 OneDrive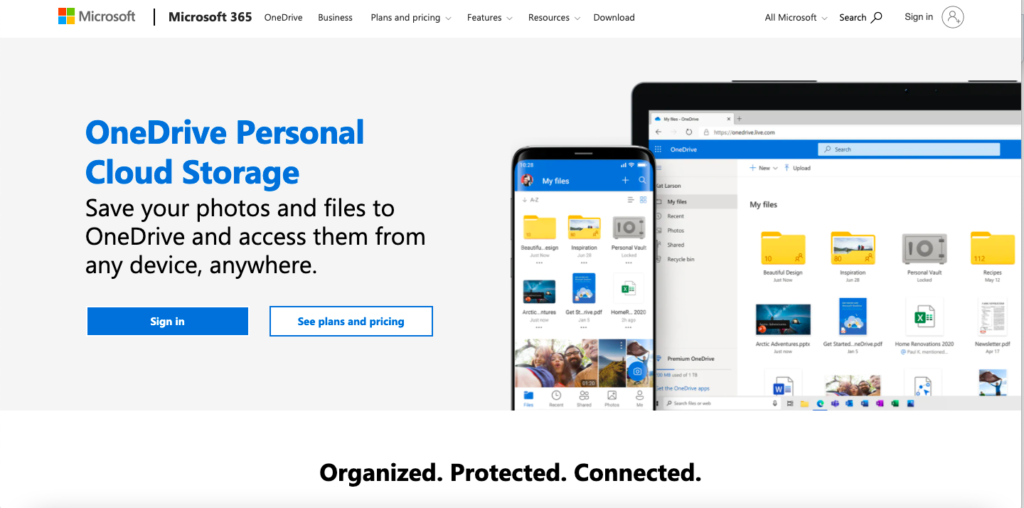 OneDrive is a cloud storage service from Microsoft that serves as a platform for document collaboration. This HIPAA compliant file sharing service lets you easily share files with your team while maintaining complete control over who has access to confidential business information.
OneDrive is an effective HIPAA compliant file sharing platform that allows you and your team members to store, manage, and access documents without the added hassle of installing special software or hardware. With ease, you can use it on multiple devices running iOS or Android, which means it would be easy to share files efficiently between office computers and mobile devices like tablets and smartphones.
Plus, this HIPAA-compliant file sharing service automatically encrypts all data in transit. Hence, there's no need to invest in additional security solutions—you can always enjoy peace of mind knowing patient records will remain secure at all times while still being able to work productively on any device.
*Bonus: HIPAA Compliant Fax Service for Your Communication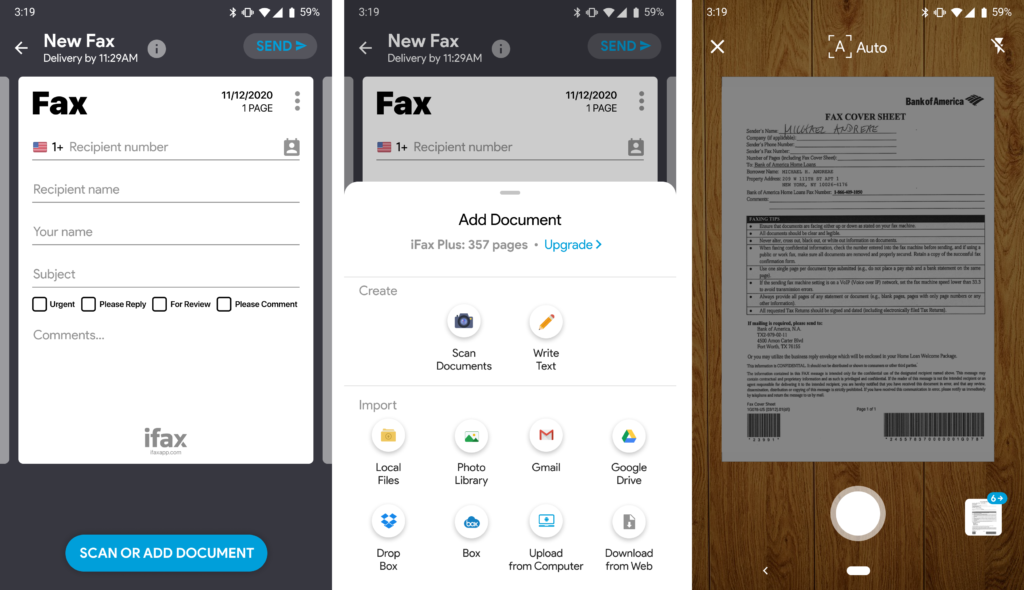 With iFax transmissions taking place over the internet, you will no longer rely on dedicated phone lines or long-distance charges to send internet faxes. You can also manage all of your communications in one convenient location instead of keeping track of individual device configurations for each person in your office.
iFax is fully compliant with the Health Insurance Portability and Accountability Act (HIPAA) requirements. You can send PDF files, photos, excel spreadsheets, and more. There are no limits on how many you can send/receive or how long you can store them on our servers.
Grab the opportunity to use it for sending faxes and see how it would complement your other HIPAA compliant file sharing apps and services.
file sharing services
healthcare
HIPAA compliant faxing