Patients get the best care when medical professionals have access to accurate and timely information. One way to make this happen is by using HIPAA-compliant file-sharing services. Not only do they streamline workflows, but they also ensure that data is transmitted seamlessly across different systems.
If your organization is a covered entity, you must use solutions that follow HIPAA and HITECH guidelines. These cloud-based tools allow doctors and other medical staff to send and receive medical records while keeping sensitive information safe.
HIPAA compliance is a must for any organization that deals with patient data. That's why we've come up with this list of file-sharing tools worth using.
Compare 5 HIPAA-Compliant File-Sharing Services
1. FTP Today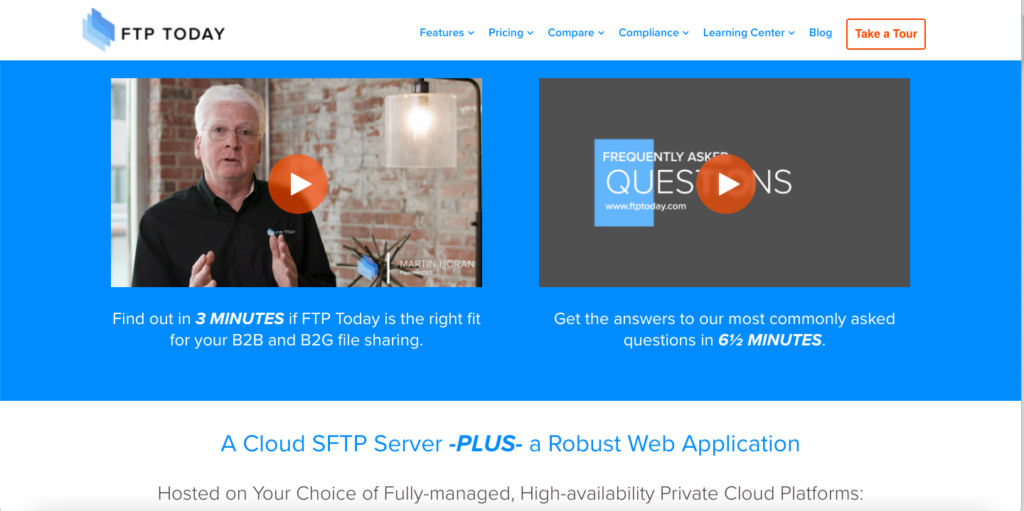 FTP Today is designed with business-to-business (B2B) and business-to-government (B2G) in mind. Private companies, government agencies, and contractors can confidently share sensitive information on this platform.
This platform has two main services:
FTP Cloud is designed for the B2B market, including healthcare facilities and private practitioners.
GOVFTP Cloud specifically serves users in defense, aerospace, and other government agencies.
How safe is your data with FTP Today? This platform has five layers of security and firewalls to prevent unauthorized access. In addition, you can assign user permissions to team members, depending on their roles. You can also enable password protection when sharing files with people outside your organization.
2. Google Workspace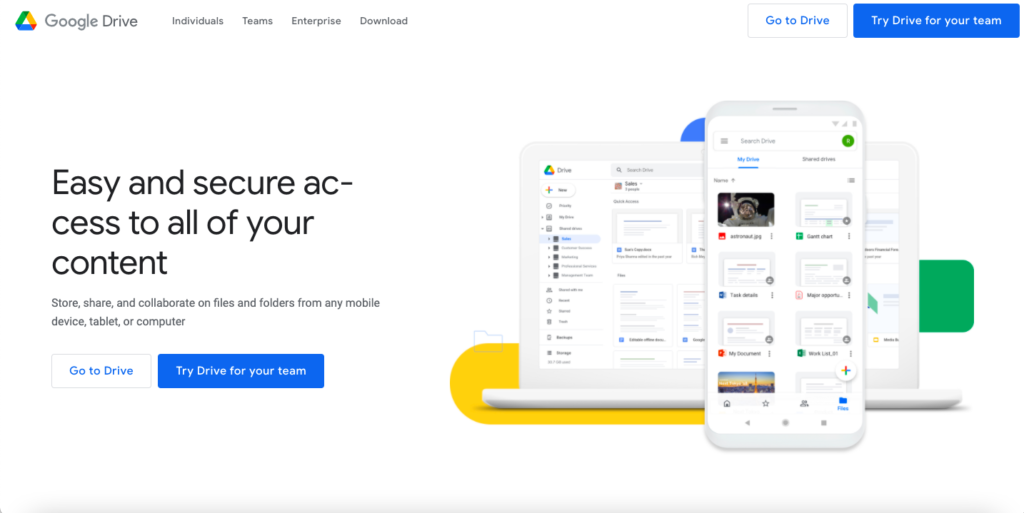 Google Workspace is a staple in the business world, for good reason. Not only is it free, but it is also one of the most user-friendly platforms on the market. But does it comply with federal law?
There's no statement on the company website stating that Google is fully HIPAA compliant, but it has provided the necessary steps to make it possible. However, this feature is only available for administrators of paid accounts.
According to Google's HIPAA BAA, these services are HIPAA compliant:
Gmail
Calendar
Google Drive
Google Chat
Google Cloud Search
If you are a covered entity, you must review and accept the business associate addendum (BAA) before you can share protected health information (PHI).
Here's how to do it:
You must be an administrator of the Workspace to access this feature.
Go to the Admin Console.
Go to Menu > Account > Account settings > Legal and compliance.
Go to the Security and Privacy Additional Terms.
Click the Google Workspace/Cloud Identity HIPAA Business Associate Amendment.
Once you've read the text, click Review and Accept.
Google will ask you to confirm if you are a covered entity. Answer the three questions, then click OK to accept the BAA.
This is applicable if you're using Google Workspace and Cloud Identity, a tool that lets you manage users and groups.
3. Kiteworks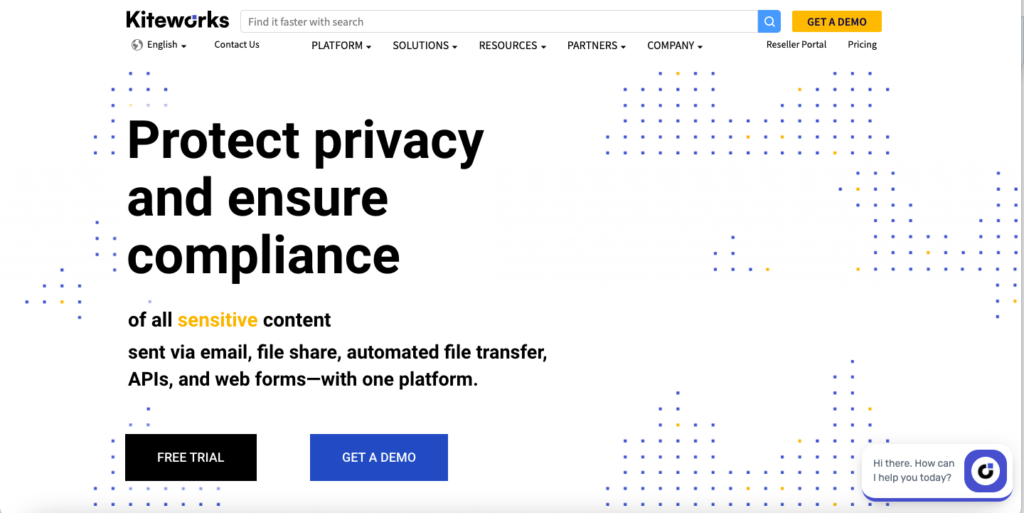 Kiteworks is a cloud-based platform that uses a private content network (PCN) when sharing sensitive information. This PCN unifies all communication through a centralized and secure domain. It also allows administrators to grant or limit access to user roles within the company.
With Kiteworks, healthcare organizations have complete visibility on the apps and systems that host PHI. It also provides immediate backup in case of cyber attacks, which may hijack the hospital system and prevent the staff from accessing critical data.
What makes this file-sharing service noteworthy is that whatever data is transmitted or shared is encrypted, including:
All content types
Web applications
Mobile applications
Web forms
APIs
4. Tresorit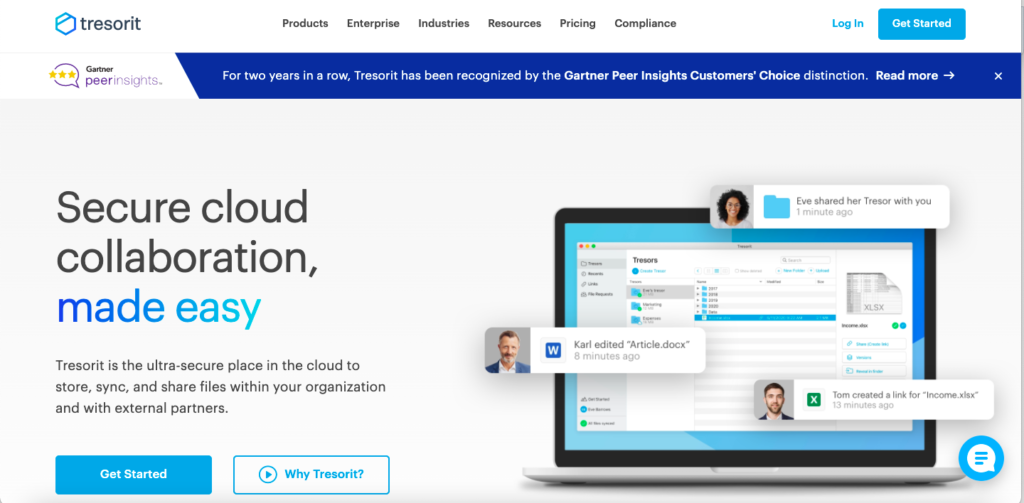 Tresorit is a cloud storage service that uses end-to-end encryption to protect sensitive files, including those from external providers. If you regularly work with third-party vendors and consultants, this is an excellent option.
Tresorit lets you set permission controls for external users. Add passwords, expiration dates, and open limits to links that you share. With this platform, you can track user activity. Simply view detailed logs on shared files, including IP addresses, open dates, and email addresses.
5. iFax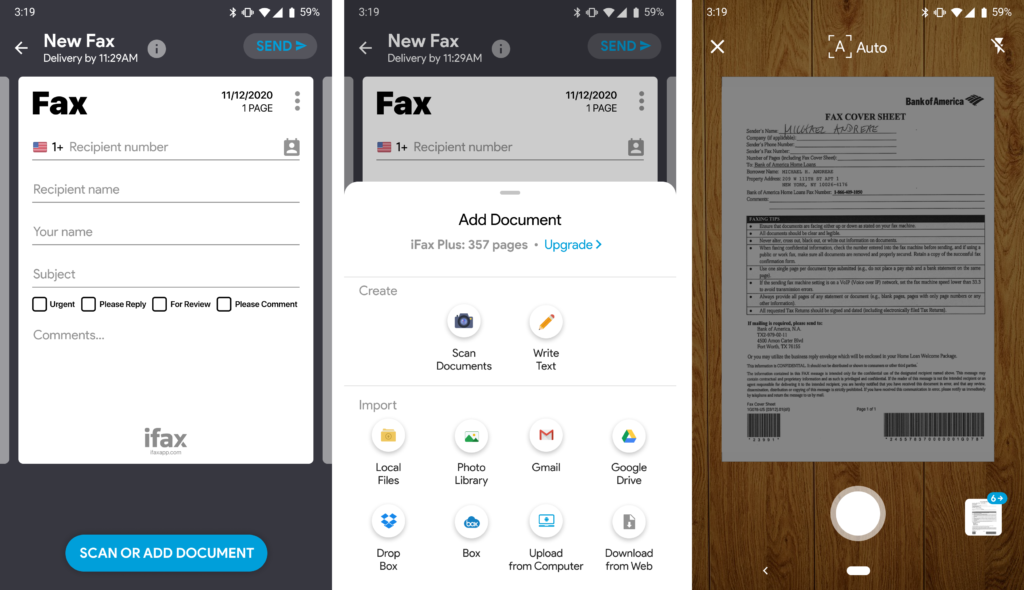 iFax goes beyond sending and receiving faxes. You can also use it to manage, retrieve, and share files online. Thanks to its cross-platform functionality, you can access electronic faxes on any device — iOS, Android, Windows, and Mac.
Sharing a file is super simple, especially for mobile app users. They can just take a photo of a document using the built-in scanner and send it immediately. If you're using a laptop or desktop, the process is similar to sending an email.
iFax stands out because of its sleek dashboard, where you can manage all your faxes in one convenient location. You can add team members to an enterprise account and assign specific fax numbers per individual or department.
Aside from file sharing, this platform lets you:
Customize HIPAA fax cover sheets according to your practice.
Sync online faxes to Google Drive, OneDrive, and Dropbox.
Create group permissions to have full control over member access.
Send urgent fax as a message to your connected EHR system.
Integrate apps with API via Zapier.
Sign a fax yourself or request a signature via Fill.
The best part? All of your online faxes are protected by 256-bit end-to-end encryption, the highest level available.
What Makes a File-Sharing Service HIPAA Compliant?
These key features are needed for HIPAA compliance.
End-to-end encryption
The service must use encrypted data transmission. This means that the data is converted into a code before it is sent. Only the intended recipient has the key for decrypting the data.
Premium services use high caliber encryption in 256-bit, the most advanced and difficult to break even by brute force. This means that your data will be protected from spying and interception while it is being transmitted over the internet.
Encrypted file sharing can help mitigate the impact of data breaches. If a hacker were to gain access to your account, they would only see scrambled data.
Multiple layers of security
The file-sharing company must offer some form of two-factor authentication. This adds an extra layer of security by requiring users to enter a second code, typically sent to their phone to access their account.
Some services provide extra codes sent to mobile phone and email address to ensure that an authorized individual is accessing the account. Additional security features include biometric authentication and face recognition.
Data privacy policies
Your company or organization must have clear policies about data privacy. The service or provider must state what happens to patient information once it is uploaded to the file-sharing service.
These policies must be communicated to everyone, including external partners who may have access to PHI. Even if just one person mishandles PHI, the whole organization could be held responsible for a HIPAA violation.
Audit trail system
By tracking user activity, you can ensure that only authorized users have access to PHI. One of the top benefits of using a file-sharing service is that it provides an audit trail. Having a record of who accessed which files can be crucial in preventing, detecting, and resolving HIPAA violations.
Since you have visibility on user roles and permissions, you can quickly respond to any incidents. Audit logs can be used to reconstruct events in the event of a security breach. This allows you to identify the responsible party and prevent future breaches.
Role-based access control
Role-based access control (RBAC) allows the system administrator to define roles and permissions for each user. For example, a doctor would have access to all medical records, while a patient would only be able to view their own records. This ensures that PHI is only accessible to those who need it. RBAC also minimizes the risk of accidental access to sensitive information.
With the right file-sharing tool, you can set up role-based access and revoke privileges at any time. Most file-sharing apps also allow you to create passwords for specific links that contain sensitive information. These measures ensure that only authorized users can view, modify, and share your files.
Ensure Data Privacy In Your Medical Practice With iFax
Security and privacy are of paramount importance when it comes to sharing medical information. Aside from establishing trust, you also avoid incurring costly fines or even jail time for HIPAA violations
iFax is the perfect solution for secure healthcare faxing. With it, you no longer have to rely on dedicated phone lines or bulky fax machines. All transmissions are encrypted before they are sent, ensuring that only authorized users can access the data.
In addition, iFax offers a comprehensive audit trail that tracks all activity. You can instantly see all changes in your faxes and who has made them.
With iFax, you can focus on providing the best possible care for your patients without worrying about HIPAA compliance.
Register for free and find out why more than 5 million users are delighted to use our HIPAA-compliant faxing app.
file sharing services
healthcare
HIPAA compliant faxing