Fax is often a preferred method of communication for doctors because it is HIPAA compliant. Nonetheless, there are a few extenuating circumstances where a fax with confidential information ends up in the wrong hands.
When sending a fax with confidential information, you want to ensure that the correct person receives it. Including a fax disclaimer can inform the recipient about what information is included and whether it is meant for them. It also provides the recipient the option to contact the sender should a problem occur. Read on to learn why you need a fax disclaimer and a few helpful tips to writing one.
Table of Contents
Why You Need a HIPAA Fax Disclaimer
Using a fax machine is an excellent option for healthcare and medical practitioners sending Protected Health Information (PHI) or anyone sending confidential information. It eliminates the potential of information being placed in the wrong hands and adheres to Health Insurance Portability and Accountability Act (HIPAA) compliance. Including a HIPAA fax disclaimer with your fax further ensures that the information you are sending is secured. This is usually incorporated in the fax cover sheet, which serves as an introductory page for the rest of your fax documents. The fax disclaimer informs the receiving end that the information being sent in the fax is confidential and may include PHI. Failure to comply with HIPAA policies can land you and your company in massive trouble.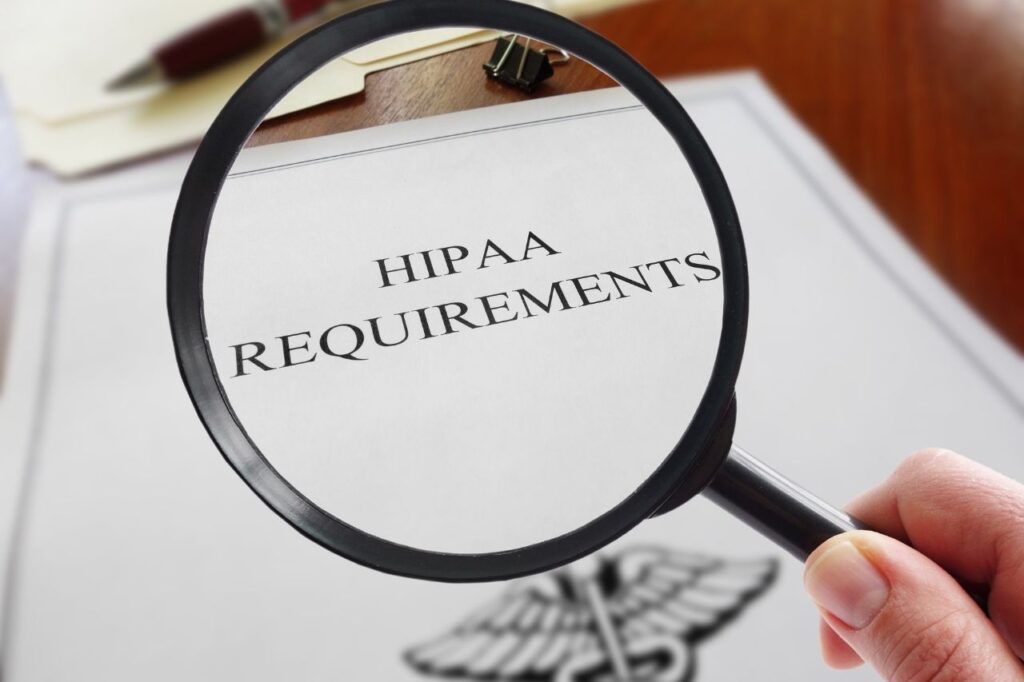 Tips for Writing a HIPAA Fax Disclaimer
State Relevant Information
Keep your HIPAA fax disclaimer straight to the point. You want to inform the recipient that the information is confidential, so they are aware immediately if it is meant for them or not. You will also want to include any relevant contact information in the case of a wrong recipient. Do not mention any patient information in your HIPAA fax disclaimer. Keep it short, simple, and relevant for a quick read.
Set Clear Expectations
You want to be clear in your expectations of who is receiving the information being sent and what to do with said information. When writing your HIPAA fax disclaimer, inform the recipient of who is meant to be reading the fax and what the information includes. Be clear that this information is protected by both federal and state laws and is not meant for distribution. This is in line with the access control standard that regulates who can have access to PHI. Include a warning for wrong recipients and what should be done in that situation.
Include a Warning
The most important element of the HIPAA fax disclaimer is the warning regarding what recipients should do if they receive a fax not meant for them. This warning should always include a request that all the information should be deleted. You may also want to include a sentence or two about what recipients should do to inform the sender that the wrong recipient received it. This can be a simple reply email or a phone number included.
HIPAA Fax Disclaimer Examples
Example 1
The information contained in this transmission may contain confidential information, including patient information protected under federal and state law. This document is intended for [NAME] only. If you are not the intended recipient, you are hereby notified that any disclosure or distribution of this information is in violation of HIPAA confidentiality and prohibited. If you are not the intended recipient, please contact the sender by reply email and delete all copies. This fax disclaimer is present on the cover sheet and serves as a warning to ensure privacy.
Example 2
This document and any attachments may contain confidential and privileged information not intended for distribution or disclosure. The information may include patient information protected by federal and state law and is intended only for [NAME]. If you are not the intended recipient, please notify the sender immediately at [fax number] and delete all copies. Distribution of this information is strictly prohibited. The fax cover sheet disclaimer should be the first page seen when receiving the fax, immediately conveying the privacy standards upheld in the document.
Stay HIPAA Compliant with iFax
With iFax's military-grade encryption standards, you can trust that sending faxes is safer than ever. Our system helps you stay HIPAA, GDPR, and GLBA compliant, so you know your patient's information is protected. Start sending faxes from anywhere with iFax's convenient mobile and desktop apps. The fax service provides an easy-to-use interface, allowing you to easily input your fax number and attach your fax cover sheet with a disclaimer to ensure HIPAA compliance. Trust iFax with your sensitive communication needs.
HIPAA fax disclaimer