Faxing documents is the most reliable way to send someone physical copies securely without involving third-party couriers and individuals. If you are sending sensitive information, faxing is the way to go. The recipients will have the documents from their fax machines in just minutes.
There's also a better way to fax without a fax machine, such as online faxing. You may send and receive faxes through the internet. Imagine, you won't have to purchase hardware and spend on ink replacements and maintenance costs to keep the communications in the loop. All you need is an online faxing service, and you can fax from your smartphone or computer.
The concept of faxing has evolved because of technology as it empowers technology companies and developers to improve faxing, making it more accessible, mobile, and affordable. Let's explore more about online faxing and why you should make the switch, especially if you're managing a ton of fax every day.
Table of Contents
What is Online Faxing?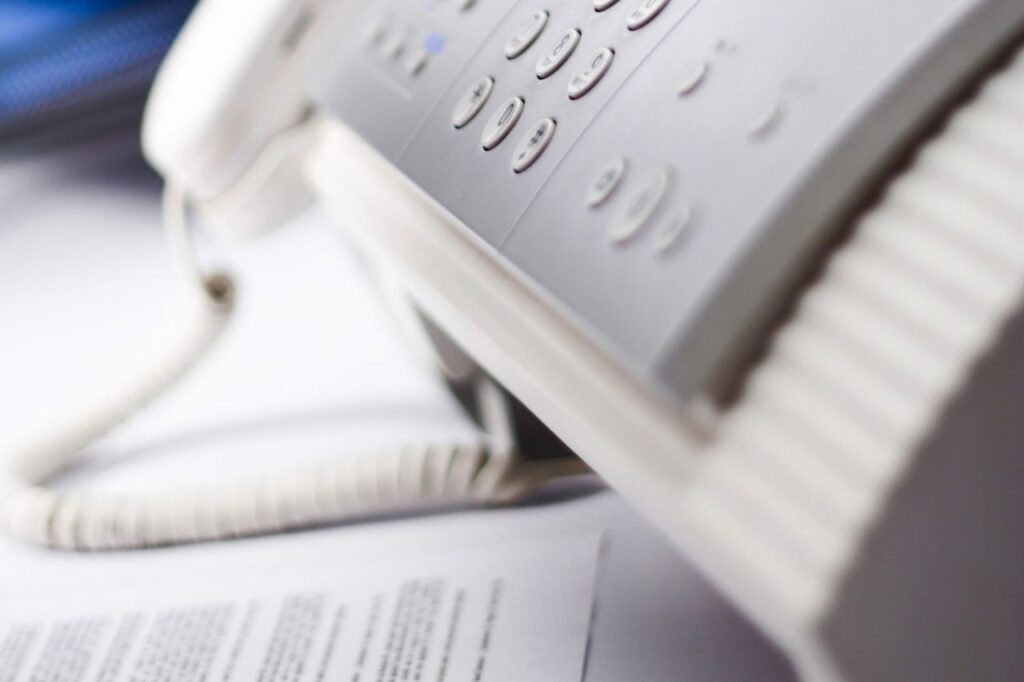 Online faxing allows you to send and receive faxes through the internet without a fax machine powered by online fax services. With an internet-ready mobile device or computer, you download the fax software or mobile application from the online fax service website. You will also receive a dedicated fax number upon registering an account.
Online faxing replaces legacy fax machines and instead leverages the internet to transmit faxes securely using an online portal. On top of that, there are no paper, ink, modem, and telephone lines involved. It's the cheapest way to fax, whether for personal, professional, or business use.
Not only do you save money in this way because it's paperless, but you also save the environment. It's less likely you will use paper when you fax online. Moreover, the online fax service providers offer free trials and paid subscriptions that let you send and receive faxes. Others offer pay-per fax online, which is a good option if you're sending fax only once.
How Online Faxing Works: Send and Receive Faxes with iFax
Let's use iFax as our online fax service to walk you through the process of how online fax works in real-time. Ensure you have a mobile device or computer, a stable internet connection, and an iFax account.
Step 1
Register on www.ifax.com for a new account or get the 7-day free trial by signing up with your email address or social media account via Apple Store or Google Playstore. You may choose the Plus plan to have access to sending and receiving faxes of up to 500 pages per month.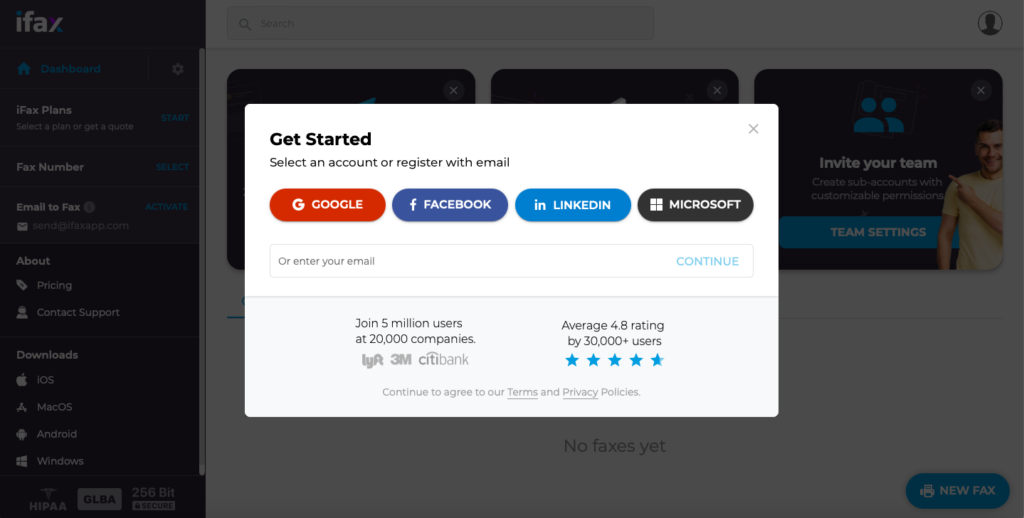 Step 2
iFax has a simple and pretty straightforward user interface such as the dashboard. This is where you can manage the incoming and outgoing faxes, contacts, and more. Click 'New Fax,' and a default fax cover sheet will pop out to send your first fax. Fill in the details, including the recipient's fax number, your name, subject, and comments, for further instructions.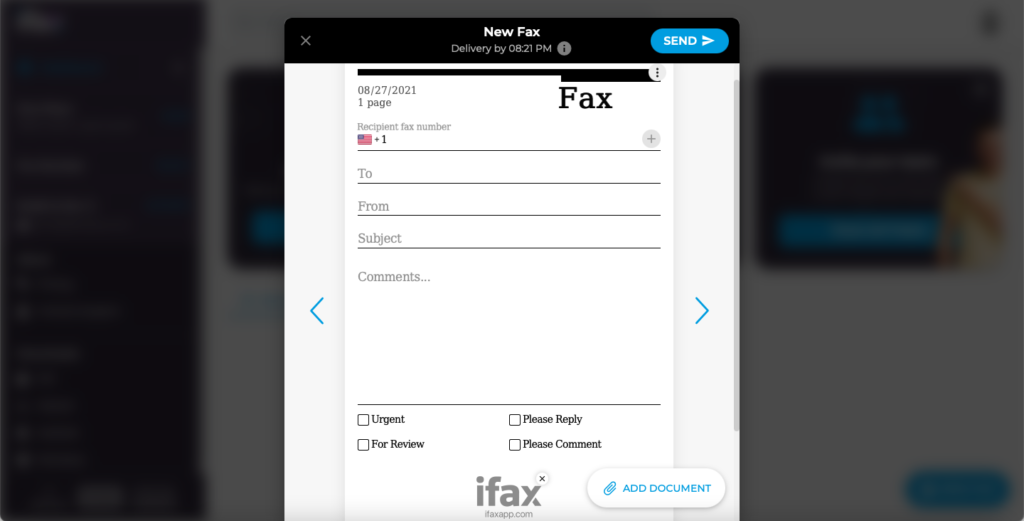 Step 3
If you are using a mobile application, you will see more options for cloud storage accounts. Click the 'Add Document' so you can add files from your computer or connected cloud storage. Click 'Send,' and iFax will show a confirmation box showing the delivery time. Click continue, and you're good to go.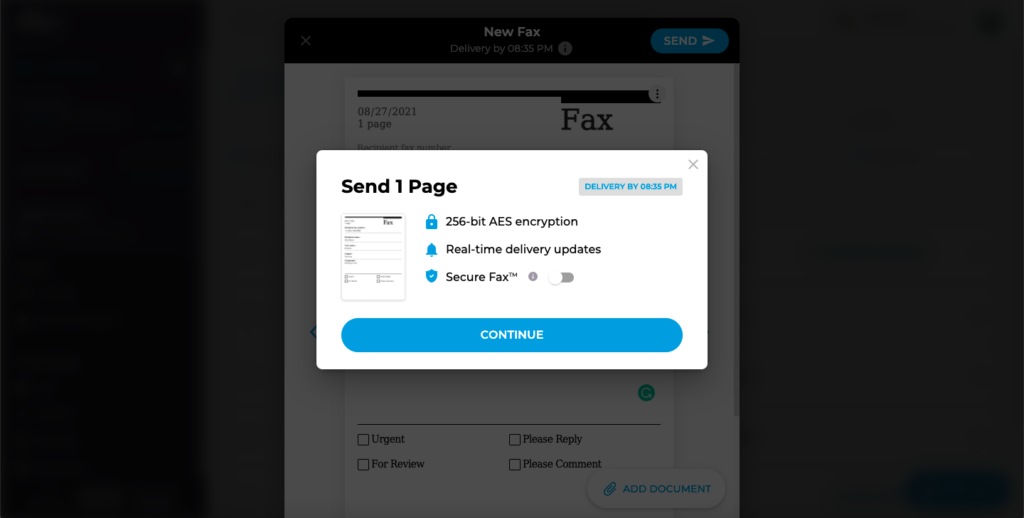 Step 4
Receiving faxes is super easy. You can check them right away on the dashboard. When you sign up, iFax automatically sends you a fax, including a welcome message. In this way, you will have an idea how the received fax will look like on your end. You have options to save the attachment, delete, or print it. You may also keep it since iFax lets you have complete control of your messages and faxes.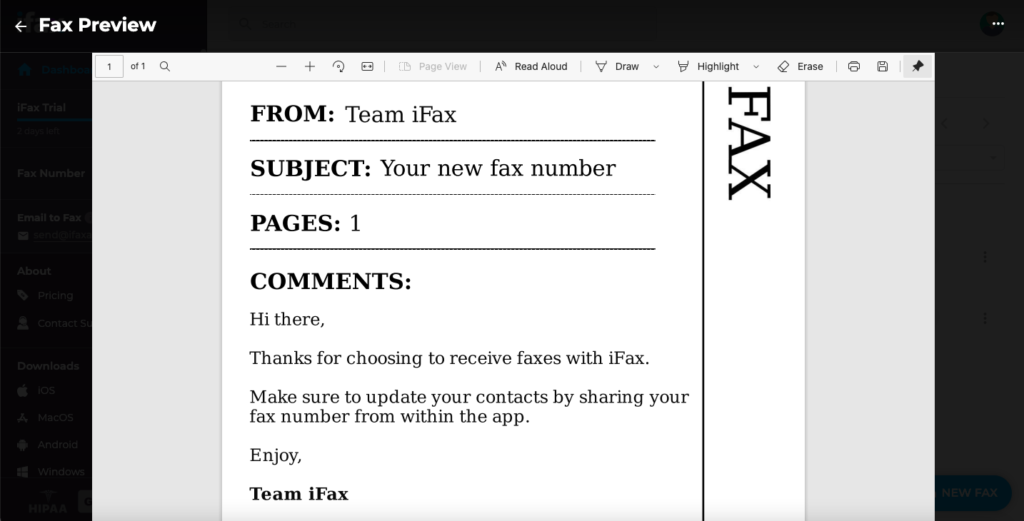 How is Online Faxing Different from Traditional Faxing?
Online faxing eliminates using a fax machine and instead lets you take advantage of your smartphone or computer to fax efficiently and quickly. You don't need to print documents, saving time, ink, and paper. Moreover, you can fax anytime or anywhere. With your smartphone, you scan the documents, and the online service provider will do the job of transmitting them to the recipient's fax machine.
Online faxing mimics the process of sending an email. Instead of having a telephone line, the fax you send online is transmitted with secure encryption to protect the data from hackers and snoopers. However, this process is possible with a smartphone or computer connected to the internet and an online fax subscription.
The great thing about online faxing is that when you send a fax online, the recipient will receive the faxes straight to their fax machine as if you sent them using a machine. Although you send the files digitally, the online fax service will transit and convert them into printable documents. In short, your smartphone is your mobile fax machine.
Final Thoughts
Online faxing is all about convenience, affordability, and accessibility for users. If you're still using a fax machine, perhaps, this is the best time to make the big switch and explore online faxing that can boost your productivity and reduce your maintenance costs in the long run. Plus, if you think online faxing isn't for you, you may cancel the service anytime.
Download iFax now and see why more than 5 million users across 20,000 companies are happy they made the transition to this innovative solution.
best fax service online
internet fax
online fax service