Faxing documents containing confidential or sensitive information requires additional precautions. While the Health Insurance Portability and Accountability Act (HIPAA) does not oblige its covered entities to use cover sheets, it's considered best practice, especially when faxing records or forms containing protected health information (PHI).
This post delves deeper into the importance of HIPAA fax cover sheets and how their inclusion in faxes helps ensure the privacy and security of sensitive health information.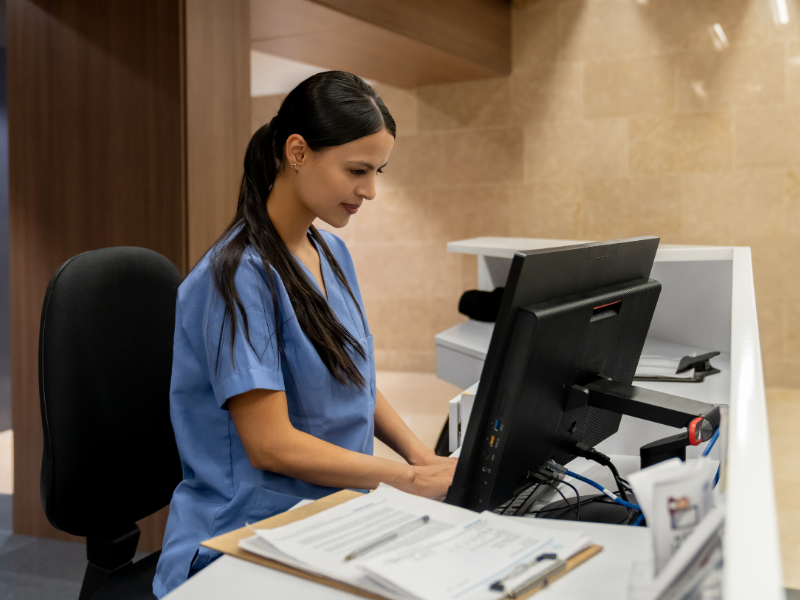 What Is a HIPAA Fax Cover Sheet?
A HIPAA fax cover sheet is a document that usually appears first when faxing records or forms containing PHI. Usually, it includes information about the fax and how the recipient should respond. Its primary purpose is to serve as the first line of defense in case the fax gets sent to the wrong recipient. It contains a confidentiality statement, basic information about the sender and recipient, and a disclaimer notice.
A fax cover sheet or page must not include any information that could compromise the transmitted information's security and privacy. For instance, when faxing patient forms, the cover sheet must not contain personally identifiable information (PII), like patient names, contact numbers, or email addresses.
Why Use a HIPAA Fax Cover Sheet When Sending Faxes?
Typically, faxes containing PHI, such as medical records and laboratory tests, are prone to security breaches and snooping. Unsuspecting recipients could receive the fax, not knowing that it contains sensitive health information.
A HIPAA fax cover sheet serves as a notice indicating that the fax should only be accessed by authorized people. It also serves as a reminder for authorized recipients to handle the fax and its contents with great care and to keep the PHI in the fax strictly confidential. Doing so helps avoid noncompliance with HIPAA, saving your organization from facing severe legal penalties and significant financial burdens.
5 Benefits of Using HIPAA-Compliant Cover Sheets in Healthcare
With HIPAA-compliant fax cover sheets, covered entities can protect their organization from unauthorized viewing of sensitive information. These documents ensure the safe delivery of faxes that contain PHI.
Here are some of the reasons that highlight the importance of HIPAA fax cover sheets:
1. Mitigate privacy and security risks
Using fax cover sheets protects any individual or organization from violating HIPAA. It's an added step in safeguarding sensitive patient data from breaches and wrongful disclosure.
2. Stay compliant with the HIPAA rules
The HIPAA Security Rule requires covered entities to implement access controls as technical safeguards. As such, only authorized users can access faxes with PHI. Including cover sheets in faxes helps you achieve this.
3. Prevent anyone from snooping
A HIPAA fax cover sheet can block anyone from lurking around a patient's records. That said, these documents help ensure that only authorized individuals have permission to view electronic or paper faxes containing protected health information.
4. Alert or warn recipients about the content of the fax
Cover sheets usually include instructions for securely handling faxes containing sensitive information. A disclaimer statement can remind recipients about the importance of keeping PHI confidential and the repercussions should they fail to do so.
5. Avoid mishandling sensitive information
Adding cover sheets can help mitigate the risk of exposing sensitive information. Fax senders can also request or instruct the wrongful recipient on what to do if they receive the fax by mistake. For instance, the sender could ask the recipient to destroy the fax immediately.
Key Elements of an Effective HIPAA Fax Cover Sheet
It is necessary to understand the importance of HIPAA fax cover sheets and its key elements to ensure PHI protection and confidentiality.
In general, an effective cover sheet must include:
Sender and receiver information
Always remember to provide information about the sender and the receiver, including their names, company, and fax numbers. As much as possible, ensure that the receiver is the actual person or entity authorized to receive the fax.
Date and time sent
The time and date of the fax delivery must be included for logging and audit purposes.
Number of pages
Fax senders must always indicate the total number of fax pages on the cover sheet. This will help the recipients verify whether they have received all the pages and immediately notify the sender in case of missing or incomplete information.
HIPAA disclaimer
When delivered to the wrong number or recipient, the cover sheet must indicate clear instructions on how to notify the sender. This will help maintain the privacy and confidentiality of patient data included in the fax.
Example of a HIPAA fax cover sheet disclaimer
This facsimile transmission with documents attached may contain confidential information intended for the sole confidential use of the designated recipients, [NAME/s]. The attachments may include patient information protected by federal and state law. If you have received this document in error, please notify the sender immediately at [fax number] and delete all copies. Please contact the sender to return or destroy the misdirected information. Any distribution or dissemination of this document is strictly prohibited.
Send HIPAA-Compliant Faxes With Cover Sheets Using iFax
Stay compliant with HIPAA and other industry regulations using iFax's customizable HIPAA fax cover sheets. With end-to-end encryption and advanced controls for user access, you can confidently fax documents containing PHI and PII.
Our industry-leading fax solution can streamline your faxing processes and offers features such as real-time reports and audit trails. Best of all, iFax can seamlessly integrate with EMR and EHR systems, saving you from the hassle of faxing outside your existing workflow.
Contact our sales team today to learn more about how you can elevate your faxing security.
HIPAA fax
HIPAA fax cover pages
HIPAA fax cover sheets