It seems like there's a new way to communicate with others every day. There are plenty of options for staying in touch from texting and instant messaging to video calls. But what about faxing? Despite being around for decades, faxing still isn't obsolete. Many businesses and healthcare professionals still use faxes as their primary means of communication when managing patient records.
Is Fax.Plus safe? This is a question that has been on many people's minds lately, especially with all of the news about data breaches and cyber-attacks. In this blog post, we will take a look at what Fax. Plus is how it works, what makes it safe, and other options you can use that are secure and HIPAA-compliant.
Table of Contents
What Is Fax.Plus?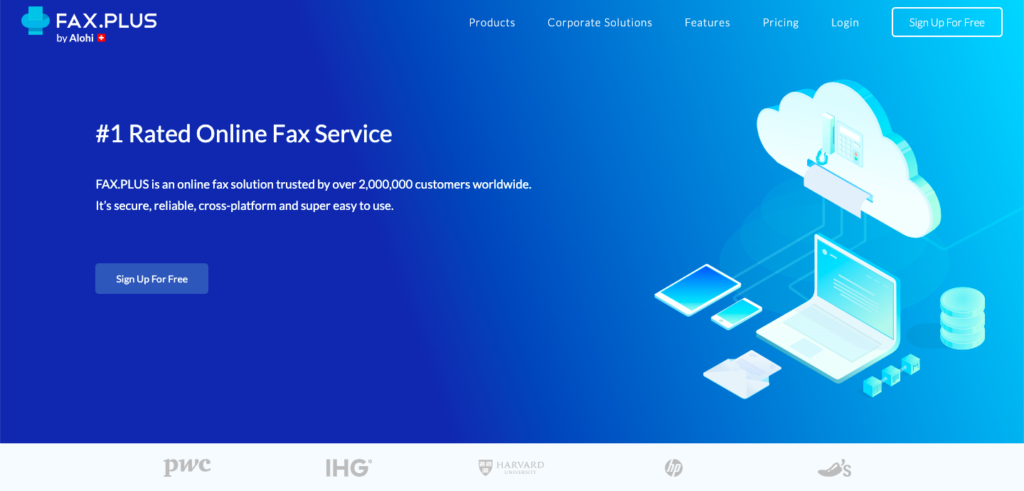 Fax.Plus is an online fax service that allows users to send and receive faxes online. Companies, doctors, lawyers, salespeople, professionals, and more use online faxing to send a fax without printing documents. As of this writing, Fax.Plus is servicing 2 million customers globally, and it's built for individuals, SMEs, and enterprises.
Users can send and receive faxes without a phone line, and they can sign up to use the online fax service with their email address. They can fax anytime from their smartphone or tablet as long as they are connected to the internet. As of this time of writing, Fax.Plus is servicing 2 million customers worldwide.
Fax,Plus is cross-platform, meaning it supports different operating systems such as Android, iOS, Mac OS, and Windows. The fax service under a Premium plan costs $11.99 billed every month, allowing users to send 300 pages.
Fax.Plus Reviews
Users who tried Fax.Plus said they find the service useful as faxes will always play an essential role in personal and business communication. Most of the reviews say it's easy to use, and they can also use it for free if they have the Basic account, but with limitations such as you can only send ten pages per month. Reviews also mentioned that they also like the flexible pricing plans.
If you're looking for third-party reviews about Fax.Plus, you can also check TrustPilot as there are many previous and existing customers who shared their experience with Fax.Plus.
How to Use the Fax.Plus App?
Fax.Plus is available on Android and iPhone devices. If you want to download it for your iPhone and iPad, you may download the app Fax.Plus iOS app.
Here's how to use the Fax.Plus app:
Complete the registration and sign up for free to use the service.

Upon registration, you can use your Gmail account and verify your phone number to complete the process.

Tap the 'Send Fax' and type the recipient's fax number in the 'To' field.

If you wish to attach a file, click the 'Add File' to send documents and a cover page.

Click the 'Send' button and Fax.Plus will fax your document.
If you wish to receive faxes, you should upgrade to their paid plans so you can have a dedicated fax number for both outgoing and incoming faxes.
Is Fax.Plus Safe?
So, is Fax.Plus safe to use? Absolutely. The online fax service is a good mobile fax app that you can use wherever you go. It's also HIPAA-compliant, which means healthcare professionals and covered entities under the HIPAA and HITECH regulations can use it when handling patient health information.
Is There a Fax.Plus Alternative: iFax HIPAA-Compliant Online Fax Service
You might be wondering if there are other Fax.Plus alternatives you can explore for your personal or business use. Fortunately, there is. iFax is an excellent Fax.Plus alternative, which is secure, safe, and reliable. It's built for individuals, businesses, and enterprises and it's GLBA and HIPAA-compliant. If you're in the healthcare sector, you will be confident to send and receive faxes online with its strong encryption.
Fax.Plus Premium Plan only lets you send up to 300 pages per month. But with iFax Plus Plan, you can send and receive up to 500 pages per month and it includes a dedicated fax number. Here are some of the key features:
Send and receive faxes using its cross-platform feature (iOS, Android, Windows, and Mac OS).

Comes with a free dedicated fax number for Plus and Professional plans.

256-bit end-to-end encryption to secure all transmissions.

Supports email-to-fax feature that lets users send faxes from their preferred email client.

Includes team accounts and workflows for easier collaboration.

Lets users receive real-time notifications on their devices and emails.

Supports fax-to-text conversions with its Optical Character Recognition.

No hidden fees, no set up charges.

Flexible pricing plans, the lowest starts from $8.33 per month.

Enterprise-ready with a fax API for custom solutions.
And the list could go on. Whether it's for personal or business use, iFax got you covered. Moreover, you can also avail the 7-day free trial to get a feel of its features on your device. You can cancel your account before the trial ends and you won't be charged a single centavo. iFax will also notify you before the trial ends.
Final Thoughts: Is iFax.Plus Safe?
Fax.Plus is a great way to send and receive faxes, especially when you need to keep your documents confidential. The app is easy to use, and there are many ways to send and receive faxes using the service. You can also be assured that your information is safe and secure with Fax.Plus.
We hope that this article has answered the question 'Is iFax.Plus safe?' and has given you enough information if you wish to avail its services.
Meanwhile, if you're looking for an online fax service that is HIPAA-compliant, iFax is a good alternative to consider. For businesses that send hundreds and thousands of faxes each month, iFax is an excellent option, you can choose either the Plus or Professional plan to maximize the monthly cap and also the additional features that can improve your team's workflow.
That's not all, with iFax, you can also request a custom plan that meets your faxing needs and budget. What are you waiting for? Try iFax now and start sending and receiving faxes immediately.
HIPAA fax
HIPAA online fax service
internet faxing