Are you looking for a top-notch fax machine for your business? If so, then the Sharp UX-178 fax machine is worth considering. This reliable machine is designed to help companies to increase productivity and efficiency.
From its ease of use to its excellent quality prints and scans, this machine has all the features that make it a good option for any business or even home office environment.
Read on to discover how the UX-178 can give your business an edge when faxing documents. You'll also find information about fax online in case you consider a paperless approach.
3 Key Features and Capabilities of the Sharp UX-178 Fax Machine
1. Speed dialing
Speed dialing is a feature available in Sharp UX-178 fax machines that allow users to store frequently dialed numbers for quick access. This feature is unique to the Sharp UX-178 because it enables users to store up to 20 numbers for speed dialing.
Eliminate the need for manual dialing, save time and effort, and boost productivity. Users can easily access stored numbers with the press of a button, making the process of sending and receiving documents more efficient.
2. Caller-ID ready
The Sharp UX-178 fax machine has a Caller ID feature that allows users to view the phone number of incoming calls. This feature is useful when sending and receiving documents because it will enable users to identify who is calling and decide whether to answer the call or let it go to voicemail.
When receiving faxes from unknown senders, you can avoid wasting paper and ink on unwanted or unsolicited faxes. The Caller ID feature is unique to the Sharp UX-178 fax machine and unavailable on all the brand's fax machines.
3. Automatic paper cutter
An automatic paper cutter is a feature that automatically cuts incoming faxes to the same length as the original transmission. The automatic feeder can hold up to 10 sheets of paper.
This feature is useful when sending and receiving documents because it saves time and effort by eliminating the need to cut the paper to the correct size manually. It uses an automatic cutting method, whereas other fax machines may require the document to be torn off by hand.
How to Fax Using the Sharp UX-178
To fax using the Sharp UX-178, follow these steps:
1. Load the document you want to fax into the document feeder.
2. Dial the fax number using the keypad or speed dial buttons.
3. Press the "Start" button to begin sending the fax.
4. If you want to hear the line and fax tones through the speaker when sending a document, press the "Monitor" button.
For more detailed instructions, refer to the Sharp UX-178 operation manual.
Why It's Better to Send Faxes Online?
While the Sharp UX-178 fax machine has its merits, there are compelling reasons why small businesses should switch to an online faxing service. Here are five reasons why online faxing is the better choice:
1. Cost savings
Online faxing eliminates expensive hardware, such as fax machines, paper, toner, and phone lines. Additionally, online faxing solutions offer pay-per-use pricing that allows businesses to pay only for what they use. The cost savings with online faxing can quickly add up, especially for small businesses on a tight budget.
2. Convenience
With online faxing, businesses can send and receive faxes from anywhere at any time using their computer or mobile device. There's no need to be in the office or have a fax machine nearby. This convenience benefits remote workers, business travelers, and companies with multiple locations.
3. Security
Online faxing is more secure than traditional faxing because the documents are encrypted and stored in the cloud. This means sensitive information, such as financial or legal documents, is less vulnerable to theft or breaches.
Furthermore, online faxing services comply with industry standards, such as HIPAA, to protect confidential information.
4. Environmental friendly and sustainable
Online faxing is an eco-friendly option because it reduces paper waste. By eliminating the need to print faxes, businesses can reduce their carbon footprint, save trees, and contribute to a greener planet. Additionally, online faxing services use energy-efficient servers that consume less power than traditional fax machines.
5. Integration
Online faxing services can integrate with other business tools like email, document management systems, and cloud services. This integration streamlines workflows and saves time by allowing users to send and receive faxes directly from their favorite applications.
For example, a salesperson can send a fax from their CRM software without switching to another program.
Given that these are valid reasons to make the switch, there's a solution that can help you embrace the digital approach. Enter the iFax app.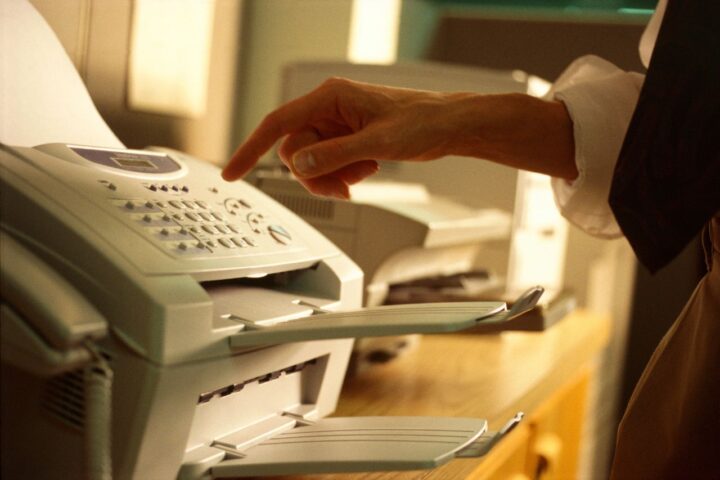 Comparison of the Sharp UX-178 Fax Machine With iFax: Which Is Better?
The difference between the Sharp UX-178 fax machine and iFax is that the latter is a digital fax service that allows you to send and receive faxes from anywhere with an internet connection.
What's more:
1. iFax offers more security features, such as encryption and password protection, to secure your faxes.
2. This HIPAA-compliant fax solution is more user-friendly and intuitive than traditional fax machines, which can be complicated.
3. This online fax service offers more features, such as digital signatures and cloud storage, that traditional fax machines do not have.
If you want to explore iFax, you can do this for free today. Sign up now to see it in action.
fax machines
Online faxing