HIPAA-compliant customer relationship management (CRM) software helps healthcare organizations oversee patient care, manage billing, optimize internal processes, generate reports, and attract new patients.
Since CRM software handles confidential health data, healthcare organizations should ensure their CRM tool helps them follow HIPAA guidelines. Below is a list of the best HIPAA-compliant healthcare CRMs supporting data privacy and security.
Top 5 HIPAA-Compliant CRM Software:
Why Healthcare Needs HIPAA-Compliant CRM
The data analytics feature of CRM can help you identify patients who need additional care or those overdue for follow-ups and tests. CRM solutions can also be used to manage your appointments and prescriptions.
Healthcare CRMs nowadays incorporate remote patient-monitoring features. When logging into the CRM, you can access a patient's real-time vital signs. However, the patient has to use remote monitoring tools like blood pressure monitors or glucose tests. Moreover, a CRM can help you manage medical billing processes and patient grievance reports. They are also a helpful productivity tool in marketing campaigns.
Unfortunately, healthcare organizations are frequent targets of cybercriminals. As the Department of Health and Human Services (HHS) 2022 Healthcare Cybersecurity Year in Review shows, ransomware attacks on healthcare delivery organizations doubled from 2016-2021, with data breaches showing a consistent upward trend from 2012-2021. Considering the escalating cyber attacks, HIPAA CRM compliance is a must.
Let's review some of the best HIPAA-compliant relationship management software. These CRMs provide a Business Associate Agreement (BAA), a required legal document for business associates under HIPAA.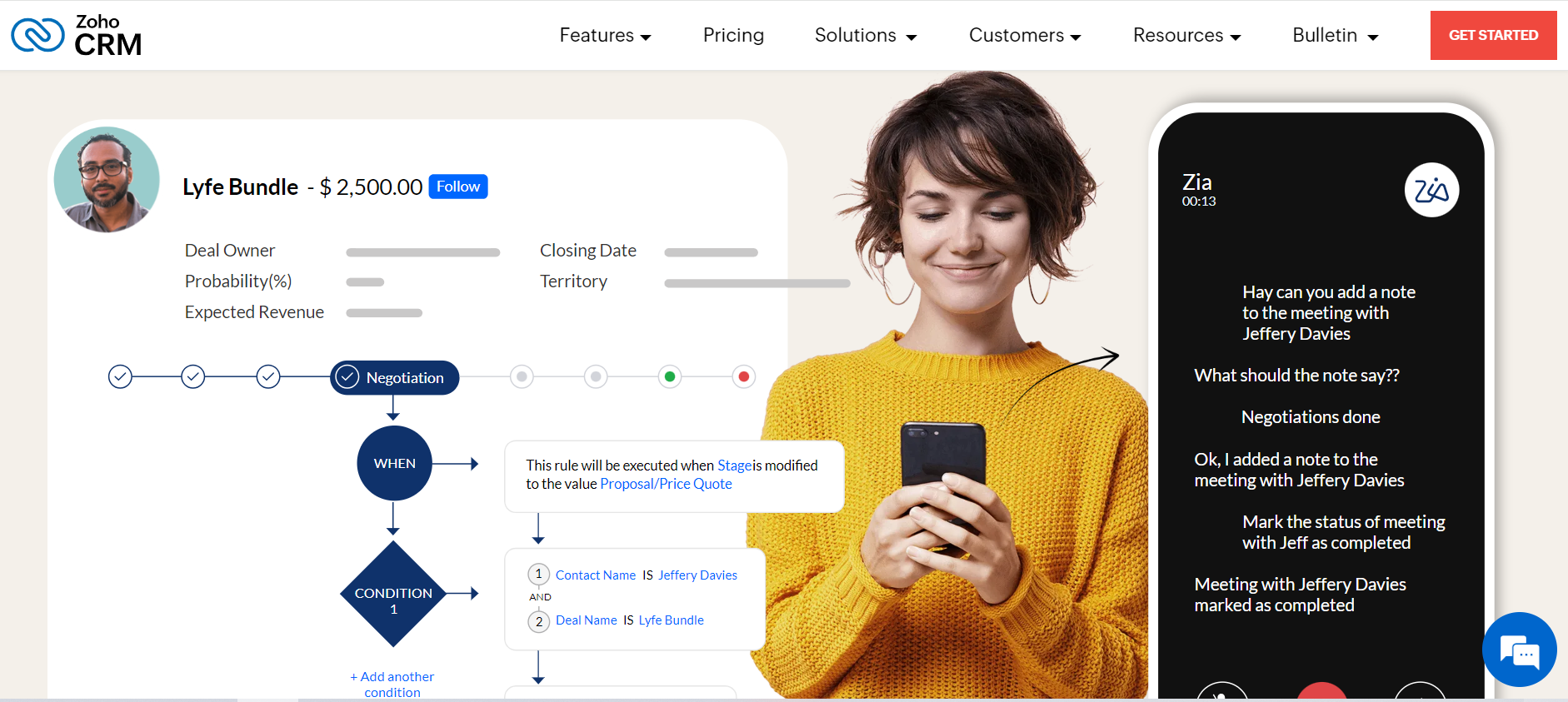 1. Zoho
Zoho CRM has made a name for itself regarding CRM solutions. The software has everything you need to help comply with HIPAA. With Zoho, you can access and track data sources, restrict electronic protected health information (ePHI) access, encrypt data, and audit user activity. The best thing is you don't need to break the bank.
Key Features:
Zoho CRM mobile app
Live chat and social media integrations
Prebuilt dashboards and reports for in-depth analytics
Restricts the transfer of health data to other apps via API
Over 45 integrated business apps
End-to-end implementation support
Monitor data modifications and deletions
Pricing (per user/month):
Free
Standard: $14
Professional: $23
Enterprise: $40
Ultimate: $52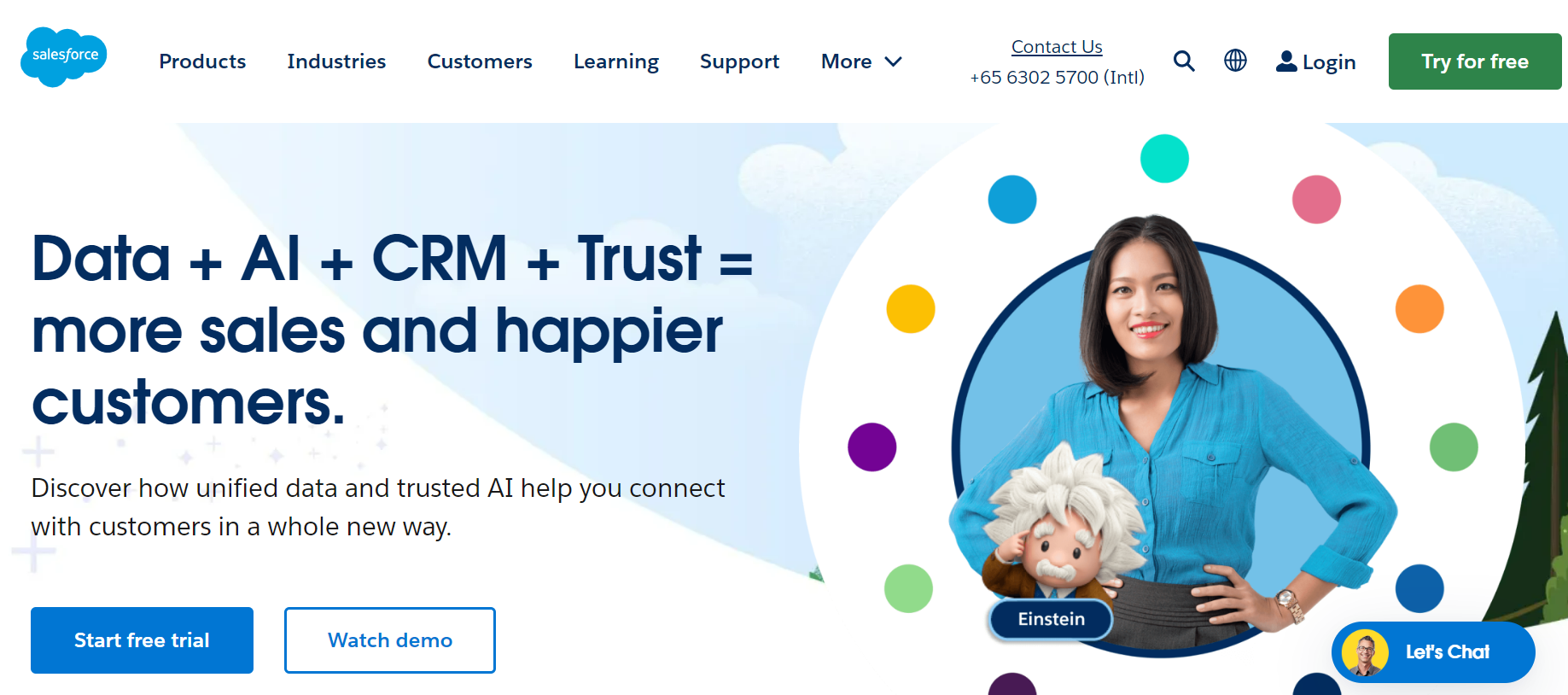 2. Salesforce
Salesforce is another big-name brand in the world of HIPAA-compliant patient relationship management solutions. It is a flexible, scalable, and secure platform trusted by thousands of companies. Plus, it uses an integrated platform that connects your marketing, commerce, service, IT, and sales efforts.
Key Features:
Customer 360 (integrated CRM platform)
AI automated workflows
Integrates with existing systems using API
Drag and drop tools
Shield Platform encryption to encrypt data at rest
Pricing (per user/month):
Starter: $25
Professional: $80
Enterprise: $165
Unlimited: $330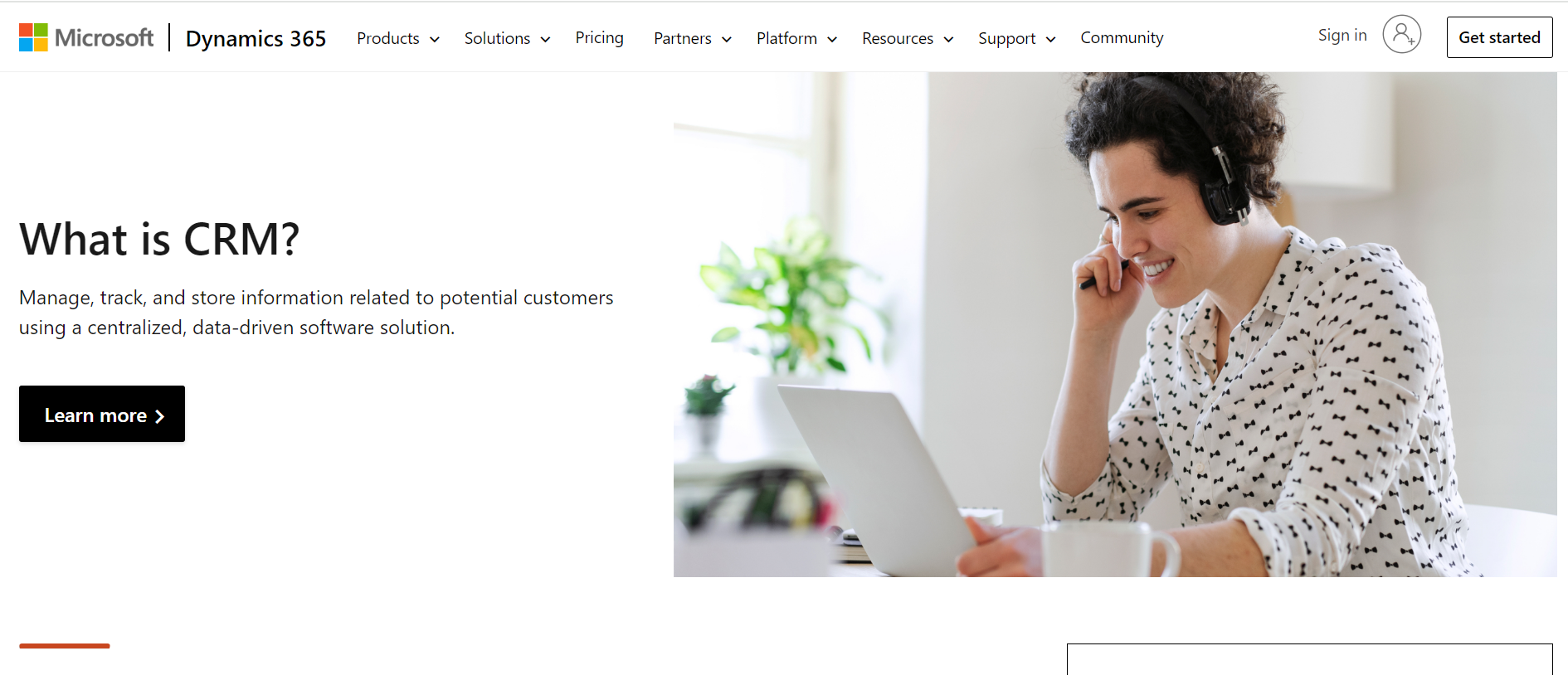 3. Microsoft Dynamics CRM
Microsoft is well-known for its business apps, but did you know it also offers a CRM solution? Microsoft Dynamics CRM Online has built-in HIPAA support through volume licensing programs and the Dynamics Online Portal. You can choose a standalone app to meet the specific needs of your business or use multiple CRM apps to design a comprehensive CRM solution.
Key features:
Free trial for 30 days
Remote Assistant
Self-service HR tools
AI-powered marketing and customer service features
Automated customer surveys
Integrates with Microsoft Excel and Microsoft Outlook
Dynamics 365 Copilot optimizes marketing workflows
Pricing:
Subscription pricing varies per app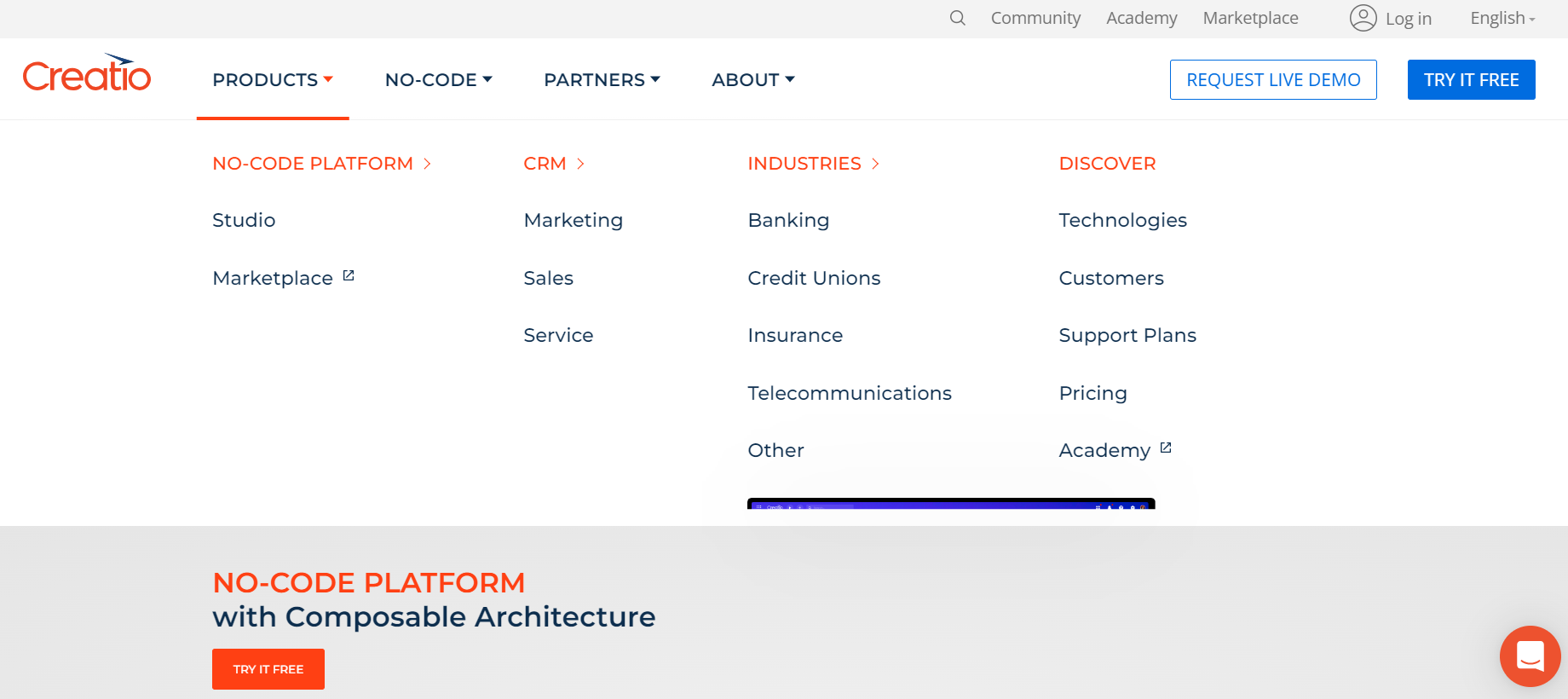 4. CRM Creatio
CRM Creatio is a user-friendly CRM tool. It promotes itself as a no-code platform that helps you automate your workflows with ready-to-use apps and templates. Its strength lies in its usability and unlimited customization.
Key features:
No-code, which makes it easy to automate your CRM workflows
Ready-to-use platform
Real-time analytics and reporting
Separate database with encryption for each customer
Customizable access controls
14-day free trial
Creatio Studio to build apps
Pricing (per user/month):
Free
Growth: $20/user/month
Enterprise: $55/user/month
Unlimited: $55
Additional $15 each for each product: Sales, Marketing, and Service
Additional $0.25 user/year-$11/user/month for different types of users
Add-on cost for business and premium support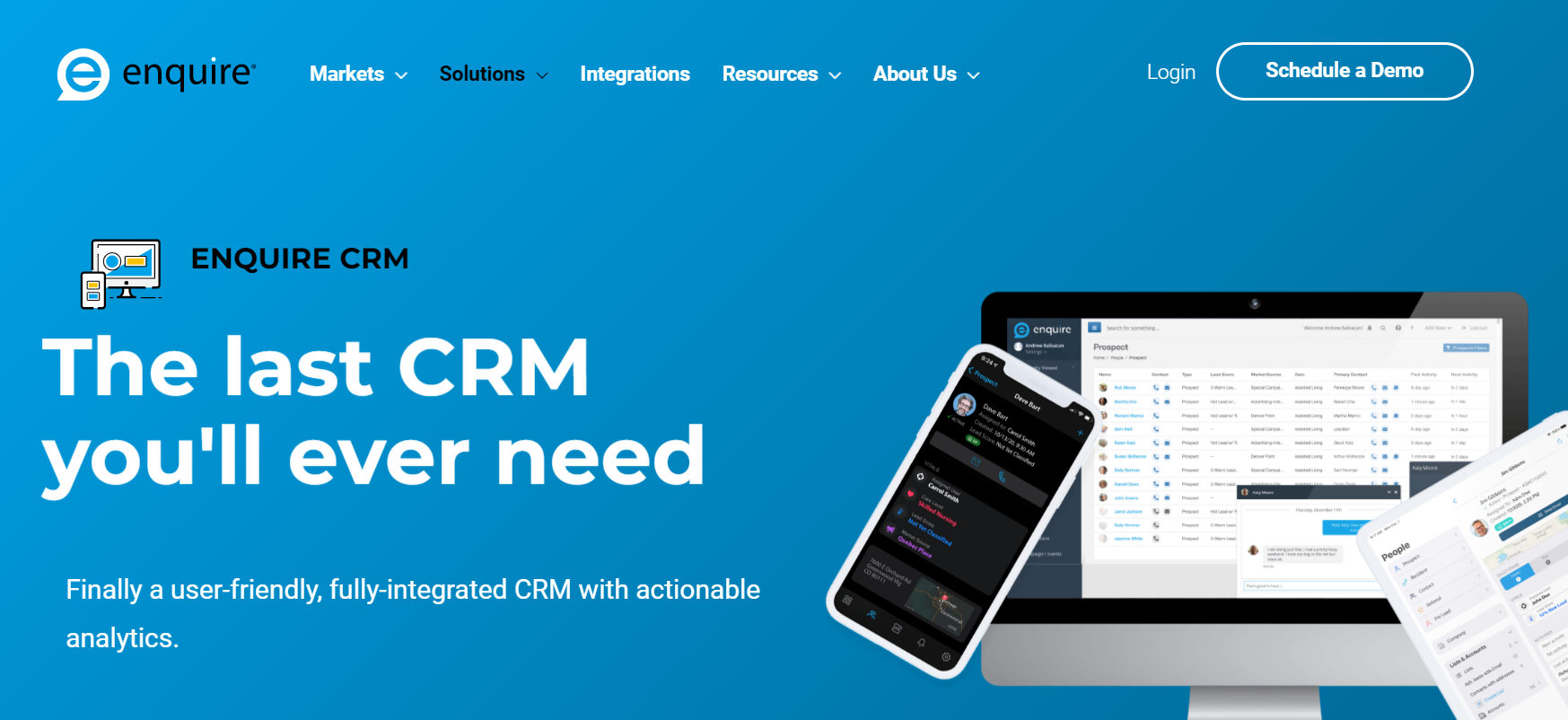 5. Enquire CRM
Enquire CRM is ideal for senior living, home health, and hospice care sectors. It offers full customization to fit the requirements of your facility. This tool allows you to manage contacts, automate marketing, track contact information, and more.
Key Features:
Live chat
Mobile app with text-to-speech, prospects tracking, Face ID login, activity tracking and more
One-click call, email, and text
Customized web forms for your websites
Automated reports with over 100 visualizations
Automated workflows and data entry
Integration with common apps and platforms
Pricing:
Not applicable, free demo available upon request
Features of HIPAA-Compliant CRM
Look for the following features when deciding which CRM to choose:
Access Controls: The CRM should have security measures to ensure that only authorized staff can access ePHI. For instance, nurses and doctors should be able to view a patient's vital data, but receptionists should only be able to view a person's primary identifying data.
Strong Data Security: Check for encryption, multi-factor authentication, and admin controls. It should also be able to track user activity and data modifications.
Data Loss Protection: HIPAA breaches can result in data loss. A HIPAA-compliant CRM should be able to minimize this risk with a secure data backup system.
Business Associate Agreement: All HIPAA-compliant healthcare CRMs should be able to provide a BAA. Without this, you cannot hold the provider accountable for HIPAA violations, and your organization will be held responsible for breaking HIPAA rules.
Choosing a HIPAA-Compliant CRM Matters
When choosing a CRM, it's best to talk to its sales representative first and see whether it has all the features you need to streamline operations and ensure compliance. These representatives should be able to articulate the product's strengths and weaknesses. Ask about HTTPS, data recovery measures, risk management analysis, and other cybersecurity aspects to evaluate their commitment to comply with HIPAA and other laws concerning security and privacy.
Additionally, scour the news for data breach incidents. The company should have a proven track record of partnering with other healthcare providers. Moreover, evaluate their responses to cyber security issues. Eliminate CRM providers who cannot respond promptly and effectively. With a bit of research, finding the best HIPAA-compliant CRM tool for your business is within reach.
CRM software
CRM software for HIPAA compliance