Nothing is more annoying than opening your inbox and finding dozens of spam from unfamiliar numbers. These unsolicited messages make it difficult for you to get through important transmissions on time. Not to mention, they can be a pain to delete. But more importantly, junk faxes can sometimes pose threats to your data.
Fortunately, one easy way to combat this annoyance is by learning how to block fax numbers on your online faxing service. In this article, we will walk you through the simple process to stop receiving unwanted faxes on iFax.
Table of Contents
What Are Spam Faxes?
Given today's highly competitive environment, many advertisers must devise clever ways to reach their target market. It came as no surprise that they managed a way to send spam messages via fax.
According to the Federal Communications Commission, spam or junk faxes are unsolicited transmissions you receive from random telemarketing and advertising companies. They usually contain offers, product or service descriptions, and other marketing ploys. There are also junk faxes that come in as surveys and other data-collecting forms. These faxes can become a hindrance to maintaining a smooth business relationship, as they are often considered as intrusive.
Under the Telephone Consumer Protection Act and Junk Fax Prevention Act, businesses or institutions are prohibited from sending unwanted faxes. Anyone caught spamming people's fax numbers with these transmissions will get fined a minimum of $500.
The good news? Blocking fax numbers is the quickest and easiest way to resolve this issue, thereby enhancing the efficiency of your fax service.
How to Block Fax Numbers on iFax
iFax is undoubtedly one of the most reliable online faxing solutions in the market today. It uses military-grade encryption, making it the ideal communication tool for transmitting even the most sensitive and confidential files. Apart from being secure, iFax also takes care of unwanted spam faxes that can disrupt your operations. iFax also offers a feature that enables you to prevent any junk faxes from entering your inbox.
Here's how to block fax numbers on iFax:
1. Log in to your account.
2. Go to your inbox.
3. Select the junk fax messages and click the hamburger icon (three dots) on the right side of the transmission.
4. Select Block Sender.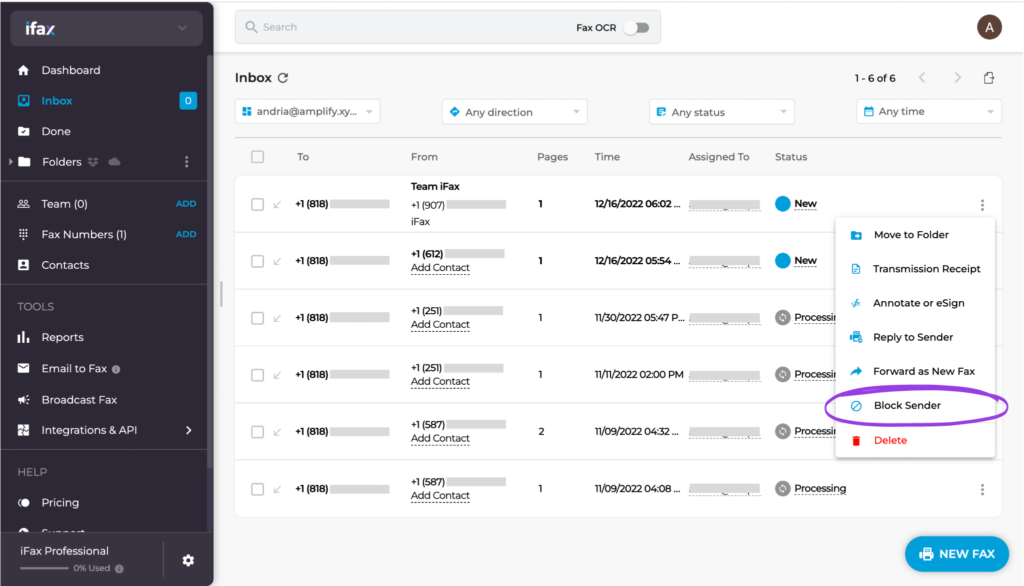 5. You'll see a popup notification on the bottom of your screen when you've successfully blocked a fax number.
Another great thing about iFax is that you can view and keep track of all the numbers you've blocked. You can do so by following these steps:
1. On your dashboard, go to Settings by clicking the gear icon on the bottom left side of the screen.
2. On General, select Blocked Numbers.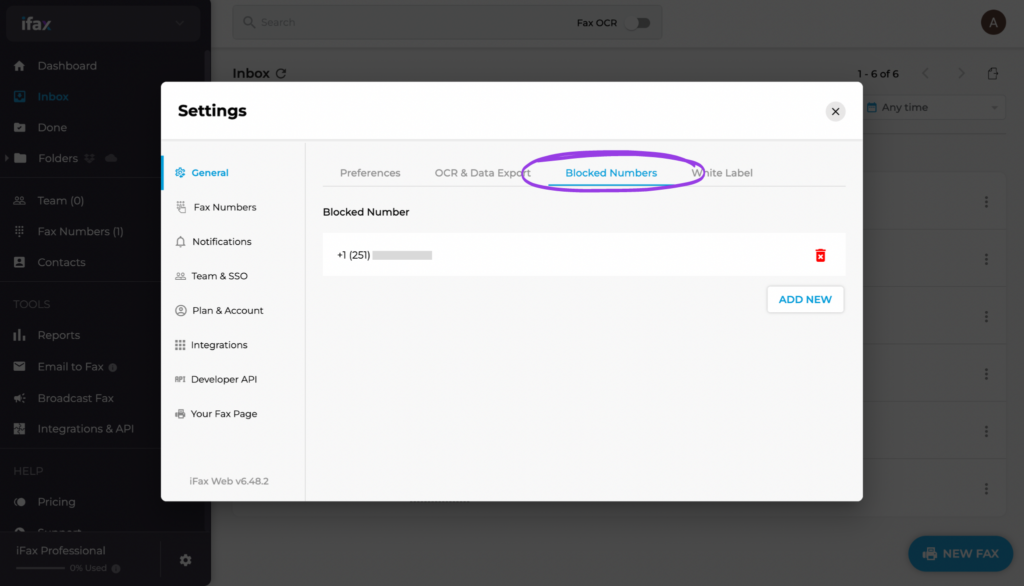 3. You may also unblock numbers by clicking the delete button (trash bin icon) on the right side of the number.
Blocking numbers on iFax, your dependable fax provider, literally takes less than five minutes to do. So next time you receive junk fax advertisements, block the number right away.
Why Do You Need to Block Fax Numbers?
Junk faxes are not just a major cause of annoyance for many people, but there's something more sinister about receiving them that you need to be wary about. These seemingly harmless unsolicited messages can be quite dangerous, especially if you don't know how to handle them properly.
Fraudsters are now using junk faxes to lure people into giving their private information, including their banking details, medical records, residential address, account passwords, and so on. And with online faxing, these cyber attackers might even trick you into opening a malicious link, eliminating the security benefits of not fax printing. Yes, phishing exists even in the world of faxing.
Although not all spam messages are actual threats, it is still very critical to block fax numbers as soon as you receive them. Better be safe than sorry. Plus, with iFax as your faxing solution, it's just great for your overall productivity and efficiency to stop nuisance faxes from going into your inbox in the first place.
Simple Ways to Identify Junk Faxes
Unlike emails, online faxing doesn't automatically sort out any incoming faxes and redirects junk transmissions to a designated spam folder. Unfortunately, you still have to sort through your inbox manually. The good thing is that there are some tips that can make it easier for you to spot unsolicited transmissions.
Make sure that you save all the numbers of your contacts. That way, when an unknown number sends you a fax, it will be a lot easier for you to determine whether they're legit or just spam.
One of the tell-tale signs that you're receiving a junk fax is if it contains any conspicuous messages or is asking you for any of your personal information. When do receive a fax like this, make sure to block the fax number.
Any marketing collaterals or advertising material sent to you via fax is considered junk faxes.
Avoid Spam Faxes With iFax
There are a few good reasons why you should switch to online faxing from one that still uses a fax machine. Aside from the convenience and cost savings, it is also much easier to reduce the spam faxes you receive.
With traditional faxing, you'll have to go through plenty of hoops to keep junk faxes under control. In most cases, you need to manually disable automatic fax printing on your machine, so it doesn't print all the transmissions it receives. Turning the machine off may seem like an easier thing to do, but it also prevents you from receiving important messages.
On the other hand, with iFax's online faxing solution, all you need to do is block fax numbers to stop receiving unwanted messages. As illustrated above, it only takes less than five minutes to do and doesn't involve any complicated process.
iFax also complies with various federal and international rules and regulations, including HIPAA, GLBA, and GDPR. Moreover, iFax offers other features that are surely going to help improve your productivity and efficiency, such as:
Optical character recognition
Broadcast faxing
Built-in document scanner
Cloud storage sync
Cross-platform application
Fax API
Are you ready to start faxing online? Sign up with iFax today.
block fax number
junk faxes
spam faxes