Despite having modern options for messaging like messenger apps and email, there'll be instances wherein you'll have no choice but to send your documents thru fax. In this case, you can send your fax via fax machine or fax it online using your tablet or computer. If you're faxing from a tablet, particularly an iPad, you can enjoy the convenience of faxing while on the go.
If you want to know exactly how you can fax from iPad, read the guide below.
Table of Contents
Streamline your document workflows by faxing your documents online. With iFax, you can conveniently fax from your tablet, phone, or computer.
Can You Fax From iPad?
Absolutely. Faxing from an iPad or any Internet-enabled tablet is now possible through faxing apps and online fax services. Unlike the traditional fax machine, faxing your documents online offers the convenience of faxing without printing and scanning. You can also fax using any device regardless of time or location. With a fax app like iFax installed on your iPad, you can send your faxes directly from your tablet. If you don't have an iPad, you can send your faxes thru your smartphone or computer.
What Is the Best Free Fax App for iPad?
There are two ways to fax from an iPad. One is through the web, which requires you to use your preferred mobile browser. The other option is through an app, which you can download and install directly from the App Store. To search for a fax app, you need to go to the App Store and type "fax from iPad" or "fax from iPhone." Note that the results will display a list of apps. You'd have a hard time figuring out which one is the best unless you try them all.
If you'd like a free fax app that lets you send faxes without the annoying ads and popups, go for iFax. We're not here to brag, but our app is one of today's best apps for sending secure faxes. With iFax for iPad, you can send a fax to any local or international fax number. It also allows you to customize your cover pages by uploading your personal or company logo. Plus, it's HIPAA and GLBA compliant, which means you can use it to fax any document that contains PHI (protected health information) or any sensitive legal information. As a robust fax service, iFax is perfect for both personal and professional needs.
See also: 8 Reasons Why You Should Stop Using Your Fax Machine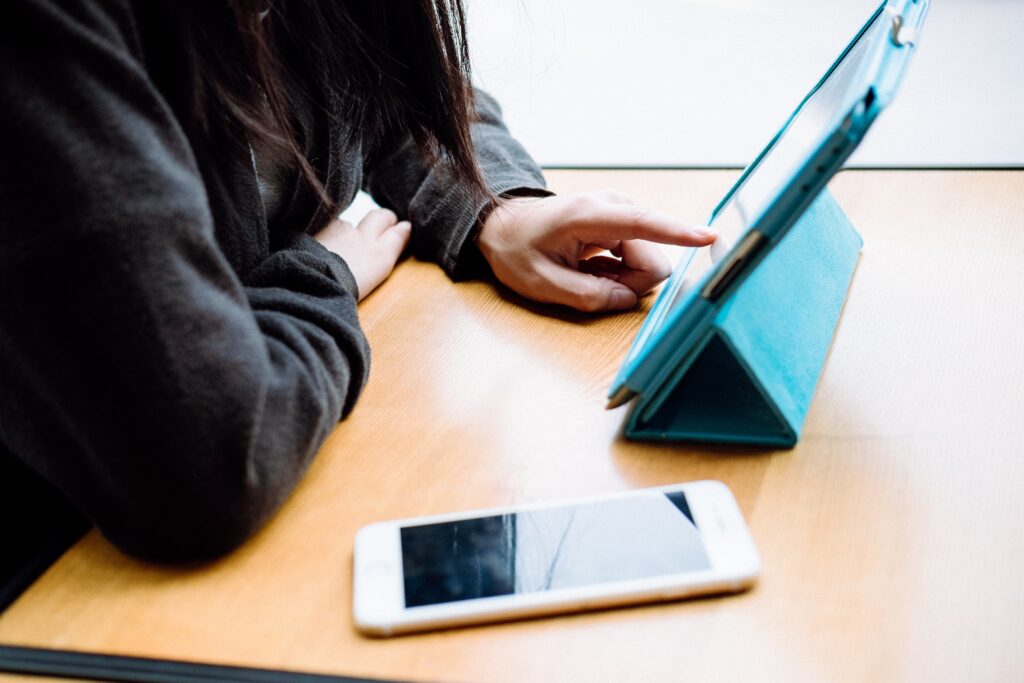 How to Send a Fax From an iPad?
The steps below will guide you on how to use iFax to send fax from an iPad:
Download the iFax app

for iOS from the App Store. To find it, type "fax from iPhone" or "fax from iPhone ad free" on the search bar. On the results list, look for an app named "iFax" by Crowded Road. Install it on your tablet and then launch.

Sign up for an account. Once logged in,

tap the Home button

at the bottom navigation. On the home screen, tap "New Fax" and select your desired fax cover page.

Make sure to type in your recipient's fax number. You also need to fill out the rest of the required fields, such as your name, fax message subject, and document status.

Tap

Scan or Add Document

to upload the files you wish to fax. Under

Add Document

, you'll see a list of options for uploading documents. You can either upload an existing document from your local storage or import it directly from iCloud or Google Drive. If you need to fax some hard copies, select

Scan Document

and scan the text document using your tablet's camera. Tap on Save

Review the details you've entered. Do the same for the documents you've attached. See to it that you're not missing any page to avoid discrepancies and errors. Once you've double-checked and verified everything, tap on

Send

,

and that's it!
You'll get notified via email and push notifications as soon as your fax gets transmitted to its intended recipient. With iFax , you can also view and download transmission receipts, so you stay compliant with various industry and privacy regulations.
See also: How to send a fax from iPhone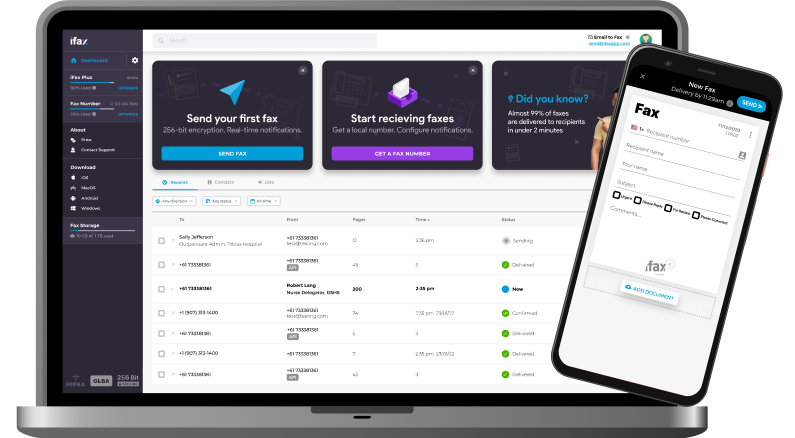 Why Send Fax From iPad Instead of a Fax Machine?
Sending a fax from an iPad is way more convenient than faxing from a conventional fax machine. Also, it doesn't take up too much space. There's no need to set aside a corner for printing and faxing. You can also fax from anywhere, even if you're out on a business trip.
Faxing from your trusted iPad enables you to access and manage your documents firsthand. You can also keep track of your documents via instant email alerts. You'll know if the receiver has successfully received the fax you sent. You also won't have trouble figuring out how to operate a complex machine.
If you have an app like iFax, you can further streamline your fax workflow by automating your tasks. The app also has inbuilt tools that can speed up document processing allowing you to fax without delays and errors.
With iFax, you can:
Send and receive faxes to any local or international fax number

Track faxes using audit trails and email alerts

Edit, sign, and annotate PDFs

Scan and digitize hardcopies instantly using the app's built-in document scanner

Secure your faxes using 256-bit military-grade encryption

Integrating faxing into your existing CRM or EHR platforms

Effortlessly fax from anywhere, using your tablet or smartphone
Thoughts
By choosing to fax from an iPad, you can eliminate the stress and the hassle of faxing via traditional means. Unlike a fax machine, faxing from a tablet like the iPad offers convenience and portability. You can bring it anywhere and use it whenever. It's truly the best option, especially if you want to fax while on the go.
With iFax, you can quickly transform your iPad or any mobile device into a portable faxing tool. Start with a free account today and get up to 2 months free* by upgrading to an annual subscription.
fax from ios
fax from ipad
fax from phone
fax from tablet
Send Fax Online